As "The Great Pottery Thrown Down" Grips Britain, 85-Year-Old Betty Woodman's Experimental New Ceramics Go on View in London and New York
Installation view of "Betty Woodman: Theatre of the Domestic" at ICA, London. Photo: Mark Blower, courtesy of ICA London.
A canvas depicting a domestic interior washed with light blue, grey, and green spans one side of a first-floor gallery at London's
Institute of Contemporary Arts
(ICA). Its obvious antecedents are the paintings of the French
The work in question,
The Summer House
(2015), makes its debut as part of
Theatre of the Domestic
," which opened to the public at the ICA on February 3rd and coincides with a show at Salon 94 in New York. It contains over 30 works, most of which were made in the last decade. It is somewhat unbelievable that Woodman, who enjoyed a significant retrospective at the
Metropolitan Museum of Art
in 2006 (and who is the mother of the late visionary photographer
Betty Woodman at work. Photo courtesy of ICA London.
"It struck us that her work in the last 10 years has been a period of extraordinary experimentation," said Katharine Stout, the ICA's head of programme. "She's thinking about her ceramic pieces much more in a sculptural sense, thinking carefully in the context in which they are being presented." This experimentation includes employing studio offcuts in pieces such as The Summer House and the same year's Wallpaper 9. In the former, the offcut outlines of pots hang like orange-peel decorations from the canvas wall. The latter stretches along an ICA corridor, pieces spiraling, flowing, and curling from it like an elaborate mantelpiece.
"She's assessing a context for her work within her own work," said Stout. "She is playing with the notion that pottery is a utilitarian object, used within the home, and creating a setting for it within the artwork."
The exhibition also serves as a showcase for Woodman's diverse array of influences—Posing with Vases at the Beach (2008), another Bonnard-influenced work comprising two glazed earthenware vases, placed side by side, meeting with extended two-dimensional wing-like structures. On one side of the object, Woodman has painted a beach scene in which a nude bather brandishes her back.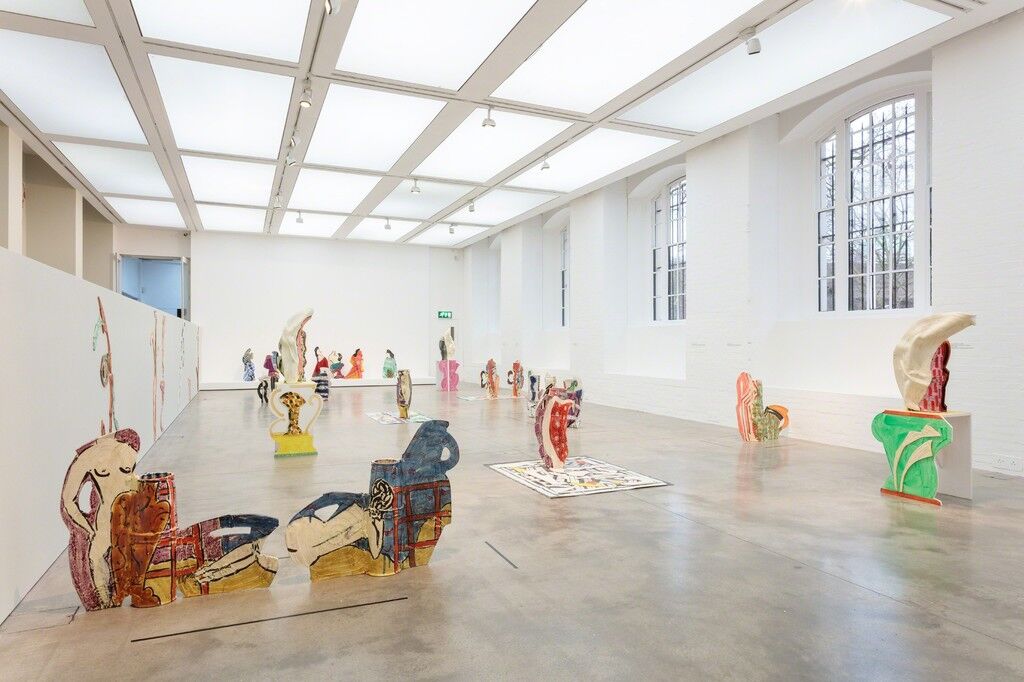 Installation view of "Betty Woodman: Theatre of the Domestic" at ICA, London. Photo: Mark Blower, courtesy of ICA London.
Elsewhere, Fabric Girls (2015) drapes fabric over the same combination of materials—glazed earthenware, epoxy resin, lacquer, acrylic paint—to create a series of "dolls" in Japanese costume. Woodman continually uses her brushstrokes to break her objects' forms, underlining their imperfections. As Stout added: "There's always a layering of knowledge. For her what's important is 'Where do I take it? What do I then say with that?'"
Woodman's mainstream success has come relatively late in life, no doubt due, in part, to the public's current enthusiasm for ceramics. The 2006 show at the Met was her first U.S. retrospective, and historic pieces like
Floral Vase and Shadow
(1983) evince both the requirements of a grand stage and the
said
in a 2013 interview with the
Wall Street Journal
. "Now I'm considering painting, sculpture, and art history."
The ICA show's first outing was at Florence's Museo Marino Marini last September. The curator of both the British and Italian shows, Vincenzo de Bellis, said he became aware of Woodman's work relatively recently and set about finding an appropriate space to exhibit it. "She doesn't get to be shown a lot," he said. "I saw the work in Art Basel and that was when I really realized what it was about."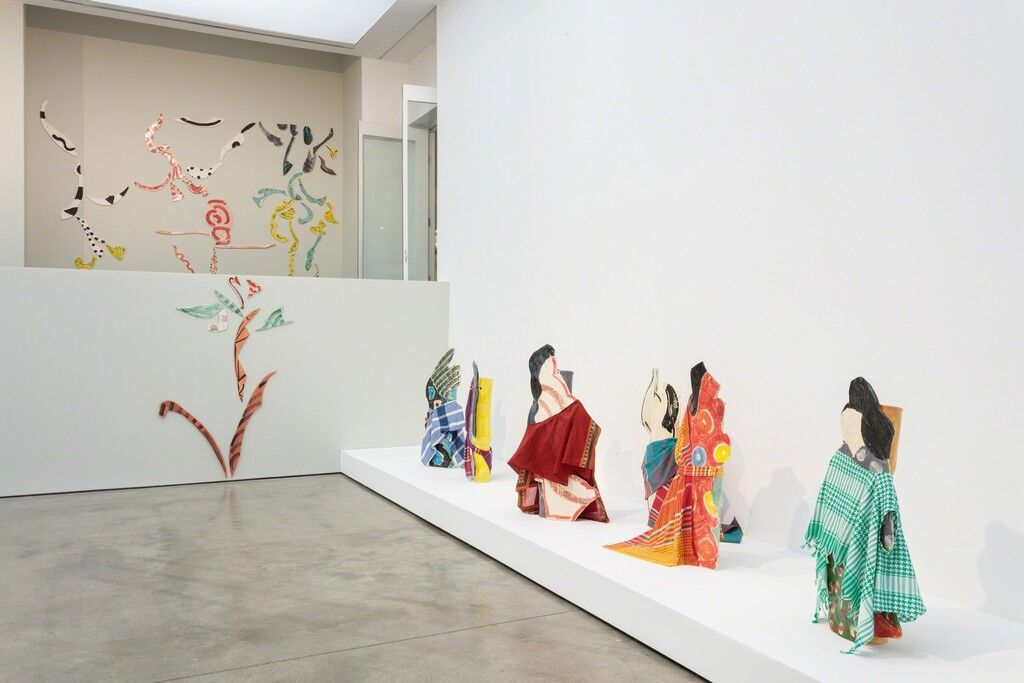 Installation view of "Betty Woodman: Theatre of the Domestic" at ICA, London. Photo: Mark Blower, courtesy of ICA London.
The work is also well placed to take advantage of a rising tide of interest in younger ceramists.
Design Miami/
and Frieze London, where Angell and
"We came to it because it's so contemporary," concluded Stout. "The latest developments in contemporary art don't have to be made by a 20-year-old, they can be made by an 85-year-old. We're not a museum, we're not recognizing her for her place in art history, we're recognizing her for what she's making now."

Marc Quinn Iris
Explore the cup collection here.
Sponsored by illy