At the Venice Biennale, Balancing Hope with National Interests
In the art world at present, with a calendar dominated by what seems like a near-weekly schedule of art fairs and where conversations focus with increasing fervency on the market, one would be forgiven for questioning why exactly a good portion of that world has congregated in Venice this week. The fact that an equal portion of that world opted not to come to the
56th Venice Biennale
's preview—whether due to the impending auction season and next week's opening of Frieze New York or generally overbooked travel schedules both for work and play—and will instead stop by pre- or post-Art Basel, suggests that it's not exactly the first priority on everyone's list. But is the Biennale on its last legs? Hardly.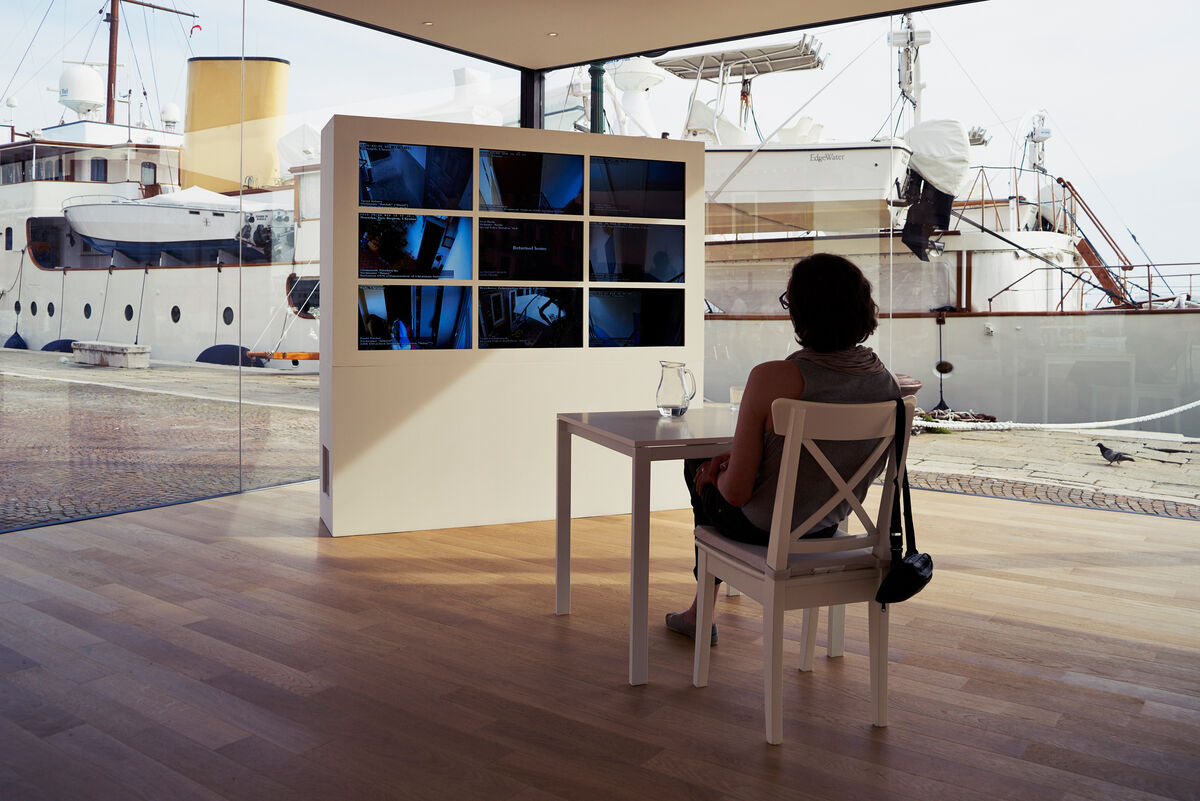 Historically, the Biennale's influence on culture and reflection of social and political upheaval has been vast. (
Check out our recently released film, tracing that history, if you're not convinced
.) The Biennale has been a springboard for both protest and propaganda, particularly in the national pavilions. More recent examinations of nationalism and the political cooptation of art that often (though to varying degrees of severity) takes place in Venice presentations have led to calls for those very same national pavilions to be abolished or at least ignored. In 1998, as the Biennale redefined itself as a semi-private "Cultural Organization," some suggested eliminating the national pavilions entirely. And just this year, what was supposed to be the Kenyan pavilion raised eyebrows for its roster of mostly Chinese artists and shadowy funding, before the country's government pulled its flag from the project entirely.
For many major western powers that has led to a certain neutering of their will to be bold, yielding overly polite presentations that look more like an ambitious gallery show—complete with not-so-inconspicuous sales staff recognizable from those umpteen fair aisles—than a groundbreaking statement on the times. It's an open secret that much art gets sold in Venice; this is a reality that we'll have to accept, unless national bodies want to step up and foot the pavilions' bills. But if, as it seems, the Biennale can either be political or economic, it's high time we find a way to reinvestigate the former.

Without question, it remains incredibly important to keep a close eye on where pavilions 
may or may not be reflecting the real state of play
 in a given country or context—in the latter case falling into the problematic side of national (mis)representation. But there are just as many, if not more, exhibitions on offer in Venice this summer that are using the Biennale as a platform to push forward progressive agendas for their respective nations. And it's these pavilions that stick out from the rest as where the Biennale can renew its vows to being a conversation leader and a platform for the responsible exersion of soft power on the global cultural stage. 
Take Ukraine, for example. The all-glass,
occupying the Russian pavilion
on Friday.) Pinchuk has been a vocal supporter of a move towards Europe for his country and a strong supporter of the new government in Kiev. He also could no doubt have afforded to stage the Art Prize show, but, as Geldorf notes, "it was simply not the moment to invest such a high amount in a private initiative like the Future Generation Art Prize. I think it would have been very difficult for Ukrainian civilians to accept that was happening."
What he has facilitated is much more important. Seven artists and collectives take part in "Hope!"—
For Geldorf, and by proxy Pinchuk, the gravity of the project and its potential outcomes weighs heavy. "It is a great responsibility to do this now in Venice," says the curator. "A lot of opinion makers come here, and one of the biggest challenges for Ukraine right now is to change public opinion." Geldorf doesn't shy away from the political intent of his project, explaining it is specifically aimed at counteracting information put out by the Kremlin about the situation in Ukraine's east, among other things. "A lot of people have realized the soft power of art," Geldorf adds, acknowledging that in Ukraine, as in other countries, this has been abused in the past. However, "Hope!" aims towards "freedom to critical messages and critical thinking," both for itself and for their country at large. 
For others, the Biennale is a space to expose realities of their nation and culture that become obscured through contentious political divides. "
My East is Your West
," a collateral exhibition funded by
The Gujral Foundation
, brings together two such countries—India and Pakistan—for the first time in Venice. The show juxtaposes the work of Lahore-based
Nonetheless, she acknowledges that the show's political and cultural implications are real. Despite the "extremely tense [political] relationship, this is trying to say: we like the same things; we are the same people," Gujral adds, noting that the tension doesn't carry over to daily life. "It's a political thing but it's not a social or cultural thing at all." The artists have taken varying but equally on-point approaches to the subject. Rana's strongest works are two-way live streams, rooms of the Palazzo Benzon in which viewers stand beamed to reconstructions of those same rooms on the streets of Lahore. It's an incredibly simple gesture that leads to a surprising amount of chatting—and thus cultural exchange—with passersby halfway around the world. Gupta's newest series focuses on the world's largest border fence currently under construction between India and Bangladesh. The works expose the very arbitrariness of borders and nationhood.
It's these projects—and, notably, Belgium's 
fantastic group show
 of mostly non-Belgian artists, "Personne et les Autres"—that show a bright future for the Venice Biennale. It may remain the "Olympics of Art." But with some of the art world adrift from its core values, the Biennale is at its most successful when privileging commitment over spectacle.
Alexander Forbes is Artsy's Executive Editor.