How The Beatles Immortalized the Legacy of Pioneering British Pop Artist Peter Blake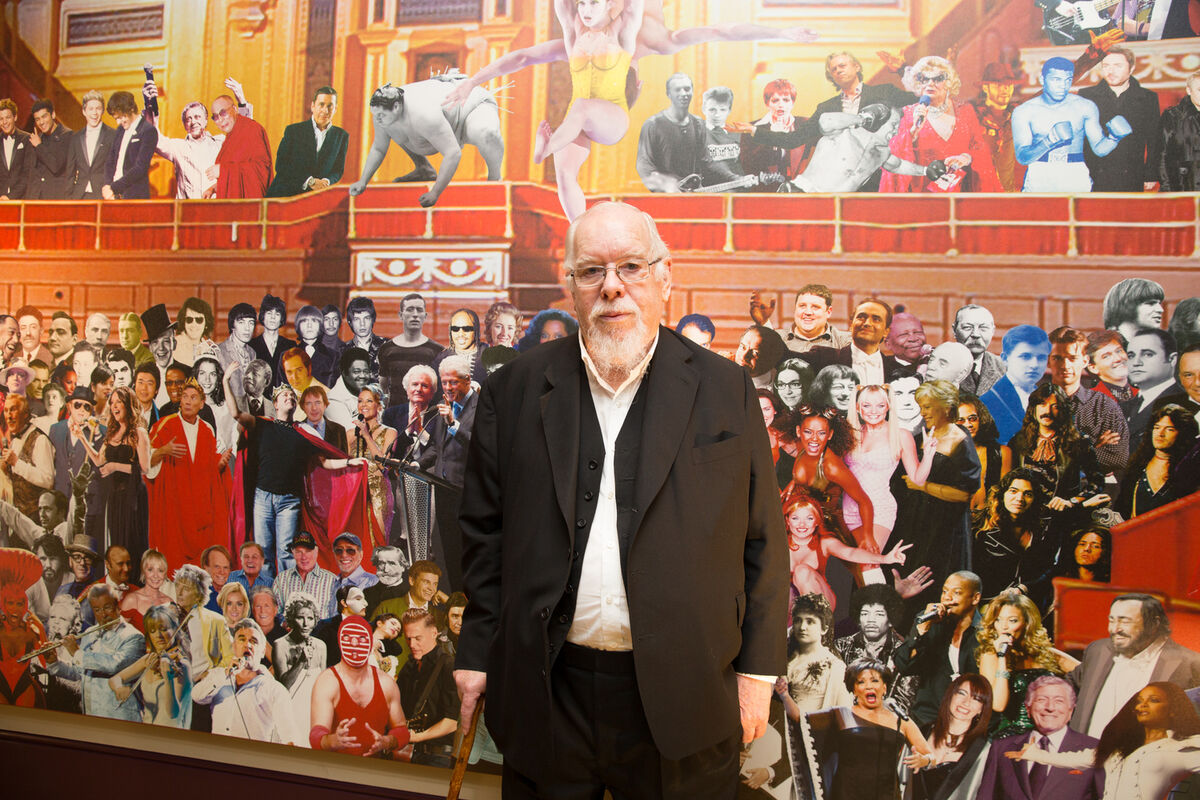 The 1967 album cover for Sgt. Pepper's Lonely Hearts Club Band was not the first artwork that The Monarch of the Glen.)
But it was the
Sgt. Pepper's
cover, with its technicolor marching band and star-studded crowd, that came to define Blake's legacy. Today, the 85-year-old artist regards its fame with mixed emotions. "You get stuck with a certain kind of image that will never lose you," he
said
in 2007. "I'm proud of it, but I'll never get away from it."
It's true that the cover represents just a fraction of Blake's eclectic career—which he has developed over the past seven decades and traces back to youth, when he flunked a grammar school entrance exam. As a result, at the age of 14, he applied to the Junior Art School of Gravesend Technical College instead, and, despite not having shown a particular interest or natural capacity for art, enrolled there. Blake spent the next four years honing artistic skills like typography, illustration, graphic design, life drawing, silversmithing, and more.
After graduation, he set his sights on the Royal College of Art in London. And while he had officially applied to study graphic design, a single oil portrait tucked in his portfolio earned him a place in the painting course. There, he said, "the whole way of teaching at the time was through drawing and painting the figure."
But he soon discovered collage, through a friend of a friend whose relatives knew artists On the Balcony (1955–7)—that started to assume the flat, layered compositions of collage.
He also began to populate his canvases with a new cast of characters. Rather than the serious, unsmiling children that appeared in the work of his early college years, Blake now relied on popular culture personalities: wrestlers, strippers, circus performers, rock-n-roll bands, models. But even as a member of Britain's nascent Pop movement, he remained strongly grounded in art history. His Self Portrait with Badges (1961), for instance, reworks a 1770
Blake acknowledges the influence of American artists on his developing Pop sensibilities; he points to
A 1962 show in New York added insult to injury, when American critics panned British Pop art as a bland knock-off of the American movement. Blake was so indignant he refused to show in the city again until 2002.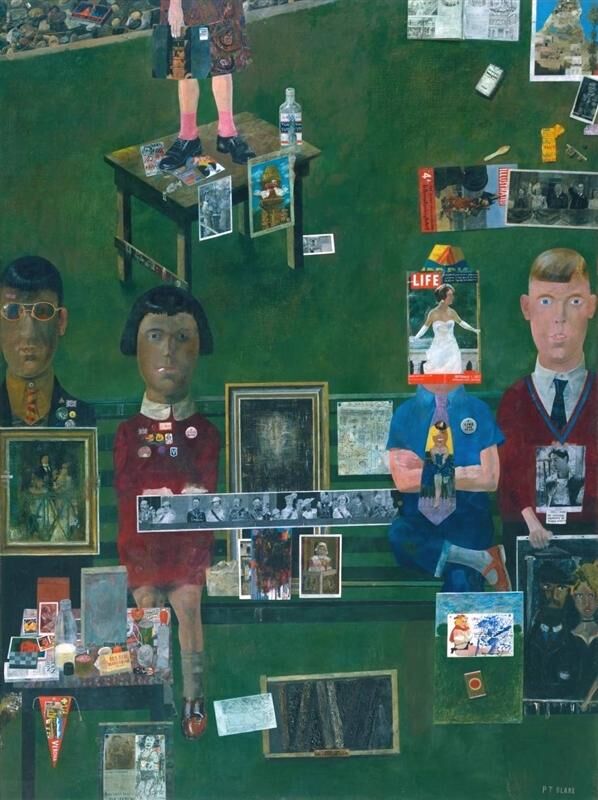 It was during this Pop period that he worked with The Beatles on Sgt. Pepper's, in conjunction with his then-wife and fellow artist
When Blake and Haworth stepped in, the band had already dreamed up the marching band theme. Blake suggested a "magical" audience in the background of the photograph, "the kind of crowd that you could never bring together." He collected a list of names from three of the four Beatles (John Lennon famously included Adolf Hitler among his suggestions, though the artists obscured him in the finished work) and added a few art-world personalities of his own:
In all, Blake and Haworth were paid £200 for their work on the now-iconic cover—a nominal fee that's still a sore spot for Blake. ("Even the people that did the flowers were paid more!" he later griped.)
Beyond the inadequate compensation, however, the piece encapsulated exactly what Blake had been trying to do in his wider artistic practice—make works with the "directness and distribution of pop music," he explained. With Sgt. Pepper's, "if you bought the record you also bought a piece of art on exactly the level that I was aiming for."
Blake was always at the forefront of the Pop art movement; today, he's often referred to as the "Godfather of British Pop Art." But just as it was becoming an international sensation at the end of the 1960s, the artist moved on. Along with Haworth and their daughter, he relocated from London to a small village near Bath. Soon, the wrestlers and strippers of his earlier works were replaced by fairies and mythology, dreams and fantasy.
Together with six other painters who had made similar transitions to the British countryside, Blake formed the "Brotherhood of Ruralists"—an artistic group whose stated aims were, as he wrote in 1978, "to paint about love, beauty, joy, sentiment, and magic." Blake's Pop art had never been as cynical as American artists like Warhol, but during this period he embraced a unabashedly joyous and idyllic worldview at odds with the then-current modes of artistic production.
Although these works were widely panned by critics in their time, his 1983
Tate
retrospective boasted record-breaking attendance—cementing him as one of the most significant living British artists. His relevance was reinforced by the relationships he soon forged with many of the
talk at the Tate
, "all of us, absolutely, from
While Blake's legacy may forever be dominated by his album cover, he's taken a firm stance in defining the twilight years of his career. "Usually other people decide when your Late Period is or was, but rather than wait for anyone else, I've decided very consciously to have mine now," he
told
the
Guardian
in 2006. "I know I've done pretty much everything it was reasonable to expect, and maybe sometimes I've done a little more than that."