As Berlin Grows Up, a New Director Hopes Legendary Art Space KW Can Keep Its Edge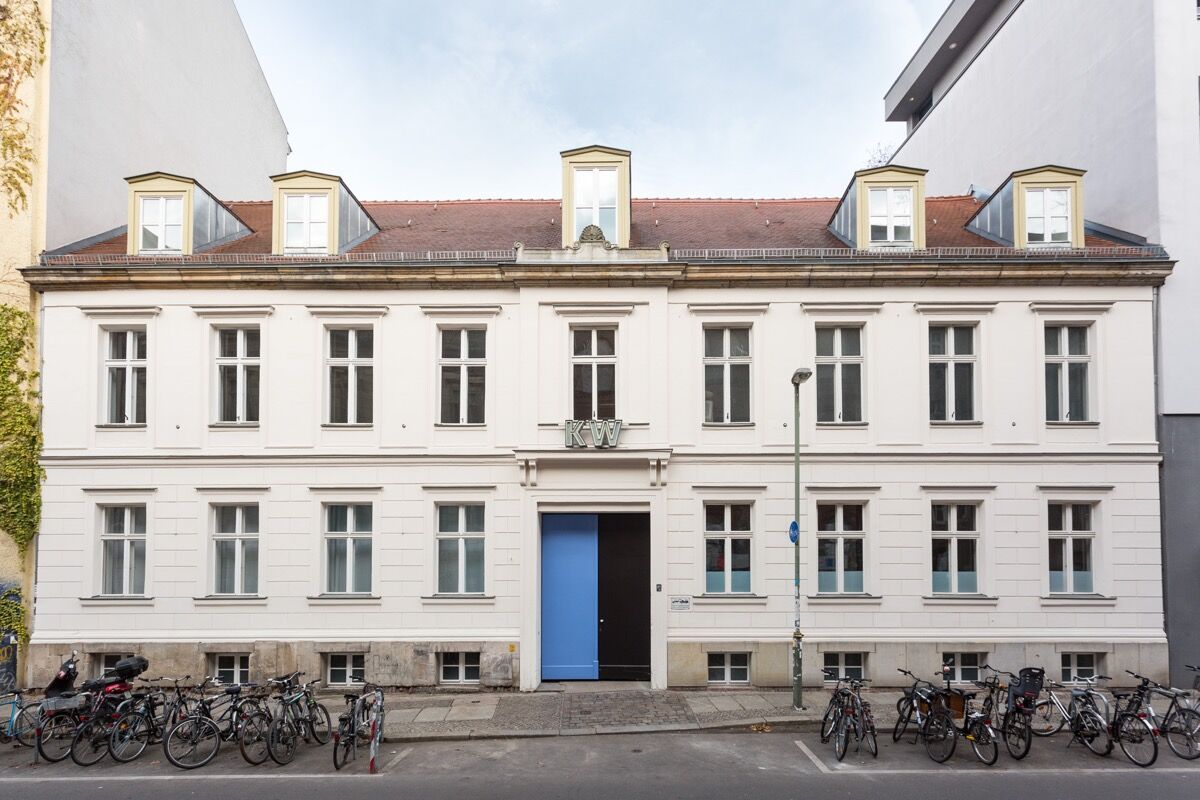 Stroll down a quiet street in Berlin's Mitte district, pass through a blue door, walk across a cobblestone courtyard, and you'll find one of contemporary art's mythological stomping grounds.
It's here, in the long corridors and cold cellars of a former margarine factory, that a good number of the last quarter-century's most influential artists—from 
Susan Sontag
 and 
This is 
KW Institute for Contemporary Art
, the storied kunsthalle that is credited with launching the careers of countless artists. And these days, it's in the throes of a much-talked-about makeover.
"I wanted to open the space up again—and not just spatially," explains Krist Gruijthuijsen, as he gazes out the window of his second-floor office onto KW's courtyard. "In its first years, KW was an extremely open place that was all about community-building; all kinds of creatively minded people gathered here. My goal is to expand on this."
It's a biting-cold day in February, and 36-year-old Gruijthuijsen has seven months under his belt as the new director of KW. He arrived in July with a laundry list of accomplishments to his name, including co-founding the curatorial association Kunstverein Amsterdam, a respected stint as the artistic director of the nonprofit art space Grazer Kunstverein, and shepherding exhibitions and publications for artists ranging from 
"We're blessed and haunted by the nostalgic feeling towards this institution," he says, as we walk down a flight of stairs coated in construction dust toward one of KW's galleries. Gruijthuijsen is referring to the legendary 25-year history of the space.

It all started in 1990 when a 23-year-old Klaus Biesenbach, the cult curator who today leads New York's 
MoMA PS1
, posted up in a derelict 
A group of international artists quickly gravitated toward the space, drawn to Berlin for its cheap or nonexistent rent, wild parties in former bunkers, and unrestrained atmosphere ripe for artistic experimentation. 
But times have changed since then, and Berlin—and KW in step—have become more polished. "In the '90s, Pogo was technically illegal and operating without permits. That was part of the excitement around not only the bar, but KW as a whole," Gruijthuijsen says. "But now it's 2017, when nothing can operate illegally—at least not for long. So the question I'm trying to answer is: How do we bring back that energy within a structured, funded institution?"
Gruijthuijsen's appointment, and much of the makeover he's spearheading, is the result of a 2016 funding influx KW received from the city government, a happy consequence of Berlin's mayor acknowledging what an "enormous attraction Berlin's cultural scene offers to tourists," Gruijthuijsen explains. "The realization provided the government with a reason to invest real money back into anchor institutions and positions—and they recognized KW as one of those."
Since his arrival, and thanks to this new source of capital, Gruijthuijsen has initiated a slew of "small but radical changes," he says. As we traverse the space, the structural alterations prove most conspicuous—evidenced, primarily, by the drone of saws and shoring on the building's third floor.
"I really want the building to breathe," he says, as he points to how, in each of KW's five exhibition spaces, his team has re-exposed all of the building's original windows and removed any superfluous walls. He's also moved the entrance and added a bookshop and coat room.
For Gruijthuijsen, these modifications not only optimize the amount of natural light and allow for more exhibition space, they also serve to "unify the whole building," he explains. "In previous years, KW's spaces have often been divided into small and large galleries, but I wanted to remove any sense of hierarchy. Every artist we present is as important as the other, whether you're 21 or 75, or you get 250 square meters or 400."

Gruijthuijsen's curatorial strategy has long been to encourage parity between artistic practices, "whether emerging, established, or obscure." At KW, he plans to realize this goal first and foremost through an exhibition schedule focused on solo exhibitions by a diverse swath of artists, instead of concept-driven, sprawling group shows.
His inaugural shows include site-specific work by British sound artist Hanne Lippard, American conceptual artist Adam Pendleton, and South African conceptual artist Ian Wilson, all of which explore communication and its political reverberations—but through distinct lenses.
"I'm an exhibition-maker in the traditional sense, so I want to show and help actualize the projects of individual artists," he says. "I want to give the building back to the artists, because at KW's core, it's a space for and by artists."
Gruijthuijsen is bolstering this objective with several strategies that aim to bring more of the Berlin community into KW and broadcast the institution's message well beyond its confines. For one, his team is planning to update the kunsthalle's Café Bravo, a jewel box of a space designed by Dan Graham in 1999, but in need of some cosmetic work.
He and his team of curators have also conceived of an event series called The Berlin Sessions, which invites one Berlin creative to speak to another who has influenced his or her practice. The series will travel to a matrix of locations around the city, encouraging the expansion and cross-pollination of Berlin's arts community.
"If we didn't branch out in this way, it'd be relegated to my KW lens, or my foreign, external, non-German lens on top of it," Gruijthuijsen, a Netherlands native, muses. "I'm happily naive, and I want to activate aspects of the program in which I'm just a sponge, learning more about Berlin and the community and its history."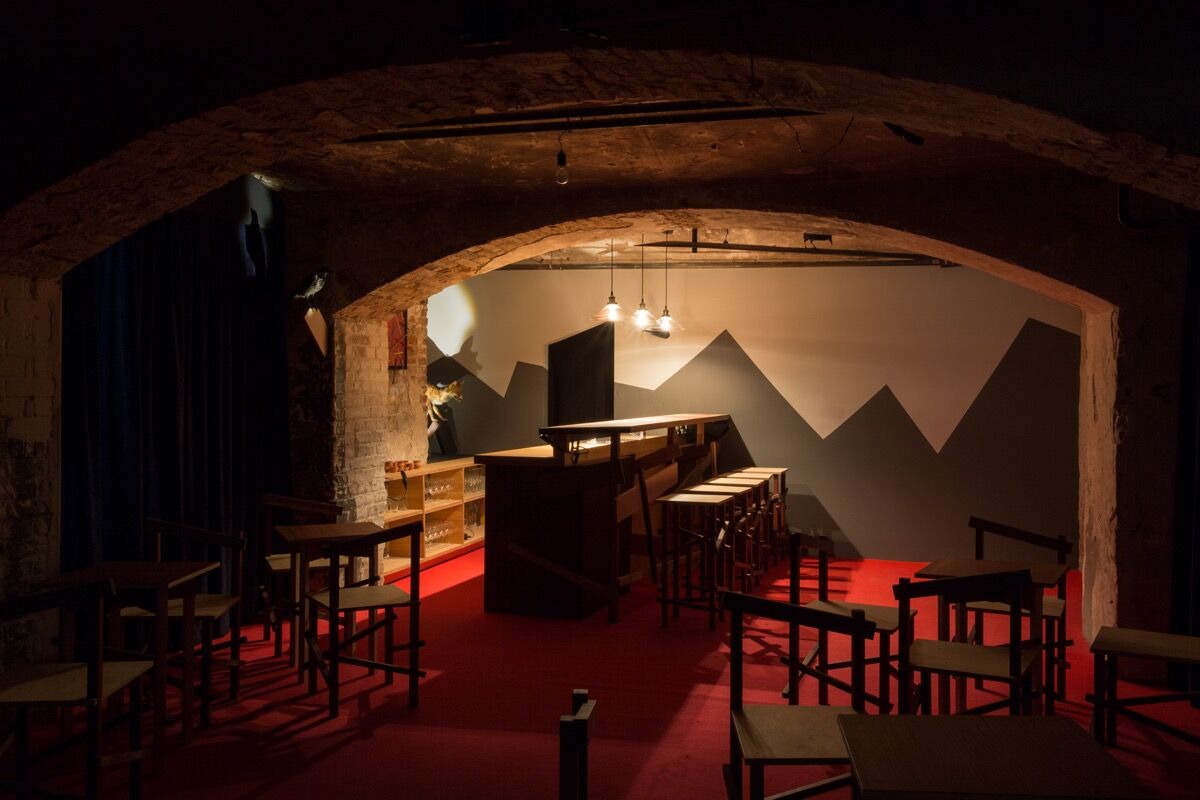 But perhaps the most-anticipated of Gruijthuijsen's plans is the reopening of the infamous Pogo bar. No amount of history-exhuming could resurrect the basement haunt as it was in its bohemian heyday—but that's not the director's intention.
"We've been turning over how the Pogo bar can function today. Is it still a techno club in a basement?" he ponders, looking around the dark, stone space that's already hosted six rowdy (but legal) performances, open to all on Thursday nights. "Or can it be a place for people to be together, a platform where everybody from the community can have a voice?"
By planting the seeds of a multivalent community, Gruijthuijsen hopes KW will draw both international art professionals and Berliners of all stripes. "You can have a very small, dedicated audience for the bar, the professional and/or culturally consuming audience who attend exhibitions regularly," he says. "But our aim is also to engage with the regular passerby." 
As word of the changes that Gruijthuijsen has put into motion at KW spreads through Berlin and beyond, his goal appears to be within reach.  

Alexxa Gotthardt is a contributing writer for Artsy.