Berlin Rallies behind Its New Art Fair
The inaugural edition of Art Berlin, the fair known previously as art berlin contemporary (abc) before being purchased by
Art Cologne
parent company Koelnmesse, marks a welcomed development for the city, according to older and newer galleries alike. When the doors opened on Thursday, visitors were introduced to a seamless transition from the scrappier abc, which for most of its lifespan eschewed traditional booth structures and benefitted from Berlin's wealth of interesting galleries and artists, to a more polished fair that takes advantage of Art Cologne's tried and tested art fair principles—not to mention Koelnmesse's financial support.
Some basic strengths of abc have remained. The location, for one, is unchanged, Art Berlin continuing to take advantage of the converted Gleisdreieck train station's sky lights and its location at the nexus point of two of Berlin's most prominent gallery districts. abc's strength in artistic programming also remains steadfast, with around 30 of the fair's 112 booths featuring solo artist presentations.
In a nod to one of Art Cologne's strong points, Art Berlin also incorporates works by modern masters like
Despite reports earlier this year of tensions between Art Cologne and the team that previously ran both abc and
Gallery Weekend Berlin
, "the transition was very smooth," said fair director Maike Cruse. That's not to say that tensions didn't exist, she said, crediting the conflict that arose when Art Cologne and Gallery Weekend Berlin overlapped in this past April with the creation of Art Berlin.
"The conversation started to solve this issue so it won't be repeated, and we started discussing to see how we could actually face the situation in a proactive way," she said. From there they started discussing the possibility of joining forces for the fall fair.
Art Cologne director Daniel Hug noted his enthusiasm about the artistic content on view at Art Berlin as well as the bolstering of the German market resultant of the fairs collaborating rather than competing. Hug said one key aspect of this was merging their VIP lists. "We were surprised to see that there were Berlin collectors that were on the Art Cologne list and that Art Cologne were missing some collectors from the abc list," he said.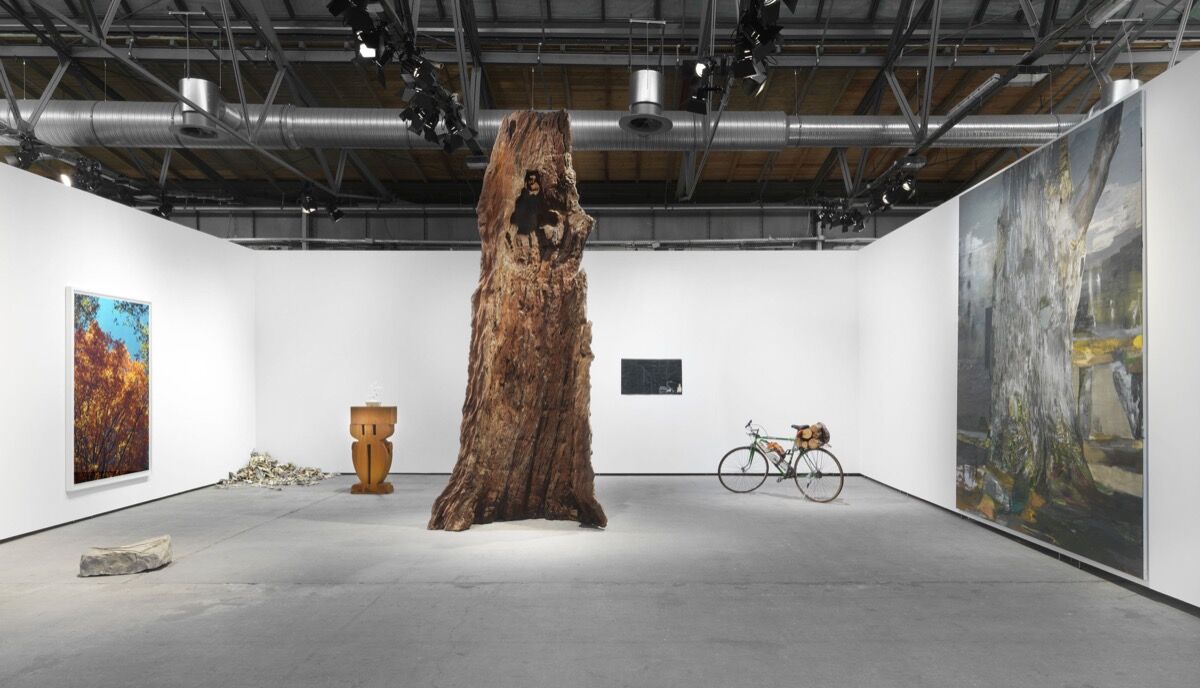 The increased number of collectors present at Art Berlin in comparison to abc (a fair never known for its strength in sales) was echoed with the dealers throughout the fair. The presence of collectors from the Rhineland, the heart of Germany's art market, was particularly welcomed. One dealer even quipped, "One wonders why they have not come before?"
The history of Art Berlin's predecessor is a mixed one. The first art berlin contemporary (abc) opened in 2008 as a satellite Verkaufsausstellung or selling-exhibition that ran parallel to the now defunct fair Art Forum Berlin, not unlike Paris Internationale's relationship to FIAC today. It was an anti-fair whose format was to be more open and experimental, and most of the works were less than 10 years old.
"At first the idea was to have it travel to different venues every year, to have something more thematic that would allow [for] less commercial projects not possible in big international fairs," said Berlin gallerist
Esther Schipper
, who was among the group of dealers that founded abc.
"The needs in Berlin were very different" at the time, she said.
Early in its nine-year life span abc was hit with an identity crisis. When Art Forum was shut down in 2011, abc was suddenly expected to be Berlin's main art fair, said Cruse. abc experimented with a number of different formats and themes, concluding last year, with around half the number of galleries participating than once did and a format much more reminiscent of a traditional art fair.
"abc was trying to accommodate different interests. People wanted abc to go in different directions," Schipper said. "When the opportunity offered by Art Cologne to become a real commercial art fair came, many of us where super happy with the idea to get back to something more structured."
While she did not disclose sales, Schipper's enthusiasm for the new model continued in Art Berlin's first days, calling the quality of the work on offer at the fair "surprisingly good."
Workshop Trolley Jochem Killmer (2017)— a museum technician's wagon from the Villa Zanders complete with tools, chocolate, and personal belongings such as a small flower vase—forms the centerpiece of Schipper's own booth, joined by one of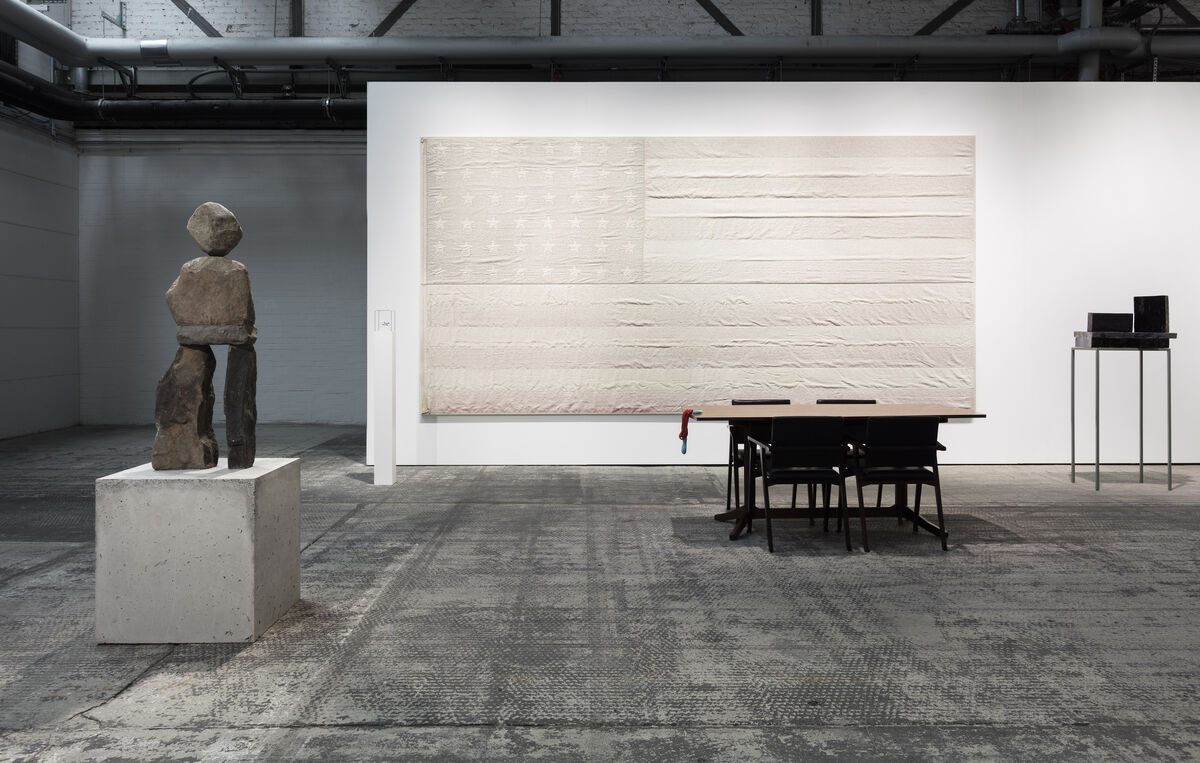 On opening day, a representative for
Eigen + Art
reported that "many purchases have taken place already directly at the booth," including one work by
Claudia Rech, one half of young Berlin-based gallery
Gillmeier Rech
, said she was "very happy about the format; everything was well organized and transactions went smoothly." Art Berlin marks the gallery's first art fair in Germany, after having participated in
Art Los Angeles Contemporary
and
miart
in 2016. Two paintings by
Adding to Art Berlin's appeal is that it is more affordable than abc was, Rech said. Where at abc all galleries payed a flat fee of €4,000 to participate, at Art Berlin the stands now cost €225 per square meter. They start as small as just five square meters (€1,125) and go up to 80 square meters. A representative for the fair said that this decrease in price was made possible by Koelnmesse's investment in supporting younger galleries to take part in Art Berlin. The cost of and pressure to participate in art fairs has been one of the most commonly cited reasons behind the spate of recent gallery closures.
Silvia Bonsiepe, a partner at Klemm's noted a significant increase in attendance of collectors, including familiar faces from Belgium and the Netherlands and said that Art Berlin's shift in structure to be a traditional art fair has had an effect on collectors' psychology.
"People are much more direct about asking for prices," she said.
Klemm's is showing works by Munich-based artist
While sales across the fair were by no means a bonanza, a steady stream trickled in as the weekend approached. Among them, on opening day, Galerie Neu sold a sculpture by
Kraupa-Tuskany Zeidler co-founder Amadeo Kraupa-Tuskany reported "good sales and a lot of good, new contacts," from the fair's first two days as he looked ahead to Friday night's opening of a show by the much sought after
The gallery is among several in Berlin having recently expanded—with PSM opening a location in Schöneberg and König Galerie
announcing this week
that it will open a London outpost—while other prominent young galleries in the city like Micky Schubert and Silberkuppe having recently closed. Importantly for Art Berlin's future, however, everyone seems to actually want the fair to succeed, something of a 180-degree turn from sentiments heard last year at abc.