Betty Tompkins Gives Art History a #MeToo Overhaul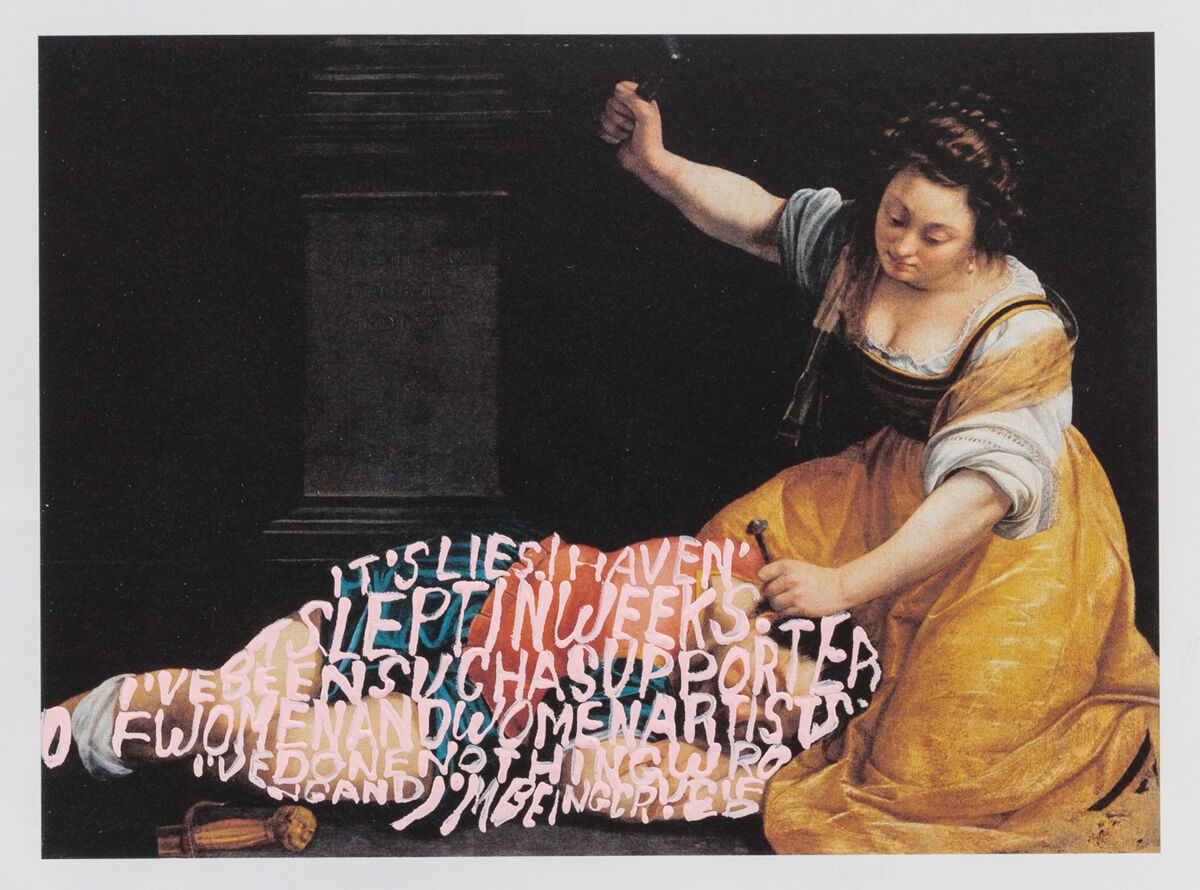 Betty Tompkins, Apologia (Artemisia Gentileschi #3), 2018. Courtesy of Betty Tompkins and P.P.O.W, New York.
For her latest series, entitled "Apologia" (2018), artist
The first thing you'll notice in one of these works—Apologia (Mary Shepard Greene Blumenschein) (2018)—is a ghostly, light pink figure. She hunches, extending a thin, fragile arm as though reaching a person or object that lies just beyond the frame. Tompkins hasn't sketched the body in continuous brushstrokes, but rather painted individual letters that cohere into the shape of a woman. Look closely, and you'll realize that the letters actually make up the words and sentences with which New York University professor Avital Ronell defended herself in the media against allegations of sexual harassment earlier this year. Tompkins painted the pink figure over a reproduction of a painting that she tore out of an art book (she credited the artist,
Betty Tompkins, Apologia (Mary Shepard Greene Blumenstein), 2018. Courtesy of Betty Tompkins and P.P.O.W, New York.
Tompkins finds such public laments inauthentic and absurd—these aren't true apologies, she believes, but "apologia," or defenses. In her paintings, the language of these carefully crafted statements mask women's bodies. And the source imagery she chooses often relates to the details of the #MeToo sagas; she situates the statement by Ronell, one of the few women implicated in recent allegations, into a scene that features a woman looking in the mirror.
Though Tompkins is perhaps best-known for her series of large-scale, realistic, explicitly titled paintings of genitals—"Fuck Painting," "Masturbation Painting," "Cunt Painting," "Girl on Girl Painting"—language plays a vital role in many of her bodies of work. A current
P.P.O.W
show, on view through December 22nd, intersperses Tompkins's "Apologia" works with her related "Women Words" series (2015). Here, Tompkins overlays reproductions of paintings with phrases and anecdotes related to women and their anatomy, all crowdsourced from mass emails sent to friends and peers in 2002 and 2013. Responses, she
specified
, could "be affectionate (honey), pejorative (bitch), slang, descriptive." Over 3,500 words and phrases flooded her inbox. "Women Words" incorporates many of those derogatory terms—"flesh wallet," "bitch," "damsel in distress"—and becomes a creative indictment of a culture that has found so many ways to insult women.
Throughout both "Apologia" and "Women Words," language either eclipses the female figures or surrounds them. Madonnas, Marilyn Monroe, and reclining nudes all get the same treatment. Words obscure their faces and bodies, a metaphor for the way culturally propagated biases control the way we understand femininity. Certainly, there's a lot of noise. Atop a woman in a reproduction of an
Yet it's not all depressing. Tompkins isn't just modifying old artworks, or underscoring the farce of celebrities' recent attempts at amends—she's also offering an alternative narrative about painting and photography. With these two bodies of work, Tompkins creates a new art history canon, of sorts.
Betty Tompkins, Women Words (Warhol #1), 2018. Courtesy of Betty Tompkins and P.P.O.W, New York.
Betty Tompkins, Women Words (Raphael #3), 2018. Courtesy of Betty Tompkins and P.P.O.W, New York.
Tompkins sources material that ranges from
Andy Warhol
,
For decades, critics have called on museums to reconsider how many women artists they hang in their permanent galleries (see the
Met. Museum
?" or
New York Times
critic Holland Cotter's
suggestions
for how to rehang the
Museum of Modern Art
's collection). In the P.P.O.W show, Tompkins ends up serving as just such a democratizing curator. Italian
The series is a logical step for Tompkins, who has always used her canvases to frame conversations about gender and sex. In recent series, the artist has expanded her work beyond intimate imagery, looking at the language used to describe women and their sexuality. She began creating 1,000 individual, small-scale paintings of the individual words, many stenciled onto solid or lightly decorated backgrounds. Some surfaces adopted appropriated styles—
Still, Tompkins had plenty of words left over. Though she used many for the "Women Words" series at P.P.O.W, she's far from exhausting her supply. When I spoke with her recently at her SoHo studio, she was busy adding this language to reproductions of
Betty Tompkins, Women Words (Ingres #2), 2018. Courtesy of Betty Tompkins and P.P.O.W, New York.
Since Tompkins participated in the 2003 Lyon Biennale, she's enjoyed a surge of popularity that she missed out on during the first four decades of her practice. Within the past five years alone, P.P.O.W,
FLAG Art Foundation
,
Gavlak Gallery
, and
Marlborough Contemporary
have all given her solo exhibitions. Her early work, it seems, captured a particular 21st-century zeitgeist. "I'm not used to being in sync," she told me. However topical it is, she's not worried that her latest work will become outmoded any time soon. "The basic issues of the #MeToo movement are universal," she said. Tompkins, after all, provocatively titled her show "
Will She Ever Shut Up?
" The answer, of course, is a resounding "no."
Alina Cohen is a Staff Writer at Artsy.