Big Week for Art Market Kicks off in Hong Kong with Art Central
Photo by Jacquie Manning. Courtesy of Art Central Hong Kong.
Few satellite art fairs ride into the art market on the back of six-figure works, but Hong Kong's Art Central is one of them. Boasting several regional blue-chip names, with galleries such as
Gallery Hyundai
and
Sundaram Tagore
, its high-end offerings distinguish it from many satellite fairs, which typically offer a platform for small and emerging galleries with works in the three- to five-figures.
Now in its fourth year, Art Central Hong Kong has put increased emphasis on its pricier offerings under its new director, Shuyin Yang. That dealers feel they can sell works in the mid-to-high six-figures at an alternative fair is both a sign of the Asian market's strength and a testament to the power of being the only other fair in town opening alongside
Art Basel in Hong Kong
.
Many dealers said collectors in town for the main event typically stop at Art Central as well, and one noted the shuttle bus that runs between the two fairs, both of which are snuggled between a large motorway and Victoria Harbour. That offers dealers at Art Central access to Basel's clientele at a lower price point, albeit with less prestige.
Prestige is not always the most important factor, though, as long as works are moving briskly.
"We have sold million-dollar pieces here," said Sundaram Tagore, president and curator of his eponymous gallery with outposts in New York, Singapore, and Hong Kong, where he was among the first to open a gallery back in 2008. He said a collector had put Aggregation 17 (2017) by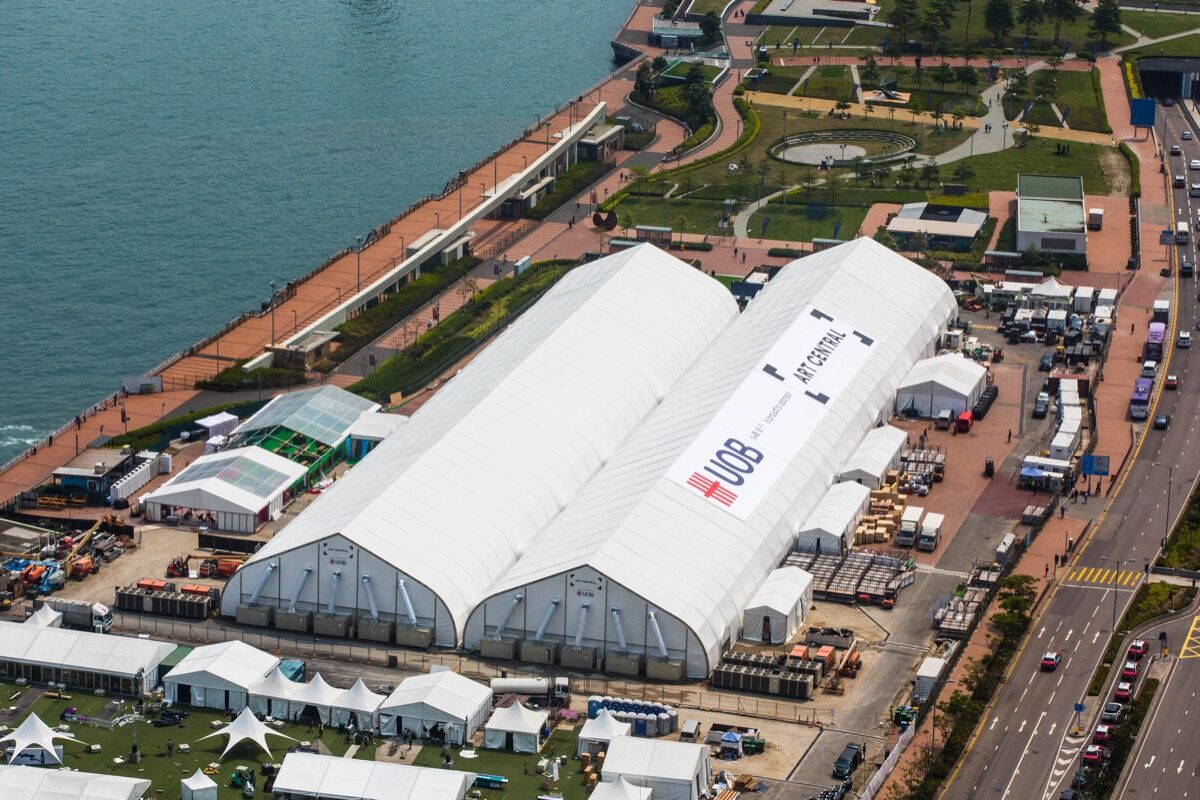 Photo by Jacquie Manning. Courtesy of Art Central Hong Kong.
Yang, who joined Art Central as director for this edition after previous roles at Christie's and Sundaram Tagore, has
described
the fair as "middle-market," noting there's something for everyone, from newbie collectors to whomever has half a million dollars or more for a single work. The 102 galleries showing this year present a wide range of material at a range of price points and media, attracting jeans-clad young people in their twenties as well as older collectors who still dress up for fairs, the women in kitten heels and the men in dark suits.
"Today a big part of the market is in Asia," Cayón said. He was waiting to see how Art Central worked for him, but said he is "thinking long-term" about his strategy in the region.  
Rafaela Seppälä-Forsblom of Helsinki's
Galerie Forsblom
was back at Art Central after participating here two years ago. That year, the gallery was invited at the last minute and decided to give it a try following a previous appearance at Art Stage Singapore. This time around, Galerie Forsblom has taken a more strategic approach, bringing on Chinese-speaking staff for the duration of the fair to better engage with visitors, and updating its website to offer content in Chinese. Although the gallery had not made any sales as of Monday afternoon, Seppälä-Forsblom said the booth, which was right next to the entrance, had been getting very positive feedback.
Photo by Jacquie Manning. Courtesy of Art Central Hong Kong.
"It's also nice to have a fresh market, where people are interested in seeing things, [and] they get excited about things," Seppälä-Forsblom said as one of her colleagues gamely snapped a photo of two young Asian women smiling in front of a large
The gallery was also offering more accessibly priced sculptures by two Finnish artists,
Also near the entrance was Art Central stalwart Gallery Hyundai, which has kept the same premier spot since the fair's first year, and is also a member of the selection committee. The South Korean gallery lived up to Yang's promise of offering a little something for everyone—from reasonably priced works by LOVE statue priced at $650,000, according to Veronica Sohn, a senior art consultant at the gallery. Sohn said Hong Kong was a great place to do business because of its large financial sector, which generated a number of younger collectors with means.
"That's one of the good things about Hong Kong," Sohn said. "Conventionally, collectors are old. Here in Hong Kong…although they are young, they still have power to spend their money."
Photo by Jacquie Manning. Courtesy of Art Central Hong Kong.
"Art Central has a sort of funky, quirky, dynamic atmosphere, which fits with [Wing's] aesthetic," Jensen said, adding that the strength of his show made her want to participate in the fair for the first time to give his work the exposure it deserves.
Photo by Jacquie Manning. Courtesy of Art Central Hong Kong.
Another Hong Kong gallery,
Over the Influence
, located on Central's Hollywood Road, sold out its booth of greyscale, cartoonish paintings by
Lee's work is "quite hot right now," Choi said. Much of the work was presold right before the fair opened, she added, to collectors in Asia, Europe, and the United States.
Not everyone has been pleased with Hong Kong's rapid development, however, nor to the changes at Art Central. Hong Kong dealer Luke Chapman, who directs A2Z Art Gallery,
told the South China Morning Post
that "there's no loyalty" at Art Central. Chapman's gallery had previously shown at the fair but wasn't accepted this year; he said he was planning to apply for Art Basel in Hong Kong next year.
Dozens of local and regional galleries that, like A2Z, have previously showed at Art Central may now be looking for alternatives. In other cities, such as London, New York, Basel, and Miami, this has led to a proliferation of satellite fairs orbiting the main event, with upwards of 20 fairs running concurrently to Art Basel in Miami Beach alone.
At the same time, the team behind ArtHK (the Hong Kong fair that Art Basel
bought
in 2011)
announced last week
that they will launch a new fair, Taipei Dangdai, next January in the Taiwanese capital; meanwhile, the Shanghai fair Art021 is set to launch a Beijing edition in May. Will galleries trade Hong Kong's famously frictionless business climate for opportunities elsewhere in the region? Or will Hong Kong, whose gallery scene is growing by leaps and bounds, see its fair infrastructure expand in tandem?
Anna Louie Sussman is Artsy's Art Market Editor.
Stir Creativity
See how Bombay Sapphire supports artistry.
Sponsored by Bombay Sapphire