How Black Artists, Dealers, and Collectors Are Boosting the Careers of Their Younger Peers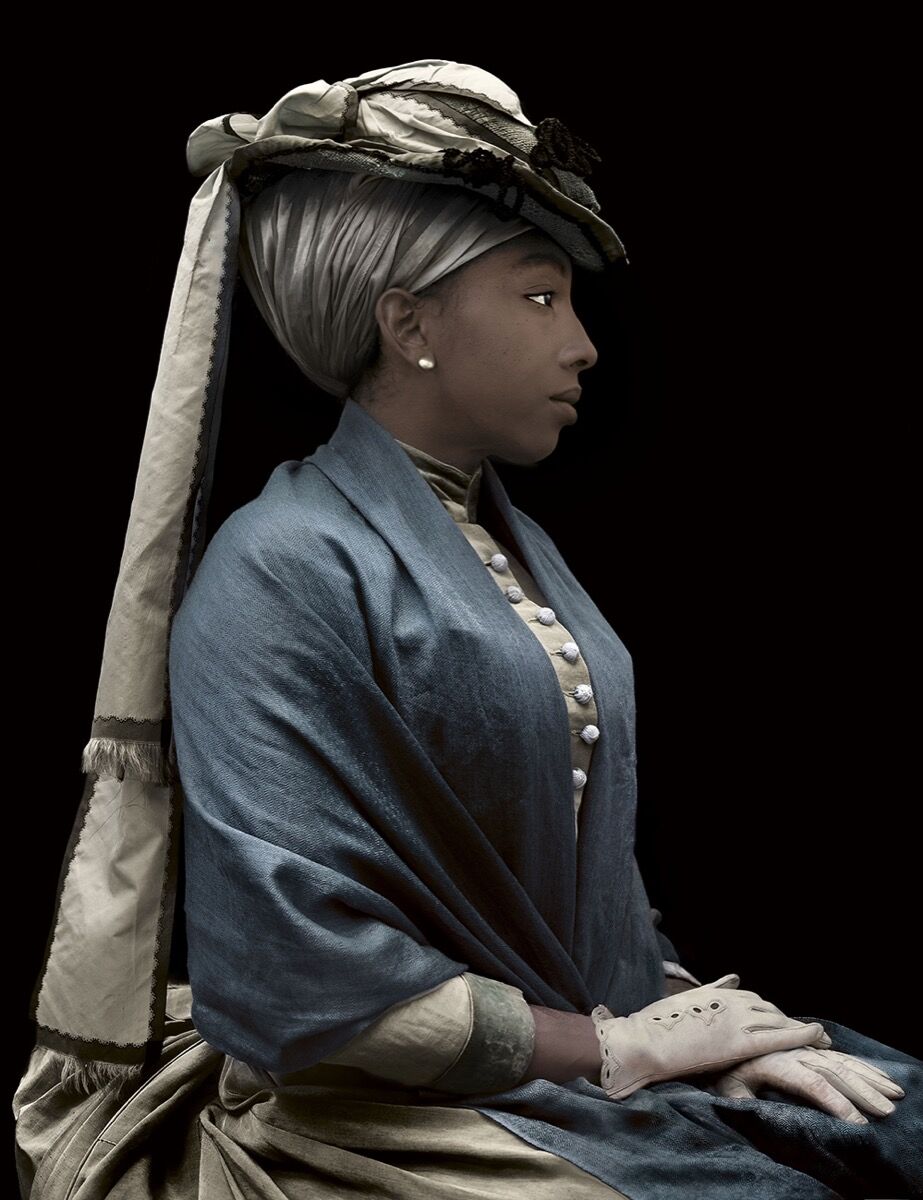 Ayana V. Jackson, Tignon, 2016. Courtesy of Mariane Ibrahim Gallery.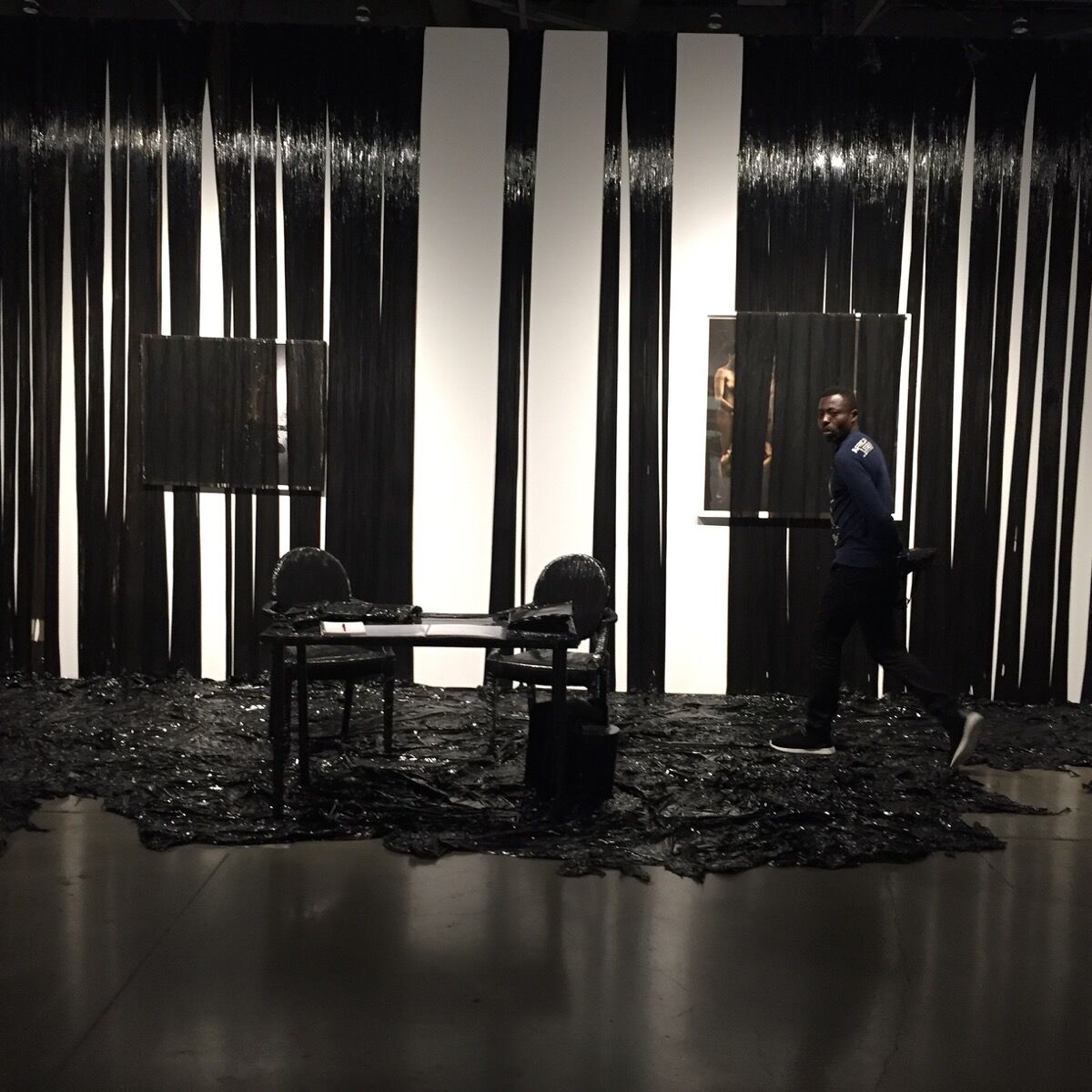 Clay Apenouvon's work in Mariane Ibrahim Gallery's booth at Seattle Art Fair, 2015.
At the Seattle Art Fair in the summer of 2016, the Togolese artist
Mariane Ibrahim Gallery
, a local black-owned contemporary art space, in ripped-up black plastic bags. Inside this installation (entitled
Film Noir
, 2016) were partially visible works by the gallery's artists of African descent, including photographs by the African-American self-portraitist
"It was mostly about making visible what is invisible…that's the discrimination that has resulted in the exclusion of Africans and African-Americans in the collections of museums and in the art market," said Ibrahim, adding that visitors who asked to see behind the plastic bags were told "I won't show you unless, you eventually buy."
The gallerist, who won The Armory Show's inaugural $10,000 "Presents" prize this year for her solo presentation of German-Ghanaian artist
One answer is to be found in the swiftly expanding art market ecosystem owned and operated by black artists, gallerists, curators, and cultural workers. By founding their own frequently for-profit spaces (galleries such as Welancora Gallery,
Long Gallery Harlem
, and Medium Tings) and curating their own shows, they are opening up residencies, curatorships, and positions of leadership and power to people of color, who are grossly underrepresented in the arts industry. Their endeavors have the potential to reshape the art market for black artists and help generate critical scholarship, institutional attention, documentation and sales, both for past generations of black artists who were passed over by white curators, and today's contemporary black artists.
Works by Vaughn Spann at Jenkins Johnson Gallery. Courtesy of the artist and Jenkins Johnson Gallery.
In September of this year, Karen Jenkins-Johnson opened a Brooklyn outpost of her 21-year-old San Francisco
Jenkins Johnson Gallery
, with an emphasis on promoting emerging black artists and provide opportunities to black curators. The project space's first few shows have focused on younger black artists who have had little market exposure, such as the Yale MFA student
"Working with artists at the beginning of their careers is wonderful," says Jenkins-Johnson, who recently pledged $50,000 to the emerging artist program at San Francisco's Museum of African Diaspora in a separate show of support for black artists. "On the other hand, you also have the responsibility in building their markets," she added. Although the project space does not have its own roster and really exists as a space for experimentation, Jenkins-Johnson will nonetheless seek to place the works in institutions and in private collections. On the opening night of "Homeostasis," three works by Spann sold for a total of $30,000.
This move towards self-reliance and a self-contained ecosystem is rooted in the fervor of the Civil Rights and Black Power Movements of the 1960s and '70s, when long-marginalized black artists and curators created their own institutions and galleries, such as the
Studio Museum in Harlem
, the Watts Towers Art Center in Los Angeles, and Just Above Midtown (JAM) in Manhattan, the first space dedicated to work by artists of color in a major gallery district. Their impact resonates to this day: JAM supported the early careers of artists like
Whitney Museum
's Rujeko Hockley, the
Museum of Modern Art
's Thomas Lax, and
MCA Chicago
's Naomi Beckwith got their start.
The current movement continues this decades-long project of integrating black artists into mainstream museums and the broader market. But it is distinguished by a new level of wealth and access that black artists, gallerists, and collectors can marshal to create commercial and institutional opportunities for their peers, both within mostly black spaces and throughout the larger art world.
"As I push forward and expand, I'm interested in how I can bring other artists with me," Thomas said.
Installation view of "Color People" at Rental Gallery, with work by Bob Thompson, The Golden Ass, 1963. © Estate of Bob Thompson. Courtesy of Michael Rosenfeld Gallery LLC, New York, NY. Photo courtesy of Rental Gallery.
"As a black artist who also curates, what I find with black spaces is that they give artists of color a certain level of freedom to explore the material," Adams said. "By being in a black space as a black artist you don't feel like you have to be representative of a larger group of people because the space provides the context."
In another example,
Hauser & Wirth
and sits on the board of the
Guggenheim Museum
, curated "Color People" at Rental Gallery in the Hamptons this past summer, a tribute to the under-recognized late black painter
Jack Shainman Gallery
in New York and South Africa's white-owned
Goodman Gallery
, curated "To Be Young, Gifted and Black," an exploration of black identity that was shown at Goodman Gallery's Johannesburg location in 2015. The gallery sold works from that show to prominent South African collectors, and went on to host the French-Guyanese-Danish artist
Black collectors like Raymond and Crystal McGuire, A.C. Hudgins, Kasseem "Swizz Beatz" Dean, and Pamela Joyner are also using their financial weight and positions on museum boards to increase exposure for overlooked black artists and create new opportunities for emerging ones. Joyner, a former Wall Street executive turned arts patron, is currently touring works from her and her husband Alfred Giuffrida's collection of nearly 400 works by black abstract artists including
Opening reception of Solidary & Solitary: The Joyner/Giuffrida Collection, Presented by the Helis Foundation at the Ogden Museum of Southern Art. Photo by Chelsea Rousey Photography. Courtesy of the Ogden Museum of Southern Art.
Its other prongs include an artist residency at her home in Sonoma, California, for living artists in her collection, as well as scholars and curators whose work extends the canon and relates to the artists in her collection; sitting on the boards of museums like the
Art Institute of Chicago
; publishing critical scholarship, beginning with the 2016 book
Four Generations: The Joyner Giuffrida Collection of Abstract Art
; and collecting and gifting major works by black artists to institutions. Earlier this year, she and her husband donated a suite of works by the color field painter
San Francisco Museum of Modern Art
, to help them fill in the gaps of the museum's collection and art history.
Of course, the rise of black-owned spaces has impact far beyond the market, and many prominent non-profit spaces, such as Rick Lowe's Houston-based Project Row Houses and artist Mark Bradford's Los Angeles-based Art + Practice, are positioned as "social sculpture," an expanded concept of art coined by the German
"I always imagined what was most important was this architectural gift in this neighborhood needed to be something that could be used for a public," Gates said. To partially fund the project, Gates used his favorable position in the blue-chip art market and created and sold Bank Bond (2013), a series of 100 small note sculptures made of marble partitions pulled from the bank's interior, for $5,000 each at Art Basel in Basel in 2013.
Marc Newsome, installation view of I Love 3W at Project Row Houses. Photo by Alex Barber. Courtesy of Project Row Houses.
He also plans to add a printing press to the space called the Black Madonna Press with the $100,000 he was awarded as the 2018 Nasher Sculpture Prize laureate. "Am I concerned that black people have opportunities to create culture? Yeah. Do I understand that the history of American space is that talented blacks get to use space when others no longer want to use that space? Yes."
Similarly, The Underground Museum, a non-profit space in South Central Los Angeles launched by sculptor
"Theaster once said, 'everyone is entitled to beauty,'" Davis said. "I would interpret that as everyone is entitled to green spaces, safe spaces, knowledge, and art. My hope is that by demonstrating the success—both curatorial and in audience reception—of exhibiting black artists alongside artists of all races, other institutions will follow suit."
Stir Creativity
See how Bombay Sapphire supports artistry.
Sponsored by Bombay Sapphire