How Brutalist Luminary Marcel Breuer Became a Master of Concrete
Saint John's Abbey Church, Collegeville, Minnesota, 2009. Photo by Bobak Ha'Eri, via Wikimedia Commons.
In
Along with a small group of his contemporaries, Breuer helped reconsider the lyrical potential of the durable, utilitarian substance. His concrete buildings, in particular, made him into a leading figure of the mid-century
Breuer, who was born in Hungary in 1902, studied and taught at the famed
Museum of Modern Art
design curator J. Stewart Johnson once
told
the
Washington Post
. "Before him, there was no truly modern interior design."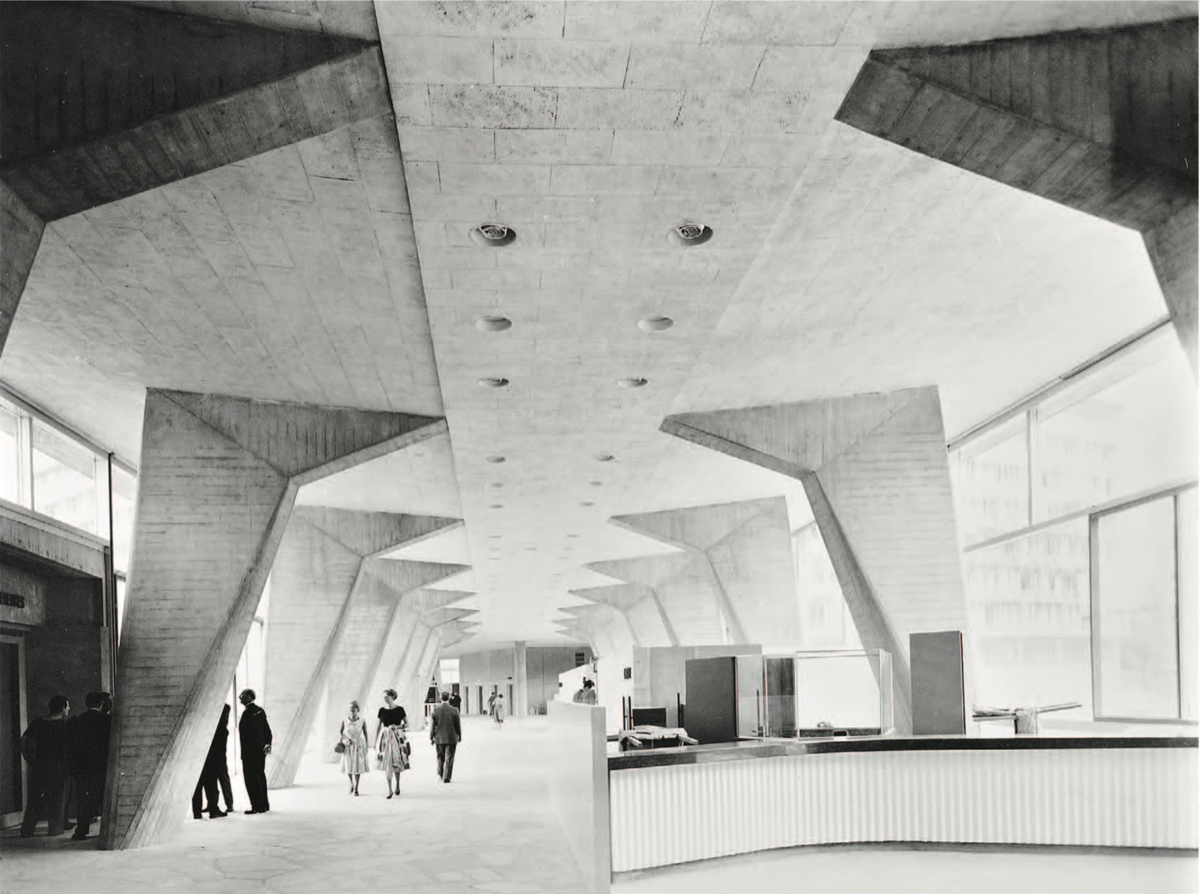 Interior of UNESCO (The United Nations Educational, Scientific, and Cultural Organization), Paris. © Marcel Breuer Papers, Department of Special Collections, Syracuse University Libraries (MBDA). Courtesy of Lars Müller Publishers.
Breuer left the Bauhaus to establish his own architecture firm and, in 1932, he finished his first major concrete work: the Harnischmacher house in Wiesbaden, Germany, a structure whose form belied its weighty materials. "Here was a light-weight volumetric box on a frame of steel and reinforced concrete raised on pilotis [supports that lift a building from the ground] above its sloping site," writes Columbia University professor Barry Bergdoll in the essay "Marcel Breuer and the Invention of Heavy Lightness," recently published in the 2018 book Marcel Breuer: Building Global Institutions. Bergdoll asserts that Breuer ultimately sought lightness through his designs.
Of course, Breuer wasn't the first 20th-century European architect to use concrete. In the early 20th century, French architect Auguste Perret began using reinforced concrete partially as a reaction against the decorative, busy
In the 1930s, political upheaval altered the trajectory of European architecture. The Nazis shuttered the Bauhaus in 1933, and founder Walter Gropius left Germany the next year. Breuer moved to London in 1935 and worked with British architect F.R.S. Yorke. Together, they designed a proposal for a concrete city for theBritish Cement and Concrete Association Exhibition. According to Bergdoll, who recently spoke to Artsy by phone, their model—filled with two dog bone-shaped structures and a square central building surrounded by curving pilotis—"is fascinating because it's almost a catalogue for many of Breuer's buildings that he'll undertake two decades later."
At Gropius's invitation, Breuer left Europe for the United States in 1937 and began teaching at Harvard. Breuer was known as a gifted teacher; from that post, he instructed a new generation of architects, including another modernist master,
In the U.S., Breuer began working on smaller, residential commissions, mostly in the northeast. According to Bergdoll, the architect often used multi-ply timber, which he began to equate with reinforced concrete. For example, when he built his own home in New Canaan, Connecticut, in 1947, Breuer mounted what looked like a sturdy, exposed wood box atop a concrete base. Throughout the early 1950s, Breuer won commissions for the UNESCO buildings in Paris and St. John's Abbey in Minnesota. "He's obviously got concrete in the back of his mind," Bergdoll said.
Breuer became known for such institutional structures. Throughout the 1960s, he and many other American architects used prefabricated concrete panels (formed in a reusable mold, instead of poured in situ) for such sturdy, large-scale constructions. In 1962, Breuer completed the IBM Research Center in La Gaude, France, and the Robert C. Weaver Federal Building in Washington, D.C., in 1968. Both buildings are curved, which allows for more light. Breuer used what Bergdoll called an "externalized concrete frame," making concrete into not just a building material, but a finished exterior surface.
"It's almost a reversal from the tradition of the American steel-frame skyscraper where the structure is internalized and the skyscraper can be clad in a non-load-bearing enclosure," said Bergdoll. "His move toward the concrete facade is taking structure to the exterior and freeing up a lot of space inside."  
In 1966, Breuer built perhaps his most popularly known design: the
Whitney Museum of American Art
, an "inverted Babylonian ziggurat" that features bush-hammered concrete surfaces throughout the lobby and staircases. If the structure was
controversial
at first—critics alternately deemed it "oppressively heavy," "serious and somber," and "the Madison Avenue Monster"—it became a landmark in 1980, and is now more frequently considered a "
mid-century icon
."
Breuer himself retired in 1976, and died five years later. In an obituary for the New York Times, Paul Goldberger wrote that the deceased architect "made small objects of tubular steel early in his career and vast buildings of concrete later on. In each case, he showed an interest in bending technology to sculptural purposes."
For decades after Breuer's death, his design for the Whitney quietly welcomed visitors into one of the country's preeminent exhibition spaces. Just three years ago, the
Metropolitan Museum of Art
took over the lease when the Whitney moved to its new downtown location in 2015. The Met renamed the institution the "Met Breuer," a move that Nikil Saval of
T Magazine
called
"a consecration of Brutalism by art officialdom." The architect himself, and the elegant concrete architecture that became his trademark, are similarly back in vogue.
Alina Cohen is a Staff Writer at Artsy.
Stir Creativity
See how Bombay Sapphire supports artistry.
Sponsored by Bombay Sapphire