Designer Kia Utzon-Frank Is Changing the Way We See (and Eat) Cake
Kia Utzon-Frank, KUFcake, 2016. Spherical cake made with layers of white chocolate ganache and a mousse core, covered in marble-printed marzipan and 24-karat edible gold. Photo by Owen Silverwood. © Kia Utzon-Frank
Google the term "designer cake" and you'll quickly uncover a pastel-hued army of bespoke 3D teddy bears baked for toddlers' birthday parties or imitation Chanel handbags painstakingly constructed to charm the most discerning of fashionistas. Turning this idea on its head is Danish-born, London-based inventor and designer Kia Utzon-Frank, whose new line of marbled marzipan cakes transcend the realm of food to become art objects. 
Launched this past May at innovative retail space Clerkenwell London as part of its "Design Undefined" exhibition during Clerkenwell Design Week, Utzon-Frank's cakes are an array of geometric conical structures with circles jutting out of them, or perfect spheres, made via printing patterns directly onto marzipan and fondant; some of them incorporate edible 24-karat gold.
The idea to print on marzipan initially arose when Utzon-Frank—a Royal College of Art graduate trained in goldsmithing, silversmithing, metalworks, and jewelry—was trying to help a burnt-out chef forge a new career path. The chef wasn't up for becoming involved in the new venture, but the concept stuck with Utzon-Frank even though she doesn't have formal baking credentials (though has made cakes for family gatherings since childhood). "Instead of printing a football team on your marzipan for some tournament, I thought you could probably print cool stuff on it. So I looked into that—and you could!" she explains. Working with a marzipan printer who uses a flatbed device and food coloring—a process similar to printing with normal ink—her designs are morphed into striking, palatable sheets. Using this technique, coupled with a type of Brazilian multi-layer sponge cake called bolo de rolo, with mousse at its core, Utzon-Frank can sculpt and mold nearly any silhouette she desires.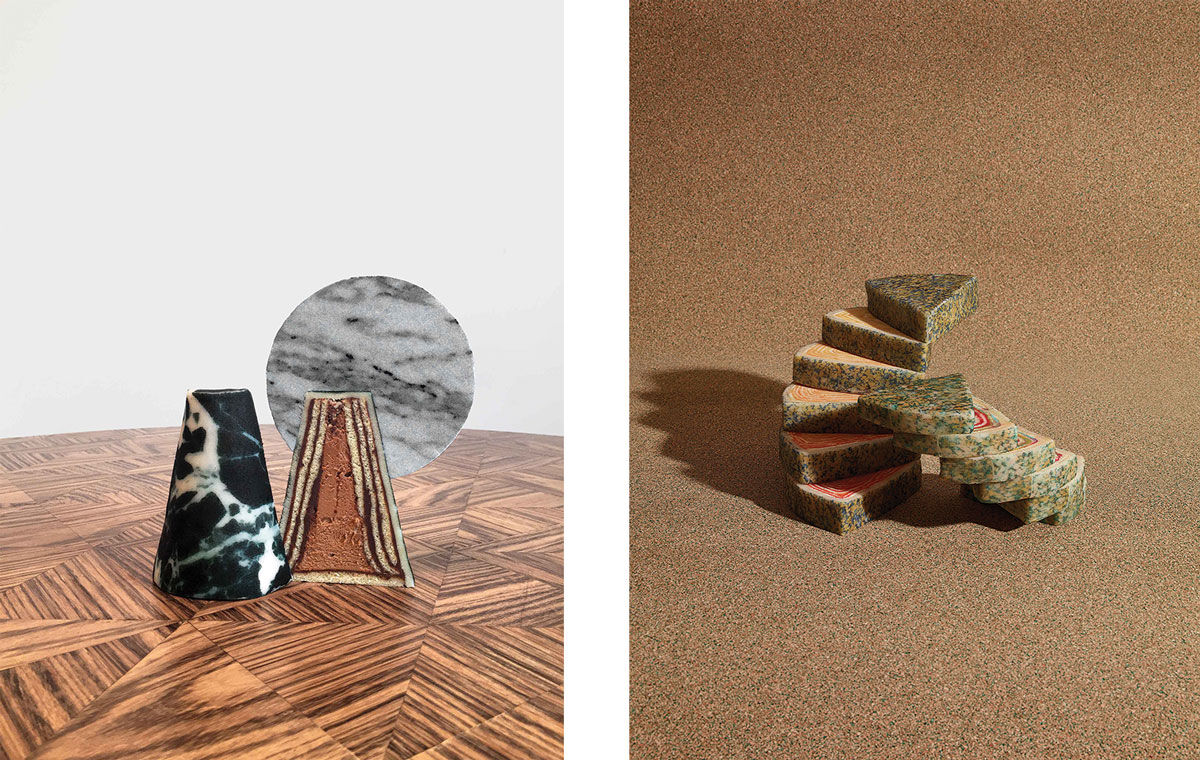 Kia Utzon-Frank, KUFcakes, 2016. Left: Cake Testing at ZETTELER. Right: Cork-printed cakes. Photo by Owen Silverwood. © Kia Utzon-Frank
From this project's inception, it took the designer just three days to build a prototype and book six gigs. "It's kind of like running after the bus with your mum when you're a kid and she's running so much faster than you, and you're just trying to keep up. So, the cakes kind of are my mum," she muses. Utzon-Frank's multidisciplinary practice—she is constantly churning out a diverse array of objects, including twisting window blinds, avant-garde jewelry, paper and string sculptures, and plant hangers—makes her comfortable thinking about cake as just another material that is ripe for experimentation.

Under her newly formed brand KUFstudios, her plan is to trot out the cakes (dubbed "KUFcakes") for high-end events ideally in the art, fashion, and design sectors. She considers the first cakes she's produced to be examples, and that anything is possible for their shape, size, color and even taste; they can be altered to fit the occasion they're catering to. For example, a perfume launch could feature a cake that uses ingredients similar to a particular scent's essence. Or, a cake could actually change color throughout using a gradient, so the top doesn't look the same as the middle or bottom. This could also be possible for taste—one flavor up top, cascading down and changing. "That could also be a conversation piece at an event," she posits. "Like, 'What does your cake taste like?'" 
Kia Utzon-Frank, KUFcakes, 2016. Chocolate mousse cakes covered in marble-printed marzipan and 24-karat edible gold. Photo by Owen Silverwood. © Kia Utzon-Frank
When asked what the biggest challenge with her KUFcakes has been thus far, Utzon-Frank immediately replies, "Ah man, it's food! There are so many rules. If I do something wrong, people can get sick. So I had to learn all that." These challenges excite her, though; where some designers might shy away, she embraces both the positive and more fickle aspects of cake as a medium. She also feels comfortable as a serial beginner, preferring to avoid monotony by working across multiple disciplines and exploring uncharted materials. "I find that interesting because that's how new stuff comes up; it's in the connection between two fields," she says. "Connecting stuff is where all the magic happens. I think people should do way more stuff that they have no idea about. Because you're not restricted to rules when you don't really know the rules. You can kind of just go with it, right?"
—Ali Gitlow
Stir Creativity
See how Bombay Sapphire supports artistry.
Sponsored by Bombay Sapphire