The Carnegie International Puts Joy before Politics
It may not be a household name, but the Carnegie International, in Pittsburgh, Pennsylvania, is the second-oldest exhibition of contemporary art in the world, after the Venice Biennale. Initiated in 1896, the event aimed, in the words of
Carnegie Museum of Art
(CMoA) founder Andrew Carnegie, to "bring the world" to Pittsburgh—a city whose art-world bonafides are perhaps slim, beyond being the birthplace of
I asked Marshall if he was looking forward to doing anything else in the city while he was there. "The Carnegie is the thing," he said, when I caught him near his contribution to the show: newly conceived, black-and-white comic strips printed on plexiglass, hung in one 70-foot-long line throughout the lobby of the CMoA. Offering disjointed narratives that revolve around a superhero called Rythm Mastr, they provide a conceptual, Afrocentric alternative to, say, Superman. Some strips are meant to be read right to left; text appears backwards when issued from the mouth of a character facing away from the viewer. The strategy suggests that these works aren't necessarily for you, but for another, fictional audience. Marshall first exhibited comics at the institution's 1999–2000 Carnegie International exhibition. "There was a necessity for comic representation of black figures," he told me, because you didn't see them in daily newspapers. Nearly 20 years later, he was back to debut his latest installment.
Marshall's work is but one part of a large, yet concise exhibition. Organized by curator and Pittsburgh native Ingrid Schaffner, the show includes work from over 30 artists, situated inside the museum and along its grounds. This reviewer, used to being herded around via bus or on foot to see biennial-style exhibitions spread across entire cities, was quite content to spend the entire day at one institution. I could focus on the art instead of my blisters, body temperature, and next meal. To be fair, the guidebook that accompanies the exhibition in lieu of detailed wall text warns visitors that "art galleries are maintained at a chill 68 to 72 degrees Fahrenheit with 45 to 55 percent humidity….A sweater is advised." Schaffner's attention to detail and emphasis on visitors' enjoyment can make her seem like a benevolent babysitter, or just make other curators look like sadists.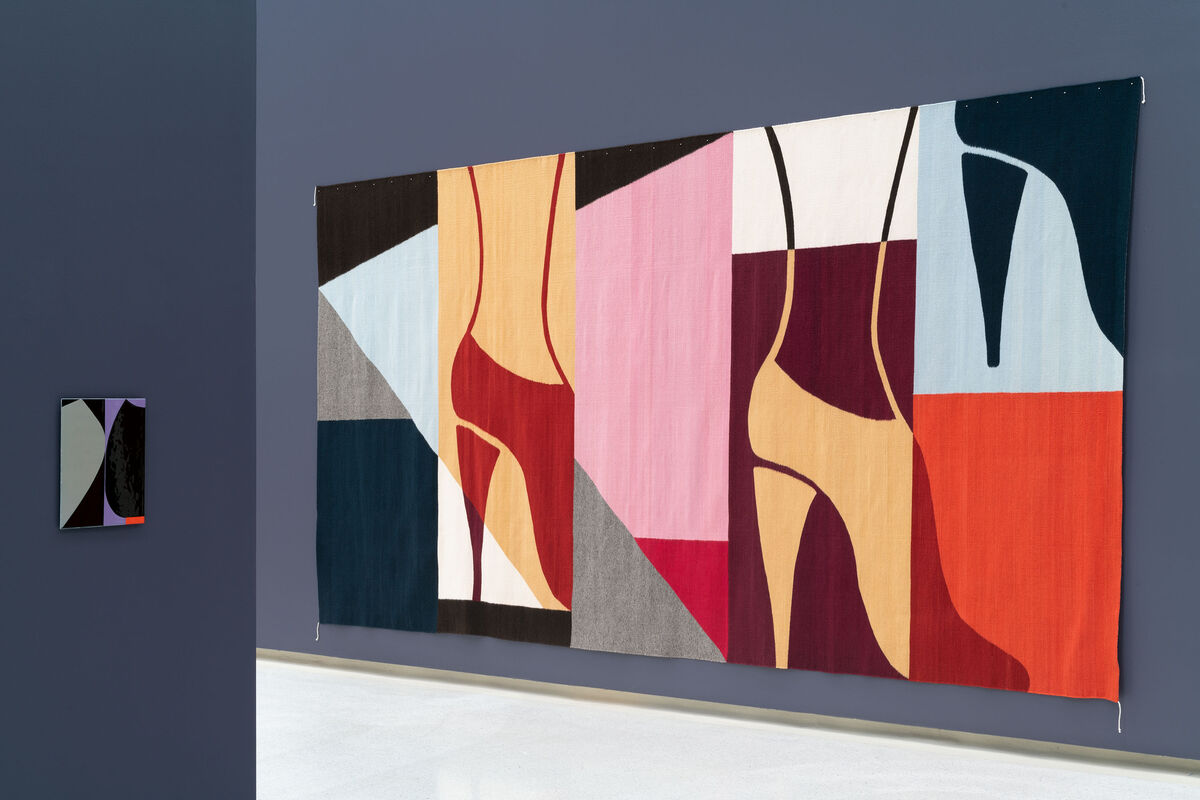 In fact, the Carnegie International provides a decidedly comfortable experience overall. Given the apocalyptic tenor of today's news (Migrant mothers are still separated from their children! The Supreme Court is bust! Global warming will kill us all by 2040!), the show is surprisingly lighthearted. Schaffner organized an exhibition more focused on inspiring pleasure than on addressing any particular crisis; "Museum joy!" proclaims the accompanying tote bags. (If you want simple and immediate moral outrage while visiting the show, you could always check your phone notifications.)
Throughout, Schaffner embraced the decorative. After mounting a set of stairs off the lobby, flanked by a bright and blocky
From this chic gallery, visitors enter a room filled with Yiadom-Boakye's suite of imagined portraits. Fantasy and fashion prevail again. The artist paints fictional (predominantly black) figures, often at large scale. One picture, A Whistle in a Wish (2018)—of a woman in a black dress with a blue collar, smoking a cigarette propped between long, elegant fingers—radiates an effortless cool. Nearby, Coronet (2018) depicts three men lounging together above a black-and-white checkered floor. Sporting vivid hues—a purple shirt, a green scarf—the men strike casual, languid poses.
Clothing reappears with a more politicized slant in Feminist Responsibility Project, for which the artist alters pages from pornographic publications and digitally prints them onto dresses, pants, and tops. Ultimately, Semmes appropriates objectifying images for her own aesthetic (and commercial) ends. The Carnegie International hangs a video from one of her fashion shows, featuring these designs, on a wall decorated with chartreuse tulle.
The Carnegie International remains, for the most part, cheery. Even war becomes palettable under the auspices of
Kilimnik, meanwhile, is known for gentle gestures: placing stickers of cats and sparkling fish atop photographs, and painting lovely little oil paintings. Such works are on view inside the museum's decorative arts gallery (a perfect location), across from vitrines filled with "objects of luxury" from the permanent collection: a snuff box, potpourri vase, and lots of porcelain. Kilimnik's other contribution to the Carnegie International is a new film, The World at War, which juxtaposes war scenes from various feature films. The whole project is more whimsical than frightening.
On the other hand, Kilimnik and Deller's work highlights the frivolity of the museum collection itself. Contemporary art, when paired with dollhouse-sized magazines and elegant tea cups, makes the latter seem shockingly out of touch. Maybe it's the entire project of collecting and fetishizing objects—and not necessarily the work of Kilimnik or Deller—that needs a rethink.
In Schaffner's exhibition, even trash becomes cute.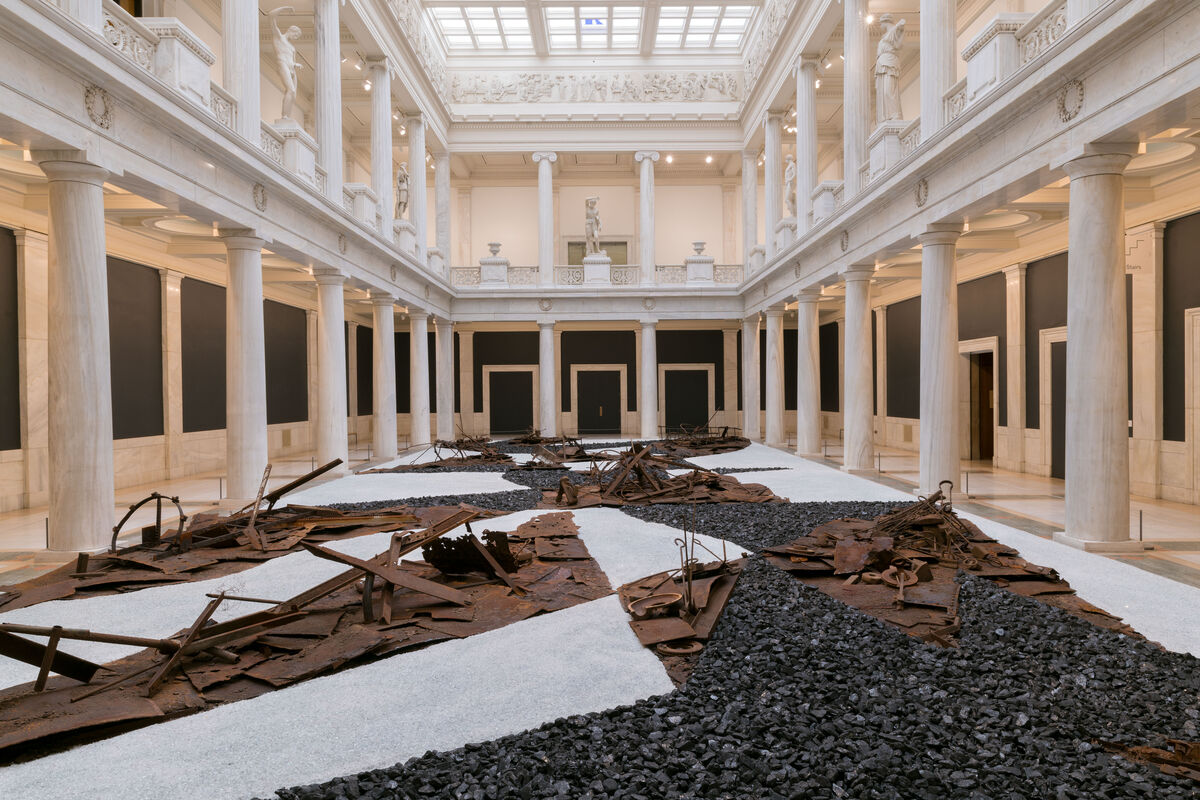 Even when certain commissions engage with difficult topics, the aesthetic component is still pleasant, even beautiful. A work by From Smoke and Tangled Waters We Carried Fire Home (2018) comprises shiny coal chunks and shimmering white glass shards. On top rests rusted steel ladders, rotors, grates, and more detritus from Carrie Furnace—one of the final iron producers to close in Pittsburgh.
According to Postcommodity's Cristóbal Martínez, Pittsburgh's steel production helped create the first black labor unions within the industry, which in turn helped lead to the development of jazz music. As an indigenous collective, Martínez said, he and his collaborators were able to "use the very materials that are implicated in having financed a fantasy" like the CMoA (Carnegie, of course, made his money in the steel industry), and offer "an indigenous worldview about how these types of spaces are implicated in colonization." The contrast of steel refuse strewn across the floor amongst marble sculptures serves as the Carnegie International's most poignant conjunction of the museum's own site with newly commissioned artwork. Just beyond From Smoke, along the museum's grand staircase, the CMoA's long-standing murals of day laborers and railroads offer yet another connection to the city's industrial history, one that celebrates that past in a more heroic, myth-making way.
At the back of the Scaife Galleries, Cameroonian curator Koyo Kouoh organized a miniature show-within-the-show, entitled "Dig Where You Stand." It culls together objects from the CMoA collection: a stuffed bald eagle; a TV Rodin (1976–78) that places a miniature of The Thinker in front of a television. A massive, vivid lime-and-magenta Warhol silkscreen of Andrew Carnegie looms large atop a burnt-orange wall. Historical layers of art, colonization, and patronage multiply throughout the small gallery. The exhibition, said Kouoh's graduate student assistant Emi Finkelstein, aims to think about "how to critique the institution from inside the institution."
In the museum's Heinz Galleries, American artist
Despite the occasional moment of biting critique, the Carnegie International often serves as a respite from bad news. An installation by Da Corte serves as its greatest moment of escapism: A neon structure that resembles a cottage with flower boxes and jack-o'-lanterns in the windows invites visitors inside, where they can watch candy-colored films of Da Corte dressed like Pinocchio and Mr. Rogers, blowing a balloon or singing in the rain.
In another room,
I love the work of Da Corte and Reaves, and I definitely love sitting down in museums. For better or for worse, I felt a little decadent for enjoying myself so much while a front-page investigation unfolded surrounding the murder of a Saudi journalist. A clear dissonance prevailed between the day's crises and the artwork at the Carnegie International. But ultimately (call me irresponsible!), I wasn't so upset to forget the world, within the confines of a museum, for a few hours.
Alina Cohen is a Staff Writer at Artsy.