These Centers Are Helping Artists with Disabilities Break into the Mainstream (and the Market)
Myasia Dowdell working at LAND Gallery. Courtesy of LAND Gallery.
By art world standards, I've had a fairly typical education; I attended the School of the
Art Institute of Chicago
, and Goldsmiths College in London. In my eclectic career, I've curated at emerging project spaces, but also overseen the installation of
The Museum of Everything
, which bills itself as the "first travelling museum for non-academic artists and private art-makers." I didn't expect the experience to alter my basic perceptions of what art can be. But I went on to contribute to two of their major museum exhibitions, one at
Kunsthal Rotterdam
, and the other—on view through April 2018—at the
Museum of Old and New Art
in Tasmania. Between this pair of shows, I helped the Museum of Everything showcase a wide variety of unexpected art objects, from Hosea Hayden's 19th-century folding chairs to mandala-like paintings by
Being involved in the planning, research, and curation of these shows exposed me to an alternate art history, and introduced me to an intriguing new generation of makers. This revisionist history made room for artists like the self-taught
Museum of Modern Art
, in 1937. It also included a deeper understanding of those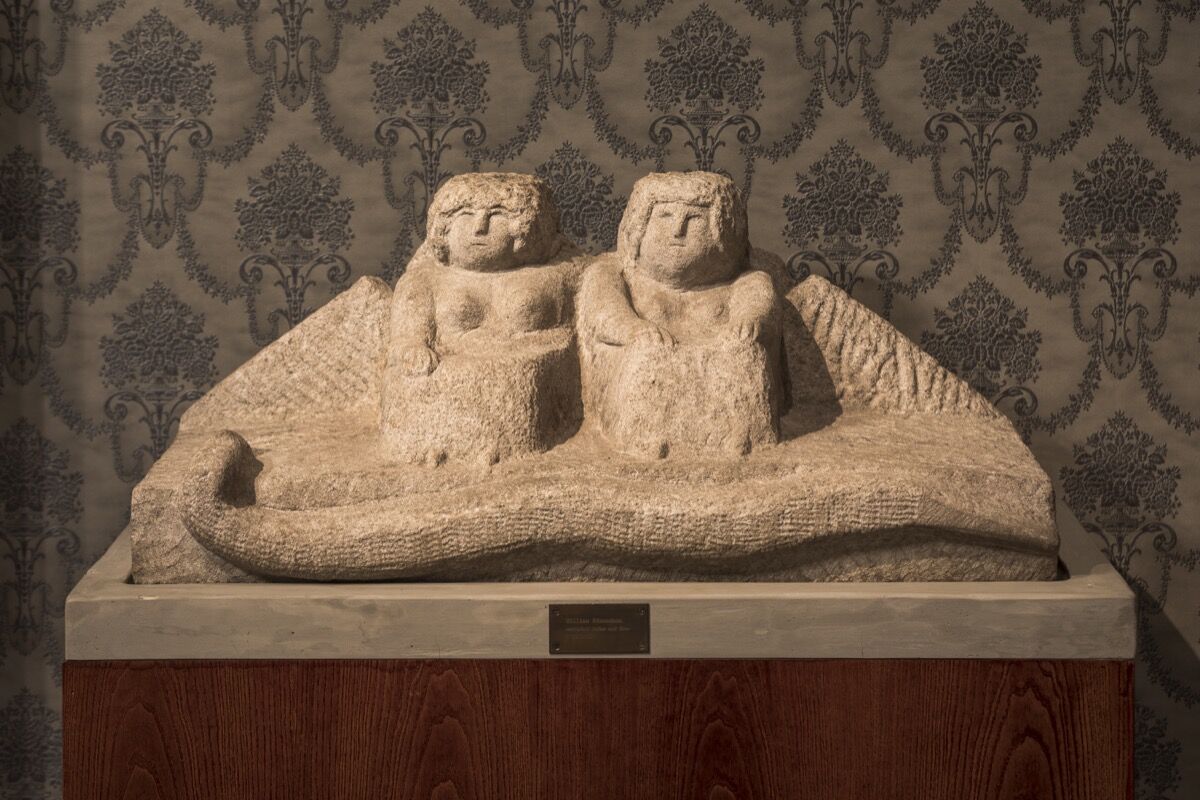 Work by William Edmondson. Courtesy of The Museum of Everything.
For instance: Creative Growth Art Center, which was started in Oakland, California, over 40 years ago by Florence and Elias Katz in response to then-governor Ronald Reagan's decision to close state-run psychiatric hospitals. (Its facilities now provide activities in drawing, painting, ceramics, textiles, wood, printmaking, and video production.) In the 1980s, the Katz couple founded an additional studio, Creativity Explored, in San Francisco.
Around 1974, in Australia, Myra Hilgendorf started an exhibition platform, Arts Project Australia, to support the work of her daughter (an artist with a disability); 10 years later, it evolved into a studio workshop program. In 1986 Yamanami Welfare Workshop opened in Shiga, Japan; initially offering drawing and clay modelling, amongs other activities, they later developed into Atelier Yamanami, which is still going strong.
In more recent years, this studio movement has blossomed—there's Atelier Incurve in Osaka, Japan (2002); Project Onward of Chicago (2004); and LAND Studio & Gallery, in Brooklyn (2005), all of which operate more like artist-in-residency programs than art therapy sessions. Studio coordinators and visiting artists are facilitators allowing artists to develop their practice in a non-directive, non-didactic environment.
Active non-profits, these studios have various channels of funding: Atelier Incurve is primarily funded by the Japanese government, while Creative Growth is funded in part by a membership program for support from individuals; Project Onward is the recipient of a 2018 National Endowment for the Arts grant.
They're joined by other institutions, like Pure Vision Arts of New York; Riera Studio, in Havana; and Atelier Goldstein, in Frankfurt (whose artist Julius Bockelt exhibited last year at London's
Frith Street Gallery
, alongside
remains a complex issue
.
These artists' success in market times is ascendant, with commercial galleries like Shrine,
Fleisher/Ollman
, and the Gallery of Everything concentrating on self-taught material, and with the Outsider Art Fair, now in both New York and Paris, in its 25th year. (New York-based dealer Andrew Edlin took the helm in 2012.) Christie's and Sotheby's host sales dedicated to the loosely defined genre. This September, a sculpture by Creative Growth artist
National Gallery of Art
—are raising the reputation and interest of makers in this nascent canon.
The latest edition of the Venice Biennale, featured large drawings by
Centre Pompidou
. Both Miller and Scott developed their practice at Creative Growth. Scott is considered one of the most well-known artists arising from these type of studios. In 1987, Sylvia Seventy was a visiting artist with Creative Growth, and introduced Scott to fiber materials during a workshop. Scott died in 2005, but her work is still gaining in popularity. In 2014 she had
a solo show of her densely wrapped assemblages
at the
Brooklyn Museum
; in February 2018, she will be exhibited at Malmö Konsthall in Sweden, curated by François Piron.
Still working at Creative Growth, Dan Miller's densely layered compositions of overlapping letters and words are complex and visually intriguing. His work has been exhibited in group shows at
Gavin Brown's Enterprise
, whose stable of artists include
Other studios are also active on the international art fair circuit. Japan's Atelier Incurve, for instance, has taken part in Scope New York and Art Stage Singapore. In March, at Art Fair Tokyo, they will present the surreal and cartoonish paintings of Tomoyuki Shinki, large ink works by Takafumi Akazawa, and Ryoji Nishikawa's vividly dense drawings. Atelier Incurve's modern approach to supporting artists with disabilities starts with its own building design, and extends through its multifaceted strategies to generate exposure. Founded by architect Hiroshi Imanaka after a trip to Europe—where he was inspired to create a studio upon discovering Le Palais Idéal (where mailman Ferdinand Cheval
gathered stones on his postal route for over 30 years to build the fantastical palace
without formal training). Atelier Incurve now has a studio in Osaka, an exhibition space in Kyoto, and a publishing platform. Among their 25 resident artists,
LAND, in Brooklyn, was founded by the League Education and Treatment Center (LETC
).
As part of their program, LAND resident artists collaborate with external artists, designers, animators, and often with the Museum of Modern Art. Several LAND talents have found favor with private and corporate collectors; Michael Pellew's work, for instance, is owned by CitiBank and J Crew, as well as by the likes of Spike Lee, Mos Def, and Sia. Pellew's practice, full of wit and insightful commentary, focuses on celebrity culture: Everyone from Kim Kardashian and Alice Cooper to Bill Clinton and Derek Jeter make cameos in his work. "His work, while being hilarious and charming, really resonates with me personally," says Scott Speh, director of
Western Exhibitions
in Chicago, where Pellew will have a solo exhibition this coming June.
Chicago specifically has a unique history with so-called "Outsider" art. The city is where
Work by Michael Pellew. Courtesy of LAND Gallery.
On the other side of the globe, Arts Project Australia, located in Melbourne, works with a group of around 120 artists. That includes
In 2017—when the future of the art world can be clouded by big money, nepotism, and sexual harassment—the creativity and success of these studios provides a welcome balance. We've come to a democratic moment wherein the boundaries between self-taught and "Outsider" talent and the larger contemporary art world continue to dissolve. The next steps? Hopefully these talents will work their way into the art school curriculum; visits to these studio programs will be added to the must-see lists of organized cultural excursions; and funding, whether it's from governments or individual patrons, will continue to enable this exciting discourse to expand globally.
Lisa Slominski is a curator and art consultant. Previously serving as Head of Visual Culture for The Museum of Everything, she specializes in the emerging field of self-taught and Outsider art.
Stir Creativity
See how Bombay Sapphire supports artistry.
Sponsored by Bombay Sapphire