A Century of Photographs Capture the Passion and Joy of Kissing
The chair was meant for one, but two lovers had shoehorned themselves between its plush, flower-patterned arms. Their bodies, though fully clothed, touched at every possible juncture, their lips covered by a deep kiss. Maybe they knew a camera was poised in front of them, ready to capture the fiery, fleeting moment, but they certainly didn't acknowledge it; their focus had turned fully to the embrace.
The snapshot, which was taken around 1950, is one of over 100 anonymous, found images gathered in
People Kissing: A Century of Photographs
(2018), a compendium recently published by Princeton Architectural Press that documents all manner of kissing, from the Victorian era to the present. In its pages, there are lusty, supine caresses with ties akimbo and shoes urgently cast off, or sweet, innocent nuzzles delivered in public. There is young love, same-sex love, mixed-race love, and senior love. There are kisses cast into the air, planted passionately on necks, or stolen in the curtained semi-secrecy of a photo booth. Some are staged with great care; others are wildly spontaneous.
Together, the images reveal the timeless desire to capture ephemeral moments of physical closeness and passion—proof of requited love. They also harness the voyeuristic thrill of witnessing intimacy between strangers. All of the images are intoxicating, much like the act of kissing itself. "It is impossible not to look at a photograph of people kissing," said Barbara Levine, one of the artists behind the project.
Levine and her collaborator Paige Ramey, both artists and archivists based in Houston, collect all manner of found images—or vintage vernacular photographs, in Levine's parlance. For over 20 years, they've scoured flea markets for tossed-aside family snapshots and long-defunct postcards. The images they're drawn to, Levine explained, "transcend time and place" and "speak to contemporary questions and sensibilities." Her hope, she continued, is to "reveal something not seen at first glance."
While their volume certainly evidences the universal delight of kissing, it also highlights how nuanced the act—and the responses it elicits—can be. The earliest images in the book, taken in the late 1800s and early 1900s, capture some of the first on-camera kisses. Before the age of photography, "kissing was private, and images of people kissing were fairly uncommon," Levine explained. Photography changed everything: "Suddenly, the most intimate expressions of affection could be reproduced and shared privately and publicly," she continued.
In one captioned black-and-white print from around 1910, the text below two intertwined lovers enthusiastically announces this new phenomenon: "A Common Scene, Generally Unseen." Even in its exuberance, though, the image is staged and melodramatically cinematic. Many similar photographs, shot in studios with hulking large-format cameras, decorate postcards and valentines from the era. Subjects dip low and blush hard, like the silent film stars they seem to be imitating.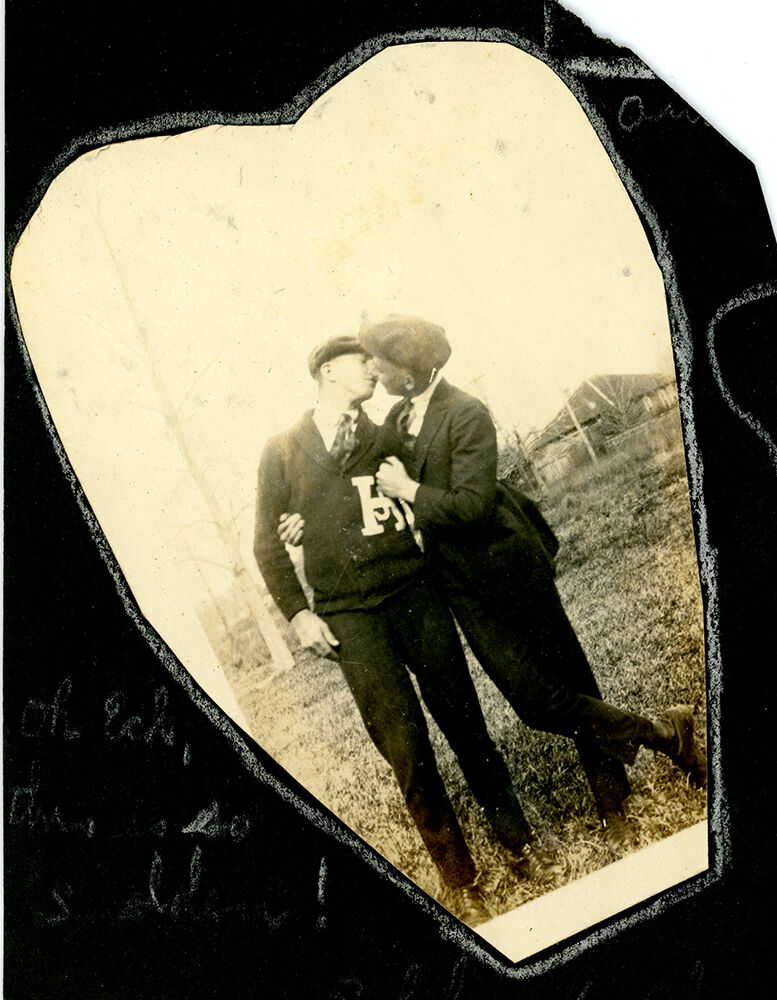 But snapshots begin to emerge, too. Levine and Ramey found a number of images, shot in the early 1900s, of kisses set outside studios, in the freedom of nature. Young heterosexual couples lock lips, surrounded by trees. Same-sex couples also love freely in the photos. Two men in matching pageboy caps gaze into each other's eyes; the camera captures them milliseconds before their lips touch. Women embrace in front of a tent; its flap is open, alluding, perhaps, to a night spent there together.
In the mid-1900s, with the emergence of widely available hand-held cameras like Brownies and Polaroids, the images become even more spontaneous—and more intimate. One photo, taken in the comfort of a home in around 1968, shows two lovers lounging on the floor. His flip-flops are off, stowed under a coffee table strewn with the trappings of their daily life, while her pink high-heels caress his bare feet. Their faces lie beyond the frame, but we can imagine their kiss: comfortable, affectionate.
As Levine points out, the anonymity of these images, in which the photographer and subjects are unknown, invite the imagination to run wild. "When you look at a found photograph…you're activating a story," Levine explained. Filling in the blanks is irresistible: "Who are they? What do they see in each other? Is it mutual? Are they kissing the way I kiss, or want to be kissed? Who was the invisible photographer who had access to the intimate moment?"
Levine's favorite photographs are those that beg questions. In one snapshot from around 1950, two lovers melt into each other on a couch, while a little boy looks on, his curiosity mimicking our own. It's a scenario that emerges across Levine's collection: "When there is another person or people in the room who are watching," she explained, "and you're not sure if the people kissing even notice."
Alexxa Gotthardt is a contributing writer for Artsy.