From Chagall to Rauschenberg, 7 Artists Who Designed Costumes
At least since the times of
Merce Cunningham Company photographed performing in 1975, the back drop painting is by Robert Rauschenberg. Photo by Jack Mitchell, via Getty Images.
Rauschenberg and choreographer Merce Cunningham developed a long-lasting partnership, working together on 24 dances in total. One of these, titled
Summerspace
(1958), featured rainbow-hued pointillist backdrops and leotards—a far cry from the American artist's typical
Antic Meet
, featured a four-armed sweater worn by Cunningham himself, which required the dancer to switch armholes throughout the performance. "Over time with Rauschenberg, there're certain motifs that recur,"
Walker Art Center
curator Darsie Alexander
explained
to
ARTnews.
"You can see some of his imagery migrate from painting and sculpture into Cunningham's realm."
Choreographer and "punk ballerina" Karole Armitage fused the worlds of art, dance, fashion, and music in 1988 with a performance titled Go Go Ballerina on New York's Lower East Side. Jimi Hendrix and Public Enemy were featured on the soundtrack, Contempt. The resulting blow-up pig suit, the dancer's legs poking through its porky belly, offers a prime example of the artist's long-standing interest in inflatables.
Chagall's later costumes, for Stravinsky's ballet The Firebird and Mozart's opera The Magic Flute, incorporate delicate embroidery and decadent fabrics. But these early designs, for a 1942 performance by the American Ballet Theatre, have more in common with his canvases. Each outfit is hand-painted, incorporating themes from Russian folklore alongside traditional Mexican styles. It's a combination particularly suited to the subject matter: The ballet, Aleko, is based on a poem by Russian writer Alexander Pushkin and premiered in Mexico City.
Costumes by Isamu Noguchi. Orpheus Photo by Paul Kolnik. Courtesy of the New York City Ballet.
Noguchi, with his polished, pared-down sculptural forms, was well-suited to creating set designs for modern dance. He worked frequently with a host of influential American choreographers, including Martha Graham, Merce Cunningham, and George Balanchine. Balanchine in particular, as one of the founders of the New York City Ballet, commissioned Noguchi to create the sets and costumes for the dance company's inaugural 1948 performance of Orpheus. "There is joy in seeing sculpture come to life on the stage in its own world of timeless time," Noguchi once remarked of his theater collaborations.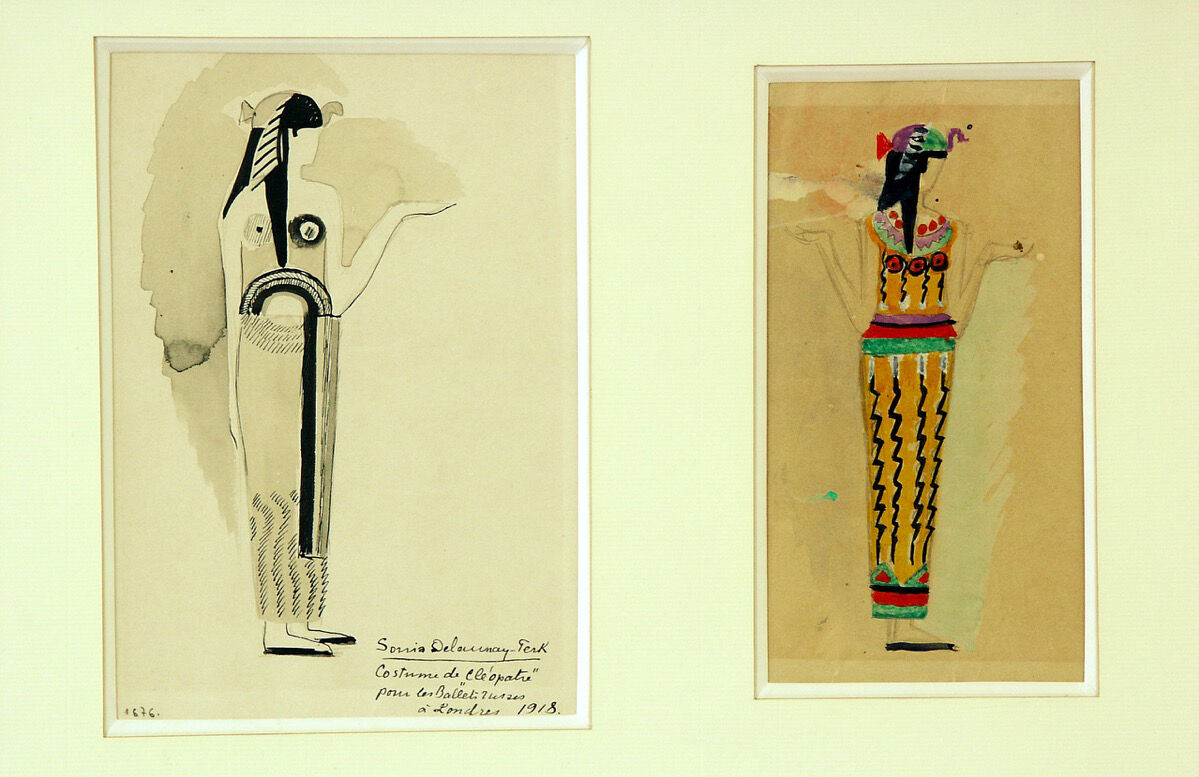 Sonia Delaunay, Two costume designs for the ballet Cleopatra, 1918. © Pracusa 2017633. Courtesy of Museo Thyssen.
Russian art critic Serge Diaghilev founded the Ballets Russes in 1909, weaving together the talents of major contemporary artists (including Cléopâtre. The exposure helped to launch her design career, which resulted in a series of popular textiles and costumes for opera, film, and ballet.
Recreation of the 1922 Triadic Ballet.
The original Triadic Ballet, which premiered in 1922, was an avant-garde production that fused the spheres of dance, music, theater, art, and architecture into a mesmerizing whole. Formally trained as a painter and sculptor, Schlemmer embodied the multidisciplinary spirit of the
Estate of Leonor Fini, courtesy of Weinstein Gallery.
Estate of Leonor Fini, courtesy of Weinstein Gallery.
Fantastical, otherworldly women populate the vibrantly hued paintings of Argentine 8½ (1963) and Renato Castellani's Romeo and Juliet (1954).
Stir Creativity
See how Bombay Sapphire supports artistry.
Sponsored by Bombay Sapphire