ProjectArt Revives Childhood Art Education, with Help from Some Famous Names
Katherine Bernhardt, Self Portrait, 1992 (Age 17). Courtesy of ProjectArt.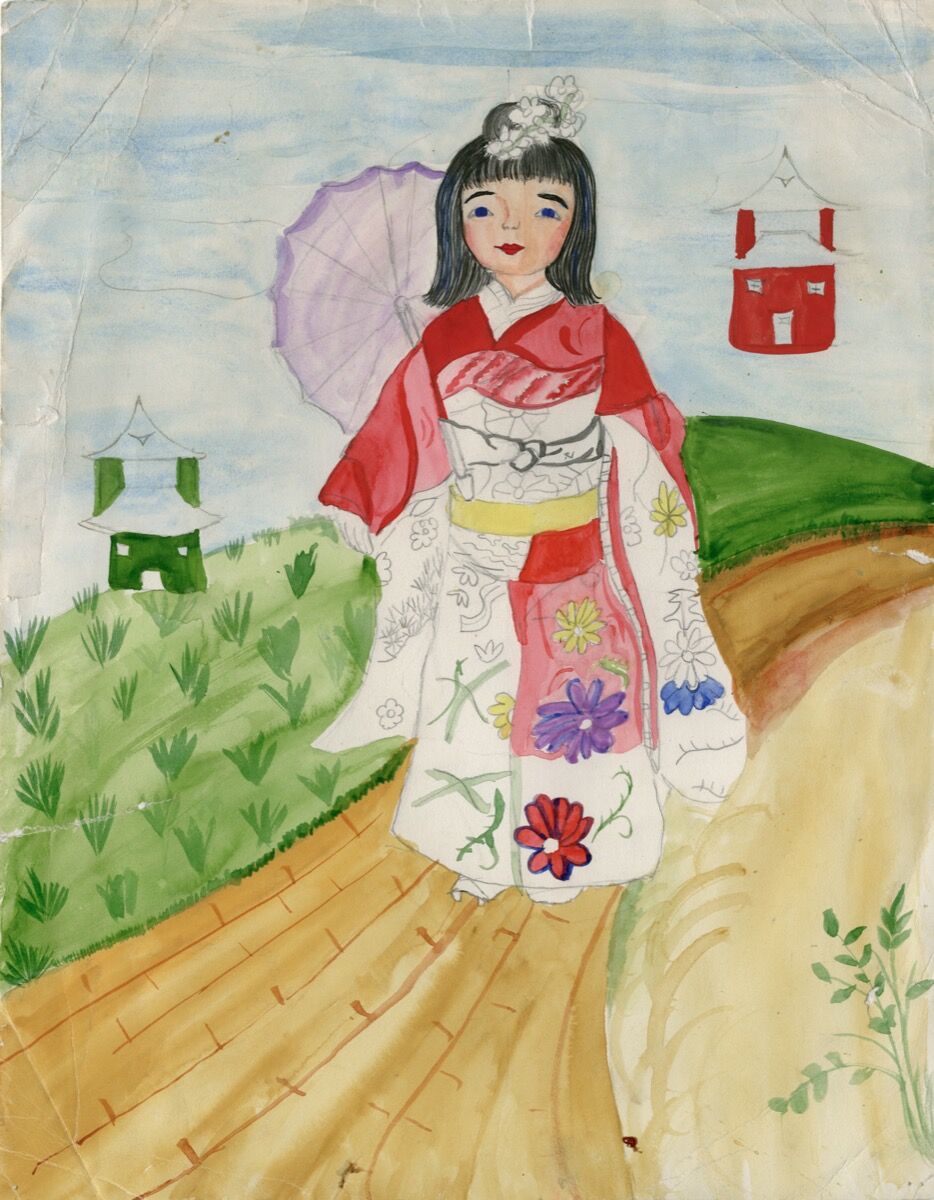 Laurie Simmons, Age 10. Courtesy of the artist and Salon 94, New York.
It's a little-known scientific fact: Before they were famous, 100% of artists were kids. And, like most kids, they doodled, sculpted, finger-painted, and followed their wildest impulses without shame, second-guessing, or self-consciousness. Of course, they soon grew up and started taking artmaking more seriously—perhaps even referring to it by the rarified euphemism of "a practice."
But this weekend, a benefit gala and pop-up exhibition at Red Bull Arts New York, organized by the non-profit
ProjectArt
, reminds us of creativity's unpolished roots. Dubbed "My Kid Could Do That," it brings together childhood minor masterpieces by 23 contemporary artists, including
In the cases of some of these artists, the passage of time hasn't altered all that much. "The things I made when I was really, really young are eerily close to my grown-up work," says
"In that childhood phase, I was making lots of pictures of girls in rooms…some things never change," she laughs. "I was really intrigued by girls from other cultures and their costumes. I must have been influenced by 'It's A Small World.'"
Simmons credits her childhood artmaking as a force that essentially turned her life around. She owes a debt of gratitude to an uncommon mentor: A chain-smoking, tippling next-door neighbor who worked as a commercial illustrator and helped teach a young Simmons how to draw. This developing artistic outlet also allowed Simmons's parents—a homemaker and a dentist by trade—to understand their "rebel and a renegade" of a daughter. "When they figured out I was an artist," she recalls, "they used it as an excuse to explain every single thing I did that wasn't what they considered to be normal. In a sense, the identity saved me; they could explain me away to themselves."
Work by Dustin Yellin. Courtesy of ProjectArt.
Simmons's involvement with ProjectArt makes sense considering that the organization has likeminded goals: to provide creative outlets, mentorship, and direction for kids who might otherwise be left behind by resource-starved public education systems. ProjectArt was founded in 2011 by Adarsh Alphons, an artist-turned-administrator who immigrated from India to the United States when he was a teenager. The group now has chapters in New York, Detroit, and Miami, focusing on neighborhoods that would particularly benefit from after-school programming, like Brownsville or Flatbush in Brooklyn.
Alphons's emphasis is on making art relevant to local communities directly. He recalls turning down a potential donor whose gift came with a demand that ProjectArt teach every student about
ProjectArt has now evolved into a residency program, paying selected artists a very respectable $50/hour to teach hands-on classes at public libraries and providing them with flexible studio space. The goal is to place teaching artists in neighborhoods they will have a specific investment in—avoiding the cliched pitfalls of a "trust fund kid from Williamsburg going to teach in the South Bronx" and the attendant "savior complex," Alphons says.
The experience is designed to benefit both the kids and the adults. Students in New York contribute work to a group show hosted by White Columns, opening June 3rd; the resident teachers have their own exhibition at Curtiss Jacobs Gallery, opening June 8th. And the program is certainly a welcome boost for the host libraries. Many of the children, Alphons notes, have never before visited their local branch.
Work by Katherine Bradford, Age 8, 1950. Courtesy of ProjectArt.
Work by Tom Sachs, Age 10. Courtesy of ProjectArt.
ProjectArt's board includes art-world insider Kyle DeWoody, who was instrumental in wrangling much of the A-list talent on view for "My Kid Could Do That." That includes very me. Several motifs have survived from my childhood artwork:
Other artists in "My Kid Could Do That" are presenting work that current fans might not recognize. Dustin Yellin's contribution includes a trio of text pieces scrawled at the age of 7. "Since I gave up hope I feel much better," one reads, "and I hope you do to [sic]." Katherine Bradford, acclaimed for her atmospheric paintings of men and women swimming, gives us a minimalist sketch of two grey elephants—completed in 1950, when she was 8.
isn't just kid's stuff: "He considers these ears his first sculpture, and this photo its documentation."
Cecily Brown gives us a stunning flattened landscape of colorful
Rirkrit Tiravanija, untitled (silver mr. Spock). Courtesy of ProjectArt.
The works in "My Kid Could Do That" might not be formally airtight, to say the least, but they're enlightening—occasionally shocking, often amusing—signposts on the way to these artists' later fame. They're also a reminder of the liberating potentials of childhood creativity, even if it doesn't translate into a career.
"We're about putting kids on a path to success, and art is part of that," Alphons says. "Ultimately, kids can be anything they want—a doctor, an accountant, an engineer—but giving them a creative toolkit hardwires them, at a very young age, to think innovatively."
Artist Sanford Biggers concurs. (A painting of his grandfather, made when Biggers was 16, is included in the exhibition.) "Arts education is more than just learning the skills to produce art," he says. "It's thinking outside of the box, creative problem-solving, and improvisation. It increases visual and historical literacy—qualities that can positively affect any field."
"There was so much I couldn't do," Simmons says, thinking back on the demands of her early school days. "It's so important for children to be able to express themselves, to feel empowered. To feel like they can use their intuition, rather than memorization, or working with numbers, which might not come naturally."
The importance of "giving a kid a quiet space to draw, and think, and make" should never be underestimated, Simmons adds. "In the end, there is no right and wrong answer," she says. "Imagine that! It's amazing freedom."
Scott Indrisek is Artsy's Deputy Editor.