The Children's Art Pioneer You've Never Heard Of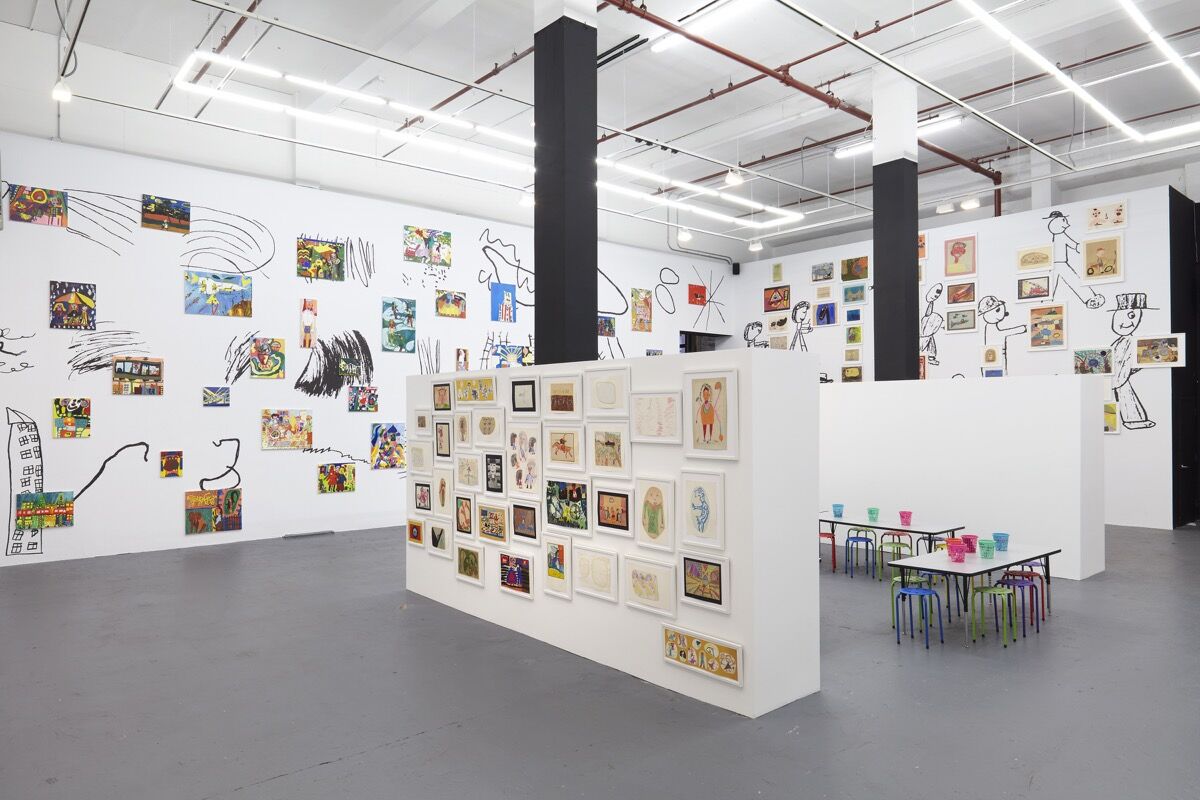 Installation view of "Dr. Kid President Jr." Courtesy of Gavin Brown's enterprise.
That peculiar combination of insomnia and ambition is certainly at play in "Dr. Kid President Jr.," an unconventional exhibition at the Harlem outpost of Gavin Brown's enterprise. Belott refers to the project as a "three-ring circus," a multi-part homage to the late educator and psychologist Rhoda Kellogg, one of the foremost, undersung researchers of the doodles, wiggles, and dreams that kids draw.  
Belott's own sculptural paintings and other mixed-media works have a raw, unabashed energy, so it's no surprise that he has been researching children's art for nearly 15 years. Throughout, Kellogg's name kept cropping up. The doctor dissected and theorized her obsessive findings in a series of books published from the 1950s through the '80s, stockpiling drawings and scientifically cataloguing the ways in which young people depict the world around them. Belott has included several of her didactic collages in his show: One panel shows dozens of cut-out sketches of human figures with only one arm; another collects the myriad ways children draw airplanes.
"The project was like something in a magical realist book," Belott jokes. "And then he was in the Arctic, making an encyclopedia of snowflakes!"
Photo by Thomas Müller. Courtesy of Brian Belott and Gavin Brown's enterprise, New York/Rome.
Photo by Thomas Müller. Courtesy of Brian Belott and Gavin Brown's enterprise, New York/Rome.
Though Kellogg claimed to own over a million pieces of children's art—collected around the world, from Japan to Switzerland, India to the United States—that bounty wasn't snug in a museum. Instead, it had been sitting for several decades in a storage unit in Connecticut.
"It's bizarre," Belott admits, that he was one of the first to request access to Kellogg's trove. "One of my hopes is that this show pumps more interest into Rhoda. When she was writing these books, scribbling and fingerpainting were considered, by her colleagues, to be nonsensical material. But she was codifying the ways kids make these marks—it's a beautiful thing."
"Dr. Kid President Jr." contains over 300 pieces of children's art culled from Kellogg's collection. Belott tried to steer clear of any images of war or trauma, but there are exceptions—like a stark depiction of a group of uniformed men about to toss a young boy into a boiling cauldron. There are double-headed giraffes, dancing ladies, lurid geometric kites, and gestural tempera finger paintings, the most vibrant of which—with a bit of squinting—can recall the work of
The show also includes an array of painted copies—or "forgeries," as he calls them—that Belott has made of his favorite kid-produced masterpieces. "They're my devotional paintings," he says, "but I feel like they're all kind of failures. They're fun as hell to make, but if you put them side by side, I always like the kid's ones better."
Image courtesy of Brian Belott Studio.
The final component of the exhibition is an active, in-situ classroom where neighborhood youngsters are learning about draftsmanship, self-portraiture, and printmaking. Belott's friends and peers—
Perhaps taking a cue from Kellogg herself, the vibe is fairly hands-off. "Rhoda was staunch about teachers not getting involved too much," Belott explains. "They'd supply the material and a certain amount of enthusiasm. She wasn't into extolling kids who did something great; if you do, the kid will just repeat that drawing over and over again. She felt that the more the teacher was out of the equation, the more that the instinctual, improvisational nature of a child was able to flourish."
At Gavin Brown, the work produced in these classes is hung in the same space as Belott's "forgery" canvases and the drawings from Rhoda Kellogg's collection. A party for the nascent artists—plus parents and friends—will close out the exhibition in July.
Despite his abiding love for children's art, Belott says that
Installation view of "Dr. Kid President Jr." Courtesy of Gain Brown's enterprise.
What then, I wondered, is the best way to really witness the mind of a child—without making comparisons to art made by adults trying to be children again?
"Listening to these recordings is the closest," Belott tells me, referring to the slightly unnerving soundtrack playing at Gavin Brown: a two-hour looping compilation that the artist assembled from found recordings, sourced online or at junk shops.
"A great deal of these are of kids flipping out in their bedroom, all hopped up on Coca-Cola and candy," he says. "They're imitating TV or radio personalities. They're teasing animals. They'll make a song that wanders around—it's about eating cheese, or not wanting to go to bed, that then it turns into a second of a Stevie Wonder song that was probably a hit at the time. And then it's about their dog." I could relate; I'd spent the previous weekend on a long drive to Canada with a three-year old who alternated between elaborate Thomas the Tank Engine narratives and screaming along to a single by the metal band Mastodon. Kids these days are born postmodern, and scoff at our fusty divisions between high and low culture.
Having constructed a veritable mini-museum of children's art here in Harlem, Belott has hopes that the exhibition will tour; there are also plans to publish a book spotlighting Rhoda Kellogg's archive, which the artist cheekily refers to as "the most valuable worthless collection."
Belott conceived of "Dr. Kid President Jr." as a kind of secular church, a sanctuary for unbridled creativity. "Children's art is a natural force," he says. "No matter what point in the day it is, there's some kid making art. It's unstoppable."
Scott Indrisek is Artsy's Deputy Editor.
Stir Creativity
See how Bombay Sapphire supports artistry.
Sponsored by Bombay Sapphire