Christie's £137 Million Night Breaks Record for a Contemporary Art Sale in Europe
Christie's Post-War and Contemporary evening art sale in London pulled off an almost flawless performance Tuesday night, notching the highest-ever total for any contemporary art auction held in Europe, to the tune of £137.9 million, including buyer's fees.
Only five of the 65 lots offered failed to sell, for a stellar buy-in rate by lot of 92%
"It's a reaffirmation of the solidity of the market and the value of great art," said pan-European mega-dealer Thaddaeus Ropac, who has galleries in Paris, London, and Salzburg, citing some "unexpected super-highs" in the sale.
The hammer total, or the tally before fees, was £117,725,000, just above the low estimate of  £113,370,000. Including fees, it did not reach the high estimate of £160,840,000 .
Nevertheless, the result toppled last March's £96.3 million total for the 56 lots that sold, a chunky and market-affirming rise of 43 percent for the same sale a year ago. In a further sign of the market's health (or, some might say, froth), 24 works sold for over £1 million after fees. Of those, seven exceeded £5 million. In dollar terms, the numbers look even better: 30 lots made over $1 million; and of those, ten exceeded $5 million dollars.
The evening got off to a mild-mannered start with four startling black-and-white photographs by Self-Portrait (1985), the bare-chested image of the artist adorned with devil horns that sold for £110,000, or £137,500 with fees, just above the low estimate of £100,000. Gallerist Thaddaeus Ropac was the underbidder.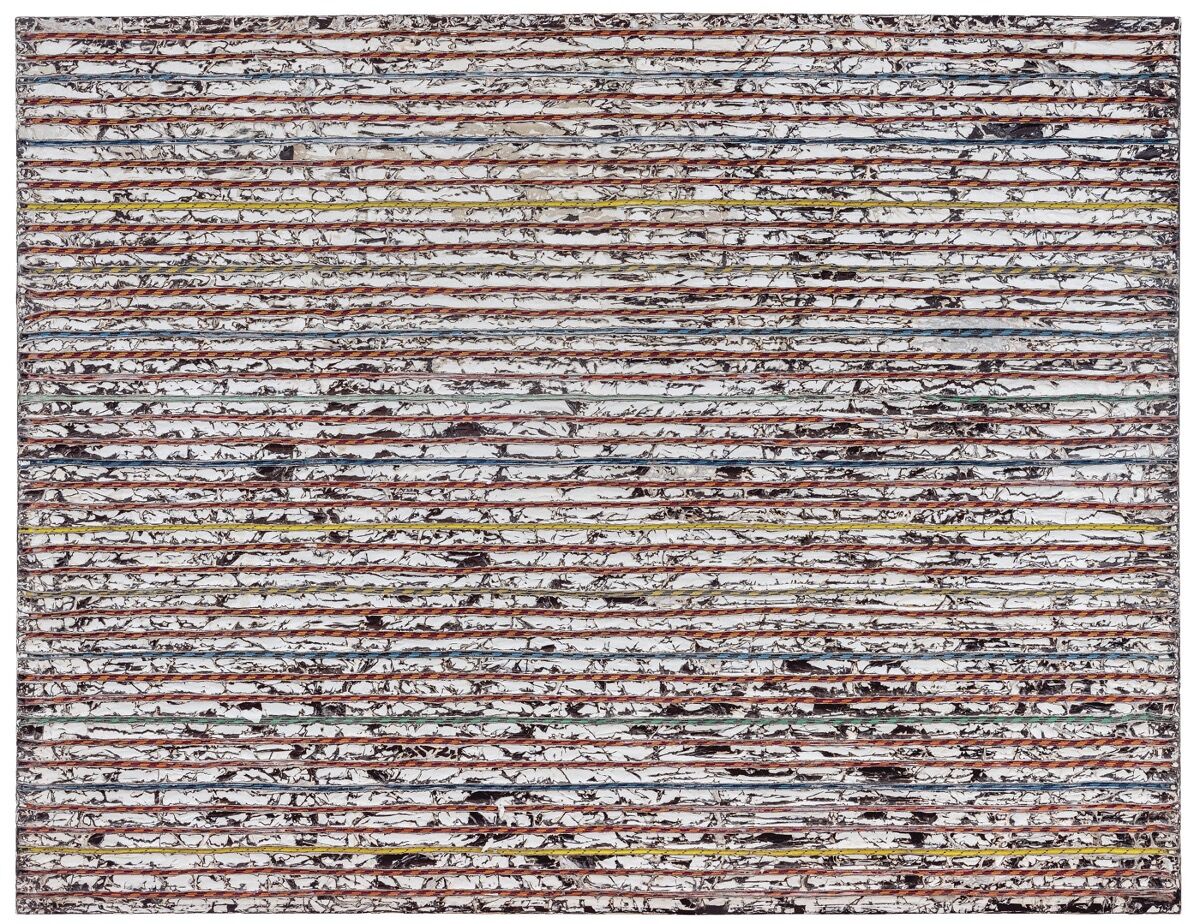 The 60 1/2-by-61-inch work featured a menu-like array of words painted across the richly blue hued canvas in the artist's distinctive spelling style, including "CHACKED CHICKEN WITH VRV MULTI FLAVORS." It had last sold in 1990 at auction in Paris for the pre-Euro price of 600,000 French francs, or the equivalent of $118,261. It was first exhibited at Galerie Bruno Bischofberger in Zurich the year it was made.
Rendered by turn in hues of pink, pale blue, lilac, orange, green, and cobalt, the stark image of Warhol's staring face under a fright wig seemingly portended his premature death after gallbladder surgery in 1987, the year following the work's completion.
Backed this time by a Christie's guarantee, it last sold for a tad higher than the $30.1 million it had fetched just a few years ago, at Sotheby's New York in May 2014. That previous seller had acquired the work from the primary market exhibition, "Andy Warhol: Self-Portraits" from the Anthony d'Offay Gallery in London in 1986, the artist's last lifetime exhibition in London.
Another high-performing lot, Concetto spaziale, Attese (1965), sold to a telephone bidder for £7.5 million, or £8.6 million with fees, just below its low estimate of £8 million. It had last sold at Sotheby's London in July 1998 for a then-record for Fontana of £529,000.
Fontana called these cuts in the canvas "the fourth dimension," and the work sold Tuesday is pierced with the most cuts of any of his works, according to the catalogue entry. Like the Warhol sextet, it was backed by a Christie's guarantee, meaning the seller was assured a minimum price to her or his liking, no matter what happened in the salesroom.
If the bidding didn't reach that confidential price, Christie's would take over ownership of the work and presumably sell it at another time. Luckily, they didn't have to.
Alternatively, auction houses can outsource that in-house risk through so-called "third-party guarantees," in which a backer outside the auction house agrees before the sale to bid a minimum price agreeable to the seller, in exchange for a financing fee from the auction house.
On the sculpture front, Spider III, a unique work from 1995 and standing on eight legs at 19 inches high, went for its low estimate of £4 million, or £4.7 million with fees. It had last sold at Christie's New York in May 2012 for $4.5 million. Bourgeois repeatedly referenced spiders, which she saw as complex, contradictory maternal figures, both predator and protector, in her oeuvre. Those references go back as early as 1947, according to the catalogue entry.
The work last sold in the Whitechapel charity auction at Sotheby's London in October 2006 for £820,800, for which Doig had donated the work. Fortunately, the seller was paying it forward: Proceeds from Tuesday night's sale will go to the seller's charitable organization, The Donald R. Sobey Foundation.
A rare Number 21, 1950, squeaked by with a telephone bid of £8.1 million, or £9.3 million with fees, a couple million pounds short of its low estimate of  £10 million. Modestly scaled at 22 1/4 by 22 1/4 inches, the work was first exhibited in the artist's solo show at the Betty Parsons Gallery in 1950. Remarkably, of the 32 Pollocks exhibited at the Parsons exhibition, only one, Lavender Mist (1950), sold—to Alfonso Ossorio, a wealthy artist and close friend of Pollock, according to the catalogue entry.
In sharp contrast to Pollock's lusciously wild abstraction, Venedig (Insel) (Venice (Island)) from 1985 sold for £3.7 million, or £4.3 million with fees, barely scraping its low estimate of £4 million.
Of the few awkward glitches in the sale, Study for "The Kaiser Wilhelm Institute" (2011), depicting the Nazi war criminal Doctor Josef Mengele, initially went unsold at £380,000, just short of its low estimate of £400,000.
Later in the sale, auctioneer and Christie's Global President Jussi Plykkänen, re-offered the lot, a first for a Christie's evening sale, according to the house, and it sold to an anonymous telephone bidder for £400,000, or £488,750 with premiums. Christie's said the ultimate buyer had lost the phone connection during the first round of bidding and pleaded for it to be re-offered.
On the artist-record front, Mark Bradford's richly layered, large-scale multi-media collage on canvas, Bear running from the Shotgun (2014), sold to Abigail Asher of New York and Los Angeles-based Guggenheim Asher Associates, Inc. for £3.2 million (£3.8 million including buyer's premium), surpassing its high estimate of £2.8 million. The underbidder for the 84-by-108-inch work was Melanie Clore of London's Clore Wyndham Fine Art.
"We're very excited, because it's going to a collection where the new owner has a great social justice conscience, just like the artist," said Asher as she raced out of the salesroom.
All prices reported include the hammer price (first) as well as the price including buyer premium fees (BP), which Christie's calculates at 25 percent of the hammer price up to and including £175,000, 20 percent of that part of the hammer price over £175,000 and up to and including £3 million and 12.5 percent for anything above that.
The evening contemporary action resumes on Wednesday at Sotheby's.