Christie's Notches £84 Million London Sale as Star Lots by Richter and Koons Fizzle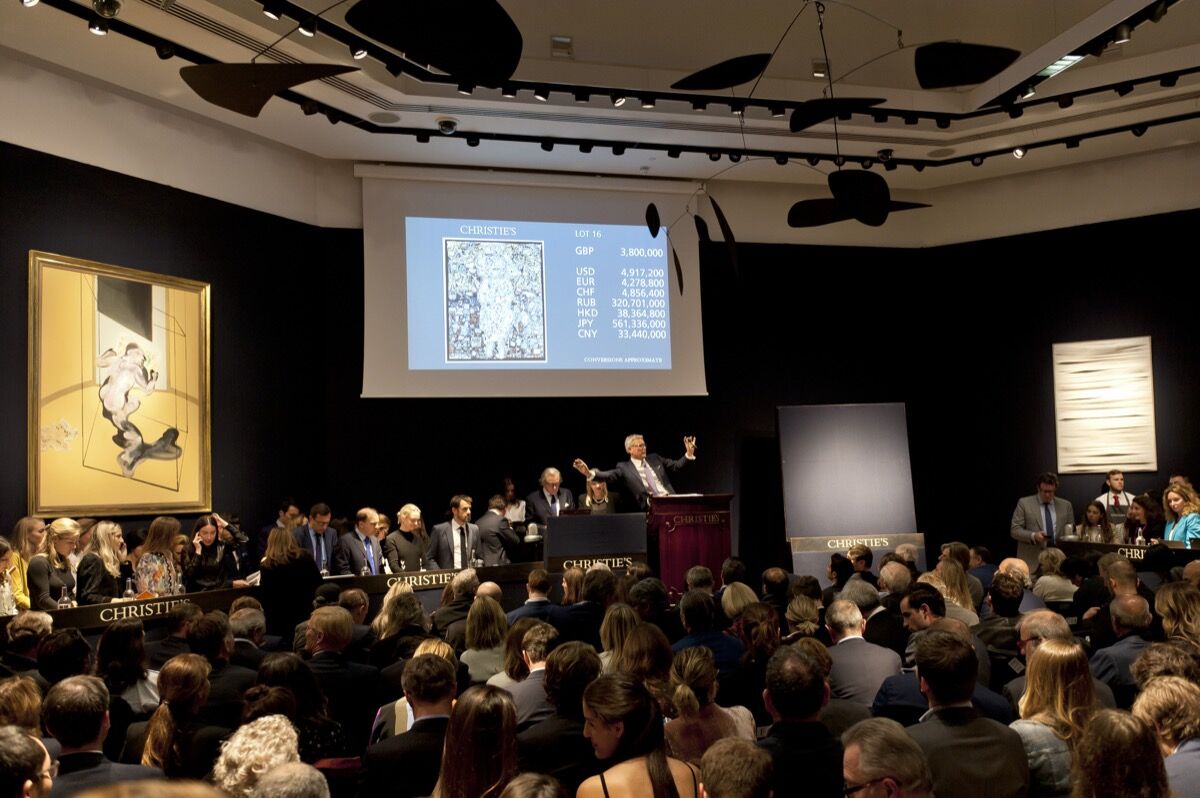 The spree of Frieze auctions kicked off in London on Thursday with a three-hour-long sale at Christie's King Street salesroom here in London's Mayfair. The night brought in a total of £84.6 million ($109.4 million) with fees, just below the presale low estimate of £88.5 million ($114.6 million), which does not include fees. Despite being beset by a trio of high-profile works that failed to sell, the sale overall achieved a respectable 85% sell-through rate, with 45 of the 53 lots finding buyers.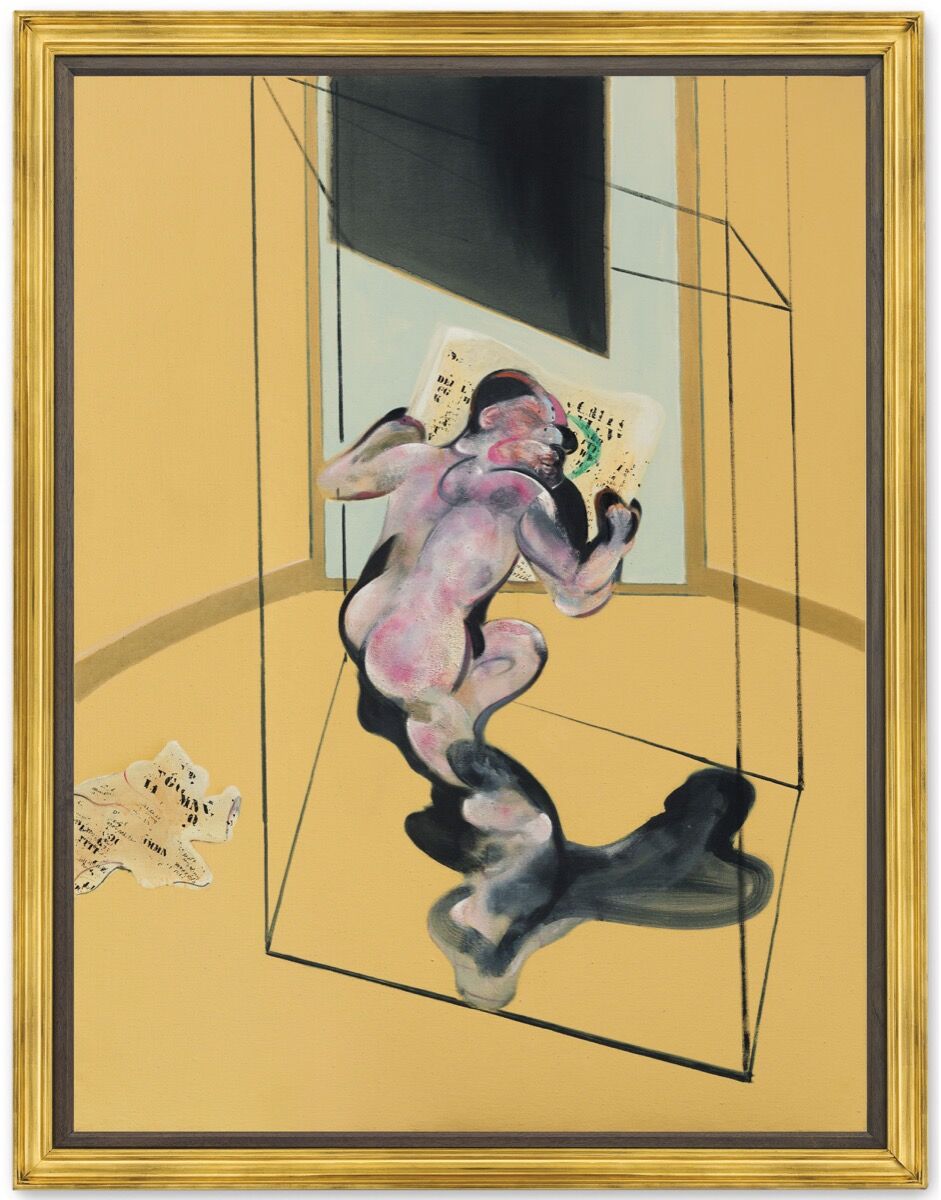 Francis Bacon, Figure in Movement, 1972. Courtesy of Christie's.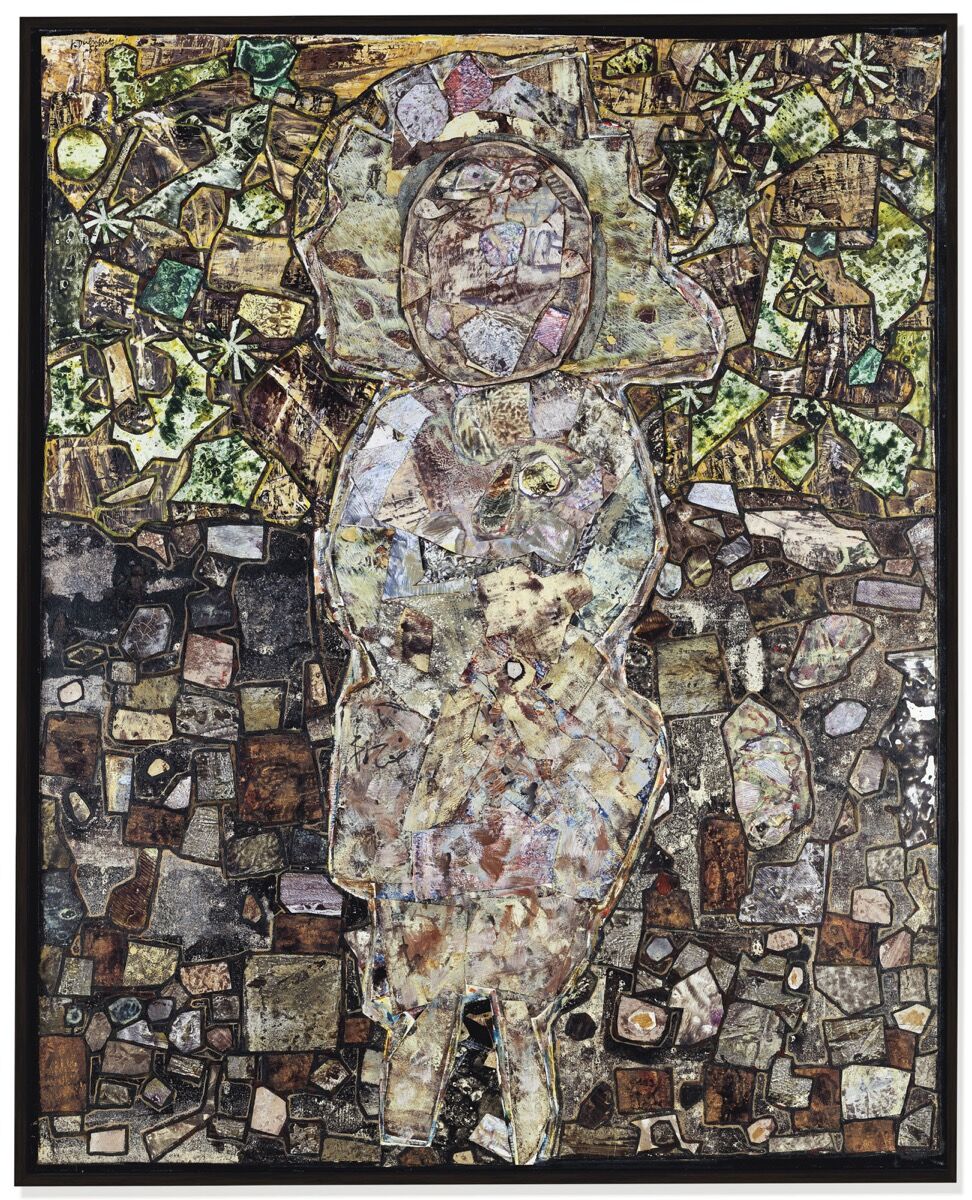 Jean Dubuffet, Madame au Jardin, 1956. Courtesy of Christie's.
Figure in Movement (1972) hammered at the low estimate of £15 million ($19.5 million), making £19.9 million ($26 million) with fees.
Madame au Jardin (1956) hammered at £3.8 million, well ahead of its £3.5 million high estimate; with fees, the work totaled £4.5 million ($5.8 million).
Untitled (1984) hammered at £3.3 million to the buyer on the phone with Francis Outred, Christie's head of post-war and contemporary art in Europe. The hammer price narrowly beat the work's £3 million low estimate, and the final price with fees came to £3.9 million ($5.1 million).
(Pre-sale estimates do not include Christie's premium, which is 20% when the lot sells between £100,000 and £2 million, and 12% when it sells above £2 million.)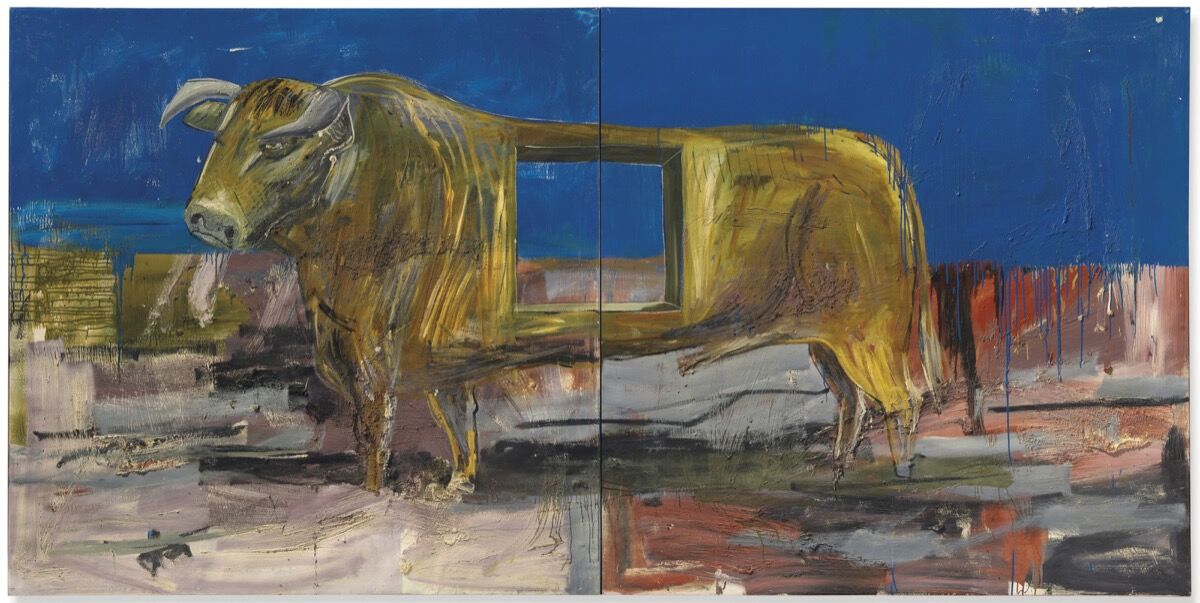 Albert Oehlen, Stier mit loch (Bull with hole), 1986. Courtesy of Christie's.
Thursday's total fell below Christie's tally
at this sale a year ago
, when the house made £99.5 million ($130 million), including fees, across 65 lots. That sale had been hobbled by a bought-in
Study of Red Pope 1962. 2nd Version
, 1971), which, if it had met its estimate of £60 million, would have been the most expensive painting ever sold in Europe; commentators at the time blamed a too-high estimate as having warded off bidders.
This year, a painting of a skull by German master
"It was one of the low points of the evening for us," Outred said during the post-sale press conference. "We priced it as a masterpiece by the artist, and it was a surprise to us."
Later in the evening, works by
Cracked Egg (Blue)
(1994–2006) elicited a brief battle between Stefan Ratibor, the director of
Gagosian
's London outpost, and Outred. The work carried a £10 million ($13 million) low estimate—below the £14 million ($23 million) Christie's notched in London in February 2014 for a magenta "Cracked Egg" work—but bidding nonetheless stopped short of the reserve. The Grotjahn piece, estimated to sell for £6 million ($7.8 million) to £8 million ($10.4 million), failed to attract even a single bidder, sucking the energy out of the room.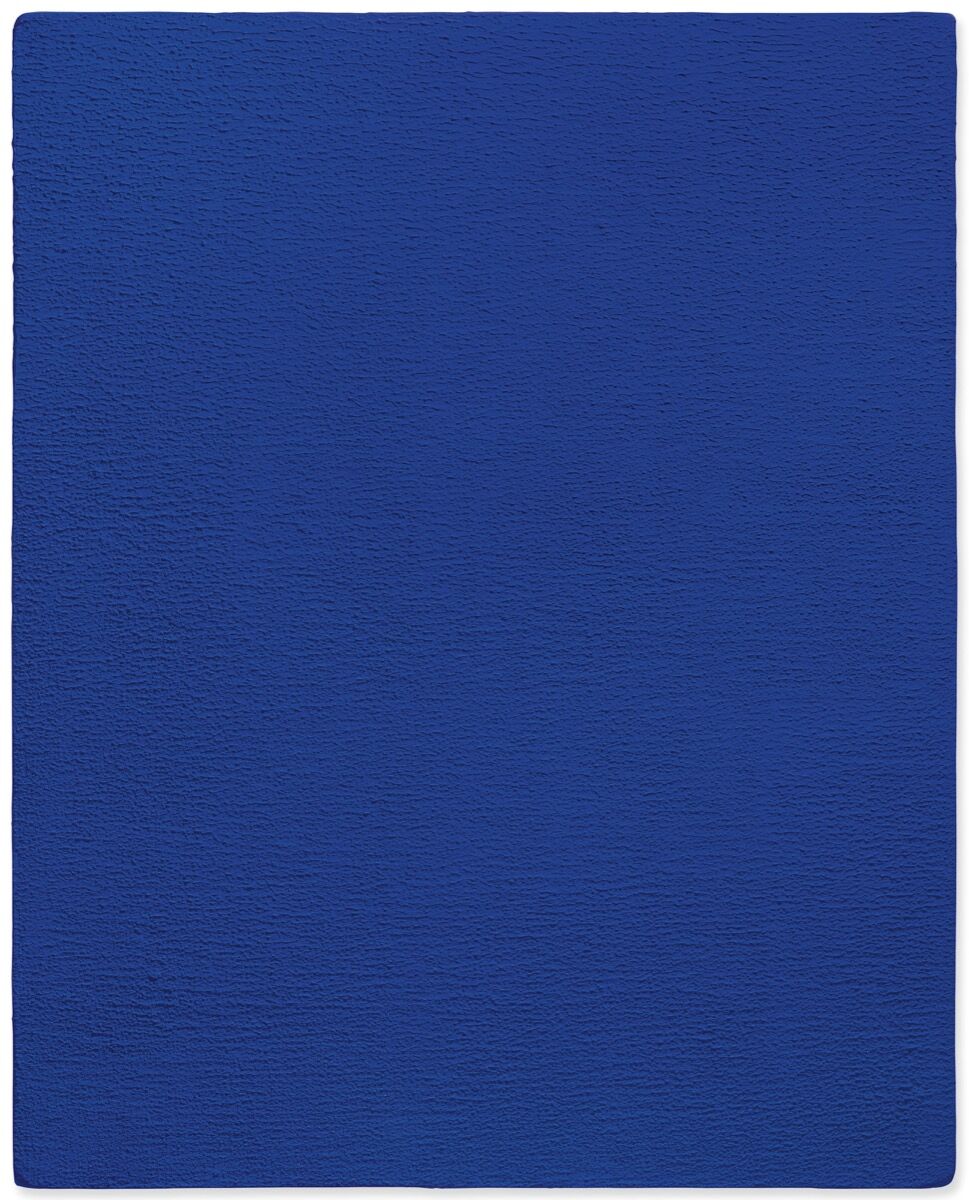 Yves Klein, Untitled Blue Monochrome, 1959. Courtesy of Christie
Keith Haring, Untitled, 1984. Courtesy of Christie's.
Outred noted that despite these setbacks, Thursday night was the second-highest total ever achieved at a Frieze week auction, and he projected confidence going into next month's bellwether sales in New York.
Lévy Gorvy
's Brett Gorvy—who was,
until December 2016
, Christie's chairman and international head of post-war and contemporary art—similarly stressed in an interview later in the evening that the fates of the Koons and Richter works were not a sea change in the market. Rather, he placed blame on consignors demanding price thresholds that were simply unrealistic.
"They had bids on both pictures, but were just short of the reserve, and that's part of the problem where sellers have very high expectations," Gorvy said. "They were two works that were overpriced, but they had bidders. If there was no one bidding, perhaps, then, you could say it was a change in the market."
Gorvy instead pointed to the surprising amount of bidding on works by Stier mit loch ("Bull with hole," 1986) achieved a new record for the artist when it attracted bidding from multiple specialists on the phone and paddles in the room, eventually selling for a hammer price of £3 million, or £3.6 million ($4.7 million) with the buyer's premium.
The optics of having an evening auction's two top lots go unsold is not ideal—especially when Christie's has said that it is doubling down on Frieze week, cancelling its June post-war sales in 2017 and then
holding two day sales
this summer. But Gorvy mentioned that the house can probably find buyers for the works privately quite quickly. The bigger challenge? Getting sellers to part with eight-figure works for London sales without giving would-be buyers sticker shock.
The Frieze week auctions continue at Sotheby's and Phillips on Friday night.
Nate Freeman is Artsy's Senior Reporter.
Marc Quinn Iris
Explore the cup collection here.
Sponsored by illy