From Kusama to Turrell, 9 Artists Who Made Perfect Spaces for Meditation
It's a safe bet that anyone who's spent a prolonged amount of time looking at a painting—or failing that, can recall the Ferris Bueller's Day Off—can recognize the meditative power of art. But several artists have taken this idea further, building entire environments meant to help viewers experience deep serenity or contemplation. From giant saltwater tanks to secluded Appalachian outposts, these nine works provide space to guide in focused meditation.
Yayoi Kusama, Aftermath of Obliteration of Eternity, 2009
For Aftermath of Obliteration of Eternity, completed more than four decades after her first infinity room, immerses the viewer in a field of suspended lanterns, infinitely reflected by mirrored walls and a reflecting pool below. The lanterns recall tōrō nagashi, a ceremony on the final day of the Buddhist Obon festival, in which paper lanterns are floated on rivers in reverence of the dead.
Carsten Höller, Giant Psycho Tank, 1999
Carsten Höller, Giant Psycho Tank, 1999. Courtesy of the New Museum.
That
New Museum
were encouraged to disrobe and float in a shallow pool of an epsom salt solution. The salt holds the viewer in perfect equilibrium as body-temperature water drowns out all outside sensation. Höller has said the tank is meant to induce such extreme relaxation that visitors begin to have an out-of-body experience. However, as some critics
have pointed out
, when laying naked in the middle of a crowded museum, separating yourself from the present moment is easier said than done.
La Monte Young & Marian Zazeela, Dream House, 1993
La Monte Young and Marian Zazeela, Dream House, on Church Street, New York. Photo by Marian Zazeela, courtesy Dia Art Foundation.
Hidden away in an seemingly normal TriBeCa apartment, Dream House is a collaborative sound and light environment created by drone composer Dream House Variation I (1989), or shadow, as with the rippled surface of Ruine Window (1992). Both Young's and Zazeela's bodies of work entertain the idea of prolonged listening or viewing, so it makes sense that visitors to Dream House should linger. The space, carpet-lined and strewn with pillows, invites focused reflection (or a power nap).
Katie Paterson, Hollow, 2016
Katie Paterson, Hollow, 2016. © Katie Paterson. Courtesy of James Cohan, New York.
From the outside, Hollow appears deceptively simple—a few posts of unfinished wood forming a hut on the grounds of Bristol's Royal Fort Gardens. Go inside, however, and you find yourself in a cavernous forest of 10,000 pillars, each gathered from a different variety of tree—from the common to the incredibly historic. Among this collection of samples of trees, one will find traces of Methuselah, the 4,800-year-old bristlecone pine (said to be the world's oldest tree), and the ginkgo that survived the bombing of Hiroshima. The isolated enclosure provides respite from the open gardens, while offering a humbling reminder of the vast natural history represented in the piece's walls.
Miya Ando, 8 Fold Path, 2009
Miya Ando, 8 Fold Path, 2009. Courtesy of the artist.
describes
her works as "studies in nothingness." Raised partly in a secluded Buddhist temple in Okayama, Japan, she says her spiritual practice informs her exploration of simplicity and reduction. In 2009, Ando donated her work
8 Fold Path
to the Against the Stream Buddhist Meditation Society in Los Angeles. The work comprises a grid of four steel plates shaded by a thin application of patina.
8 Fold Path
serves as a reminder of the dharma wheel—a visual representation of Buddhism's noble eightfold path—for the L.A. space's practitioners, who meditate facing the pedestal above which the work hangs.
Alex Reed, Quiet House, 1942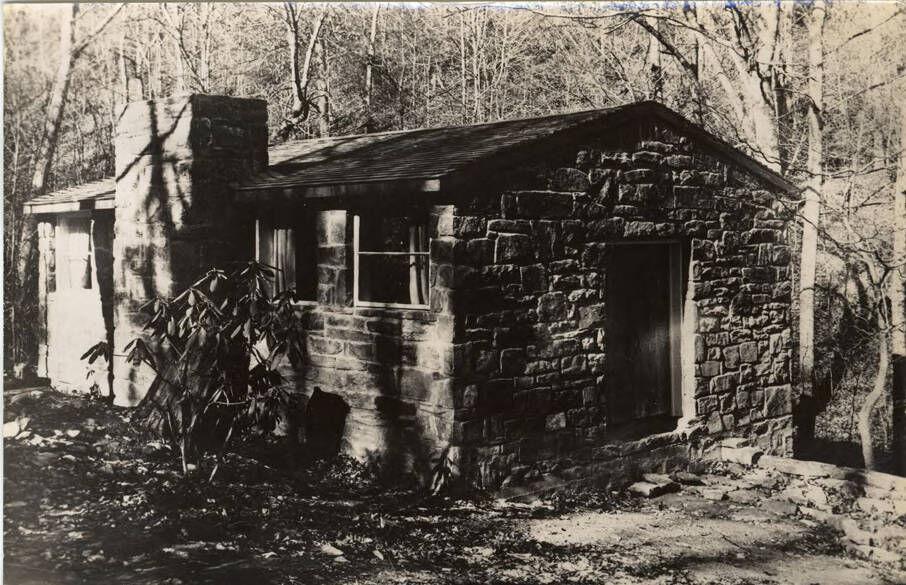 Alex Reed, Quiet House (memorial to Mark Dreier), Lake Eden Campus, Black Mountain College, Black Mountain College Records. Courtesy of Western Regional Archives.
On October 8, 1941, Mark Dreier, nine-year-old son of Black Mountain College co-founder Ted Dreier, was killed in a car accident. The next fall, Reed, teaching assistant at the time to Quiet House on the college grounds to memorialize Mark. Reed handled almost every aspect of the construction himself, from drafting the design to gathering stone and chopping wood. The house—situated in the forested Blue Ridge Mountains and adjacent to the shore of Lake Eden—served as a conduit for quiet reflection, as well as a venue for weddings and other celebrations until the college closed in 1957. Though the building has been converted into a dormitory for a boys' summer camp, the original Quiet House has been preserved through the photography of Black Mountain residents
Robert Irwin, untitled (dawn to dusk), 2016
Robert Irwin, untitled (dawn to dusk), installation exterior, 2016. ©2016 Philipp Scholz Rittermann, courtesy of the Chinati Foundation. © Artists Rights Society (ARS), New York.
The latest site-specific work to be added to Marfa, Texas's Chinati Foundation,
Doug Wheeler, PSAD Synthetic Desert III, 1971
Installation view of "Doug Wheeler: PSAD Synthetic Desert III," Solomon R. Guggenheim Museum, New York, March 24-August 2, 2017. Photo by David Heald. © Solomon R. Guggenheim Foundation.
In 2017, the
Guggenheim
opened its doors to a
unique seventh-floor installation
. A suspended platform and walls lined with sound-proofing material comprise
Synthetic Desert
, a self-contained semi-anechoic chamber. Visitors to the installation can snag a 10-minute session in the room on a first-come-first-served basis. Wheeler—who grew up in the Arizona desert—
has compared
the chamber's heavy silence to the stillness of the desert landscape, where "you can't tell a human voice from a car door closing or an eagle screaming more than a mile up."
James Turrell, Bindu Shards, 2010
From the outside, Bindu Shards may resemble concept art for an Apollo module, but inside, the room is unearthly in an entirely different sense. With the "Perceptual Cells" series, to which this work belongs,
Stir Creativity
See how Bombay Sapphire supports artistry.
Sponsored by Bombay Sapphire