Cleon Peterson's Violent Paintings Strike at the Heart of a Divided America
paintings exorcise demons both personal and political. In a bold, graphic style, he depicts men beating each other; deviants walking Los Angeles streets; and Donald Trump kissing a prostitute in a hotel suite (while another prostitute urinates behind them). His clean line and accessible style—reminiscent of both street art and advertising illustration—contrasts with his gruesome, messy scenes.
Yet Peterson's paintings also manifest a cartoonish absurdity. "There's violence, but it's turned up to 11. It's tongue-in-cheek," he told
Artsy
in advance of the opening of his latest exhibition, "Blood & Soil," on view at Los Angeles's
Over the Influence
gallery through August 5th.
Adam Lerner, director of the Museum of Contemporary Art, Denver, which recently mounted an exhibition of Peterson's work, admires the artist's contrast of extreme brutality with the perfection, beauty, and rigor of his compositions. If some viewers take issue with the subject matter and its apparent perpetuation of such savage imagery, Lerner disagrees. "We want our artists to show us what they have inside them. We can't go back and tell them we only want it if it's sweet," he said. Peterson isn't "supporting violence," explained Lerner, but is instead portraying over-the-top carnage that is "clearly archetypal, not real."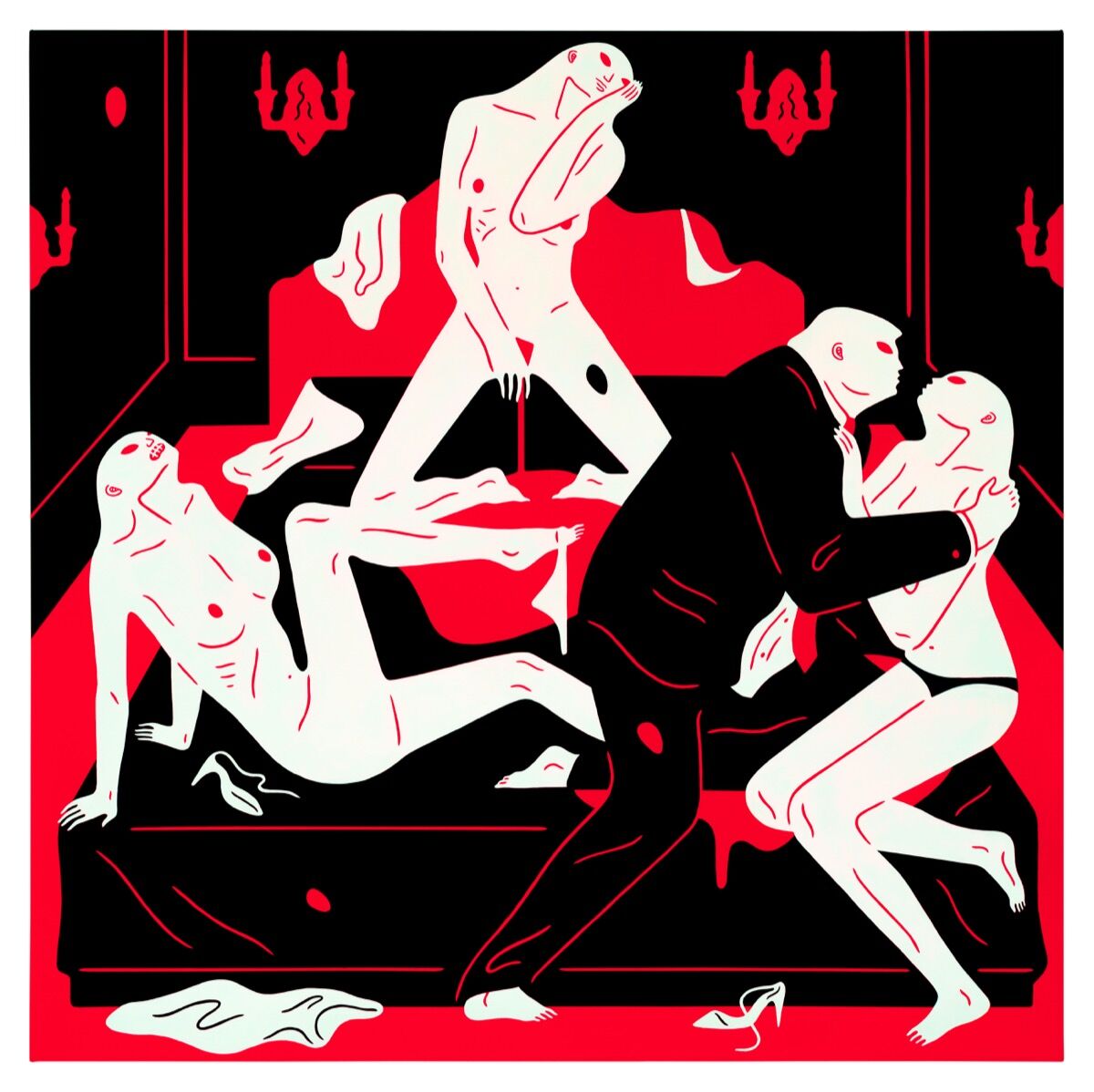 Born in Seattle in 1973, Peterson took a winding, fraught path to becoming an artist. Around age 17, he became addicted to heroin. "I'd been drinking and smoking pot and doing drugs since I was really young," he explained. "But when I found heroin, I knew that it was my thing. I just dove right in."
As the addiction progressed, Peterson lost stable housing, and friends and family also succumbed to the drug (a few years ago, his own sister died as a result of heroin abuse). For a while, he was living out of his car in San Diego, often in jail for drug possession. "Once you go to jail, you just keep going back to jail," he said. "That's why I always felt disconnected, actually, from any kind of politics or anything else. I always felt like an outsider."
Meanwhile, Peterson's brother,
Eventually, around age 25, Peterson detoxed and quit heroin for good. A friend of his, artist
designed skateboards
. He's also made illustrations for major publications around the world.
Four solo exhibitions in 2009—in Los Angeles, Belgium, and Australia—further launched Peterson's career. His graphic style persisted, and a series of public projects followed. In 2016, Paris's Nuit Blanche festival commissioned Peterson to paint the first-ever mural under the Eiffel Tower. By now, he's settled into a signature style: embattled scenes in which brutish figures punch, club, maim, and assault each other indiscriminately.  
As soon as Donald Trump was elected president, Peterson began thinking more deeply about the country's troubles on a macro scale. "This really made me feel like we're in danger of losing something," he said. "It's made me value something I didn't value before." He felt that if he didn't respond in some way, he, too, would be complicit.
This new engagement with political realities—fights over monuments, the media, police brutality, racial justice—is abundantly clear in the sculptures and paintings in "Blood & Soil." The show takes its name from a popular Nazi slogan resurrected by the alt-right; many of the paintings directly reference contemporary events. Absolute Power (2018) depicts the White House, starkly black and set against a red sky. In the foreground, a man hangs upside down with his legs bound to a tree branch. Behind him, two other bodies suffer the same abuse. "I'm talking about the rise of fascism and the end of democracies and abuses of power," Peterson said. The 2017 "free speech" riots in Charlottesville, Virginia, in particular, chilled him and encouraged him to link crises of the moment to historical events, like Southern lynchings.
Another picture, The Left Behind (2018), features a boy sitting on his bed, holding a gun. Two additional firearms rest beside him; the bedroom is sparse, ornamented with a computer keyboard, a dartboard, and a poster for Oliver Stone's 1994 film Natural Born Killers (an indirect inspiration for the perpetrators of the Columbine massacre).
"I feel like these kids—everybody—wants to have a voice today," Peterson said. "Nobody knows how to have a voice in the world. And people become totally isolated with all this technology. [They] just kind of freak out." Peterson was lucky to have found his own voice through art, though he also chillingly averred that "everyone's a potential school shooter."
Peterson's own son, Aubrey, saw himself in this painting. Now, his daughter wants to get painted into a picture. Though Peterson keeps his children away from his brother Leigh's work, he lets them see his paintings. "Kids need to be exposed to the world, and then develop their own opinions about things, and then be able to make their own decisions," he said. "You have to give them enough credit that they're good human beings to be able to do that."
Lerner says that one of the most striking aspects of Peterson's life, for him, was the contrast of the painter's dark and intense past with his current role as a father. "His family is the most joyful, loving family that you can imagine," Lerner said. "The kids make artworks of kittens. What is a more valid reason to have art in our culture than to allow us to end a cycle of trauma and abuse and violence?"
Alina Cohen is a Staff Writer at Artsy.