The Colorful, Dancing, Psychedelic Cats of Louis Wain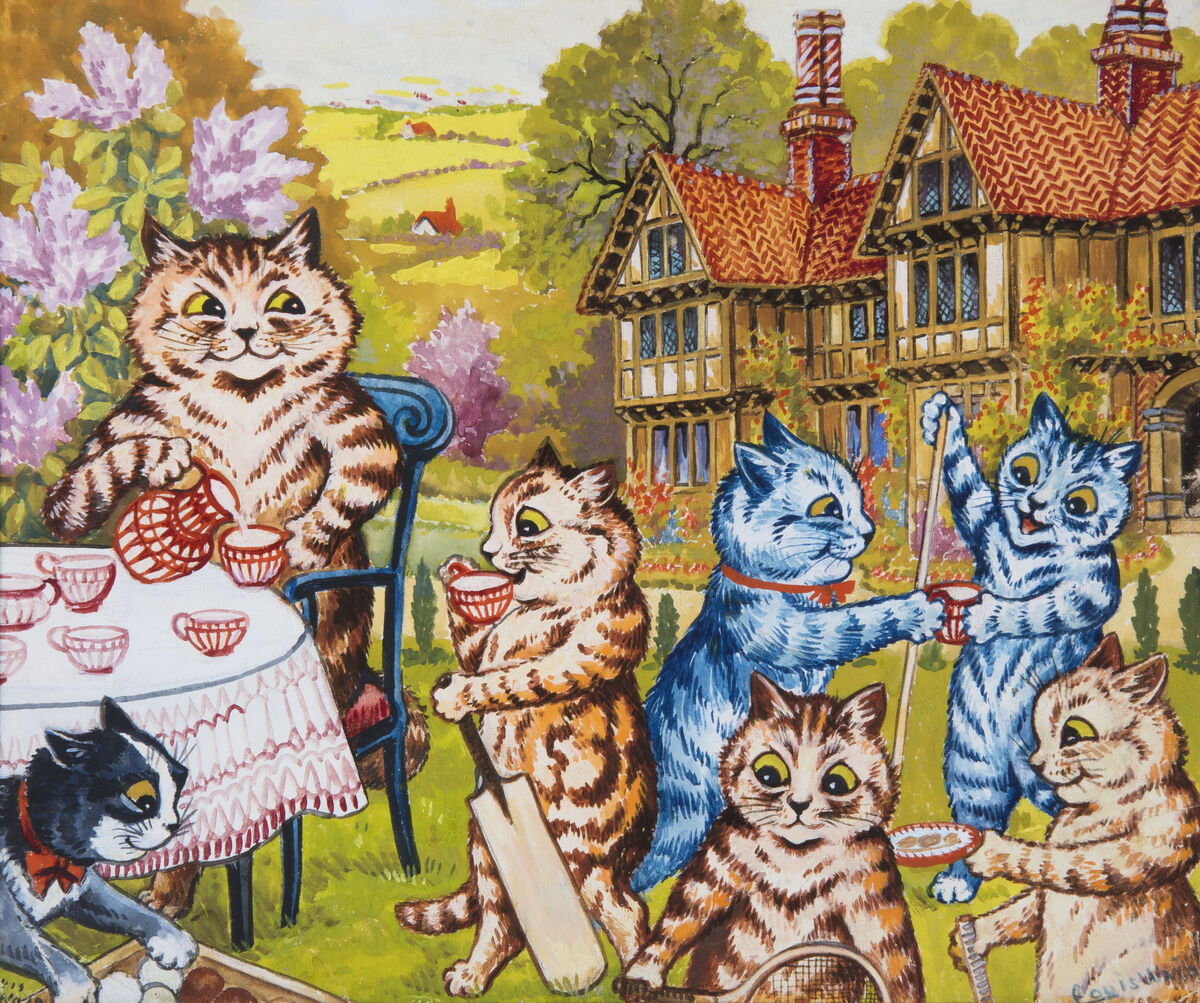 Louis Wain, A Summer Tea Party. Courtesy of Chris Beetles Ltd.
Thanks to the the animators at Disney and Pixar, visual culture abounds with adorable critters that walk and talk just like we do. Yet it wasn't until the late-19th century that such anthropomorphic animals were popularized, almost single-handedly, by a British illustrator named
Celebrated today for psychedelic cat drawings—many of them produced while stationed in an insane asylum—Wain soared to the heights of feline fame during his earlier years for his ability to hold a furry mirror up to Victorian society, and later, the emerging bourgeois of the Edwardian era. The editor of Punch even referred to him as the "Hogarth of Cat Life."
In Wain's weird world, cats wine and dine, grin and wink, dress up and boogie down—"at once embodying all that was fun and stylish in Edwardian times," suggests Chris Beetles, a London-based art dealer and leading Wain authority. "Back then, and now too, the English public were prepared to laugh at themselves more easily when presented with comic social disorder through animals."
Wain's intense personality, gifted observations, dramatic private life, and lifelong battle with mental illness combined to produce an iconic body of work—a "whole cat world," as the science fiction writer H.G. Wells once remarked—that is comical at times and tragic at others, but never fails to reflect the absurdities of society.
Born in London during the summer of 1860 as the first of six children, Wain's career traced the transition from the Victorian to Edwardian eras, when the growing middle class produced a culturally dynamic society for Wain to observe and critique within his fanciful illustrations. From an early age, the artist suffered from both physical and mental trauma that included recurring nightmares and "visions of extraordinary complexity," according to Wain himself. After an unremarkable stint as a musician, but knowing he was destined to become an artist, Wain shifted to painting and illustration in his early twenties.  
Louis Wain, Cat with Cat Necklace. Courtesy of Chris Beetles Ltd.
Louis Wain, Cat and her Kittens. Courtesy of Chris Beetles Ltd.
In 1881, Wain found his first patron in Sir William Ingram, editor of The Illustrated London News, who commissioned the 21-year-old to produce a naturalistic illustration titled Bullfinches on the Laurels for The Illustrated Sporting and Dramatic News. In 1884, Wain married his sister's governess, Emily Richardson, but this happiness was short-lived: She died of cancer hardly three years later, but not before encouraging Wain to debut his first feline portrait of their kitten, Peter. The general reaction was less than enthusiastic, with one critic reportedly asking Wain: "Whoever would want to see a picture of a cat?"
Undeterred by this lukewarm reception, Wain's big break finally came in 1886, when he was asked to illustrate the special holiday issue of the The Illustrated London News, known as A Kitten's Christmas Party. Wain soared to fame overnight, and the era of his "cat world" began. Here, in what would become his signature anthropomorphic style, a gentleman tomcat sports a monocle while giving a sumptuous speech; elsewhere, a merry band of felines plays festive tunes while dancing their hearts out.
Wain's cats only became more daring as his career blossomed. From the 1890s onward, action-packed panoramas would play host to fancy felines with "India rubber limbs and bodies, arranged as the picture demands, with a breathtaking disregard for accuracy," explains Beetles.
Wain grew from being a mere illustrator and lover of cats to attain the nearly mythical status of a total feline expert: He was elected president of the National Cat Club in 1890 and hosted its annual cat show each year in London. Despite that, Wain didn't actually possess much proper knowledge about the animals he depicted; he was known to espouse various suspect theories, like his idea that striped tabby cats were comprised of magnets bound to the North Pole.
He was also a terrible businessman. Wain refused to hire an agent, selling his own paintings and illustrations directly instead. Wain's shyness and inability to negotiate fees resulted in near-constant financial difficulties that plagued him throughout his life, which paradoxically worsened in his peak period of production.
Louis Wain, Love's Labour's Lost. Courtesy of Chris Beetles Ltd.
By 1907, Wain had oversaturated the market and was finding it nearly impossible to sell new work. The beginning of World War I led to further economic hardship and additional grief: With one sister dead in 1913 after several years spent in an insane asylum, Wain's eldest sister died in 1915. The artist's own delusions grew more sinister and violent as he became convinced that his other sisters were responsible for the elder one's death.  
"Schizophrenia runs in the family, and there is evidence to show that Wain exhibited schizophrenia behavior decades before he was diagnosed," says Harry Boxer, a dealer of outsider and visionary art through his eponymous gallery. "Looking into the cats' eyes, they become more manic from 1914 onwards."
Wain's reputation as an eccentric artist masked his mental instability from friends and family. When he began to grow violent toward his sisters, Wain was admitted to the pauper ward of Springfield Hospital in Tooting, South London, in 1924. He was discovered by chance a year later—many of his fans had presumed Wain was dead. A public appeal involving the popular science fiction writer H.G. Wells and Ramsay MacDonald, London's prime minister at the time, succeeded in having Wain transferred—first to Bethlem Royal Hospital, and later in 1930 to Napsbury Hospital near St. Albans.
The dazzlingly colorful, fractal, and powerfully enigmatic kaleidoscopic cats for which Wain is revered today were produced during his period of hospitalization. But we must not presume these works are caused by or evidence of Wain's psychological suffering, argues Beetles, who practiced medicine before retiring to become a collector and dealer of British art.
"It was an entirely different time back then, when sanitariums were actually sanctuaries," he says. "For the first time in his life, Wain was freed from all responsibility." In the leafy environment of Napsbury Hospital's gardens, Wain was able to find an uninterrupted tranquility and his work resultantly flourished, taking on a wholly new aesthetic.
"There is no question Wain suffered from schizophrenia, but most of the literature surrounding how his disorder progressed is unfounded or just plain wrong," says Beetles. Countless psychiatric textbooks latch onto an iconic series of eight Wain cat portraits—four in crayon, four in gouache—as visual evidence of a mental breakdown, the result of a claim made in a book called Psychotic Art that was published in the 1950s.
Louis Wain, Decorative Cat. Courtesy of Chris Beetles Ltd.
Louis Wain, Portrait of a Literary Orange Cat. Courtesy of Chris Beetles Ltd.
However, this was based on an unfounded ordering of the works by their discoverer, Dr. Walter Maclay, who arranged them in an order that seemed to suggest a clinical progression of mental illness. Found in an antique shop and since preserved in the Guttman-Maclay Collection of psychiatric art at the Bethlem Museum of the Mind, the portraits feature a realistic cat that morphs into a frenzied apparition before fragmenting into a jagged kaleidoscope of almost electric geometry. In actuality, Wain produced his so-called psychedelic cats in tandem with the less abstracted felines.
Boxer, who has spoken with the families of Wain's nurses at Napsbury Hospital, estimates that Wain's fractal felines stem from 1935 to his death in 1939. "But even then, these cats don't necessarily reveal a fracturing of the ego or self," suggests Boxer, who recounts photographs of Wain enjoying himself in the gardens at Bethlem. "He was content, sitting and drawing quietly. It was common knowledge that Wain was in a world of his own."
While Beetles attributes the obsession with Wain's kaleidoscopic cats to a "voyeuristic fascination people have with other peoples' madness," Boxer—whose clients include Nick Cave and David Tibet—argues that it's a shortage in the market, combined with an empathetic psychedelia. "Many of my clients are musicians who regard Wain's kaleidoscopic cats with a sense of empathy," says Boxer. Recalling a wave of interest in the 1960s, when Boxer first discovered Wain's work, he suggests it was a contextual fascination, wherein the fractal cat designs were even more pertinent in a decade soaked with psychedelics. "We marveled at how Wain could produce these images without taking any sort of substances."
Gesturing toward a series of concurrent watercolor landscapes, lucid with detail and totally devoid of felines, Boxer says Wain had reached a sort of psychic euphoria at the end of his lifetime—and that these detailed landscapes, along with the trippy cats, indicate that Wain had achieved a permanent state of higher consciousness resembling what the rest of us see at the peak of LSD. Cosmic and strange, yet peaceful and serene, they represent a kind of oneness with all. "Wain wasn't suffering," he concludes. "It was pure cosmic contentedness."
Stir Creativity
See how Bombay Sapphire supports artistry.
Sponsored by Bombay Sapphire