Comparing the Costs of Being an Emerging Artist in New York, Los Angeles, and Berlin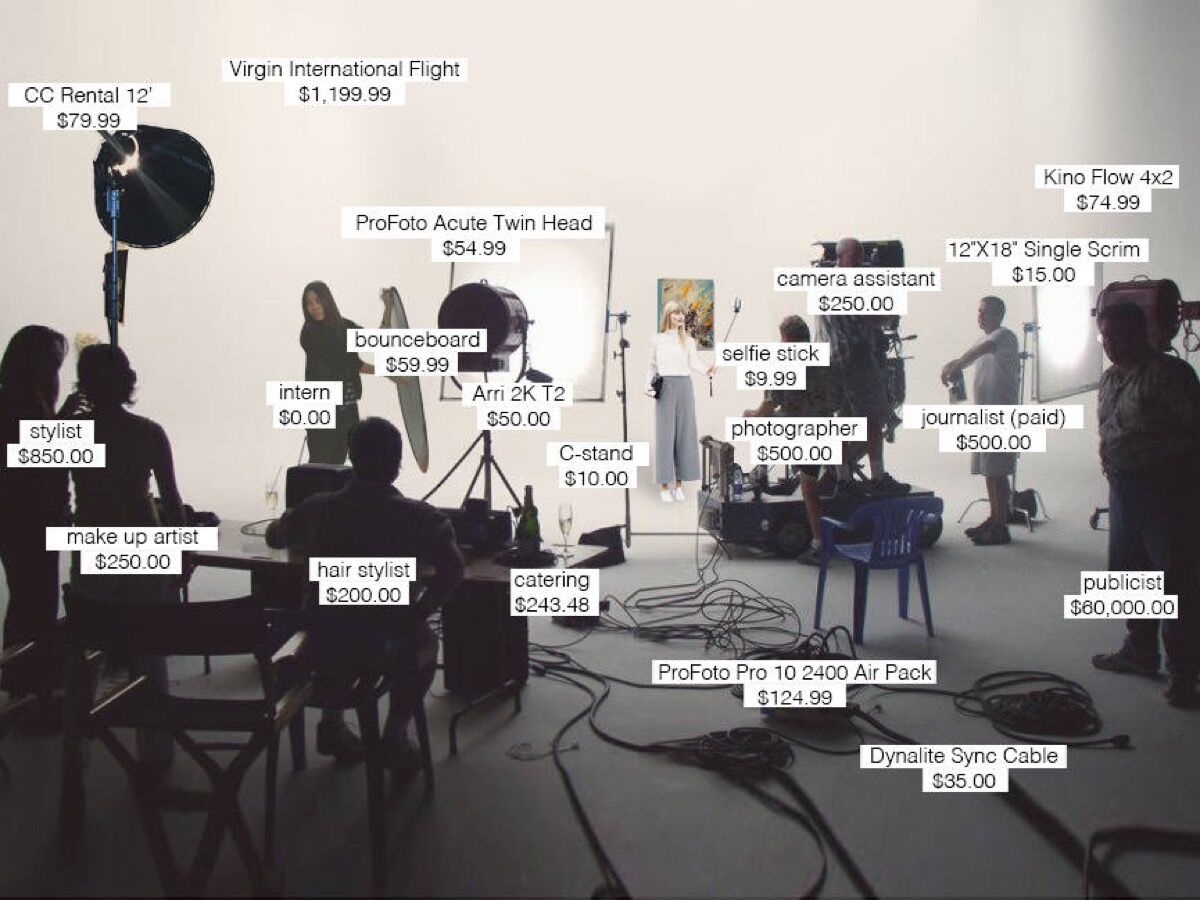 UV Production House, Steal This Look: How To Budget Your Self Aggrandizing Patron Portraiture To Exceed The Yearly Income Of Artists Whose Work You're Posing With, 2017. Courtesy of the artists.
At the outset of their careers, few artists make enough money from art sales to pay their rent and bills. For those without the unlimited support of
their parents
, that means making strategic decisions on how to balance time and resources, starting with where and how to live.
"Keeping a roof over your head" isn't a course offered at many art schools, and the financial realities of being an emerging artist are often dismal. A 2013
Wall Street Journal analysis
found that recent art school graduates in the U.S. have, on average, higher debt and lower salaries compared with peers who went to liberal arts or research colleges. What's worse, the cities where opportunities may be greatest are often
the most expensive
. To better understand how to get by as an emerging artist, Artsy spoke to 11 of them from New York, Los Angeles, and Berlin about their overhead costs, the tradeoffs they make, and the financial strategies they employ to stay afloat at the pivotal early stage of their careers.
New York has gotten so expensive that the same artists and creatives who helped make it arguably the cultural capital of the world now complain regularly about
how lame it is
. But despite the high cost of living, it's high-reward, and young artists are still
flocking to the five boroughs
.
How expensive is it? One-bedroom apartments in Brooklyn rent for an average of
$
2,548
a month
, and a 145-square-foot artist studio space in Bushwick can run
$
695
per month, making studio space, at $4.79 per square foot in that example, a luxury that not every artist can afford.
Living or sharing studio space with a significant other is, when possible, a handy strategy. Artist duo
"Instead of having two studios and paying two rents we share one; we also live together in one apartment and eat the same food at the same time," they said in a joint emailed response. "We share our assistants and also materials, and of course our creativity as well, as we started to collaborate together here in New York City."
For artists without a significant other, sharing studio space with a friend or peer is another option. Mixed-media sculptor and installation artist
"The rent is cheap and it takes 10 minutes to commute by car to my studio, which enables me to get all of the supplies and fabrication in an area with very little traffic and lots of suppliers," he said. There are some downsides to living in an area that does not yet have a large artist community. "Nobody knocks on your door to hang out, but you can still go to Manhattan for meetings, openings, or to have fun and meet friends."
In these examples, the artists with the largest studio spaces tend to be those who are already making a living from their art, meaning they have the means and incentive to invest in such a space for production. Citarella, who works from home, said the instability of artwork sales doesn't currently allow him such a luxury.
"Sales from commercial galleries are unreliable; this year it was over 50% of my income, and last year it was only 5%," he said. To supplement his income, he works as a freelance photo retoucher for most of the week and by selling artwork online through the Etsy shop
UV Production House
, with fellow New York-based artist
The artists all noted how challenging it is to live in New York financially, but pointed to the wider breadth of opportunities for artists that make it worth the hustle. Scherer, who has previously been based in London and Berlin, sees New York as the highest-risk, highest-reward city for artists, because artists tend to sell more in New York than in Europe, he said.
"I think in New York, you can go the furthest, but it might be the toughest as well," he said. It's a great place to cut your teeth, but at the same time, it's also such a tough place to get any recognition and to really sustain a practice if you are not making any money from it yet."
Yves Scherer's studio in Mt. Vernon, Yonkers. Courtesy of the artist. Photo by Matt Jones.
Los Angeles has had an art scene for many years, but the past decade has seen many New York-based artists migrate west, drawn by the promise of larger studio spaces and cheaper rent. Major galleries like
Sprüth Magers
and
Hauser & Wirth
followed suit, establishing large outposts in the city.
So how does it compare, rent-wise? To split a 980-square-foot warehouse with a friend, Los Angeles photographer
But those savings come with another cost. Unlike most other art capitals (think New York City, London, Paris, Berlin), Los Angeles is a sprawling city with lousy public transport, necessitating, for most people, a car. Painters
To save on transportation, Stecklow does the unthinkable—he doesn't drive. "I didn't grow up driving and don't own a car, so I'm able to save money by biking, using ride-share services, and taking public transportation like the Expo Line which runs by the studio," he said. "It's definitely possible to skirt driving costs in Los Angeles, but one's studio and living space need to be conveniently located."
This set of Los Angeles artists are also split between those who earn a living from selling their art and those who work outside jobs to help pay the bills. Stecklow, for example, co-runs
Content Is Relative
, a graphic design studio.
Interestingly, Los Angeles's relatively inexpensive real estate means not just more studio space, but also an opportunity for additional income for enterprising artists. Painter and multimedia artist
Overall, artists described Los Angeles as a financially viable place in which to start one's career as an artist. At the same time, the real estate landscape has been rapidly changing for the worse, with studio prices soaring in the past few years, especially in neighborhoods like Boyle Heights and West Adams.
"I think L.A. is a great place to have an art practice, but I think it was even better five or 10 years ago," Takal said. "I've been here for about four years, and in this short time the cost of living has doubled and keeps going up, but compared to New York it's still much cheaper and offers much more space."
Installation view of Przemek Pyszczek's Berlin studio. Photo by Paul Green for Artsy.
More affordable studio and living space comes at the cost of what seems to be a more challenging economic environment for artists, with fewer potential collectors and fewer labor market opportunities more broadly.
"I think it's definitely easier here than other art capitals in terms of cost, but maybe other places like New York have more opportunities or potential for one to make money," said Pyszczek. He said side jobs to support one's practice are more abundant in New York City than in Berlin, and the ones in his city don't pay particularly well.
Fudakowski echoed this sentiment, adding that it's difficult to find a job that "pays enough to fund your life and a studio, but gives you enough time and flexibility to actually use it."
Ultimately, the Berlin artists spoken to seem to agree that the city is sustainable for artists, though financial sustainability does not necessarily equal guaranteed success. "I would recommend Berlin for an artist if they are focused and not easily distracted by all the fun to be had. Berlin is a good place to start an artistic career, though it is getting more expensive all of the time, just like the rest of the world," Pyszczek said.