Completely Revamped Art Basel in Miami Beach Sees Upswing in Early Sales
Art Basel in Miami Beach, 2017. Photo by Alain Almiñana for Artsy.
What happens when you take dozens of the world's most important collectors, line them up on an 82-degree day in Miami's famous sunshine outside of a convention center that's mid-renovation, and change up the layout so their favorite dealers aren't where they last saw them?
Turns out, they still buy art.
The 16th edition of
Art Basel in Miami Beach
opened on Wednesday morning to VIP guests with a newly renovated interior that adds 10% more space to the Miami Beach convention center and a complete reshuffle of every gallery on the map. The new layout offers dealers more room to spread out their wares, and gives visitors wider halls to walk along and a pair of large plant-filled plazas in which to sit, talk, or even exercise: In one, a fairgoer in bright purple sneakers sat doing his morning stretches. But the changes meant some people were a bit spun around, players in an art-fair game of Pin the Tail on the Donkey.
Installation view of David Zwirner's booth at Art Basel in Miami Beach, 2017. Photo by Alain Almiñana for Artsy.
"I think people are having a hard time finding what they used to find, and there were some complaints about getting in as it was quite a long wait," said
David Zwirner
, who had a booth near the entrance where VIPs picked up their passes. "But once people are in here I think they're very happy."
Zwirner adjusted to the new layout and the delayed entry by updating his normal rules: Instead of the typical one-hour window he allows for collectors in Miami to decide whether to pull the trigger, they were given two to locate his booth, see the works in person, and make a decision. At 12:15, just over an hour into the fair, he lacked his usual ebullience. But an hour later, the cloud had lifted, and he reeled off something like a dozen sales (a large share of them to Americans, he said) in one breath.
They included a Homage to the Square (1957) for an undisclosed sum, a Standing at the Flower Bed (2013) for $1 million, a Central Nervous System, 2013; river bed​, 2017; and moonrise October, 2017) for $95,000 each.
Installation view of Lehmann Maupin's booth at Art Basel in Miami Beach, 2017. Photo by Alain Almiñana for Artsy.
As we know in the art world, appearance is (kind of) everything. The cosmetic changes were largely applauded by dealers, especially those with booths on the east side of the convention center, closest to the entrances. David Maupin of New York- and Hong Kong-based gallery
Lehmann Maupin
said the changes had gotten rid of visual disruptions like electrical boxes, making the fair "much smoother, more elegant."
"It's much more comprehensible to the visitor," Maupin said. "The new layout is definitely an improvement."
His booth, on the east side of the building, was buzzing with collectors on Wednesday, and he called it a "great day," with an improvement in sales from last year. Two recent paintings by Chinese artist Relief 2 (2017) for between $115,000 and $125,000, and the larger Relief 3 (2017) for between $130,000 and $140,000, which went to a trustee of the Albright-Knox Art Gallery in Buffalo, New York. Lou's first New York show in a decade will open Lehmann Maupin's new 24th Street location next year.  
Maupin said that while the fair's new look certainly helped, it was attention from institutions and curators that are the biggest factor in driving sales for his artists. One example was
Dia:Beacon
and a solo show at the
Whitney Museum of American Art
in New York. Two large paintings from her 2017 "DNA" series sold for between $250,000 and $300,000.
"These things really drive the interest, whether it's museum exhibitions or curatorial interest, it's very important to these artists' careers, that kind of validation or endorsement," Maupin said.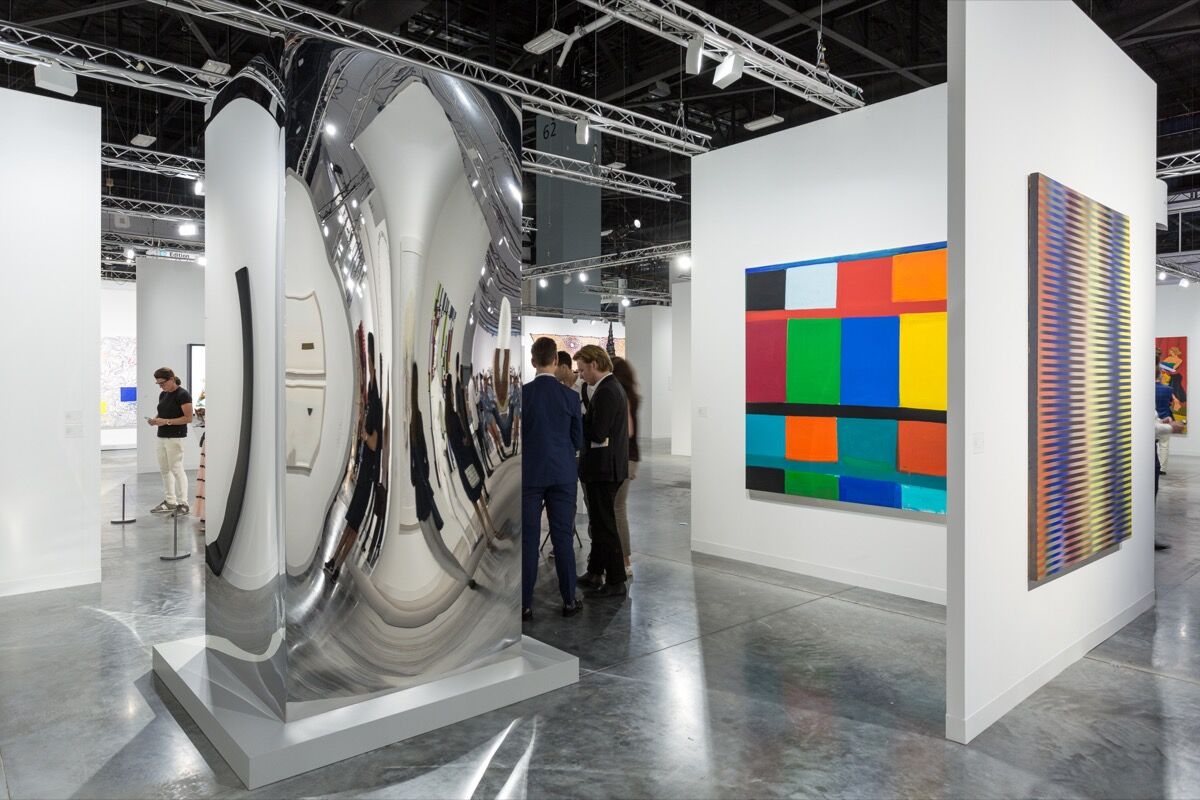 Installation view of Lisson Gallery's booth at Art Basel in Miami Beach, 2017. Photo by Alain Almiñana for Artsy.
Lisson Gallery
, which has outposts in London and New York, had not moved dramatically from its usual location, and was still near the B entrance. But Alex Logsdail, Lisson's international director, said the layout had pushed more people towards his booth than in prior years.
"The number of people we're getting through, because there are only [three] entrances rather than four, is just overwhelming," Logsdail said.
Sales were brisk, too, including two Mary Corse paintings from the gallery's Miami inventory, although a shimmering silvery-white Corse painting in the booth, Untitled (White Inner Band, Beveled) (2012), was still on reserve as of Wednesday evening, with an asking price of $325,000 (Lisson represents her in London). Lisson also sold a red untitled acrylic and aluminum Untitled Estructura (Red) (1962/2015), created as a monument to her deceased brother, for $500,000; Glisten (Organic green Satin) (2017) for £600,000; a
Art Basel in Miami Beach locates itself at a key connection point between the North, Central, and South American art markets, and Logsdail said many of his sales were driven by Latin American collectors. He cited Brazil, Venezuela, Argentina, and Colombia as countries from which his collectors hail, although some of them may be based in Miami. He said the gallery has been cultivating relationships with the continent for years, doing SP-Arte in São Paulo and Zona Maco in Mexico City.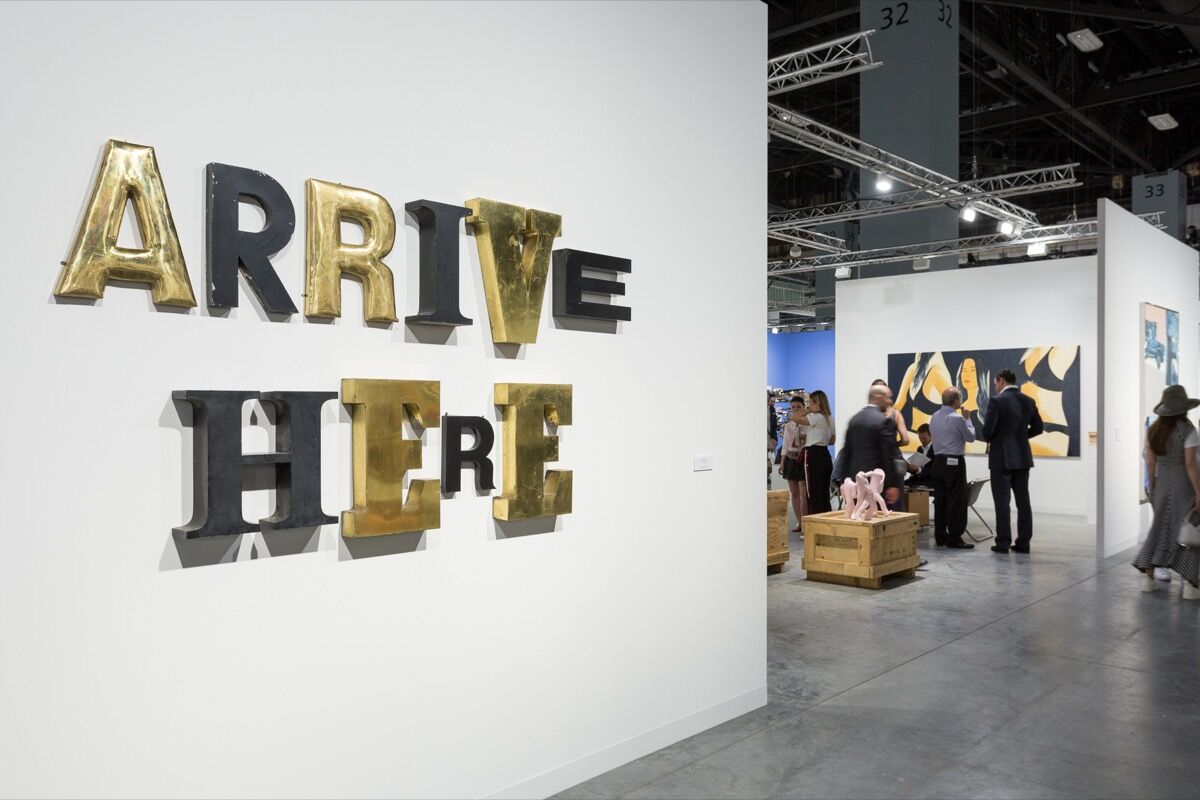 Installation view of Galerie Thaddaues Ropac's booth at Art Basel in Miami Beach, 2017. Photo by Alain Almiñana for Artsy.
Thaddaeus Ropac, owner of the eponymous gallery with outposts in Salzburg, Paris, and London, said North American and, to a lesser degree, European buyers were his strongest clients on opening day, with Latin American and local Miami collectors even less of a factor for his sales. Those included a Coenties Slip Studio (1961), for $2.7 million; a Sashimi Mendoza (1979) for $1.35 million; and an CK 21 (2017) for $550,000. He said nearly the whole booth was sold or on hold by midday.
The redesign meant that some galleries on the western side of the building were a little farther away from front-of-the-house action. Many of the booths focused on secondary market sales, which were furthest away from the entrances but directly at the entrance to the VIP lounge, were a little quieter than their contemporary peers.
Installation view of Goodman Gallery's booth at Art Basel in Miami Beach, 2017. Photo by Alain Almiñana for Artsy.
Elizabeth Callinicos of South Africa's
Goodman Gallery
, which represents artists from across Africa as well as international artists, said her booth's new location felt to her "a bit hidden."
Still, she said she was having a lot of conversations with institutions, and within the first hour had sold out all available paintings by young Zimbabwean artist All or Nothing/Nothing at All (2017), in which the two phrases blur into each other as you walk past.
The gallery also sold works by two other Zimbabwean artists,
Installation view of Salon 94's booth at Art Basel in Miami Beach, 2017. Photo by Alain Almiñana for Artsy.
Just next to the entrance, New York's
Salon 94
showed a selection of four large paintings, each around six feet by eight feet, by Aboriginal painter
The location was new for Salon 94—and newly prominent.
"We are front and center in a way that we haven't been before," Friedman said, calling the atmosphere "slightly frenzied" in the fair's early hours.
"But," she said, "it feels like good energy!"
Stir Creativity
See how Bombay Sapphire supports artistry.
Sponsored by Bombay Sapphire