How Conservators Keep Masterworks of Outdoor Sculpture Safe
A
Storm King Art Center
just got a military-grade update. After years of exposure to the elements, the 23-foot-tall, matte-black, painted-steel
City on the High Mountain
(1983) needed a restoration. Storm King conservator Mike Seaman, working with the Getty Conservation Institute, decided on a durable solution: a special paint that the U.S. Army Research Laboratory has formulated for helicopters. At the end of the August,
City on the High Mountain
will return to the outdoor sculpture park after more than seven months, battle-ready.
Though the Department of Defense rarely gets involved with art institutions, the case study dramatizes a longstanding challenge that's often invisible to the average sculpture garden visitor. How exactly does one go about protecting outdoor artwork?
According to Getty Conservation Institute associate scientist Rachel Rivenc (who worked on the Nevelson restoration with Seaman), "the sheer fact of being outdoors, exposed to the environment, rain, snow, or huge amounts of sunshine" makes for unpredictable decay. Additionally, the public is often free to engage with sculpture away from the watchful eye of guards—sometimes, artists even welcome these kinds of interactions (climbing, touching, walking atop). Yet, said Rivenc, "too much love is not always a good thing. The interaction can be detrimental for the preservation."
Beyond the vicissitudes of the weather, external sources of deterioration come from materials both synthetic and natural. Rubbed-off sunscreen from a visitor's curious hand is a nightmare for conservators; it's especially difficult to remove. Dana Turkovic, curator at Laumeier Sculpture Park in St. Louis, Missouri, mentioned that bird poop requires a nonionic cleanser (gentler than everyday soaps).  
Matte coatings on painted outdoor sculptures offer another struggle. Artists from Nevelson and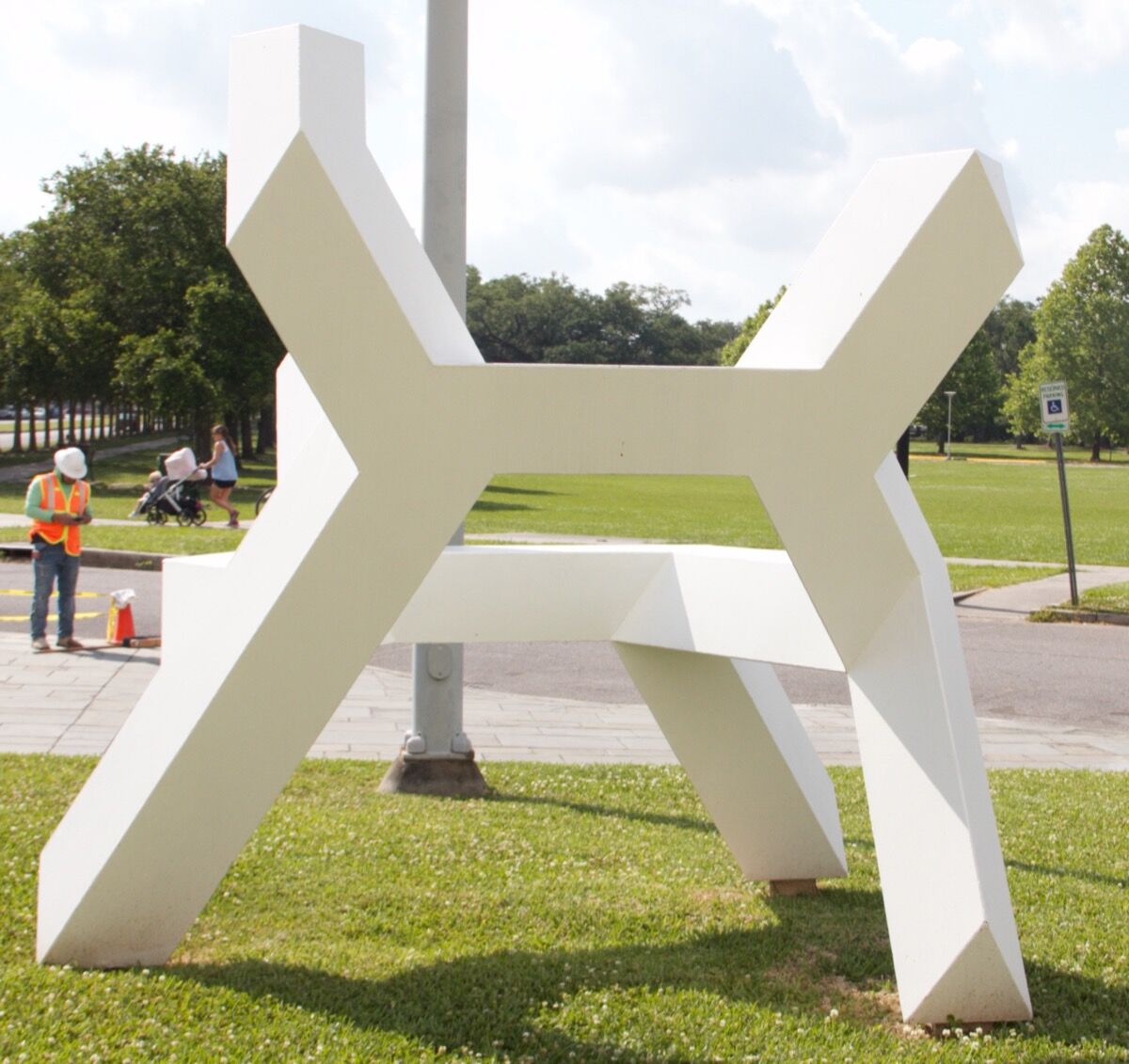 Repainting a work, said Seaman, can be an arduous process. Enormous outdoor sculptures, some weighing in at multiple tons, would need to be removed from the lawn, trucked to a facility, stripped, and painted—with each step of the process being documented along the way. His team has to determine whether to clean off or remove the paint on the surface, whether it should be abrasively blasted off, and how the surface of the underlying material (pre-paint) should feel. Some areas may need chemical stripping."We're not just applying paint," said Seaman. "We're applying different coats of different types of primers to protect the substrate, and then to allow for a proper adhesion for a top coat."
Sometimes, however, a certain amount of material corruption is actually integral to a sculpture. At Laumeier,
The functional sculpture, Pool Complex: Orchard Valley (1983–85), hosts poetry readings, cocktails, and special events. Such use has weakened the architecture over the decades, and the park must be cognizant of safety hazards. Miss has visited Laumeier to consult on strategies for upkeep, and the discussion is ongoing. "She really feels strongly about it maintaining its natural life," said Turkovic. The park may yet have to compromise on aesthetics to ensure visitor safety.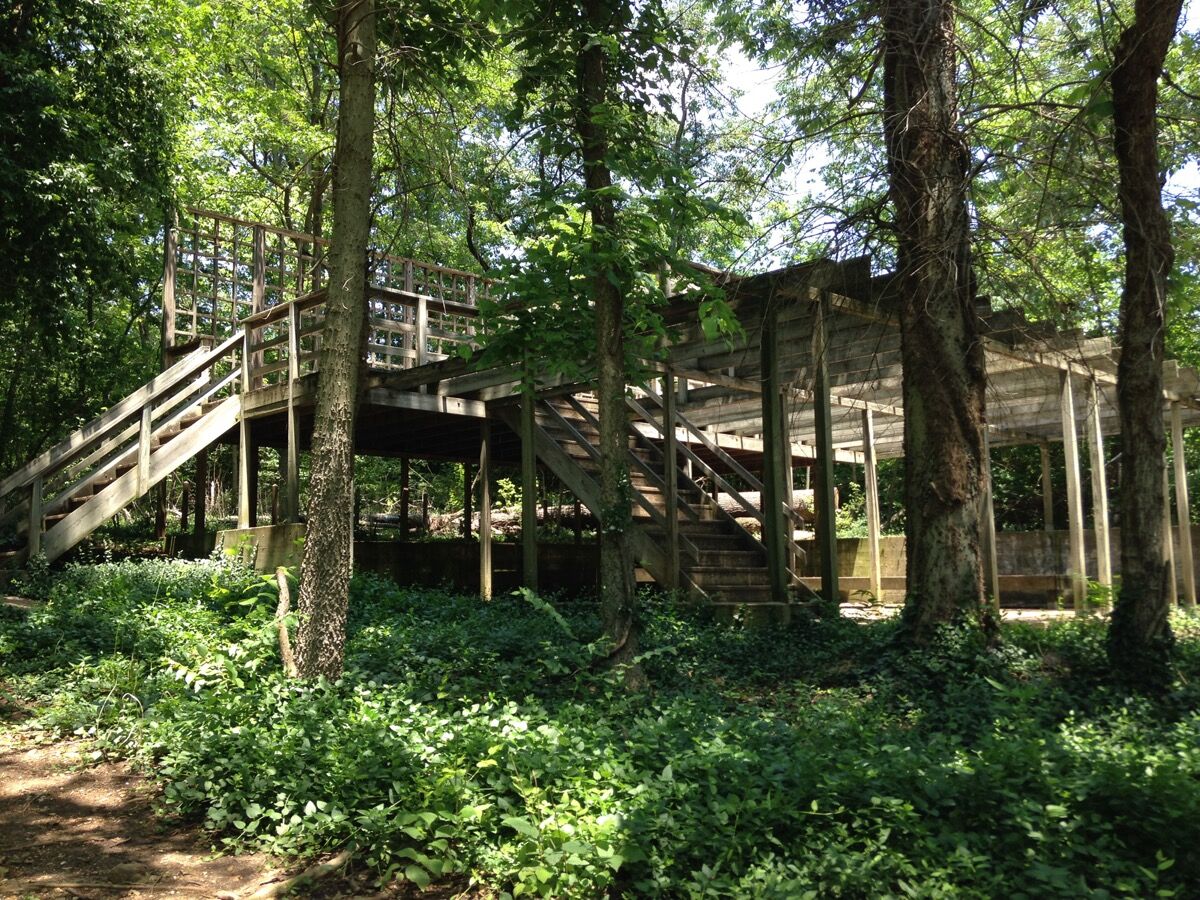 Many conservators noted that ongoing conversations with artists are crucial to ethical practices. Susie Seborg Anders, of Southern Art Conservation, LLC, once worked with
Seborg Anders recorded her discussions with Oldenburg, uploading them to a database created by the International Network for the Conservation of Contemporary Art. The organization maintains the archive (available only to members) to ensure that conservators have access to artists' wishes, even after they're deceased.
Joe Rogers, an object conservator for Kansas City's Nelson-Atkins Museum and its Donald J. Hall Sculpture Park, has also worked with Oldenburg. The park owns four of his famed Shuttlecocks (1994), which do indeed resemble giant badminton accoutrements, scattered in varying positions across the lawn. "He wants them to look brand new," said Rogers, "which is hard to do when people are climbing on them." Accordingly, he must arrange consistent upkeep, using scaffolding and a hydraulic lift to reach the top of the nearly 18-foot-tall works. It takes at least four people to clean it at a time using mild detergent. Rush Hour (1983/1995), to look—according to Rogers—as though it had been "in the ocean for a thousand years."
Three Bowls (1990) is another particularly tricky work for Rogers and his crew. A blackening layer of graphite covers the exterior of the massive cedar sculpture, which comprises three 15-foot-tall conic forms. Every year, the work requires waterproofing. Additionally, to meet von Rydingsvard's aesthetic requirements, the team must reapply the graphite with a brush every three years. For years, the artist used to visit the park to conduct the upkeep herself. Now, it's the park's responsibility. "It goes everywhere," said Rogers. "It's really kind of a mess."  
According to Cindy Burlingham, deputy director of curatorial affairs at the
Hammer Museum
, the biggest challenge for the museum's Franklin D. Murphy Garden is "to make sure that the blades on the kinetic sculpture by
Two Lines Oblique Down, Variation III
(1970–74), comprises a stainless steel Y-formation with arms that gracefully rise and fall as the wind passes. Rickey died in 2002, and the Garden honors his original vision.
When an artwork's creator is deceased, conservators rely on their estates for guidance. To maintain outdoor sculptures by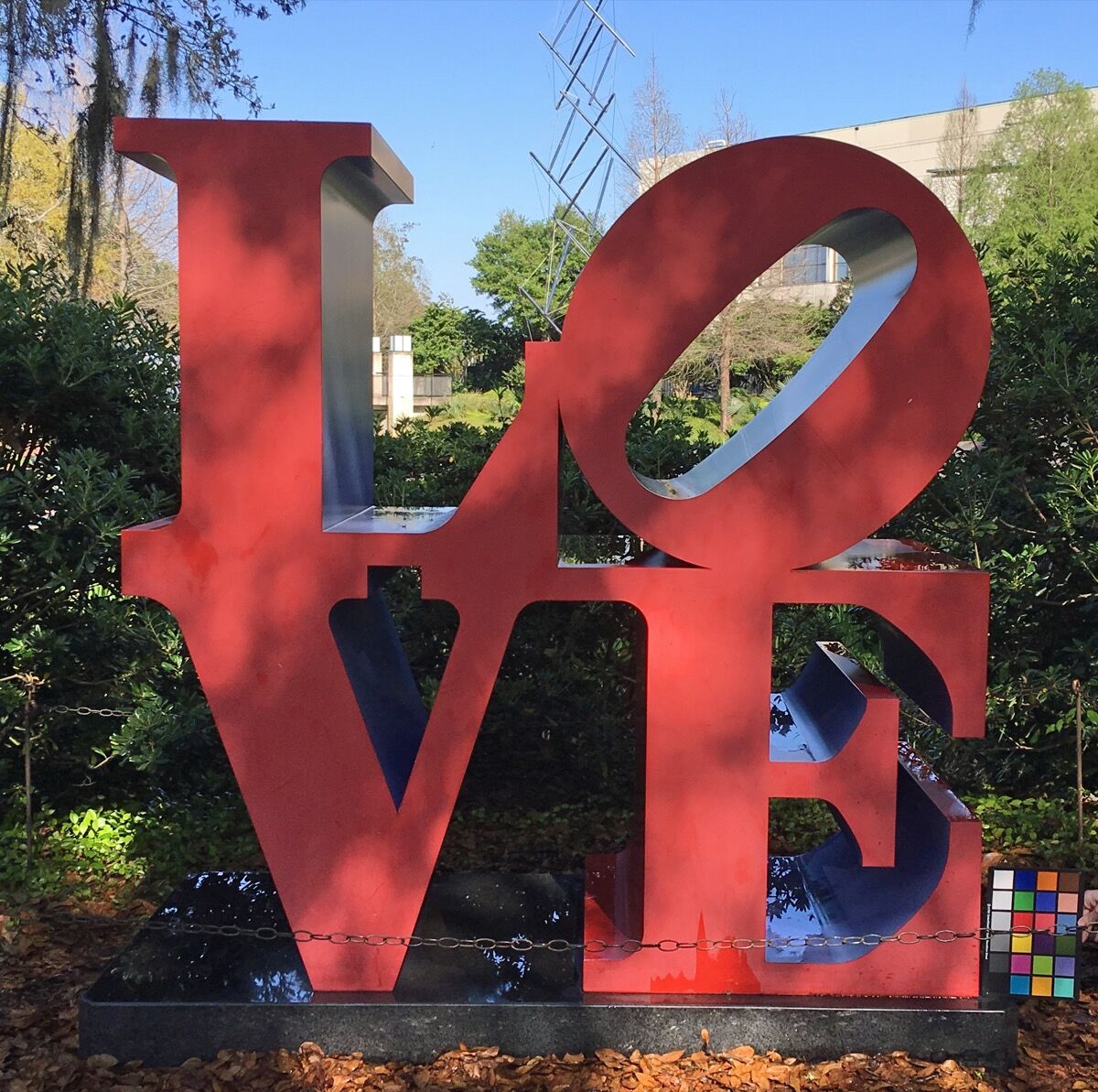 Sometimes, an artist's estate has more pressing business than consulting with conservators. Seborg Anders noted that one of her most demanding tasks at the
New Orleans Museum of Art
's Besthoff Sculpture Garden is conserving
Love, Red Blue
(1966–97) by
fight
over Indiana's $28 million legacy, perhaps), Seborg Anders has developed a short-term plan to address issues of paint flaking and a long-term plan for repainting. She's hesitant about taking more aggressive steps. "What level of damage [means it's] too much to fix locally, and do we have to resurface?" she said. "Those are irreversible decisions that will also establish the protocol for the future preservation of the works."
Sometimes, outdoor sculpture upkeep more closely resembles gardening. In 2013, Laumeier commissioned Topiary, which is comprised of three intricately shorn hetz juniper trees. "That's a good metaphor for conservation," said Turkovic. "It requires pruning, real care, maintenance, and someone who is very in tune with those materials. That's a perfect example of what it takes to maintain all of the pieces here."
Alina Cohen is a Staff Writer at Artsy.
Correction: A previous version of this article contained an error, which incorrectly stated that Rachel Rivenc was a scientist with the J. Paul Getty Trust. She is a scientist with the Getty Conservation Institute.