Creatives Are Flocking to This Artist-Designed Social Network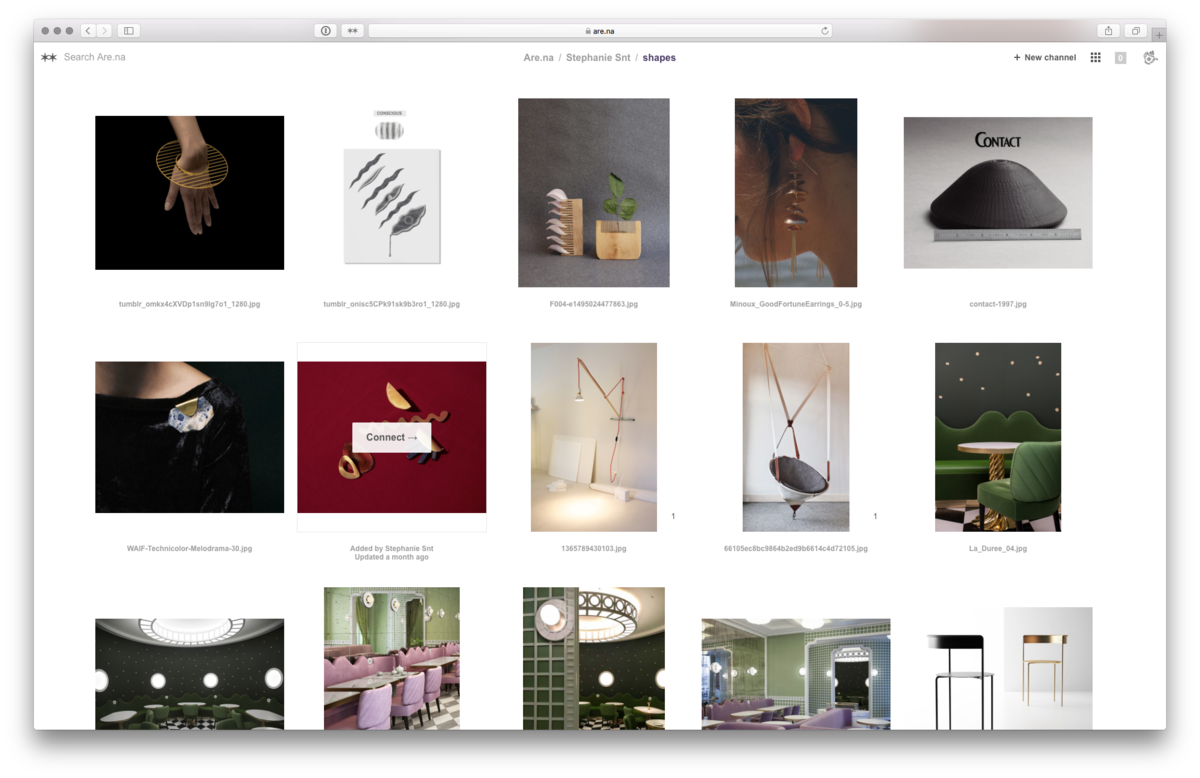 Are.na officially launched in 2015, the brainchild of Broskoski, who is an artist and developer, along with artists John Michael Boling, Dena Yago, and Damon Zucconi, and tech entrepreneur J. Stuart Moore. Since then, it has grown slowly but steadily, with a small investment in 2017 that's boosted its development. Currently, Broskoski, Zucconi, Daniel Pianetti, Chris Sherron, and Chris Barley make up the team. (Full disclosure: Broskoski and Zucconi previously worked at Artsy.)
At its core, Are.na is a platform that allows its users to collect, curate, and share images or information that intrigue them. There are no ads or "likes" on the site—elements that Broskoski says encourage content (like selfies) that feed into people's "insecurities and susceptibility to FOMO." You won't find never-ending streams of images, either, which can be distracting and "encourage passive consumption," he continues.
The site's basic building block is a "channel," an optimized folder that hosts various types of media, including photos, articles, text, gifs, videos, and pdfs. Files and links can be dragged into a channel and annotated with notes (i.e. where you found it, why it's interesting to you).
If users desire, they can also make these collections public, so that others can see or contribute to them. This is where Are.na becomes a social network, and begins to connect users and spark collaboration.
Broskoski notes that making connections between images encourages users to actively participate on the site, instead of just passive engagement. "That sort of conceptual move, is much, much harder than 'liking,' 'saving,' or commenting," he says. "Because you have to see something in two different perspectives at the same time."
While the site has primarily attracted creative types, Broskoski and his team hope it will become a platform where users from wide-ranging disciplines can share ideas. "Artists can learn a lot from scientists, and vice versa," he says. "That kind of diversity is something that we really want: the ability for people to act in interdisciplinary ways."
After all, by removing ads and ego-stroking "likes," Are.na frees up space for creativity. "It's an open-ended tool that people can use for anything," Broskoski says. "In any kind of creative way that they want."
Alexxa Gotthardt is a contributing writer for Artsy.
Stir Creativity
See how Bombay Sapphire supports artistry.
Sponsored by Bombay Sapphire