Dealing with Creative Block? A Deck of Cards Might Help
Geeta Dayal was stuck.
Back in 2007, the music journalist was working on a book about 1975 album Another Green World, but ideas and drafts kept piling up with little forward progress. The project, she wrote later, had started to weigh on her "like a ten-thousand-pound albatross." So she picked up an Oblique Strategies deck—a set of instruction-based cards written by Eno and artist
"Work at a different speed," one commanded. Dayal jotted down her ideas without hesitating or overthinking. "Make a sudden, destructive unpredictable action; incorporate." She ripped up the chapter she had been working on. "Take a break." She stopped writing for a while—long enough to take up cycling and read both volumes of Mastering the Art of French Cooking.
Eventually, it worked. Dayal published the book in 2009; each chapter was titled after a different Oblique Strategy in an homage to her process.
"Whether you're a journalist or an artist or a musician, everybody who makes stuff is familiar with this feeling of staring into the abyss when you look at a blank sheet of paper or a blank Microsoft doc," Dayal told me recently from her home in Los Angeles. "This feeling of panic sets in, where you're like, 'Oh my God, how am I going to do this? How am I going to make something happen?'"
In this case, of course, Dayal's answer was to pick a card—and she's not the first creative mind to employ this strategy. For hundreds of years, artists and writers have been incorporating card decks into their process to spark inspiration and overcome creative block.
Twentieth-century writers, including W.B. Yeats and Italo Calvino, looked to tarot cards for inspiration and innovative methods of structuring a story (Calvino once called the tarot "a machine for writing stories"). Meanwhile, in the art world, tarot had captured the imagination of the
create their own tarot
; recent artist-designed decks have been made by
Adam J. Kurtz
,
"It's easy to see why artists in particular connect to the deck," writes Jessica Crispin in her 2016 book The Creative Tarot: A Modern Guide to an Inspired Life. "Tarot readers tell stories—stories that might not always have a logical sense but have instead an intuitive meaning. The story is guided by a feeling, or perhaps the mood a color suggests to the reader, or strange coincidences in the picture.…That is a creative act. And so artists, used to working in that way, often take to the decks like ducks to water."
This tradition extends beyond the historical. Alongside her own writing projects, Crispin reads tarot cards for a range of contemporary creatives, from poets to singers to painters to photographers. Often, she told me, her clients come to her feeling blocked. She recalled a particular reading for a young adult novelist, where the Devil card turned up—"Not as an indicator that something was wrong with the writer," she said, "but that her project lacked that depth and darkness, and that she had to re-calibrate it." It helped; Crispin still sees that client regularly.
"Almost every time, the solution is listening to and honoring your intuitive sense of not what you think you need but what your project needs to come to fruition," Crispin muses in the book's introduction. "Maybe that is the greatest thing the cards can do for us: quiet down our worried thoughts and our expectations for how it's 'supposed' to go and help us get back in touch with our imagination."
James C. Kaufman, a psychologist whose research focuses on creativity, hypothesizes that the power of tarot cards to jumpstart creativity lies in their ability to stimulate "associational thinking." That's what happens when the brain tries to synthesize multiple distinct inputs, forming associations between ideas that, at first, seem unrelated. (For example: How can you link together the words "Swiss," "cottage," and "cake"? The answer: Each word can be paired with a fourth one, "cheese," to take on new meaning.)
"The tarot cards—between the fact that they have images, they have names, and they have concepts behind them—they're not terribly dissimilar from a book of writing prompts that says: 'Okay, well, you have a king and a soldier and the idea of love, go,'" said Kaufman, who is also a professor at the University of Connecticut's Neag School of Education. "Except [with] a deck of tarot cards, they're different every time."
The Oblique Strategies cards, on the other hand, encourage "divergent thinking." While associational thinking challenges you to link multiple concepts, divergent thinking branches out from a single starting point—an open-ended question that could be answered in countless ways. "So I could ask you: What can you think of that you might do with a broken chair?" Kaufman offers up as an example. "Or: What would happen if all electricity went out for three weeks?"
Eno's own explanation of the cards, from a 1980 interview, echoes these concepts. "The Oblique Strategies evolved from me being in a number of working situations when the panic of the situation—particularly in studios—tended to make me quickly forget that there were other ways of working, and that there were tangential ways of attacking problems that were in many senses more interesting than the direct head-on approach," he noted.
The cards, released in 1975, were an instant success with musicians; even
Brooklyn Museum
's exhibition "David Bowie is.")
For her part, Dayal thinks the cards are helpful because of their "relentlessly positive" attitude. "It's kind of like having a friend or a motivational teacher who you really like, who says: 'Just loosen up. Just create,'" she said.
She added that part of the reason why you feel paralysis when you're trying to create something is because you have way too many options. "Picking a card and doing what the card says tones down all the choices," Dayal said. "It gives you a direction, and that's something you desperately need when you are in that zone."
From a psychologist's perspective, Dayal's observation is spot-on. Constraints, Kaufman noted, typically result in heightened creativity. "It's part of the reason I hate the expression 'thinking outside the box,'" he said. "So often, it's thinking inside the box—figuring out how to maneuver inside the box instead."
In the decades since the Oblique Strategies cards were first released, a flood of new decks intended to encourage creativity have hit the market: Roger von Oech's Creative Whack Pack in 1989; Naomi Epel's The Observation Deck in 1998; and Matt Vojacek's Game of Creativity earlier in 2018, to name a few.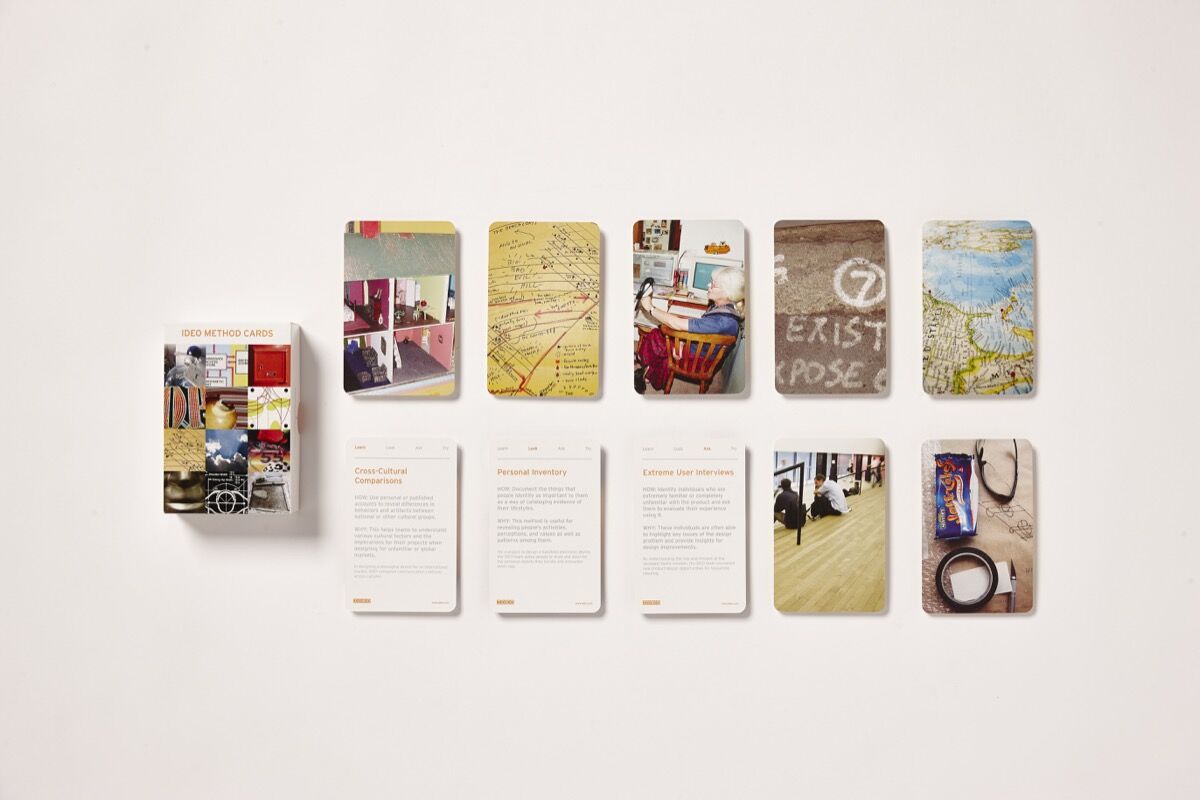 But perhaps the most iconic among this new crop of decks is IDEO's Method Cards. Made available to the public in 2003, this deck is a physical collection of 51 techniques used by the storied design studio to focus on "human factors"—ways to ensure people remain the center of the design process. These are divided into four suits, of sorts: Look, Learn, Ask, and Try. Each card features an image on one side, and a brief explanation of how and when to use the particular method on the other. "Bodystorming," for instance, instructs the reader to act out a scenario while "focusing on the intuitive responses prompted by the physical enactment."
Brendan Boyle, head of IDEO's Play Lab, said the cards often encourage his students to take that initial step in the creative process—the first sentence, the first brushstroke, whatever it is that eliminates the panic of the blank page or canvas.
"Sometimes the hardest part of the process is to just begin," Boyle explained via email. "The Method Cards are a sure-fire way to get started. I see several of my students spend too much time thinking about the project versus diving straight in. You need to start on the challenge to make any progress. The techniques in the deck enable you to obtain tangible results quickly."
So, pick a card—any card. The solution to your creative block might just start there.