Digging Deep with Laure Prouvost's Latest Trans-Media Installation in Berlin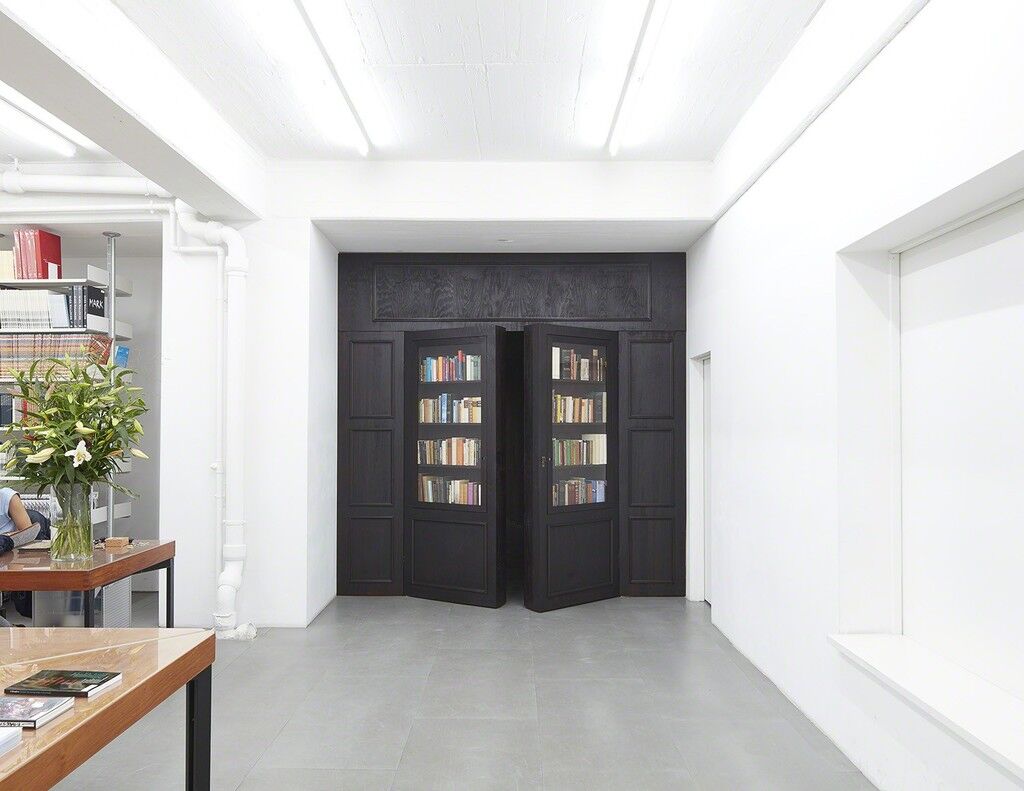 "Dear dirty…" opens with a wall of Prouvost's grandfather's poetry and travel books, introducing themes of voyage and escape. The shelf doubles as a Narnia-style secret door, and through it visitors are plunged into darkness to blindly find their way to the screening room. The route throughout the exhibition is purposefully disorienting, spinning the visitor's sense of time and space.
The film is light at the end of Prouvost's tunnel and, fittingly, begins with dark, leafy imagery and subtitles (spelling out phrases like "Enter Me") that map a subterranean descent through a dark shaft. Images cut quickly from one to the next—a hot knife cutting through butter, a glowing GPS screen, a close-up of a flower (the innuendo-filled backdrop for the "Enter Me" subtitle)—all flashing across the screen like fleeting memories of past journeys, emotions, and physical sensations. At the end of the film, the tunnel opens into a warm explosion of butterflies, pulsating music, and sighs. The piece is a vital reflection on love, birth, and death, where nature shares the stage with a digitally mediated existence. Organic sensuality is paired with the stroking of digital interfaces—Google Maps, iPhone screens—and narrated lines that speak of anthropomorphic jpgs: "warm sweaty pixels are dripping on you."

As the film offers an exit from the tunnel, the exhibition itself opens into into the brightly lit main exhibition space. There, rumbling sounds accompany the series of branch sculptures, appended with broken egg shells, an exhaust pipe, and a trumpet horn; in Communication Branch (2015), an organic wooden spindle extends subtly into a cell phone. The absurd assemblages speak to contemporary culture's prosthetic merging of body, nature, and technology. 
Similarly, screens in the proportions of large smartphones are attached to a pair of shovels and bookend either side of the tapestry triptych Dinner Party (2015), in which motifs of communication and corporeal pleasure are folded together and rendered absurd. Naive speech bubbles pop-up amongst the human and animal guests, with one in particular vocalizing the artist's present search: "What are we digging for?"  As is the case with Prouvost's body of work as a whole, an artist's search is not about finding answers, but about revealing the mystery that surrounds human existence, in all its sensual glory.  

Stir Creativity
See how Bombay Sapphire supports artistry.
Sponsored by Bombay Sapphire