Once Discarded, These Historic Studio Portraits of African Americans Are Now on Display at the Met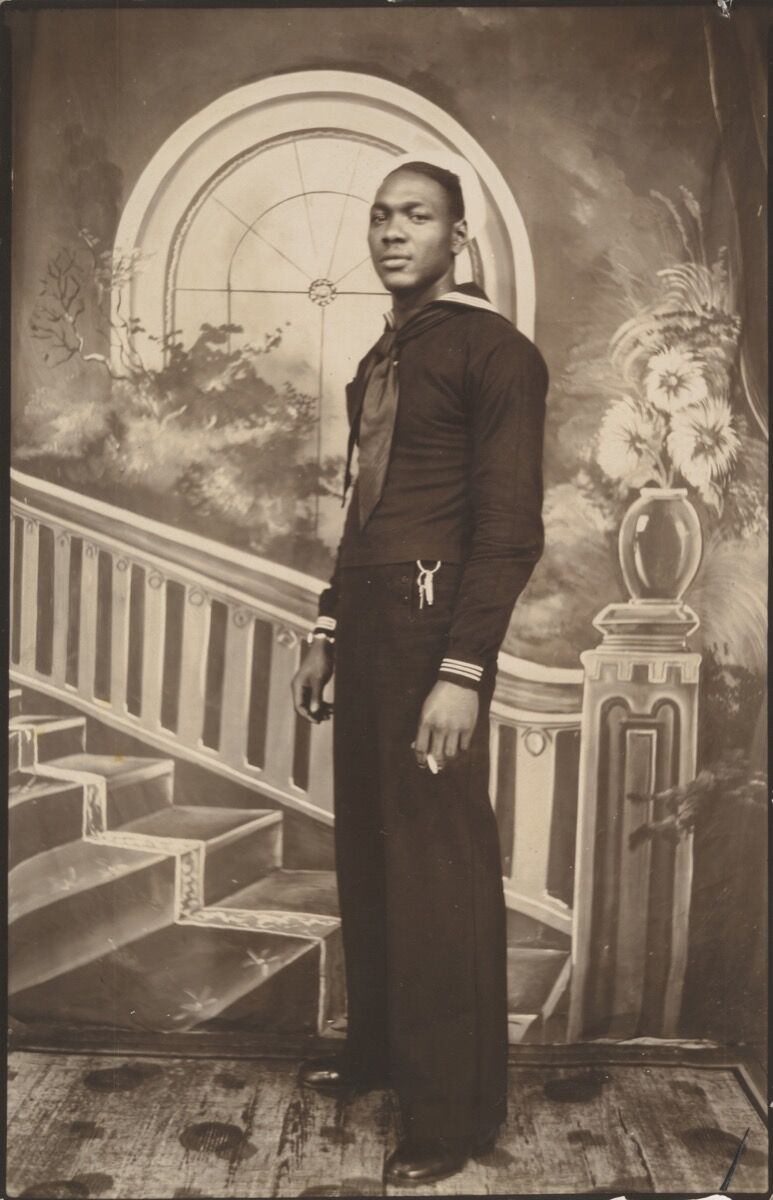 Famed abolitionist Frederick Douglass believed that photography could liberate its subjects. He became the
most
photographed American of the 19th century, convinced that sitting for portraits allowed African-Americans to generate new, positive images that diverged from the degrading and violent pictures that prevailed throughout the day's media (and which still, unfortunately, proliferate now).
Over 100 years after Douglass's death, the internet and smartphones allow us to produce and circulate more images of ourselves than ever before. As such, individual, formal portraits have become less valuable, frequently relegated to digital space as we forgo printing and just save them to the cloud.
A new exhibition mounted by the
Metropolitan Museum of Art
's Department of Photographs, "African American Portraits: Photographs from the 1940s and 1950s," brings together surviving studio portraits of uniformed soldiers, parents with their children, and fashionable individuals, all of which capture a defining era of the African-American experience in the South and the Midwest. Douglass's quotes, and one of his portraits, mark the entrance.
"What do we do when we're not making prints of anything? What are we going to do with all of these images that are on our phones?" asked Jeff Rosenheim, curator of the exhibition, during a press preview on Monday morning.
Over the past few years, Rosenheim and his team have collected about 350 studio portraits ("about the size of people's phones," as he described them) of African-Americans from the decade; about 150 are now on view. Rosenheim said it's a critical moment to collect such photographs: Their subjects might be in their eighties or nineties now, and their prints are liable to end up in the trash as soon as the subjects are gone.
Rediscovered at flea markets and other venues, the pictures on view elicit new mysteries for the curatorial team to answer. The names of many portrait subjects, and the studios where they were photographed, remain unknown. Rosenheim has definitively located just two sites that produced the exhibited works: Daisy Studio on Memphis's Beale Street (perhaps best known for its live music venues), and H. Hick's Studio in Swainsboro, Georgia.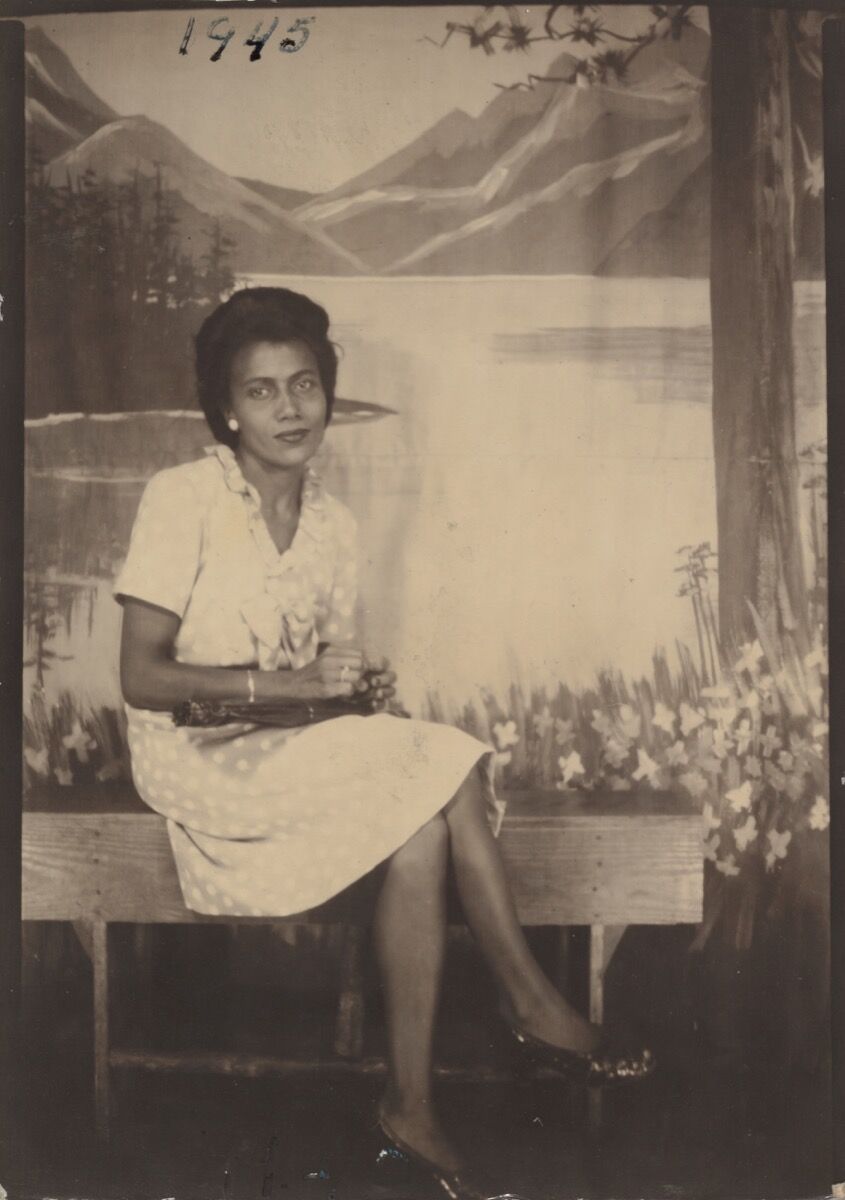 In the segregated South, these studios (ostensibly) became successful African-American businesses that not only offered jobs, but also means of self-empowerment in an oppressive climate. This show focuses on a particular brand of studio portraiture used predominantly in the South and Midwest, which required a special "direct-positive" chemical process, sans negatives. As the demand for photography grew in the 1940s and '50s, prices lowered, making sessions accessible to communities across socioeconomic classes.
Given few descriptive details, the viewer is free to imagine the particulars of the subjects' lives and relationships. Five Men in Double-Breasted Suits (1940s–50s) features just what its title implies: two men sitting in front and three men standing behind them, the two on the sides leaning on what appear to be Doric columns. The fancy dress suggests a special occasion, and the pillars lend a ceremonious tone. The men in back beam with confidence, the two in front with skepticism and candor. The stories of both the group and the individuals remain obscure, open to myriad interpretations.
Though all of the photographs are in grayscale, hand-coloring adds a personal, decorative element to a small selection of the works on view. One subject's solid red dress becomes the star of a group portrait. Another picture features a woman in a yellow polo shirt and green plaid skirt in front of a brushy background, giving the image a hazy, dreamy quality. Yet another woman's grass-hued button-down adds vibrancy to a picture in which she leans into a man's chest, ostensibly in a couples' portrait, in front of a curtain.  
Indeed, love and affection often radiate both inside and outside the frames. Rosenheim explained that men bound to fight in World War II sometimes commissioned pictures of their children, which they'd carry with them while separated from their families. "People felt that they would be protected, that they would return home if their families were with them on their person," he said. In this sense, the objects become talismans, signifiers of both conflict and hope.
The photographs' backgrounds also hint at their subjects' preoccupations. Staircases suggest advancement and elevation, while rivers might be hints about transitions and movement. A contrived homefront implies the impending domesticity for a bride and groom. According to Rosenheim, palm trees and tropical backdrops connect to the decade's international crisis. "Starting in December [1941], with the firing on the fleet in Hawaii, a lot of soldiers went out west," he said. "Palm trees became a part of the American thing. Just think about '50s clothing."
At the preview, one woman gleefully remarked how familiar the pictures were: She had many similar photographs stored at home. "Could we give them to the Met?" she asked Rosenheim. "That's why we're here," he responded. As bad news and its attendant images dominate websites and social feeds, it becomes evermore important to see not just oneself, but one's community represented at major museums such as the Met—happy and self-empowered in an everyday way.
Alina Cohen is a Staff Writer at Artsy.