What's Driving Nonprofits into the Art World's Arms
"One of the really hard things about climate change is that people struggle to imagine it, and imagine what it looks like," said Corr. "Artists and art have the incredible ability to break down that barrier...That allows the public to interact in a very active way, to ask questions, to have emotive responses, to feel. And once they're feeling, they'll be more inclined to take action on behalf of the environment."
NRDC's booth at Expo Chicago is one example of the nonprofit sector's growing engagement with the art community, as nonprofit organizations seek to harness the alignment between their causes and the liberal-leaning artists, dealers, and art audiences to raise awareness among new demographics and bring in much-needed funds.
"We're constantly trying to reach a more diverse audience, a younger audience, to get them engaged with our work. The art world is perfect for that," Corr said. "Historically, there's such a strong link between art and political movements, and the environmental movement is no different."
Now in her seventh year working with artists, Corr also oversees an artist-in-residence program in which artists access NRDC's scientists and legal experts for input and inspiration.
The links between the art community and nonprofits have been solidifying as more people, including artists, seek political involvement following the election of United States President Donald Trump.
"People are really revved up and looking for avenues to contribute," said Kristen Stegemoeller, who along with Sonny Ruscha Granade and Tera Uhlinger now steer Sexy Beast after Nemeroff and Marple handed the reins to Granade in November of 2016.
"So many of these artists and designers we're working with [are] very liberal and politically engaged personally, but there are limited outlets to use their talent and skills to directly benefit causes they personally care about," said Stegemoeller. "We're trying to thread the needle for them."
The proliferation of events featuring charity art auctions has created some competition for artists' limited quantities of work. Fortunately for David Giffen, executive director of New York City's Coalition for the Homeless, his organization has been partnering with artists since 1995. The organization's annual Artwalk NY event, a high-profile gala whose 2017 edition honored artist
"Now that there are so many charity auctions around town, it's hard to get the attention of artists," said Giffen. "We're really lucky," he said, citing the consistent involvement of artists including Holzer,
Giffen said many of the artists involved were drawn to the Coalition's work thanks to a personal connection to the cause of homelessness, and because of their generally "inclusive and humanistic view of the world and our place in it," he said.
"Part of the way this started is because so many artists have a history of homelessness or living on the margins of society, so they do really have empathy for the issue," Giffen said. He cited moving remarks at Artwalk one year by the artist
Marple said a similar dynamic was at work with Planned Parenthood, which she called "one of those nonprofits that transcend class."
"A lot of people who are just too embarrassed to go to their parents will go to Planned Parenthood," she said. "Almost every collector, dealer, artist, had a Planned Parenthood experience."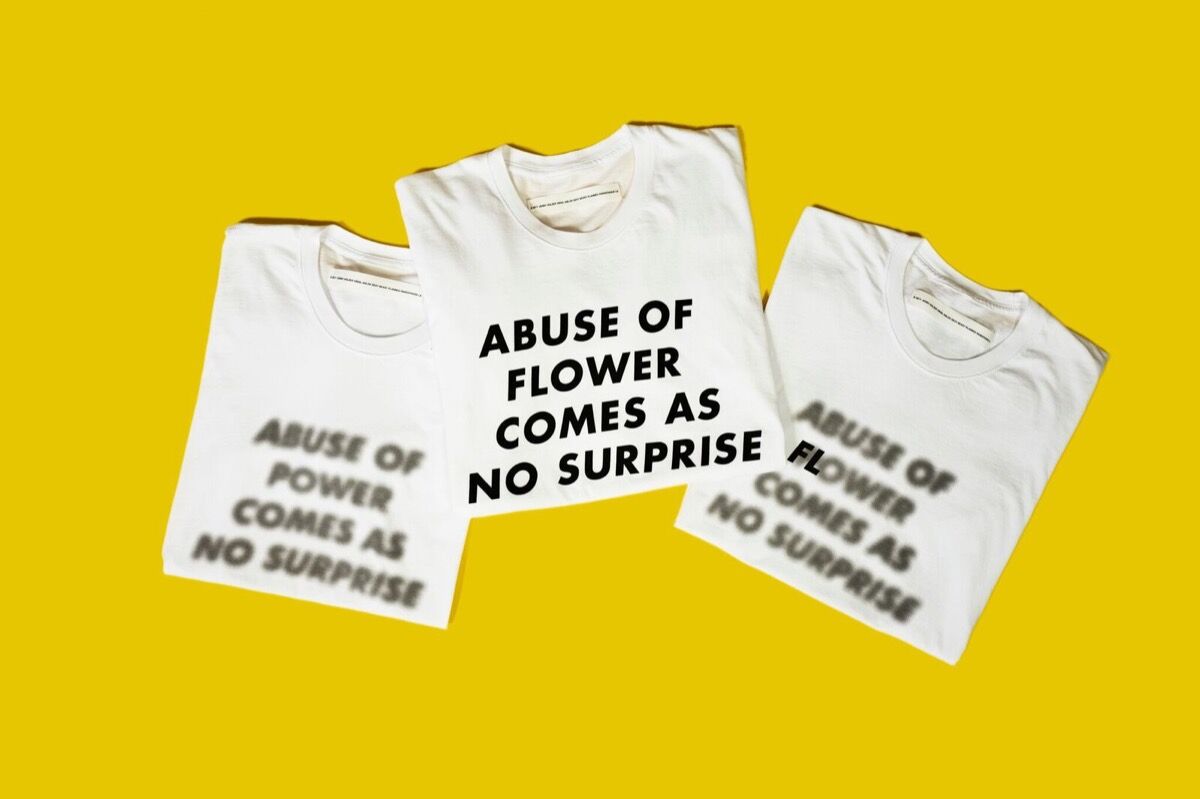 "We just thought it was like the greatest thing, and Planned Parenthood didn't," Marple said. Through further conversations, the two dealers came to understand the constraints under which Planned Parenthood operates: namely, a political environment in which anti-abortion activists might use such a performance to smear the organization's name.
"Planned Parenthood gets bomb threats regularly," Marple said. "There were a whole new set of worries that were never, ever, on our radar."
The current directors envision it growing into a more year-round affair with more frequent programming, such as a sign-making event ahead of the January Women's March and ongoing social media engagement via Instagram, where their rapidly growing following includes a number of celebrity supporters photographed in the Abloh and Holzer-designed t-shirts.
"That first year, people really didn't understand why Human Rights Watch was at the art fair. They actually said, 'Why are you here?'" Gray recalled. But after four days of engaging with visitors about HRW's work documenting and exposing human rights violations around the world, she said, visitors seemed grateful to experience something at the fair that, while still arts-based, gave the fair "another dimension."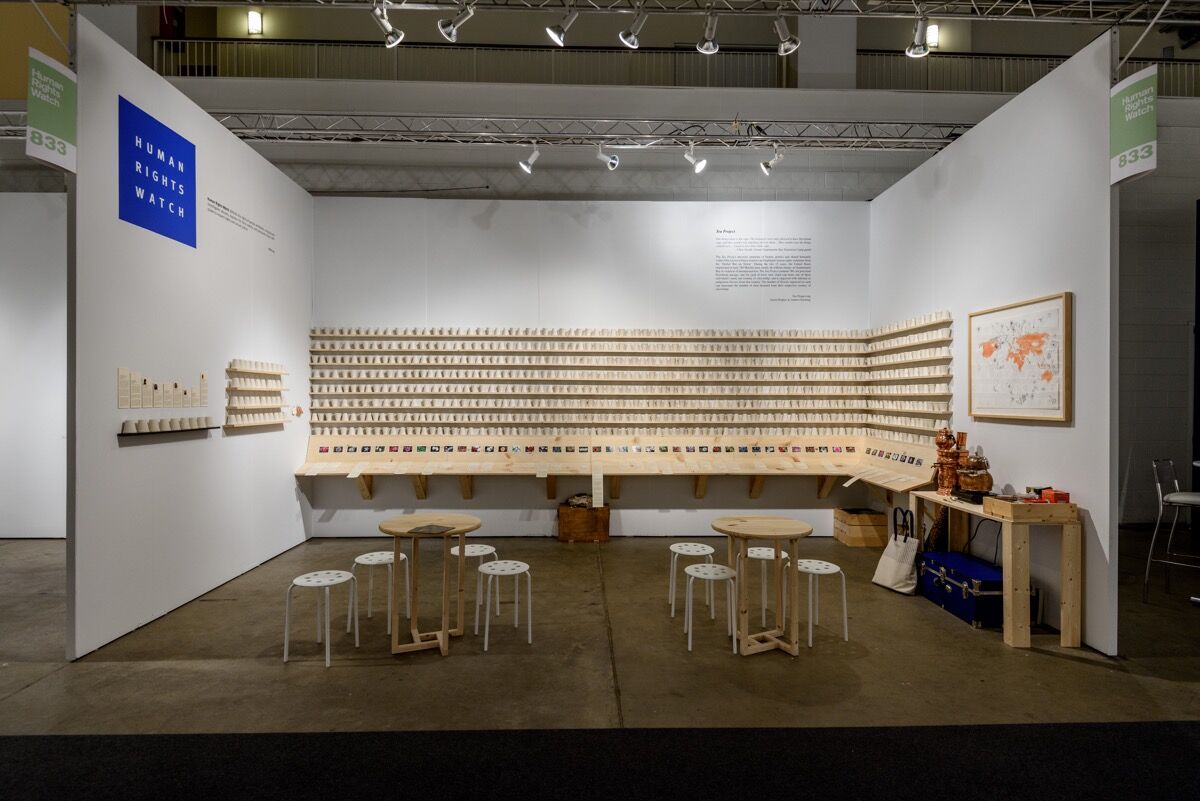 In recent years, Gray and Rachel Shrock, an officer at HRW who helps coordinate the booth, have sought to make the artworks more interactive, after seeing the impact of their 2016 project 34,000 Pillows. For the piece, the artist collaborative
Shrock and Gray said the booth's colorful piles of the pillows brought in a number of children, creating opportunities to engage with families and others around HRW's work in a way that its text-based reports cannot.
"Art is able to transform and materialize the issue in a way that words often cannot communicate, and in an instantaneous way," Shrock said. "The look on peoples' faces when we explain about the 34,000 people detained each day in the U.S., and the cost of that. You could just see the way it affected them, thinking about what it means to lay your head down on a pillow, how many pillows that is and how many human beings that is. It's very different than reading a text on a wall." Shrock also noted that the VIP preview day brings in high-net worth collectors who could be valuable potential donors.
Sometimes, it is those collectors who form a bridge between the philanthropic and arts community. Marple, who left Night Gallery in early 2017 and is now based in the Bay Area, said it was two older female collectors that were also former board members of PPLA who had vouched for her and Nemeroff when they first reached out to the organization.
Their involvement taught Marple a lesson that she now wants to impart to graduate students in a course on fundraising she'll be co-teaching at California College of the Arts with artist Christine Wang: They can be political artists without eschewing the art market, or collectors, or the gallery system. Rather, they can use their art to further a cause they care about through the art industry and its supporters, something the students will prove by holding a benefit auction themselves to raise money for  
Critical Resistance
, a prison abolitionist group Wang has been a part of for the past seven years.
"It doesn't require them to make explicitly political work," Marple said. "It can literally be just how you carry yourself in your life."