In Eric Fischl's Paintings of Trump's America, Daddy's in Trouble
The most riveting painting in
The man lies on the ground in a fetal position so that only his backside—a tan-lined, aging rear; hairy legs; and bare, pink feet—is visible. The scene is unnerving, and we can't help but wonder: What the hell is going on?
"Clearly something is terribly wrong," says Fischl, who is on the phone from his studio in Long Island. "But Daddy doesn't have the answers."
We're talking about the titular piece in "Late America," Fischl's solo show opening at New York's Skarstedt Gallery on May 2nd. Across the exhibition, the vulnerability and powerlessness captured in the body of "Daddy," as Fischl refers to the painting's adult male subject, is a common theme.
Fischl began the piece shortly after the results of the 2016 U.S. election came in. He was surprised and confused by the outcome, and in response, he headed to his studio. As he channeled feelings of frustration onto the canvas, Late America—and its incapacitated central figure—emerged.
In this context, "Daddy" could represent the blindsided liberal, left feeling paralyzed by Trump's rise to power. Or maybe he's Trump himself, a political novice struggling to gain a footing in his new role.
But while the painting sprung from a heated reaction to politics, Fischl makes clear that he's not out to make a political statement, exactly. Instead, he sees the work and the whole series that came after it as historical.
"It's about a pivotal moment in the U.S. when the white male figure no longer has the answers, when the future doesn't seem to be inhabited by the old power structure," he explains.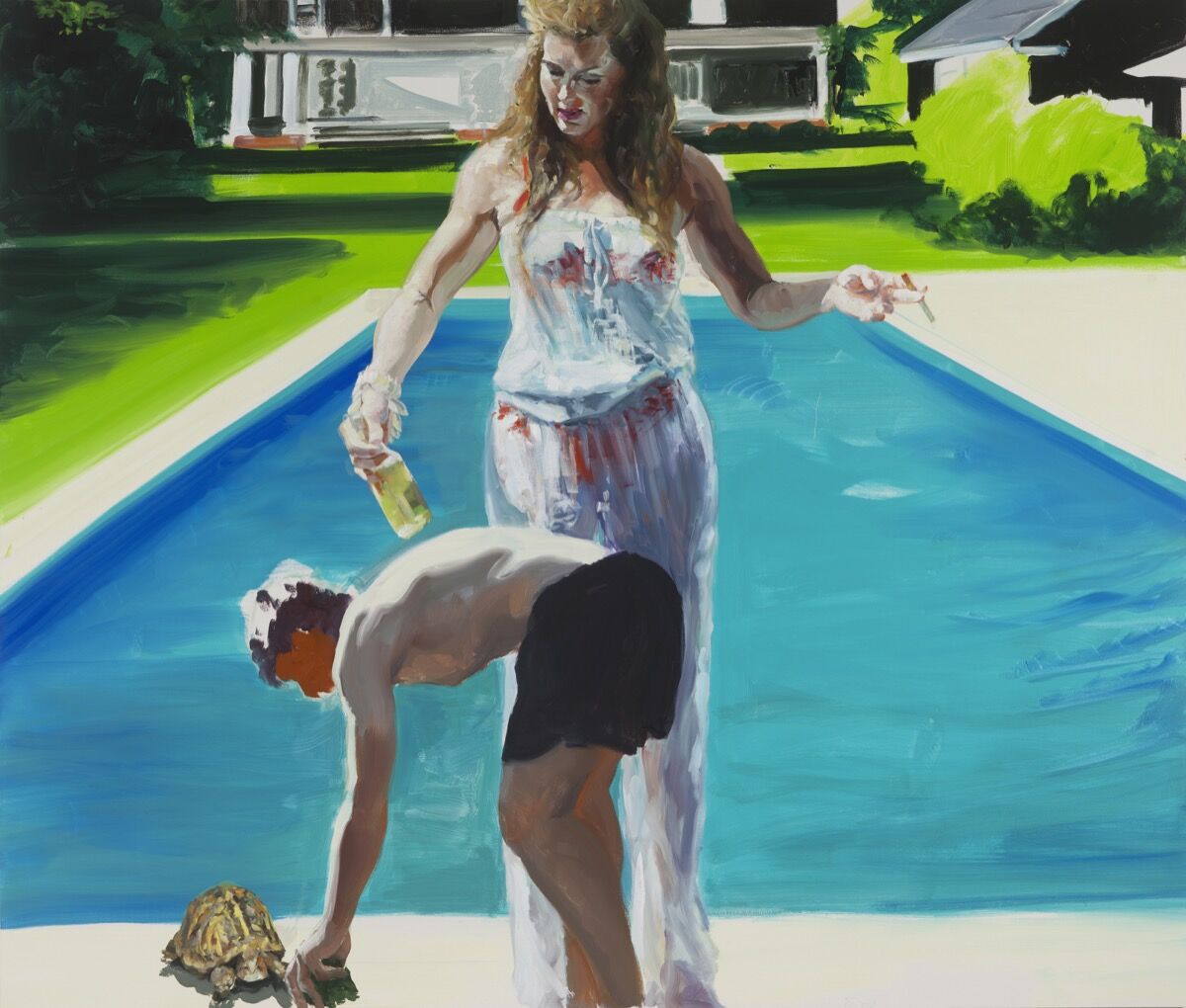 Loss of power and control, and the emotions that result, are the central leitmotifs of these new paintings. They invoke the sense of impotence that many Americans feel in our new political reality, through scenes of affluent suburban life and its sterile trappings: stiff dresses, stiffer drinks, and sanitized pools.
Since the late 1970s, Fischl has painted everyday, middle-class people—and the objects that fill their lives—as the springboard for paintings that surface the darker side of American culture.
One of his most talked-about (and uncomfortable) works from the 1980s, titled Daddy's Girl (1984), shows a father and young daughter lying together on a lounge chair by the sea. Both are barely clad, and the scene suggests a relationship that is more Oedipal than tender.
Across "Late America," Fischl channels the uneasy aura of that 1984 painting. The connection between Fischl's early and recent work is especially clear in two new canvases—Daddy's Girl Age 11 and Daddy's Gone, Girl (both 2016)—that resurrect the daughter in Daddy's Girl at different stages in her life.
In both cases, though, the sense of discomfort they produce emerges not from a sense of illicit sexual desire, but from an overwhelming impression of malaise and melancholy.
Daddy's Gone, Girl shows a woman perched on a diving board, looking absently across an expanse of pool. She's forlorn, perhaps mourning the death of her father. It's a development over which she has no control, despite her primped appearance and the similarly pruned, tamed environment around her. She wears a voluminous black dress that hangs heavily in the water alongside her feet, steeping in chlorine.
Pools serve as the backdrop for all five of Fischl's "Late America" paintings, and they've been a consistent figure in his work throughout his career. They're metaphors for "control and sanitization," he says. "And they represent the containment of an elemental, oceanic force. And the loss of its power."
The impotence embodied in both the environments and the individuals that populate Fischl's new paintings is visceral. And underneath their heavy stillness is a sense that things have gone painfully awry.
Indeed, the chaos of our world—whether political, cultural, or psychological—is what inspires Fischl's practice. For him, painting is a means of "trying to understand complex experiences," he explains. "It's really about putting order to chaos."
Alexxa Gotthardt is a contributing writer for Artsy.