Faces of the Venice Biennale
Every two years,
the Venice Biennale
invites the world to Italy to study the current contemporary art landscape. This year, work from 53 countries, from Albania to Zimbabwe, drew an equally diverse crowd of spectators—among them, New York-based photographer Alex John Beck. Between photographing the national pavilions for Artsy, Beck snapped portraits of the faces he encountered meandering through the cobbled streets of Venice, hopping between Renaissance-era palazzos or hightailing through the canals. From two German performance artists selling their wares to the Quebec art trio who've taken over the Canadian Pavilion, we share Beck's portraits below, along with the photographer's notes on his brief but candid interactions. 
Anais, a curator who was in Venice to visit a friend,
talked about having been to
Russian
parties, as well as to the Arsenale. The Giardini is always better, she said, and this Biennale is definitely more concept-driven than a few years ago. After this she's going back to Zurich to finish her masters, and then find a job in art financing in New York.
This is Zobernig's first time presenting work in a pavilion at the Biennale—he was in the Arsenale before—and this year he wants to see everything. The Venice Biennale is a great and unique situation for art, he said, and as an artist it's a luxury to work with this architecture.
María Inés Plaza Lazo
EDITOR, REFLEKTOR-M.de IN MUNICH
Inés Plaza Lazo, who was in Venice to promote a talk that will take place in Munich titled "The press release is dead, long live the press release," was really disappointed. There are too many expectations with the curatorial proposal of "
All the World's Futures
," she said. There's a heavy gallery presence. It's too hard to come up with one name for a huge event like the Biennale. 
This year marks Fagen's third time at the Biennale. Most of the world brings their thoughts and ideas to Venice, expressing them through contemporary art, he said. People share their cultural perspectives and show each other their shapes and forms. Everyone is situated around the same table.
For Cseke, this year's Biennale is the most important show in his career thus far. While he had been to the Biennale many times as a visitor, he hadn't thought about how he would adjust the architecture, especially as the Hungarian Pavilion is so old (it was the second pavilion built in the Giardini). The Biennale is still important because it's possible to compare projects so quickly, because of the tight atmosphere. 
This year is Motsi's first Biennale—an event he values for bringing people together from around the world (plus, it's great for networking). It gives everyone a wider perspective on something that is normally very closed, he said. 
Buchanan is here socially—and because she loves Venice, a city she described as old and antiquated but brought to the present by the Biennale. Her favorite work?
United States Pavilion
. 
Feroze Gujral
DIRECTOR OF THE GUJRAL FOUNDATION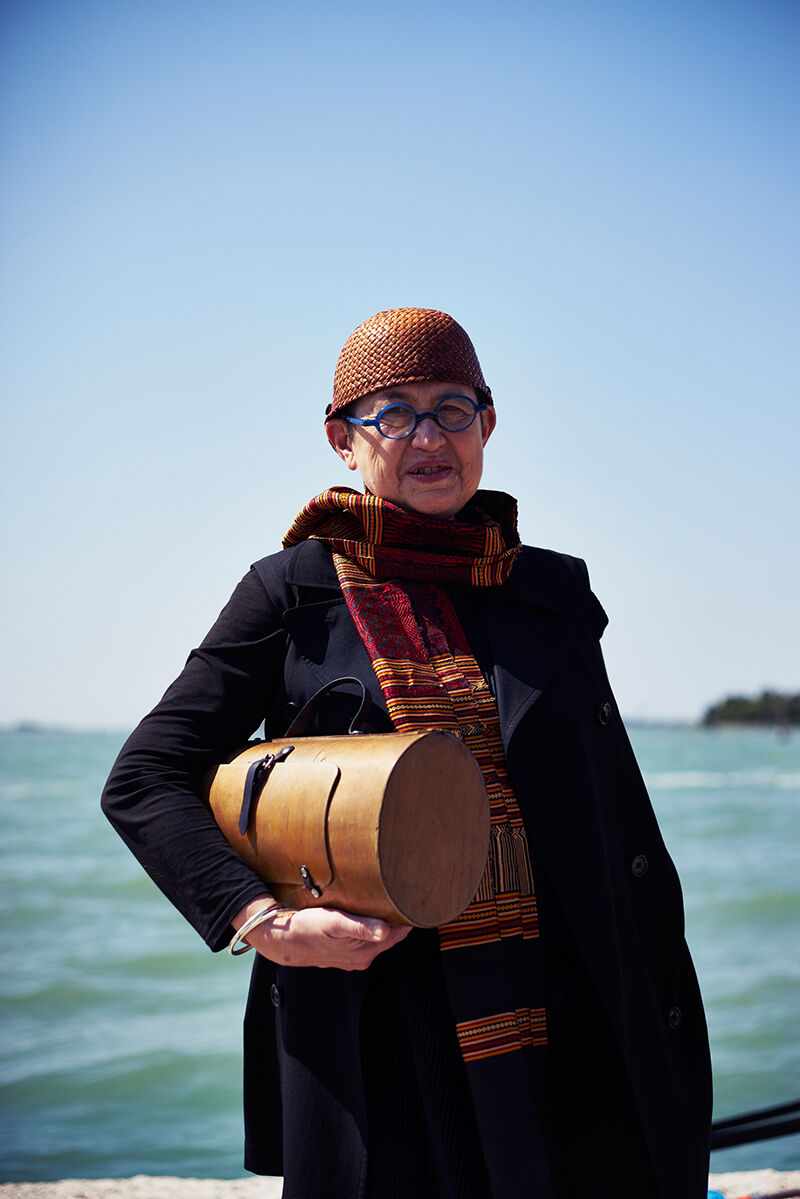 Although Warsaw-based curator Slizinska isn't working on any projects this year, she's been a Biennale vet since the late '70s. This year, she's had the pleasure of seeing many of the artists she worked with before their careers developed and expanded—one example being Heimo Zobernig, the artist representing Austria. 
Senzeni Mthwakazi Marasela
ARTIST
Marasela, caught after touring the South African Pavilion and en route to visit "All The World's Futures," was in Venice to enact a fringe performance at the Johannesburg Pavilion, which involved playing the part of an immigrant, kneeling while drawing on the stones at Campo San Giacomo dell'Orio.
This is the first biennale for the trio, and although they've been installing since March, they haven't seen much yet—except for the
Japanese Pavilion
, which they loved. Their next project is a public art installation in Montreal. 
Debottam Bose
LAWYER with a SPECIAL interest IN ART AND PHILANTHROPY
Bose is particularly interested in
The Gujral Foundation
, which has curated a collateral exhibition titled "My East is Your West," bringing together work by artists from India and Pakistan. He also enjoyed the Iranian Pavilion, which he described as a staggering space. In addition to the work, he's impressed by the Biennale's ability to bring so many different patrons together. There are lots of new foundations and lots of new money coming through, he said. 
Björn Geldhof
CURATOR, UKRAINIAN PAVILION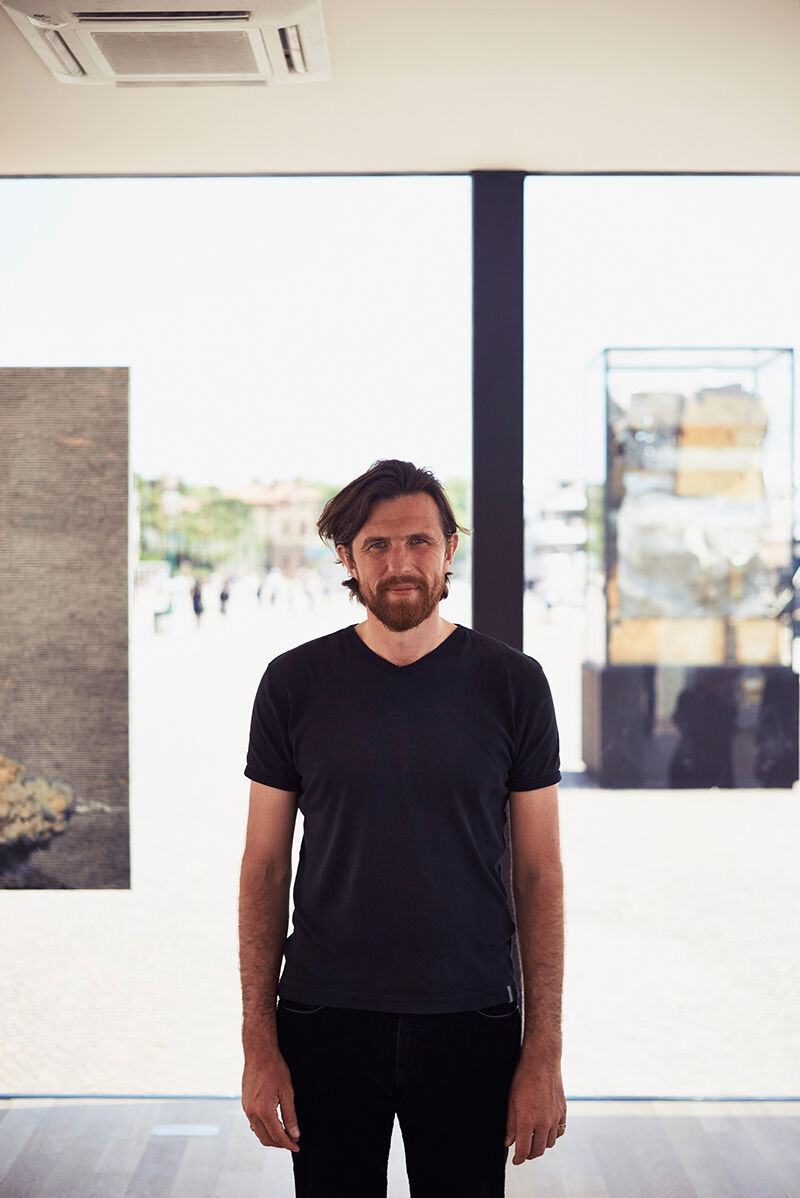 This is not Geldhof's first Biennale; the curator has been involved since 2007. To represent Ukraine is an honor and a responsibility, he said. He liked the Belgian pavilion and described Okwui Enwezor's "All The World's Futures" as very challenging. "It made you kick against things that are established," he said.