This Five-Star Paris Hotel Gives You Insider Access to the Art World
Since its inception in 1928, the Le Royal Monceau Raffles hotel in Paris has been frequented by esteemed members of the creative class, from Ernest Hemingway to Coco Chanel to Madonna. So in 2010, when the hotel finished a major refurbishment helmed by designer
A standard hotel concierge in Paris might help guests confirm a tour of Versailles or score a reservation at the restaurant du jour. But Julie Eugène, the first and only art concierge at Royal Monceau since 2010, narrows her focus to the art world. She's developed strong relationships with museums, galleries, and local artists, in order to craft bespoke art experiences for guests of the the five-star hotel.
"The guest only has to say 'I am fond of photography or painting or
In a given day Eugène might guide a family of four through the
Picasso Museum,
an aspiring art lover on a day of gallery-hopping through the Marais, a seasoned collector on a private visit to the new show at
Grand Palais,
or a millennial couple on a studio visit with a local artist.
"We were the first hotel in the world to propose this service," says Eugène. "And we try to keep the lid on it." However, she notes, a new hotel in Paris has recently opened with a similar service.
Eugène often leads guests on tours through the hotel itself, talking them through Starck's eclectic aesthetic, which intermingles contemporary art, antique finds, the hotel's rich history, and slick, mirrored surfaces. She also takes them through the on-site art gallery, Art District, and the hotel's art collection, which was curated by Hervé Mikaeloff.
The collection spans guest rooms, suites, the lobby, restaurants, and other common areas. Notable works include a giant bronze teapot by
Hotel guests also have access to a private movie theater, where a film club convenes each Sunday evening, and an art bookstore just off the lobby. They're also given Eugène's weekly newsletter, which outlines her picks for exhibitions and events. (During my visit, her highlights include the
Jeu de Paume
.)
Prior to working at the hotel, Eugène earned her degree in art history at the University of Paris and worked at art galleries in the city, including Galerie Patricia Dorfmann. She first heard of the Royal Monceau when a street artist she was representing,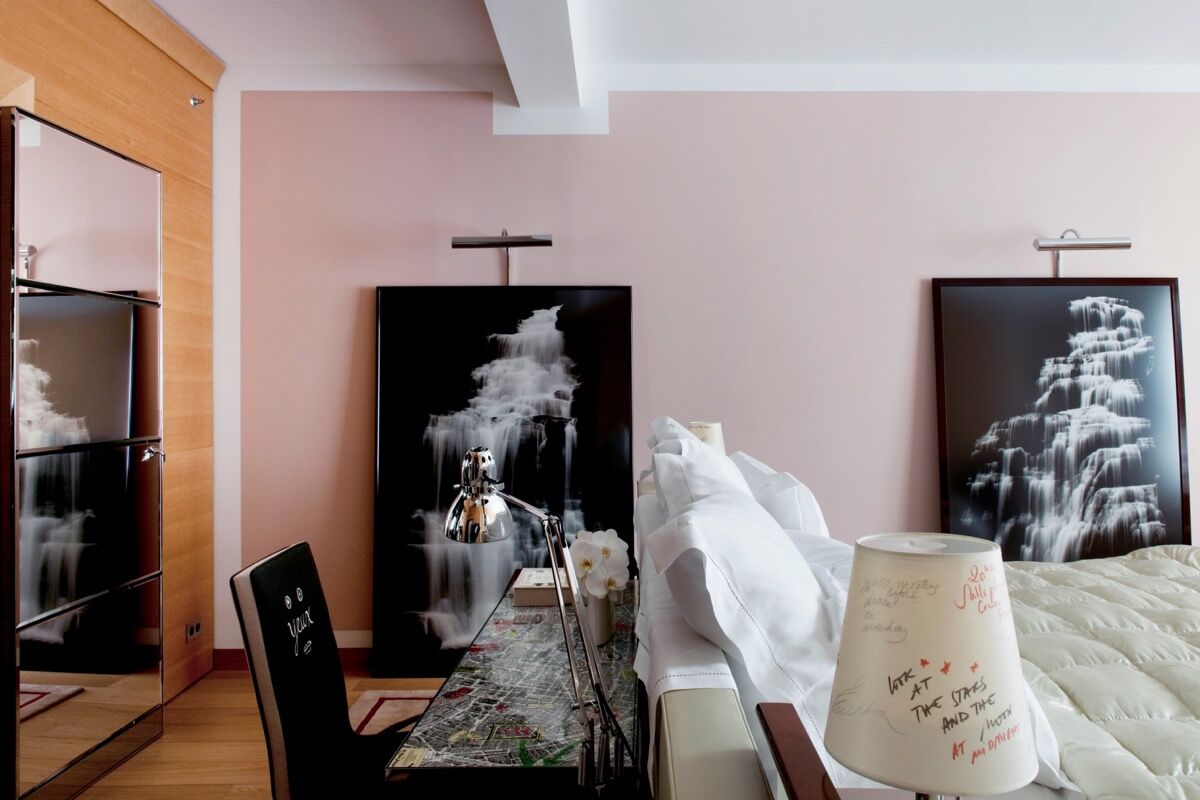 "It's really a reason for some guests to come to the Royal Monceau," says Eugène. "I have one guest who usually stays at the Peninsula, which is more her style, but during the FIAC art fair and other major art events in Paris, she stays at Royal Monceau." Of particular importance to the guest, Eugène says, is the opportunity to gain private access to exhibitions.
Each October, the hotel partners with FIAC, which allows it to give VIP admission to the fair to all hotel guests. Eugène accompanies guests to the fair but also leads the fair's VIPs on tours of the hotel. "During FIAC it's so busy, busy, busy!" she says. "I love this time in particular."
Eugène notes that some clients develop a taste for collecting through working with her, though she does not claim to be an art advisor. She counts gallerists among clients, too, including one L.A. gallery owner works with her in order to develop relationships with French galleries and buy works from them for his own gallery.
And while Eugène's work is largely dictated by the hotel's occupancy, holiday seasons, and major art-world events and exhibitions, she also devotes her time to programming at the hotel's gallery. She proposes themes for new shows, and sources works for them, including "Icons Collection," the current show featuring photographs of famous actors, musicians, artists, and athletes. "I think everyone will find one person, one famous artist that they love or were touched by," she says, pointing out photographs of Ray Charles and James Brown, who were both guests at the hotel.
And while many tap into Eugène's services for her access to the city's beloved art museums, like a private visit through the
Louvre
(which she can book with a month's notice), she's also an asset for those who already know the city's art well. As we speak, she's enthused about a burgeoning art scene in the 19th arrondissement, including the Cent Quatre cultural center. "It's where everything is moving right now, it's the place to be when you like art."
Eugène has helped Raffles to develop similar programs at a handful of its other hotels, like the Istanbul outpost, but she says it's not the same. "It is very different work here because we are in Paris," she says with a smile. "We have museums, monuments, stories, it's different from other cities." Few would fight her on that.
Casey Lesser is Artsy's Creativity Editor.