Florine Demosthene Is Conjuring the History of Black Heroines—and Creating New Ones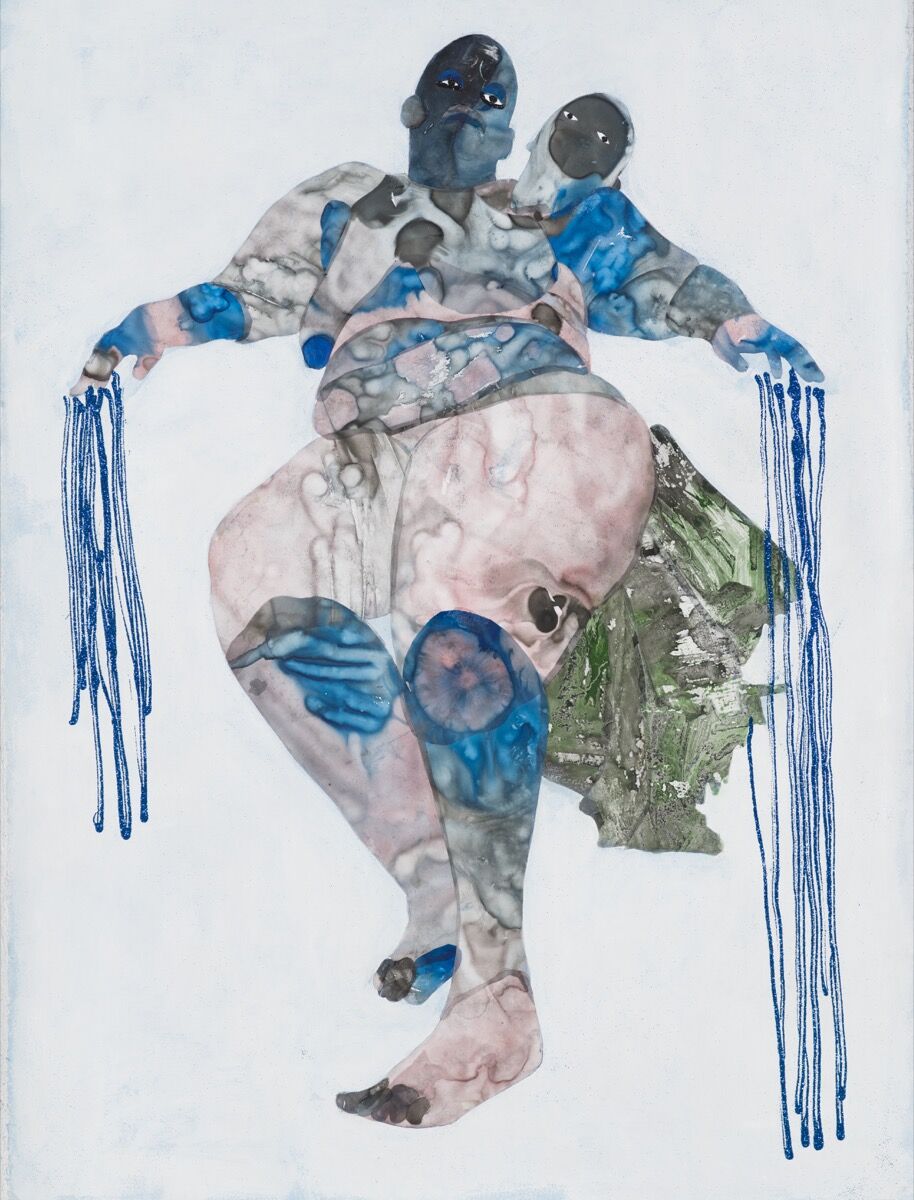 Black Panther.
That movie presents a seemingly novel concept, at least in Hollywood's terms: black women saving men, and black people at the helm of their own wildly advanced nation. It has inspired a thousand thinkpieces, and helped the film score in excess of a billion dollars and counting at the box office. While the titular Black Panther himself might be the spotlight protagonist, it's the leading women—Shuri, Okoye, and Nakia (inventor, soldier, and spy)—who truly run the world of Wakanda.
Demosthene's painted and collaged black heroines, however, are even more radical. They are in possession of a striking physique: unapologetically rich in folds of flesh, yet somehow weightless. These otherworldly women hover over a dystopian world of decay and destruction; they may have the power to divine the future, move across time, heal.
"Would you be willing to suspend all your preconceived notions of what a heroine is supposed to be?" Demosthene asks me when we meet at the bar of the Kempinski Hotel, where Gallery 1957 is located. The Haitian-American artist herself looks fiercely heroic: her hair shaved close to the scalp; wearing blood-red lipstick; and sporting a stunning kimono-style wrap made out of two kinds of ankara, a Dutch-made fabric popularized by the West Africans who favor it.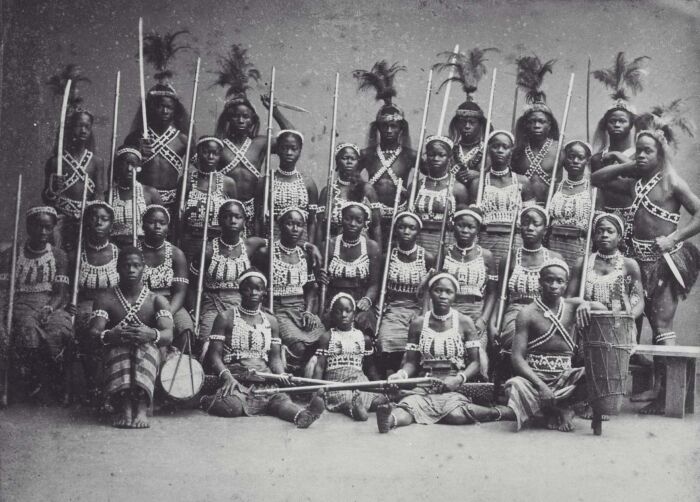 Certainly, the women of Black Panther shook some preconceived notions. Heroines in pop culture, when we have any, are mostly white; often, their roles are simply to be in service to their male counterparts. But now, here comes an absolute 360-degree turn: a black woman driving the technological advancements that enrich and drive her country forward; a black woman leading an all-female army, spear in hand, ready to kill and die for her country; a black woman rescuing kidnapped schoolgirls from the clutches of terrorists.
Surely critics are justified in their excitement over the film and what it suggests. But in Demosthene's estimation, these conversations shouldn't need to exist. She reckons a black heroine in the mold of those we find in Black Panther isn't a radical idea at all. "Black Panther should have gone straight to DVD. It shouldn't be making any of this money," she says, without a trace of malice. "It should be like every other movie that comes out—because the story it tells would already be known."
What Demosthene means is that African heroics are not novel. Marvel certainly did not invent or discover black heroines—who are powerful all on their own, without being pitted against white culture or presented in relation to the West.
The idea of African heroines with mythical powers is well-documented in folklore across the continent. (And, as Demosthene notes, these women weren't
skinny
, like the women of
Black Panther
.) For instance, Dora Milaje, the army in
Black Panther
, was inspired by the
women warriors of Dahomey
—now the present-day Benin Republic—who thrived in the 18th and 19th centuries. They fought and died for their country and king.
In the culture of the Yoruba, the people of southwest Nigeria and Benin, there are shrines built to powerful goddesses: Oya, who commands wind, lightning, violent storms, and death if she so chooses, and Yemoja, a deity of the water who protects women and is associated with fertility. In popular culture, these characters are mostly forgotten or erased, though sometimes, they reappear in different forms. (Marvel Comics, for instance, indirectly appropriated Oya in the form of an X-Men mutant.)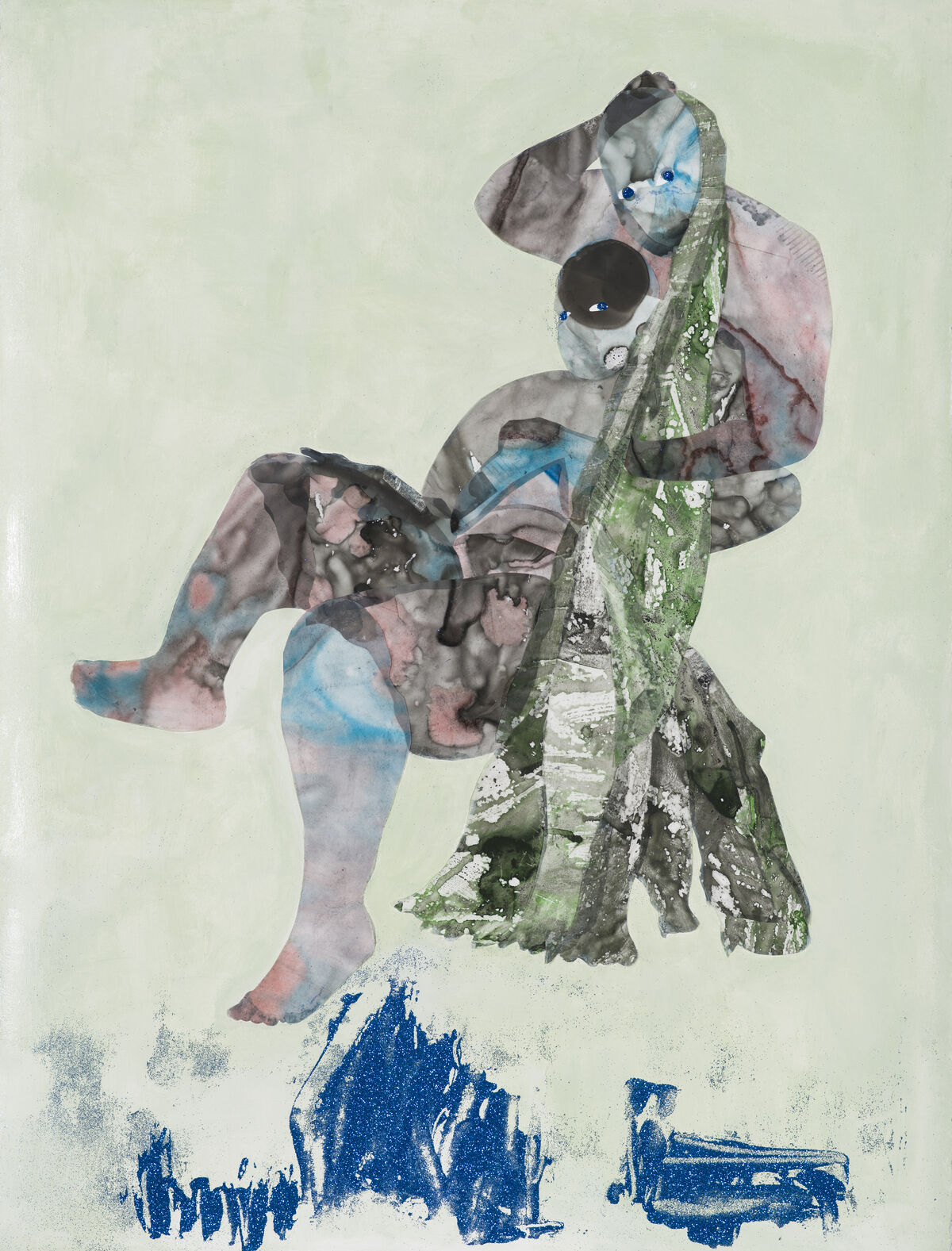 "Can we exist within ourselves," Demosthene wonders, "without comparing and contrasting to white culture?" Her exhibition invites the viewer to metaphorically and literally reconsider what her true identity is. "When you strip everything away," she cautions, "you realize you haven't constructed your own narrative—what you should do and how you should be."
Demosthene learned this firsthand. In 2009, after quitting her job as a recruiter and closing the curtains on a relationship, she began visiting Ghana regularly without the security of family, friends, or local knowledge. Prior to that, she had only experienced the country in the pages of history books, reading up on Akan culture (a meta-ethnic people in the southern region of Ghana). She Googled artists in the country and called one of the first people who popped up:
In Accra, she discovered she no longer carried the burden of being a black woman the way she had in the West. She was not told—as she was at Holland's Schiphol Airport—that she fit the body profile of a typical drug smuggler. (After being subjected to multiple searches, she cheekily asked the immigration officer in question if all drug smugglers are indeed "beautiful, with a big booty.")
In Accra, Demosthene was not a minority. There were many others like her, their skin the color of autumn leaves freshly set adrift from trees, or the color of the star in Ghana's national flag.
To shed the past, there had to be a destruction of some of the artist's previously held perceptions and thoughts. Demosthene admits she had begun to internalize and accept the things people thought of her. In Accra, the artist was suddenly a new woman, one who emerged gradually through this series of mixed-media work. In these paintings, we find a heroine in ink, glitter, charcoal, and graphite; in poses both contemplative and devil-may-care. She has sapphire eyes; her skin is rendered in dull pink, blues, or browns.
Demosthene first created the works in the form of written sketches, then as drawings. She used the latter as the basis for a photoshoot in which she could further determine the poses of her heroine. She ended up being her own sole subject, but that was less an intentional goal than happenstance: She couldn't find any models in Accra willing to pose semi-nude. These images were combined with other references, found online or in magazines, which were turned into a digital collage—a road map for the final paintings on mylar, canvas, polypropylene, paper, and other surfaces.
"Who are you when you strip all the stories you have been told away, stories you have taken on as truth?" Demosthene asked the audience in an artist's talk that followed our own conversation. Moving beyond these stories, notions, and prejudices is certainly messy. In her works, we find landscapes of rubble and chaos. Demosthene explores the idea of "destroying things and building them back up," she says. Her heroine is far from perfect. The artist created a figure that is blobby, exaggerated, and, in her own words, "grotesque."
She is a heroine who is in the process of realizing her own power, purging herself of preconceived notions. Her power comes from just being—not looking like she's supposed to, not being who she's told to. That's over. She has new stories to tell herself.