Food Photography Didn't Start on Instagram—Here's Its 170-Year History
William Henry Fox Talbot, A Fruit Piece, 1845. Image via Wikimedia Commons.
We have Instagram to thank (or, perhaps, blame) for the proliferation of avocado toast today. But it was another, much earlier development in food photography that introduced us to the avocado in the first place.
In the 1940s, brands like Crisco and Aunt Jemima began to produce "cookbooklets"—free, promotional pamphlets that contained recipes accompanied by vivid photographs touting their products. "In lots of ways, they changed the way, especially in America, that people ate," explains Susan Bright, author of the recently published book Feast for the Eyes. "Things like avocados and orange juice really became household objects through these cookbooklets."
Bright's book, which explores the history of food in photography, reveals that the subjects have been intertwined for nearly two centuries—almost since the birth of photography itself. The medium was introduced to the general public in 1839 with the unveiling of the daguerrotype. Six years later,
During those days, food photography was heavily influenced by still life paintings. Many images featured fruit, playing off traditional symbolism: grapes for excess or peaches for fertility.
Since cookbooks generally lacked illustrations and advertising was still in its infancy, food photography in the 19th century was, by default, viewed through an artistic lens. At the turn of the 20th century, innovators like
A decade later, in 1927,
Nickolas Muray, Lemonade and Fruit Salad, McCall's magazine, ca. 1943; Image from Feast for the Eyes (Aperture, 2017) Courtesy of Aperture © Nickolas Muray Photo Archives, Courtesy of George Eastman Museum, gift of Mrs. Nickolas Muray.
With the introduction of color advertising in the mid-1930s, styles began to shift. No longer was food photography solely a fine art—now, images were there to sell. This was the era of the cookbooklets, each with three to four pages of technicolor photography.
The work of McCall's, elaborates on these brightly colored spreads. "His photographs were extraordinary," says Bright. "They were these great, laden tables—which we can then see influencing these epic Betty Crocker feasts, which make no sense as meals. It's like Thanksgiving on acid."
To keep up appearances under the hard, direct lighting required to get such vivid colors, food was hair-sprayed or even varnished. Beer foam was replaced by soap bubbles, and glue took the place of cereal milk. And, of course, none of it was edible.
Peter Fischili and Davis Weiss, Fashion Show, 1979; from Wurst Series. Image from Feast for the Eyes (Aperture, 2017). Courtesy of Aperture.
It wasn't until the 1990s that there was "a real gear shift" in commercial food photography for both magazines and cookbooks, says Bright. Naturalistic, documentary styles began to replace the theatrical, overflowing place settings of previous decades. Food began to look edible again.
One of the pioneers of this new style was the 1990s cookbook White Heat, featuring photographs by
It was a moment, she says, "where cookbooks became more like photobooks."
Cookbooks were now approaching the status of art objects, but artists themselves had long been incorporating food in their work. Swiss artists
And then came food blogs and Instagram. "Everyone became more interested in food, and everyone was taking better and better pictures of food," Bright says, noting that food blogs today often contain a section with information about camera type, settings, and light source. "It's a real production. So photography books have to respond to that, as do the magazines."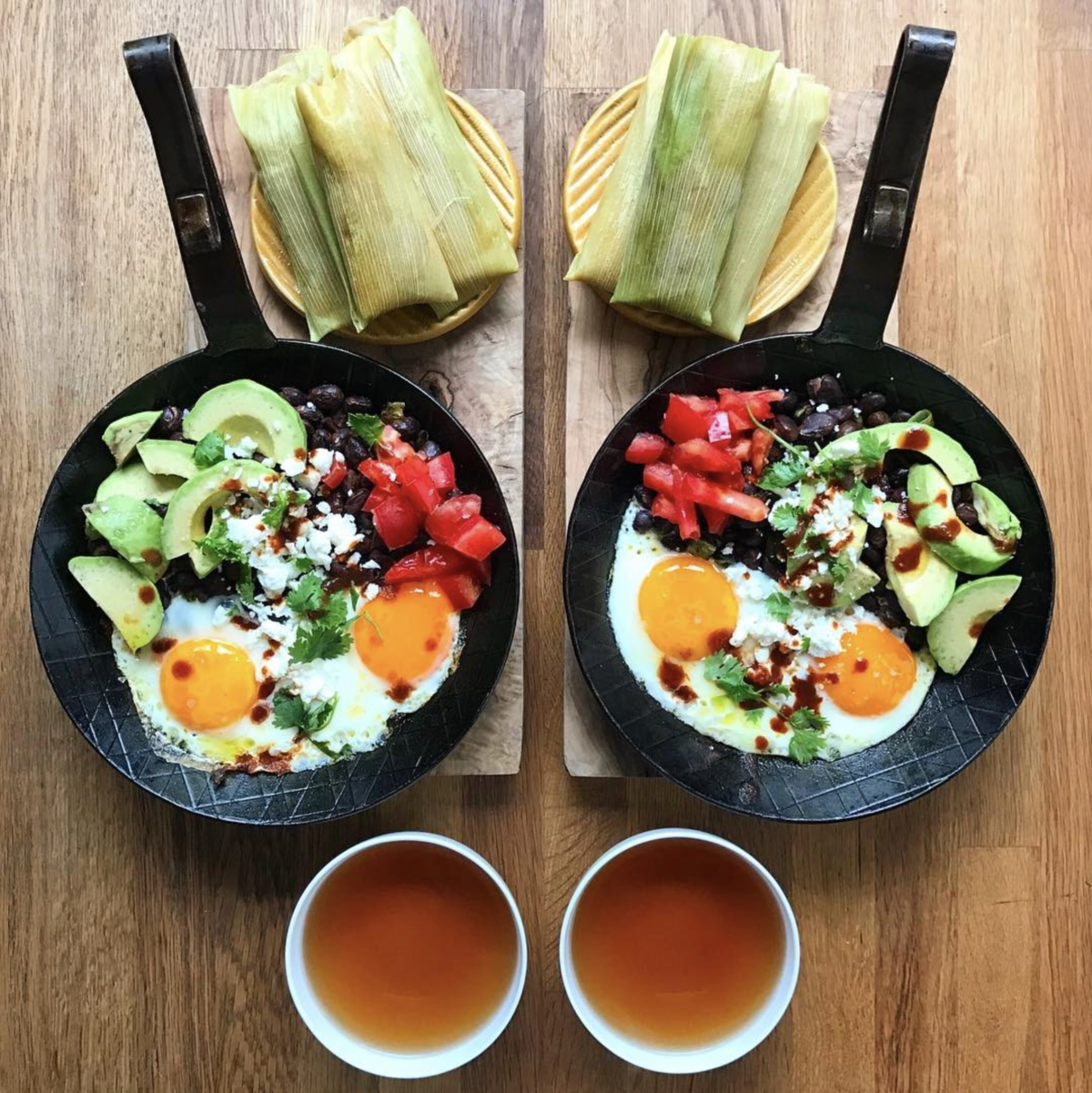 Michael Zee (@symmetrybreakfast), Tuesday: Tamales, steamed corn masa wrapped in a husk and filled with pork, eggs with black beans, avocado, tomato, homemade queso fresco and tons of smoky chipotle hot sauce, 2017. Image via Instagram.
Michael Zee (@symmetrybreakfast), Sunday: Baked Buttermilk Doughnuts, drizzled with cherry syrup to make them super moist, topped with yoghurt and a single fresh cherub of a cherry, 2017. Image via Instagram.
Instagram accounts, like Michael Zee's
@symmetrybreakfast
, have managed to attract hundreds of thousands of followers for their artfully prepared meals. Social media, Bright notes, has breathed new life into the genre.
"It's no longer the wedding photography of photography practice," she laughs. "Food used to be really way down there. It's kind of sexy in a way that fashion is sexy. It's having a moment."
Stir Creativity
See how Bombay Sapphire supports artistry.
Sponsored by Bombay Sapphire