The Forgotten Women Who Hand-Painted the First Color Films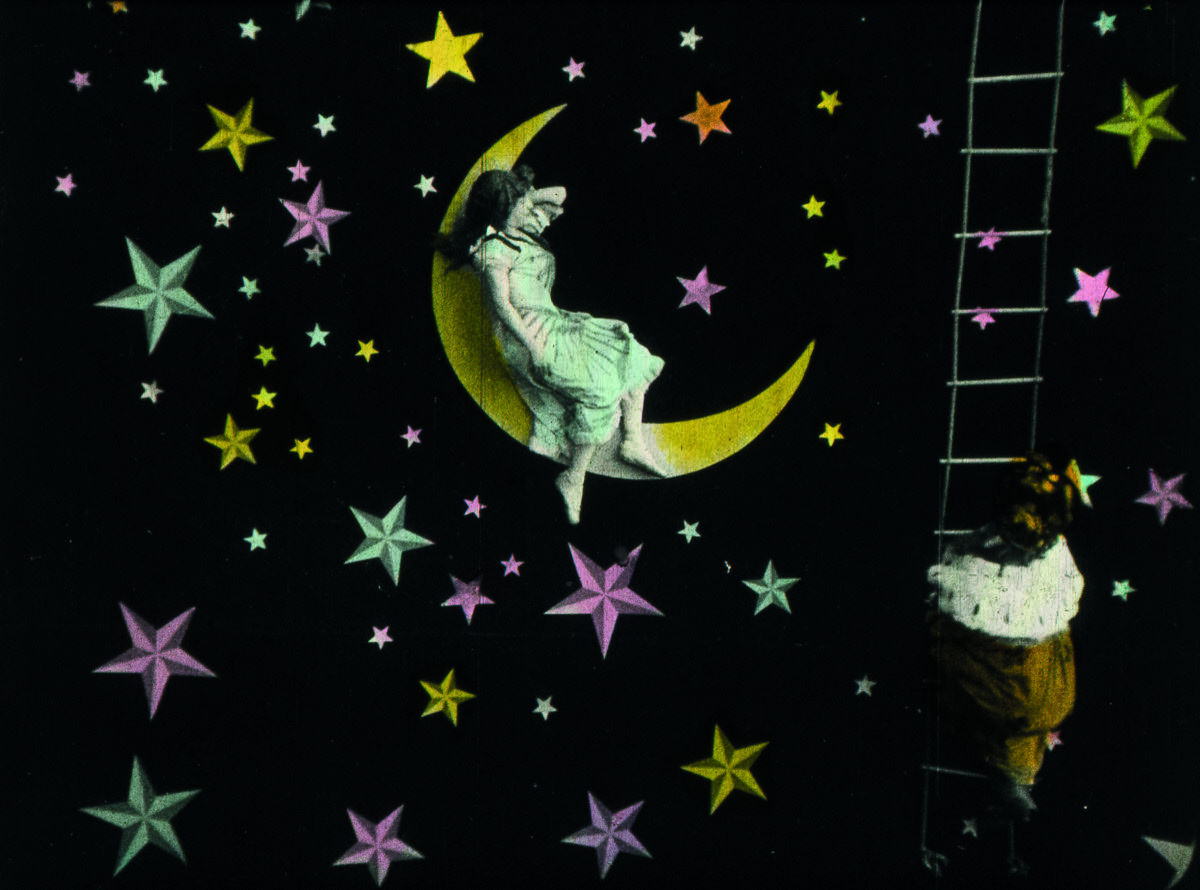 Early cinema is often remembered as an exclusively black-and-white affair, diametrically opposed to the vibrant menagerie of colors afforded by today's 4K television sets. But in fact, an estimated
80 percent of early films
were made in color—tinted, toned, and painted with bright dyes that produced an uncanny, surreal effect.
The bold and often fantastical colors that flickered across the earliest film reels are frequently left out of our greater cinematic history. More neglected still are the women responsible for those dazzling hues.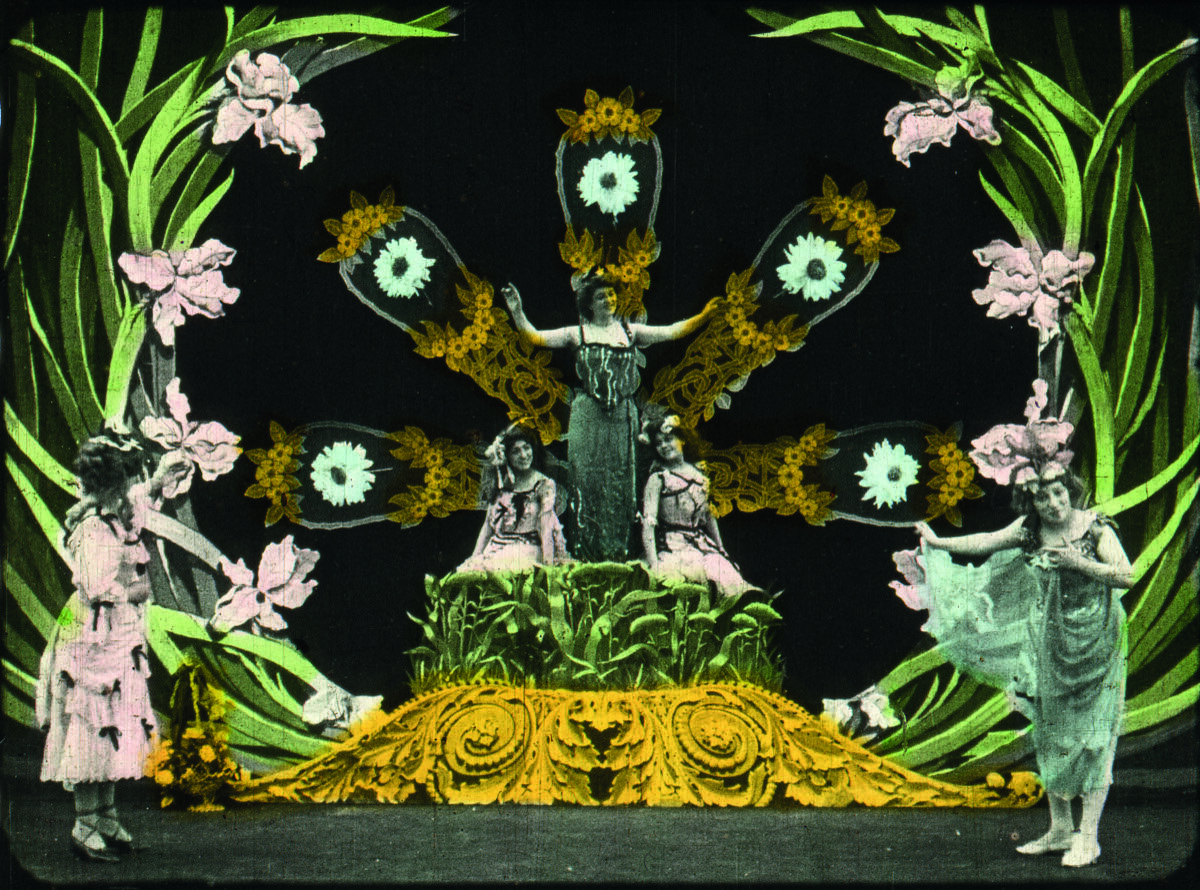 Indeed, the meticulous, exhausting work of hand-coloring film was one of the first careers in film production available to artistic women, and they came to dominate the field at the turn of the 20th century. Unfortunately, only sparse written records remain of their experiences, though their efforts can be seen and appreciated due to the restoration and digitizing work done by archivists.
We do know that women who labored in film-coloring workshops spent their long days peering into powerful magnifying glasses as they applied dye with brushes as fine as a single camel hair. Working on a tiny 35mm canvas required precision, particularly when an errant brushstroke could have ruined an entire frame. Some female colorists had developed their skills over years spent coloring postcards and lantern slides, work which required the same copious attention to detail.
In these early days of film coloring, dyes were used primarily to accentuate important objects in the frame. Much of the shot was left black and white, with hues adding blushing details: a blue hat, a pink dress, a yellow star. Colors became particularly popular in the genre of dance films—short pictures featuring female dancers, often wearing billowing dresses. In these films, vivid tones could be interpreted more abstractly, and the wavy inconsistencies inherent to hand-coloring felt less distracting. Soon, seeing at least three shades of color became standard when watching any of the popular "Serpentine Dance" films, popularized by the likes of Thomas Edison and the Lumière brothers in the late 1890s.
However, color film could be 70–80 percent more expensive than black-and-white film, and the longer the film, the more expensive the coloring process. As such, producers were more likely to pay to color shorter films. One could argue that coloring film was well worth the expense: Writings from the time tell us that audiences expressed profound delight at the vibrant world of color films. As David Hulfish noted in the trade paper Nickelodeon in 1909, "The color film has the most interest of all.…The audience literally 'sits up and takes notice' when the first scene of a colored picture film flashes on the screen."
With a growing demand for professional film-coloring, some female colorists even opened their own studios, where they employed their own legions of young painters. One such French colorist was Elisabeth Thuillier, who owned and operated a workshop that worked on films for renowned director Georges Méliès from 1897 to 1912. Obsessively meticulous, Thuillier spent her nights sampling colors and planning palettes. By day, her crew of some 220 female workers executed her templates, delicately coating films with water-soluble aniline dye. Each woman applied a single shade at a time, in a rainbow-like Ford assembly line—a film could contain more than 20 distinct hues. Coloring each print of Méliès's most famous work, Trip to the Moon (1902), required painting a grand total of 13,375 film frames.
To see late 19th-century women readily accepted into any craft is unusual. Unsurprisingly, one of the reasons they were hired was because they could be employed for less pay. (One French workshop run by the Pathé brothers in the 1910s notably paid their female colorists 21 francs per week, 6 more francs than the average pay of male workers in nearby factories, earning the women the condescending nickname poules de chez Pathé, or "hens of Pathé.")
There was more to it than cheap labor, though. The work of coloring film was seen as a craft similar to domestic, female-coded tasks like painting glass or china. Furthermore, as scholar Joshua Yumibe writes in his 2012 book Moving Color, "women historically have been assumed to be more attuned to color and more susceptible to its sensual influences." In contrast, form has been associated with the masculine, the intellectual.
The debate over color versus form, which dates back to Aristotle, came to a head in late 17th-century France. Since then, many aesthetic theorists, including the 20th-century philosopher Theodor W. Adorno, have argued that color is indeed inferior to form—a superficial topcoat, a feminine indulgence. Yumibe explains that coloring film was similarly seen as mere ornamentation, similar to the task of applying facial cosmetics, and thus perfectly suited to women.
In part because of the popularity of female dancer films, color also became highly associated with images of women onscreen. There's something a bit poetic about female artists adorning female performers with bright colors, adding life and vigor to the gray worlds of early film, in spite of the profound limitations experienced by women in both crafts.