The Free-Spirited Amalfi Coast Weekend That Launched Arte Povera
For three days in early October 1968, a provincial port about 43 miles south of Naples loomed large in the trajectory of post-war aesthetics. Hosting works by a number of contemporary Italian and international artists—many of whom would come to form the core of
small exhibition
at the
Philadelphia Museum of Art
revisits this milestone of post-war Italian art on its 50th anniversary.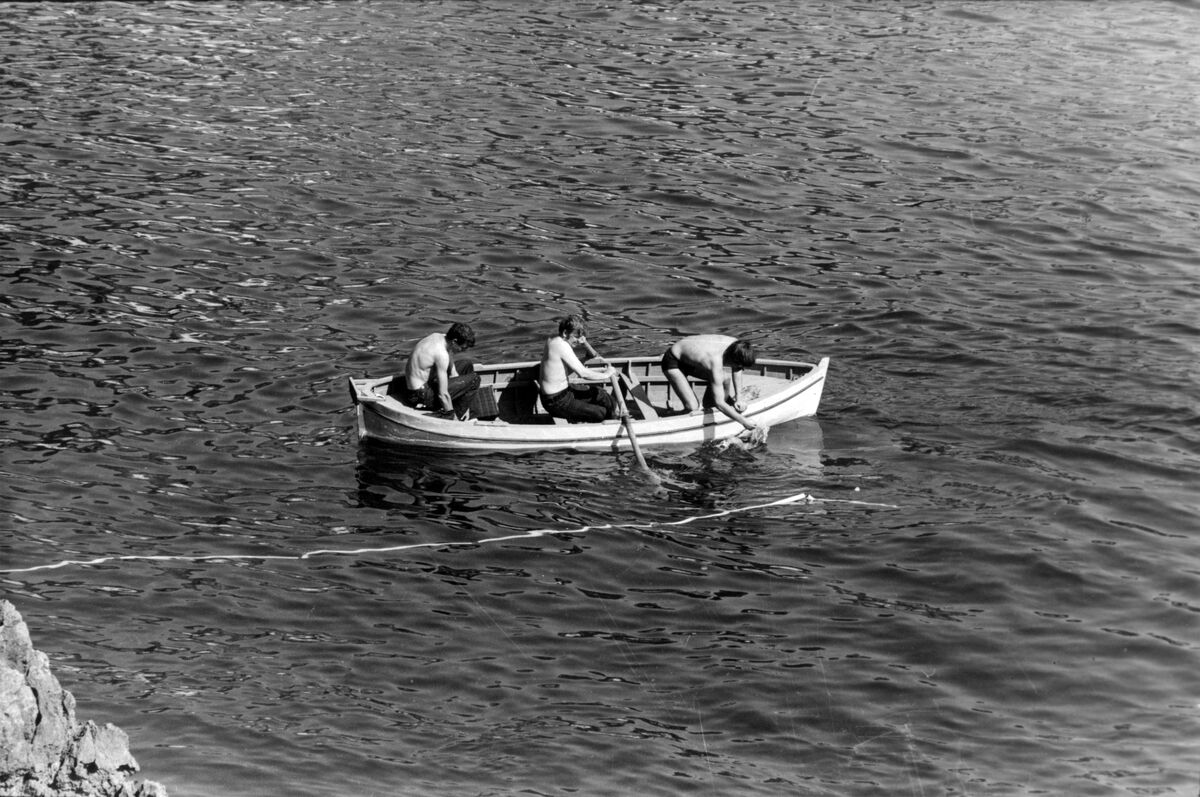 One year earlier, in 1967, Germano Celant's manifesto, "Arte Povera: Notes for a Guerilla War," had identified several related tendencies in contemporary Italian artistic practice, most notably a penchant for unorthodox and "poor" materials, a privileging of process over form, and a rejection of spatial and temporal conventions with regard to exhibition and presentation. While not an official movement or self-proclaimed neo-avant-garde, Celant's aegis aimed to bring together artists working in a voluntarily "impoverished" vocabulary—of a piece with the late-1960s increasing dematerialization of aesthetics in Europe and the United States, an attempt to liberate art from the exhibition and sale of commodifiable objects. As the first major group exhibition of sorts, "Arte Povera + Azioni Povere"included established Italian artists—such as
The very origins of the event, however, lay with the young collector, editor, and cultural dynamo Marcello Rumma—born in nearby Salerno—in close partnership with his spouse, Lia. Though Marcello had appointed Celant as curator, it was—by the accounts of various individuals present, including the art historian Giovanni Lista—Rumma himself who truly galvanized "Arte Povera + Azioni Povere," involving artists not simply as expositors of objects, but also as participants in ongoing actions across town. It was also to Rumma that certain artists—including those involved in Pistoletto's Lo Zoo, a collective of artist-performers—addressed their dissatisfaction with the limiting designation of "Arte Povera"; while they shared many aims with their peers, several feared that the very consecration of a movement went against the grain of their anti-institutional ethos. For his part,
It is undeniable that "Arte Povera + Azioni Povere" marked the "institutionalization" of Arte Povera—its currency as both an aesthetic tendency and a marketing strategy. It is likewise indisputable that the canonization of the various works in question by museums and other official arts institutions strips them of the temporal and physical contingencies that informed their original genesis, presentation, and performance. "Arte Povera," Celant would declare on the cover of the 1969 volume by the same name, "needs no galleries; it has the world." Of course, the group's various artists made widespread use of the gallery system in the years to come. Yet the events at Amalfi constituted the pinnacle of efforts to circumvent and subvert art practices reliant upon traditional modes of reception, circulation, and representation. Art was made to brush up against everyday experience in the most seemingly banal ways.
Indeed, participants would later recount how the act of unloading works that arrived (late) in Amalfi on the backs of several trucks took on the mantle of a quasi-aesthetic act in its own right. The artist Gino Marotta at one point arranged bales of hay in one of the town's piazzas for a project he titled Giardino all'italiana ("Italian Garden"). Photographs reveal the bales arranged in a kind of square, against which various individuals—including Pistoletto and others—recline and converse surrounded by townsfolk. Marotta's plein air installation thus formed less an object of contemplation than an ordinary thing: the site of interactions at once staged and effortlessly everyday. By the same token, artists playing soccer next to their own works in the Arsenale (with a makeshift goalpost drawn in white on the walls) proved as illuminating of the event's ethos as the objects on display—a spontaneity that endowed the weekend with an air of festive collectivity, embodied rather than aridly intellectual.
This is not to say that "Arte Povera + Azioni Povere" unfurled free of conflict, or even controversy. A growing schism, in fact, emerged between the contingent of artists from Rome and several of their peers, most notably those from Turin—an ideological and theoretical rupture that Rumma and others, unattached to either city, mediated with aplomb. Much of what would become Arte Povera had been incubated in the Piedmont capital, with an alternative exhibition space, the Deposito d'Arte Presente, established by gallery owner Gian Enzo Sperone and collector Marcello Levi as a site of exchange and experimentation. Gathering to its fold artists from other cities and countries, "Arte Povera + Azioni Povere" applied the activities of the Deposito to a larger scale. Some Italian art historians would later insist upon the specifically Italian genealogy of Amalfi's events, particularly the serate (evenings), whose raucous, often festive atmosphere they recall in their purposeful blurring of staged performance and playful improvisation. Yet such origins can hardly be disentangled from the contemporary prevalence of American-style happenings—an international dimension that "Azioni Povere" plainly courted.
The poised stasis of certain objects in the Arsenale belied often willfully messy and extemporaneous origins. As a kind of metaphor for Arte Povera's (inevitable?) rigidification from event to object, Pistoletto's Mappamondo (1966–68)—a sphere of compressed newspapers smoothed by its collective rolling through the streets of Turin—came to rest alongside other objects on display in Amalfi. The installation of works by ArtePoveristi today can similarly strip them of any sense of contingency and volatility, exacerbated at the time by the social and political climate of Italy (and Europe at large) in 1968. If the neat geometries of Boetti's Catasta ("Stack")(1967) appears in line with American Shaman-Showman installation he created at Amalfi—including scrawling these words on a paper-covered pillar—defy any aesthetic categorization.
Even still, several of the works evinced, and still retain, a sense of chance within the bounds of their formal and conceptual premise. Mounted in the Arsenale, Pistoletto's Candles (1967)—featuring dozens of lit candles placed along a reflective strip—still changes with each installation, the light of each wick flickering against their Mylar base. The large bowl of Untitled (1968), for example, bears powdered sulfur, iron shavings, and a magnet, in what was plainly conceived as an interactive work defiant of any fixed form. If Marotta's hay installation in the streets of Amalfi has long since disappeared, Merz's 1968 Untitled—with its stack of hay bales mounted by a single rod of neon light—recalls that contemporary intervention and something of its sensory dimensions (the musty smell of hay, the wayward curl of dried blades).
Merz's Cone (1967) entails the use of relatively unorthodox materials, purposefully redolent of archaic, even "primitivist" culture and craft. Like Merz and Marotta, and the Puglia-born artist
In addition to its professed affinity with (proverbial) poverty, the very title of "Arte Povera + Azioni Povere" aimed to conflate the coordinates of exhibition and experience—a conflation that significantly influenced two major events of 1969: "When Attitudes Become Form," curated by Harald Szeemann at the Kunsthalle Bern; and "Op Losse Schroeven" ("On Loose Screws"), curated by Wim Beeren at the
Stedelijk Museum
. Both exhibitions featured not only installations, but a series of performative interventions by artists. Marcello Rumma died suddenly and tragically the following year, in 1970. Yet he had already founded Rumma Edizioni, a press dedicated to the critical documentation of contemporary aesthetic problems, while his wife went on to found
Lia Rumma Gallery
in Naples. The couple's extensive archive, meanwhile, offers vital insights into "Arte Povera + Azioni Povere" and its legacies. The numerous photographs taken by Bruno Manconi of the Arsenale and its environs afford a compelling reconstruction not simply of objects as they sat on display, but of the activities by artists, critics, and visitors that brought them alive.