With Fresh Funding from Art Basel Parent MCH, Masterpiece London Aims to Expand Internationally
Left to right: Installation view of Rupert Wace Ancient Art and Hauser & Wirth's booths at Masterpiece London 2018. Photo by Ben Fisher. Courtesy of Masterpiece London 2018.
Masterpiece London launched in June 2010 as a modest fair for antiques and luxury goods, catering to a local collector base. It served up an intermingling of
There is little ambiguity about what's driven the fair's recent growth spurt. In late November 2017, the MCH Group
purchased
a majority stake of Masterpiece London Ltd., aligning the fair with the holding company's other "collector events": the Art Basel fairs in Basel, Hong Kong, and Miami Beach; the watch fair Baselworld; the car fair Grand Basel; and the collectible design fair Design Miami, which has shows in both Miami and Basel. (The purchase came as MCH has also been pursuing a new regional art fair initiative, though Masterpiece is being managed separately.)
Beyond injecting both connections and capital into Masterpiece's flagship edition, the fair's new owners have big plans to expand its reach. They plan on bottling the upscale British vibe and planting flags around the world; editions in the United States, Asia, and the Middle East are all under consideration, according to Masterpiece's chairman, Philip Hewat-Jaboor. The expansion plan speaks to the continued importance of fairs as revenue drivers for galleries. It also places Masterpiece directly in the path of TEFAF, which started in 1988, and in 2016, launched two fairs in New York: a modern and contemporary art and design fair in the spring, and a fair focused on antiquity through the early 20th century in the fall.
Henry Moore, Reclining Figure: Curved, 1977. Photo by Ben Fisher. Courtesy of Masterpiece London 2018.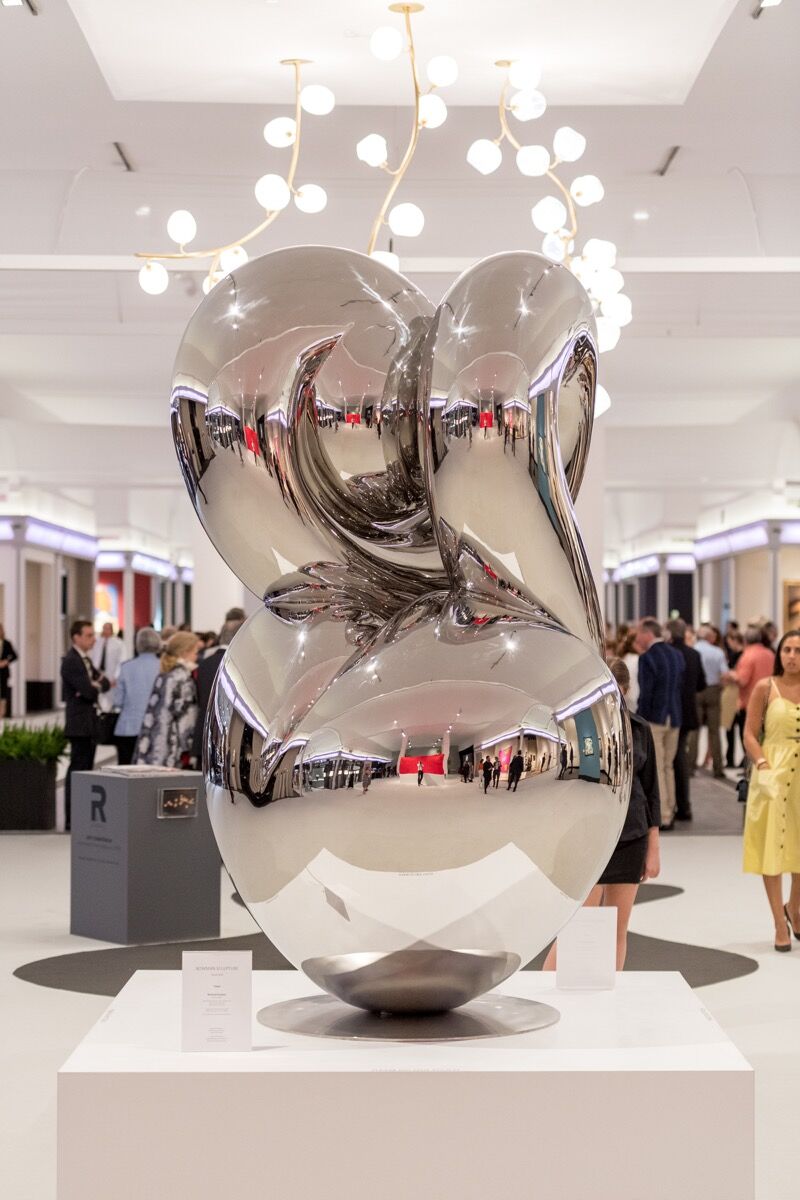 Richard Hudson, Twice, 2016. Photo by Ben Fisher. Courtesy of Bowman Sculpture and Masterpiece London 2018.
Hewat-Jaboor was looking particularly on-brand during Wednesday's VIP preview, with a purple handkerchief making a pronounced plume out of the jacket pocket of his double-breasted suit. Sauntering down Masterpiece's lush, roomy aisles, he said the future of the fair is bright, and that global expansion won't come at the expense of its characteristic mix of categories.
"When we open elsewhere, which is our plan, the most important thing is that it's a reflection of the ethos of the fair—the cross collecting mix, that is our DNA," said Hewat-Jaboor, adding that he and his team aren't rushing the expansion, but rather want to take time to find the right balance between their British roots and the characteristics of the locations where they may head next.
"It's really important that one absorbs a certain amount of locality as to where one is—we're not going to go somewhere and just plunk ourselves down," he said.
The director was standing by a giant
Hauser & Wirth
, which also took advantage of the carpeted aisle to extend its presentation with a gigantic glass sculpture by
Wunderkammer
, or cabinet of curiosities, with works by
Installation view of Landau Fine Art's booth at Masterpiece London, 2018. Photo by Ben Fisher. Courtesy of Masterpiece London 2018.
"You really notice the difference," she said.
Marina Abramović, Five Stages of Maya Dance, 2018, presented by Factum Arte and Lisson Gallery at Masterpiece Presents, 2018. Photo by Oak Taylor Smith for Factum Arte. Courtesy of Masterpiece London 2018.
Nowhere better was this mix exemplified than at
ArtAncient
, a London outfit that specializes in Old World objects, numismatics, and, strikingly, natural objects, such as ancient flora preserved in stone form millions of years ago. The gallery owners said that it's the busiest they've ever been at a fair, having already sold a swirly gogotte formation that bears a delightful resemblance to soft-serve ice cream. The price for that quartz crystal, which they called an "incidental
French writer and gay rights activist
Roger Peyrefitte—can be had for a sum in the upper six figures. Also for sale, for an undisclosed amount, is a meteorite found in Siberia, with its provenance listed as "Early solar system, 4.6 billion years before present."
"It's becoming more understood that anything could be considered an art object—it just depends on your response, your sense of wonder," said ArtAncient director Costas Paraskevaides while standing by the meteorite. "It's a cross-collecting fair, and we're working with extreme contrast here. We're trying to awaken people's curiosity."
Another work with an exquisite provenance—if not quite the same patina of age—is Les Dormeurs (1965), in Landau Fine Art's booth. The 6-foot-long canvas once hung above the desk of the artist's dealer, Daniel-Henry Kahnweiler. At $35 million—a price tag so high, it would be an outlier if sold, even at TEFAF or Art Basel—gallery president Jennifer Landau Evans said it was a testament to the confidence the gallery had in Masterpiece's calibur and ability to attract big-ticket collectors. She added that moving the fair back a week so it wasn't bumper-to-bumper against Art Basel also helped, and described Masterpiece as "a fair where we might meet someone that we wouldn't meet" elsewhere.
Installation view of Les Enluminures and Daniel Crouch Rare Books' booths at Masterpiece London, 2018. Photo by Ben Fisher. Courtesy of Masterpiece London 2018.
"This is Chelsea, and Wimbledon is going on—and people just live here," she said.
But perhaps the fair's biggest coup was to get Hauser & Wirth to come on board (when the exhibitor list was announced in April, the gallery's appearance on the list
merited
its own news story). Senior director Neil Wenman said the decision to participate was led by Hauser & Wirth's London team, who thought it would make for a good "crescendo to the end of the season."
"It just felt right for Hauser & Wirth, for where the gallery is at, and where the fair is at," he said.
Wenman said the results thus far did not disappoint: Kippenberger's divine painting, which comes from his "Krieg Böse" series of the 1990s, was still available on the second day, but the gallery successfully sold Cuillère et nombrils (Spoon and Navels) (1928) for €1.5 million. It was one of the few publicly reported sales in the fair's first days. Most dealers, including Wenman, chalked this up to the fact that Masterpiece is—similarly to TEFAF—longer than the average fair, allowing collectors to drop in and out, and buy when they feel like it. He said that some collectors, particularly those from New York, were waiting to fly in until Monday in order to swing by Masterpiece after catching a few Wimbledon matches.
"I think the pace of Masterpiece is very different," Wenman said. "It's a lot more genteel; there's very much a sense that one comes when it's convenient for the collector. There's not tsunamis coming in on the first day, and I think that's great."
Across the aisle, Van Cleef & Arpels was selling a very different kind of luxury item: a trefle necklace studded with 17 pear-shaped Burmese sapphires, which were sourced in the 1950s. "Without technology, a lot of people perished trying to source these sapphires," the jewelry dealer in the booth had said matter-of-factly. The price tag for those lost souls' efforts: £1.5 million.
Left to right: Installation view of Blain Southern and Richard Green's booths at Masterpiece London, 2018. Photo by Ben Fisher. Courtesy of Masterpiece London 2018.
Asked whether an outfit selling necklaces is an incongruous fair partner to Hauser & Wirth, Wenman insisted that the mix at Masterpiece is mutually beneficial.
"There's jewelry, boats, watches—coming from a contemporary art background, one would expect that to be somehow wrong, but weirdly it feels totally right," Wenman said. "Why can't the same person enjoy both in the same visit? I would hate to think that every art-buyer is irrelevant of time, and stripped of all jewelry, and has no water transport—it would be a terrible world if that was the case!"
Looming large is the question of whether Hauser & Wirth—or any similar mega-gallery with enough clout to make or break a fair—would participate in further iterations of Masterpiece around the globe, spreading itself even thinner across an ever-expanding art fair landscape. Wenman noted that the gallery already does TEFAF in New York—would it really need to have a booth at the Masterpiece equivalent, too?
"We would definitely consider it," he said. "It depends where and when—obviously, if it's the same week as Art Basel, no. But if the timing feels right, and the location is interesting for us, of course we'd consider it."
Nate Freeman is Artsy's Senior Reporter.