From Mickalene Thomas to Chitra Ganesh, Four Female Printmakers Challenge Cultural Narratives
Apfelbaum, a white American, grew up in suburban Pennsylvania in the late 1950s; Milhazes, a Brazilian, was raised in Rio de Janeiro in the '60s; Ganesh, an Indian-American, spent her childhood in Brooklyn and Queens in the '70s; Thomas, an African-American, grew up in urban New Jersey around the same time. All of these women engage fiercely and critically with tradition, whether ethnic, mythological, sexual, or art-historical. Employing different methods and materials—from rhinestones, to velvet, to paint—the four artists all subvert gender and genre norms and are radical practitioners of one of art's oldest practices—
Durham Press
.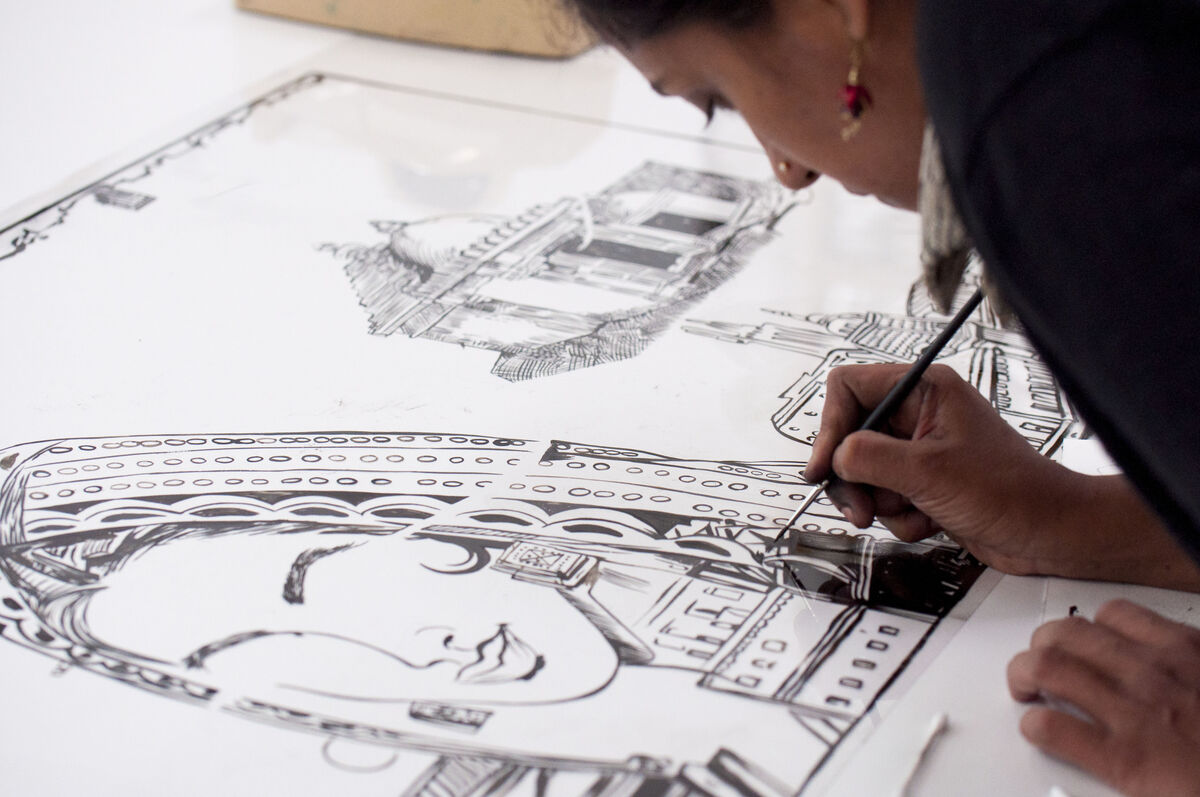 Ganesh and Thomas both make figurative work that reimagines cultural narratives. Much of Ganesh's work is based on Amar Chitra Katha, an influential comic book series developed in the 1960s as a way of teaching South Asian children at home and abroad about Hindu mores. These stories—along with the artist's other literary inspirations, like Grimm's fairy tales and Greek myths—tend to prescribe hegemonic sexual, religious, and political behaviors. Ganesh melds these frameworks into ones in which the distinction between "good" and "bad" falls apart. She corrupts the fabled purity of femininity. In her print
Architects of the Future – Away from the Watcher
(2014), for example, the beautiful head of an ostensible princess is a mere extension of a cyborg's body. In her own reading of mythology, she has
said
, "violence and eroticism and the body and all of these different forms coexist all the time."
Thomas, too, injects female eroticism into an established canon—this time that of Western painting. The artist, who has cited such disparate influences as Sleep: Deux Femmes Noires (2013), a collage of woodblock, screenprint, and digital prints, two naked women sleep intertwined against a rich backdrop that combines elements of
Milhazes and Apfelbaum may limit their work to the fundamentals—shape, color, and material—but their messages are just as forceful. When Milhazes was growing up in Brazil in the 1960s, the country was in the early years of an authoritarian military dictatorship and the latter years of the powerful
Havai (Hawaii)
(2003), which feature brightly colored floral imagery inspired by nature, 19th-century embroidery, and carnival costumes. Still, the geometric framework of the concrete artists is concealed within the work; Roberta Smith of the
New York Times
times
has written
that Milhazes's patterns "have the precision of gears and wheels." Apfelbaum makes subversive use of geometry, too. Straying from her
"Having the space to have a lot of unanswered questions and unresolved narratives is really soothing," Ganesh
has said
. Luckily, she and her printmaking peers have opened up narratives that would seem to be fixed, creating space for a radical—and necessary—evolution.