From Turrell to Hockney, 8 Artists Who Designed Extraordinary Swimming Pools
Few things evoke summer better than the swimming pool, its inviting blue water offering a respite from sweltering heat. Pools have also served as an unexpected medium for artists, including David Hockney, Katherine Bernhardt, and James Turrell. From filling them with diet soda to painting them with signature patterns, these eight artists have designed extraordinary—if not always functional—swimming pools around the world.
James Turrell, Baker Pool, 2002-2008
Photo by Giffen Clark Ott, via Flickr.
Throughout his 50-year career, Baker Pool in 2008, a discombobulated guest unwittingly walked down the stairs and straight into the water; Turrell himself pulled her out. The LED-lined pool, commissioned for the basement of a barn on a Greenwich, Connecticut estate, was the first such work the artist completed in the United States. A previous Turrell-designed swimming pool, built for a French cultural center, featured a central shaft that swimmers had to dive under to catch a glimpse of one of the artist's signature skyscapes.
David Hockney, Roosevelt Hotel, 1988
Photo by @bellaanddonna, via Instagram.
Photo by @hugofromkamakura, via Instagram.
Known for his bright, airy paintings of Los Angeles swimming pools,
Mike Bouchet, Flat Desert Diet Cola Pool, 2010
Bouchet, Flat Desert Diet Cola pool, 2010, production still. Photo courtesy of the artist and Marlborough Chelsea.
In the case of Flat Desert Diet Cola Pool, it's what's inside that counts. In 2010, the artist filled an entire California swimming pool with Cola Lite, his homemade, sweetener-free soda, then invited a group of art-world denizens over to cavort in the syrupy liquid. Bouchet later repeated the experiment on the roof of Chelsea's Hotel Americano, hiring two female bodybuilders to splash around while gallery-goers looked on. Both installations are part of a series employing Bouchet's carbonated beverage as a medium; other works include watery brown canvases painted with soda (the artist terms it "colachrome").
Jorge Macchi, Piscina, 2009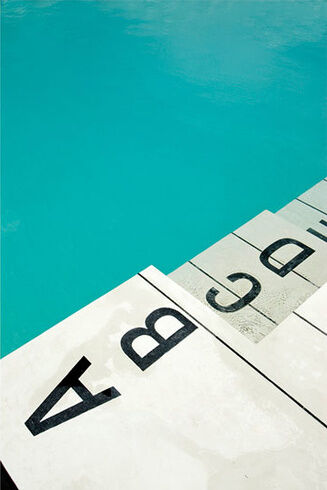 Photo by Pedro Motta. Image courtesy of Inhotim.
Photo by Daniela Paoliello. Image courtesy of Inhotim.
In the mid-1990s, Argentinian artist Piscina, realized with the help of Brazilian contemporary art museum Inhotim. One half of the work is crafted from smooth white cement cut with strips of black granite, forming a monumental sheet of lined paper. The pool's focal point, however, is the staircase of index tabs that descend into the clear blue water.
Samara Scott, Developer, 2016
Samara Scott, Developer, 2016. Photo by Eoin Carey, courtesy of Pump House Gallery.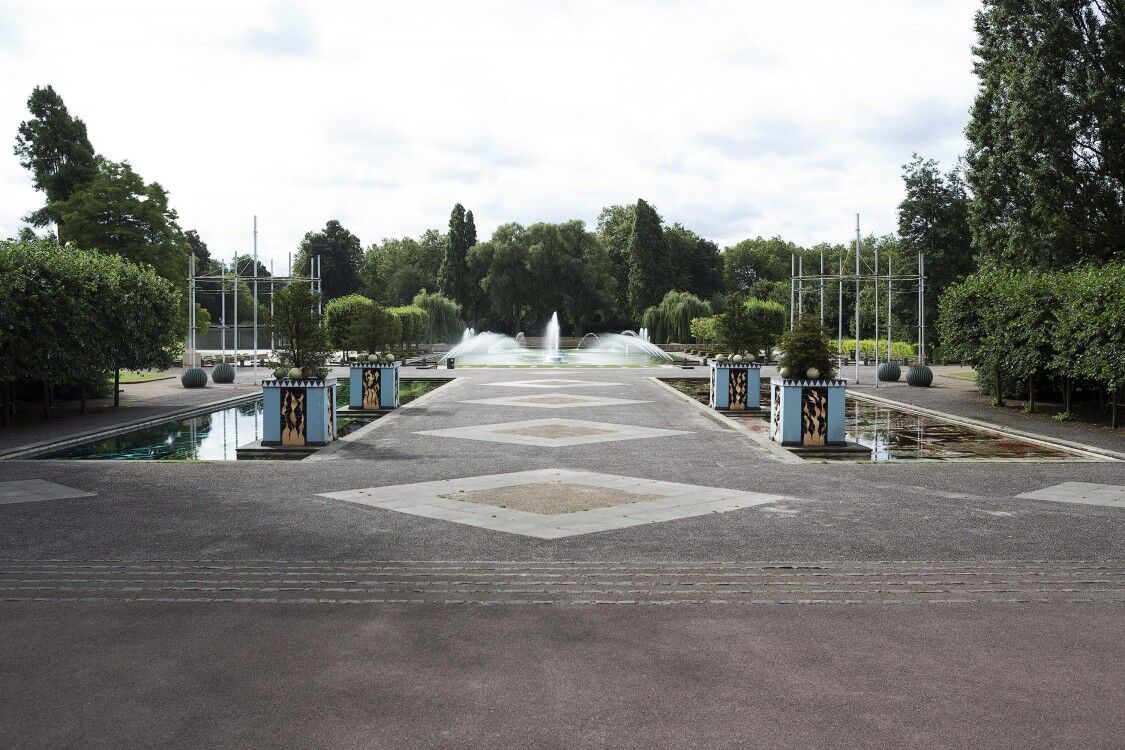 Samara Scott, Developer, 2016. Photo by Eoin Carey, courtesy of Pump House Gallery.
Much of this young British artist's work is liquid-based, although one would be ill-advised to take a dip in one of
Katherine Bernhardt, Nautilus Hotel, 2015
Photo by Silvia Ros for Artsy.
Art Basel in Miami Beach
gave visitors to the Nautilus, a SIXTY Hotel, a chance to swim with sharks—plus the socks, bananas, and Sharpies that also peppered her pool-bottom mural. The
project
, commissioned by Artsy for Nautilus, also featured Bernhardt-crafted towels printed with toucans and French fries. Both works serve as prime examples of the New York-based artist's signature iconography: a mix of tropical imagery and city-dweller staples, all rendered in bold, bright color.
Berthold Lubetkin, Penguin Pool, 1934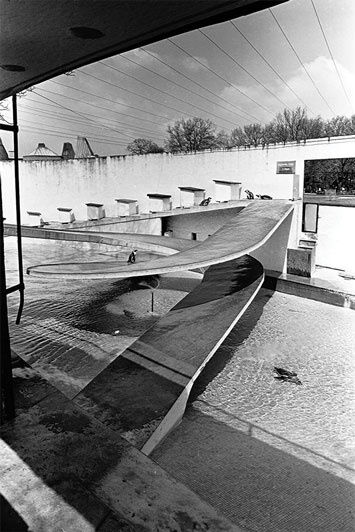 Image by Gillfoto, via Wikimedia Commons.
Image by Gillfoto, via Wikimedia Commons.
This one is literally for the birds. Lubetkin, a Georgia-born, Paris-trained, Russian architect, designed this pool for the penguins at the London Zoo in the 1930s. It was a prime example of pre-war Modern architecture, earning Lubetkin international praise and establishing his firm's reputation as pioneers of the movement. The pool's distinctive looping, interlocking walkways were meant to highlight the penguins' waddling gait. Years later, it was discovered that the sloping paths were in fact giving the birds arthritis in their feet. The animals have since been shifted to another habitat, although Lubetkin's pool remains—it is now classified as a water feature.
Book Cover, Push!, designed by Lloyd Ziff. Image courtesy of the Cooper Hewitt.
Photographed for the first (and only) issue of PUSH! magazine in 1991, this