6 Must-See Works From the Front Triennial, Cleveland's Answer to the Art World's Coastal Bubble
The late, legendary chef Anthony Bourdain and Milwaukee-based artist
Bourdain descended on the market in 2007 to taste its rainbow of pork offerings; this year, Riepenhoff landed there to transform Cleveland's sausages into art. For the next several months, brats seasoned with a rich spice blend inspired by the cuisines of Cleveland's many immigrant communities will be sold through West Side Market's meat vendors. To conceive of, create, and sell the sausages, Riepenhoff worked with a vast network of local immigrants, refugees, farmers, and butchers.
The project, Cleveland Curry Kojiwurst, is just one of many site-specific artworks unveiled this past weekend across Cleveland-area art spaces—as well as an abandoned warehouse, a century-old bank, two churches, one very large cargo ship, a
Founded by Ohio-based patron Fred Bidwell and curated by Milwaukee artist
"In the past couple of years, I think we learned that we need to look beyond coastal-city bubbles to better understand America; that the towns and cities in 'flyover country' are facing very different ideas, issues, and conflicts than those on the coasts," Bidwell told me. "We need to deal with that."
Many of Front's 100-plus artists—hailing from places as far-flung as Beijing and as close as Chicago—embedded themselves in Cleveland. Other artists are decidedly more local; Johnny Coleman lives in Oberlin, Ohio, while Kelley O'Brien and Lauren Yeager hang their hats just minutes from some of the show's venues. Indeed, the triennial's strongest works acknowledge this midsize, middle-American metropolis's history, landscape, or contemporary culture, while also questioning (or in some cases, celebrating) conditions that reverberate across the country and world.
"Worldliness, locality, and regionality together shape the cultural character of American cities, and they shape this exhibition," Grabner said during Front's press preview last Friday. Below, we highlight six must-see works across Front.
Dawoud Bey, Night Coming Tenderly, Black (2018)
St. John's Episcopal Church, Ohio City, Cleveland
For many fugitive slaves attempting to escape captivity in the 1800s, Cleveland was the final stop before attaining freedom. From the city's Lake Erie shores, they could reach Canada by boat.
In this project by Chicago-based photographer
Bey explained that the photos not only reimagine the journey of fugitive slaves, but the sense of fear and urgency that laced their passage. "It's about the movement through that landscape under the cover of darkness—in some cases, an almost impenetrable blackness," the artist said during a walkthrough of the installation, noting that he was aiming to present "an experience of what that might have looked like and felt like." The images are strung low from the rafters of St. John's Episcopal Church, a known stop on the Underground Railed dubbed by abolitionists and slaves as "Station Hope." The hanging itself reflects the geography of the path from Hudson to Cleveland, with shadowy images of Hudson in the back, and those of Lake Erie situated closest to the stained glass-studded front of the church.
Michael Rakowitz, A Color Removed (2018)
SPACES, Ohio City, Cleveland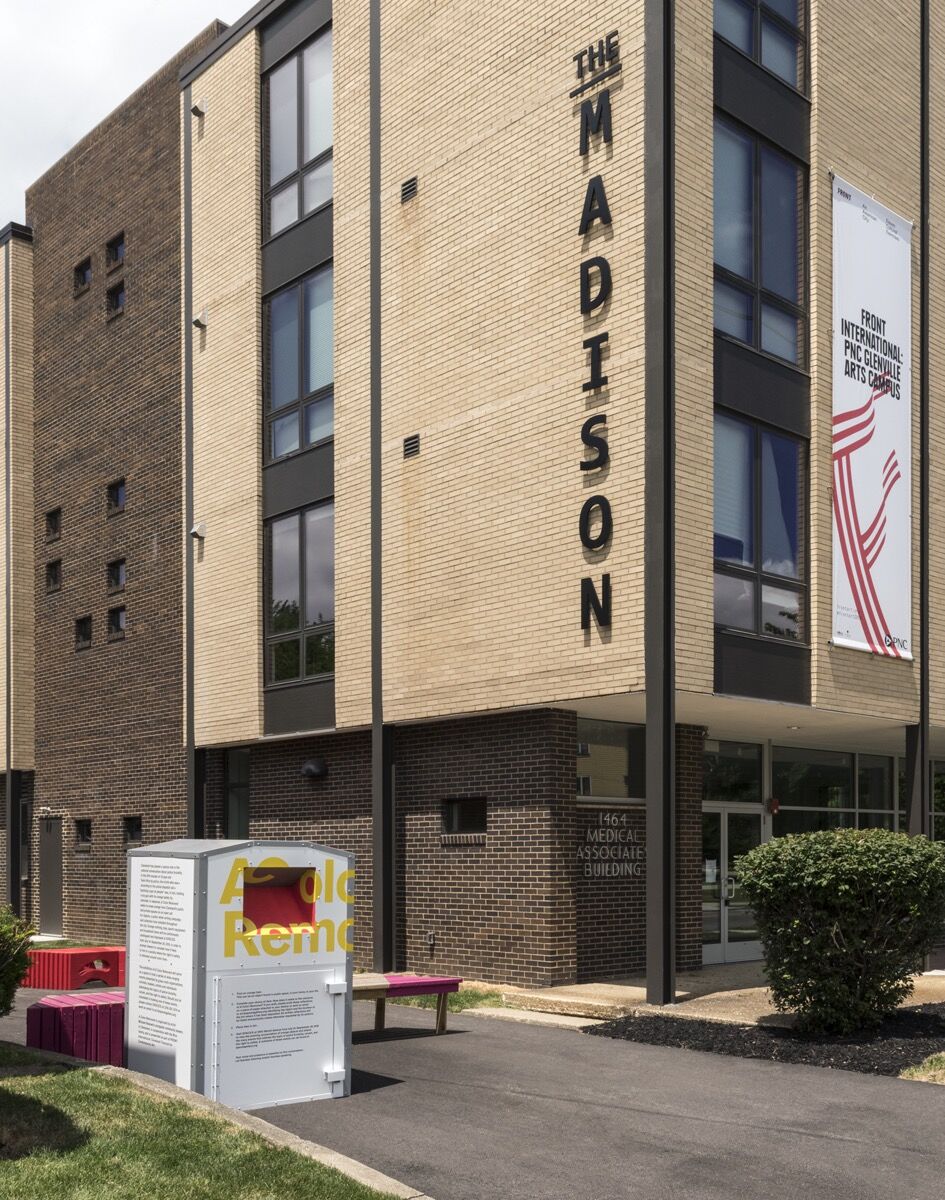 During the opening of A Color Removed this past Saturday night, visitors deposited orange objects into a designated receptacle. The main gallery of the nonprofit SPACES was already chock-full of orange donations, from bags of Cheetos to bicycle reflectors, Cleveland Browns ephemera, and a neon life vest, all tacked to the wall. So was a small orange picture frame containing a photo of Tamir Rice—the 12-year-old boy who was fatally shot by Cleveland police in 2014 while carrying a toy gun, whose neon-orange cap had been removed. The room simultaneously feels like a shrine to Rice and a graveyard for a single hue.
Addressing Rice's death and the history of violence against black men,
A Color Removed
asks Clevelanders to eliminate the color orange from the city's landscape—as a means to make it safer. "The presence of orange, as a symbol of safety, encourages complacency. But what if we could trust that safety is a right guaranteed to everyone who travels in, through, and around Cleveland?" the piece
questions
. "What if orange was rendered superfluous?" In addition to the designated collection bin at SPACES, there are others sprinkled around the city.
Within SPACES, Rakowitz has also installed responses to his project from local black artists. RA Washington, a Cleveland-based musician, poet, and installation artist, contributed Glenville Service (2018), two typewriters on which visitors are encouraged to write letters to Glenville, a disinvested, primarily black neighborhood in East Cleveland. "Dear Glenville, I don't know you but I'd like to," reads one note, part of what Washington refers to as a "community scroll." The exhibition will also host open conversations around racial inequity, police brutality, and community.
Marlon de Azambuja, Brutalismo (2018)
Cleveland Museum of Art, University Circle, Cleveland
Brazilian-born, Madrid-based artist
De Azambuja's practice has long explored what he refers to as the "living city," or how a metropolis supports the life that fills it. In recent years, he's made a series of installations called "Brutalismo," which respond to the architectural makeup of various international urban centers (like Madrid and Berlin). To prepare for his Front outing, the artist took several trips to Cleveland, where he researched its landscape, architectural history, and local building materials. "He really studied what Cleveland is made of," Bidwell told me. "Literally, the city's bricks, mortar, and stone—and where they're sourced."
After scouring quarries across northeastern Ohio (with its remnants of the city's 19th-century industrial heyday), de Azambuja erected what he sees as a utopian version of Cleveland, which has struggled economically for over half a century. Each "building" is forged from bricks or concrete blocks of various shapes and sizes, all held together by a colorful array of clamps. The grouping of little stone towers is playful, recalling a LEGO village hatched from the mind of an imaginative child. But it's also precarious: If one clamp was removed, would the whole structure tumble? In this way, de Azambuja comments on the rise and fall of individual cities, and how important imagination can be when it comes to reviving them.
Julie Ezelle Patton, Womb Room Tomb of Virgie Ezelle Patton (ongoing)
Private home, Glenville, Cleveland
After many years spent between New York and Paris, spoken-word artist Julie Ezelle Patton recently moved back into the Cleveland home where she was raised by her late painter-mother Virgie Ezelle Patton, who died in 2015. The tall brick house in the city's Glenville neighborhood—Front's most intimate and moving venue—is a living artwork that brings together the practices of mother and daughter. It's also become a haven for Cleveland artists who were taken under Virgie and Julie's wing.
When I entered this past weekend, I heard Julie's smooth voice floating from a tiny interior courtyard. She was singing one of her poems, this time about the vibrancy of color. In one room, Virgie's paintings of a black Adam and Eve stood tall on either side of the door, surrounded by busts marked with deep fingerprints, African fertility icons, and scrolls covered in cursive text. Meanwhile, the bathroom's tub was filled with paintings and sculptures depicting nude women. A desk in the office-cum-reading nook was arranged thoughtfully with line drawings and family photos (tiny magnifying glasses helped make out faces and attributes). Closets were covered floor to ceiling with framed letters. One contained a wedding dress, pinned with a note: "Virgie made her wedding dress, then handed it down to her daughter."
These days, Julie refers to the home as the Womb Room Tomb of Virgie Ezelle Patton, a memorial dedicated to her mother's legacy as a prominent black female painter in the mid-1990s, and activated by artists who are inspired by the vibrant remnants of a long, deeply creative life.
Phil Vanderhyden, Volatility Smile 3 (2018)
Federal Reserve Bank, Cleveland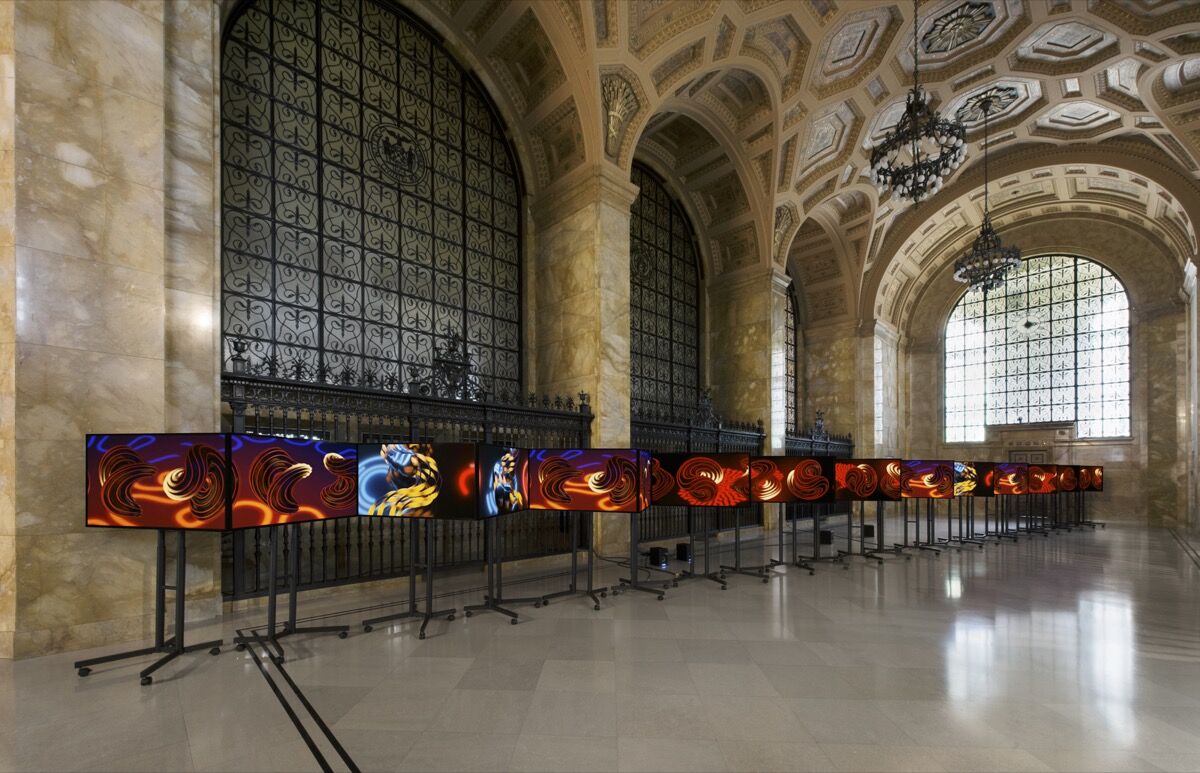 New York-based artist Volatility Smile 3, which borrows its name from the arc-like pattern that appears on financial graphs during times of economic uncertainty.
The multi-channel animated video, which snakes across an accordian-style display, resembles trading floor screens or fiscal charts gone terribly awry. Fractals twist and spin, contorting into garishly opulent forms that recall the frothy, faux-gilded architectural details of a casino. Those, too, disintegrate into liquidy, abstract forms that move in unpredictable ways. The loop is at once mesmerizing and anxiety-inducing—much like money itself.
Some shapes in the video were inspired by the building where Vanderhyden's work is installed: Cleveland's lavish Federal Reserve Bank, a 1923 structure modeled after an Italian Renaissance palazzo. "The space is designed to make you feel good about the Fed's mission and the stability of the money supply," Vanderhyden continued. "I thought it'd be interesting to add some tension to it."
Martine Syms, 99 Subtle Maneuvers (2018) and An Evening with Queen White (2017)
Museum of Contemporary Art Cleveland, University Circle, Cleveland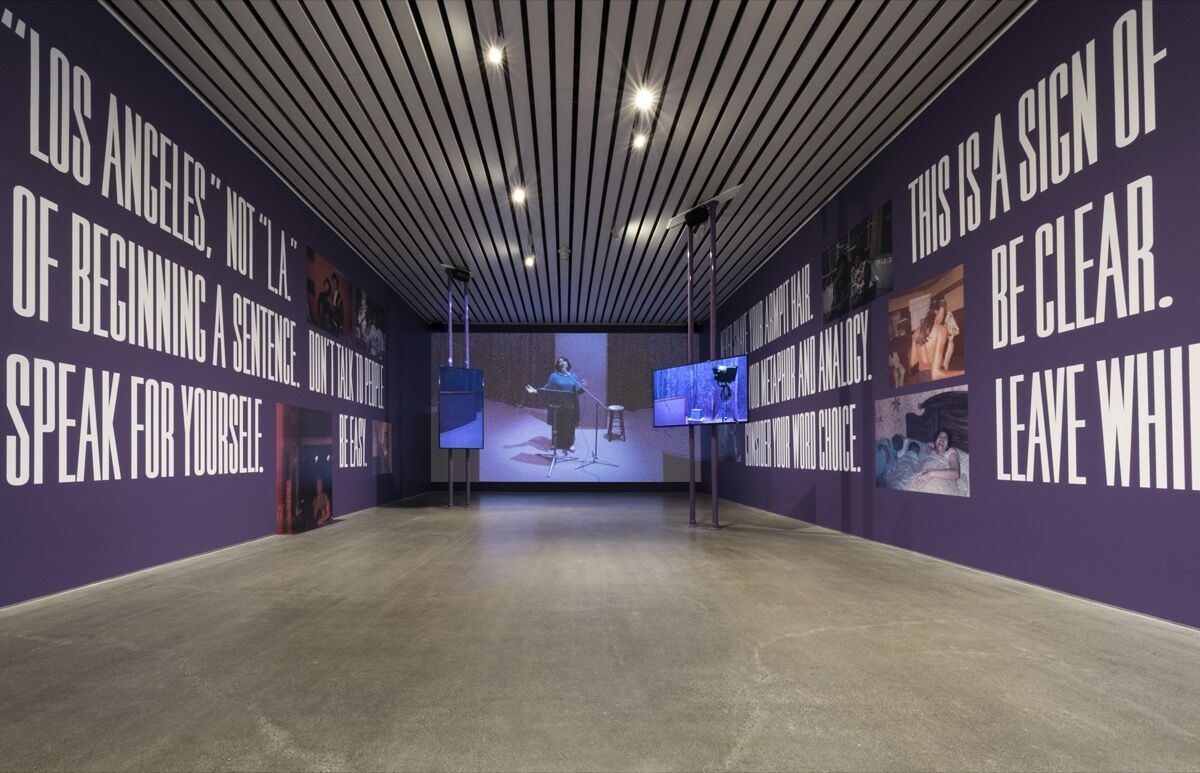 "Always speak for yourself." "Never shave your armpit hair." "Leave while you're having a good time." These are just three of the numerous directives printed in big, all-caps letters across 99 Subtle Maneuvers, site-specific wall piece at the Museum of Contemporary Art Cleveland. Large-scale reproductions of family snapshots, showing the Los Angeles-based artist and her family over the years, are interspersed between the sentences. The combination reads like an autobiography-cum-self help manual, meant to remind its writer where she came from and who she aspires to be.
That piece joins An Evening with Queen White, a four-channel video in which a character inspired by Syms's own great aunt, a legendary Motown Records etiquette coach, offers an inspirational pep talk to viewers. "Right out of the box, I have a question for you. Who are you? Who. Are. You?" she questions, smiling while flipping through note cards. "No, that's not who you are…[Your parents] gave you that name. Now you have to make that name outstanding." Together, the two pieces offer a powerful meditation on the innate, learned, and performed traits that make up a person's identity.
Alexxa Gotthardt is a contributing writer for Artsy.
Daan Roosegaarde ​& BMW i
Premiere of installation SYNC at Art Basel.
Sponsored by BMW