Why Galleries Are Joining the Podcast Wave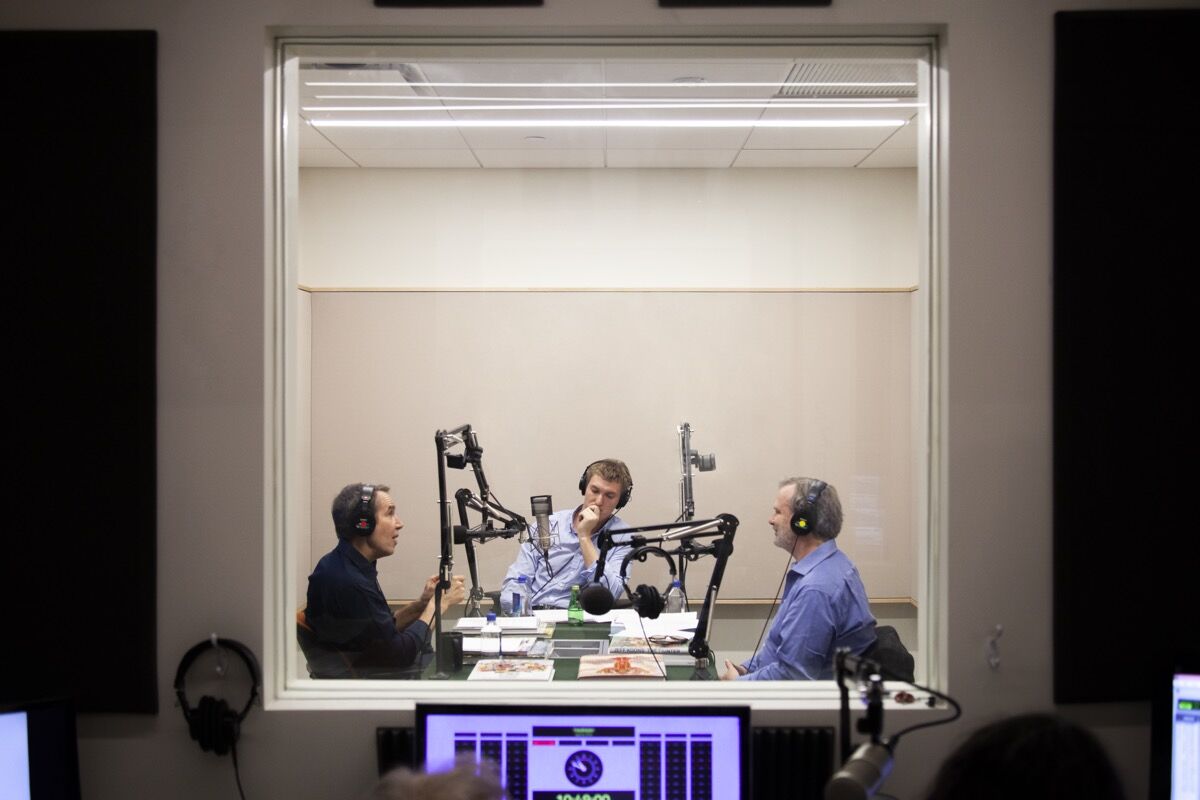 "The point of [recording at Frieze] was actually to show how committed we were to what we were doing with 'Collect Wisely,'" Kelly says. "The first day, as everybody knows, is the most important day of an art fair, it's when all the most important clients come through. And you would think, 'My god, what the hell is Sean Kelly doing sitting in the booth talking to people and doing a podcast?' Well, that was the very point."
"I do think that the format of two people in a room with a microphone…facilitates a kind of intimacy," Kelly says. He adds that he edits out any discussions of artists his gallery represents. "This has to be kind of pure for it to work. It to be a very clean situation for it to have any validity. The point of 'Collect Wisely' is not to criticize any colleagues or anybody in the industry, it's just to say, 'Look, the only conversation cannot be about investment value.' If that is what this conversation gets reduced to, we are all being impoverished and the game is up, it's finished."
"A lot of people are making what we now refer to as 'content,' and it's not like you just want to contribute to the content deluge, you want to make something that actually has an audience, that people actually want to listen to," Lucas Zwirner says. He sees the podcast format as a powerful addition to the gallery's program, complimenting its exhibitions and its publishing enterprise, and with the distinct potential to reach new, younger audiences around the world.
"There's a whole generation of people growing up more listening to podcasts than reading books," he says. "You've got a physical space, and how many people can come in over the course of a week, a couple thousand? Well, over the course of a week, 10,000 people can listen to your podcast. So you create a space that then allows for so much more access."
Zwirner says that the podcast's episodes have been downloaded over 100,000 times since it launched in June, far outpacing the preliminary projections of Slate Studios, which helps produce them.
"We don't see it as directly sales- or promotion-related, that someone will listen and call the gallery and say, 'Hey, I'd like to buy this art,'" says Sabbatino. "We see it as part of the mission of serving the artists' goals, and most artists want their art to be widely known, recognized, and understood. This is another way that the artist's vision can be communicated very intimately right into your ear, to you alone, and I think there's a nice quality when you hear a good podcast, as if the people are speaking directly to you."
"There's something immediate and unvarnished about two people having a conversation, even when edited," says Leahey. "The conversations we capture in these podcasts have characteristics you can't read or see anywhere else, and I think galleries, just like listeners, appreciate the format's uniqueness."
Benjamin Sutton is Artsy's Lead Editor, Art Market and News.