Gallery Weekend Berlin Shows an Art Scene in Its Prime
Klara Lidén at Galerie NEU. Photo by Marco Funke.
Sometimes all it takes is 41.5 x 59.5 x 92 centimeters for great art to unfold. It is in this scale that Gerano Pavesi | church (2015) that crosses motorways with a chapel, turning Mario Pavesi's 1947 Autogrill—a restaurant cum overpass—into a toll station, the purpose of which (collecting money from drivers or believers) is unclear.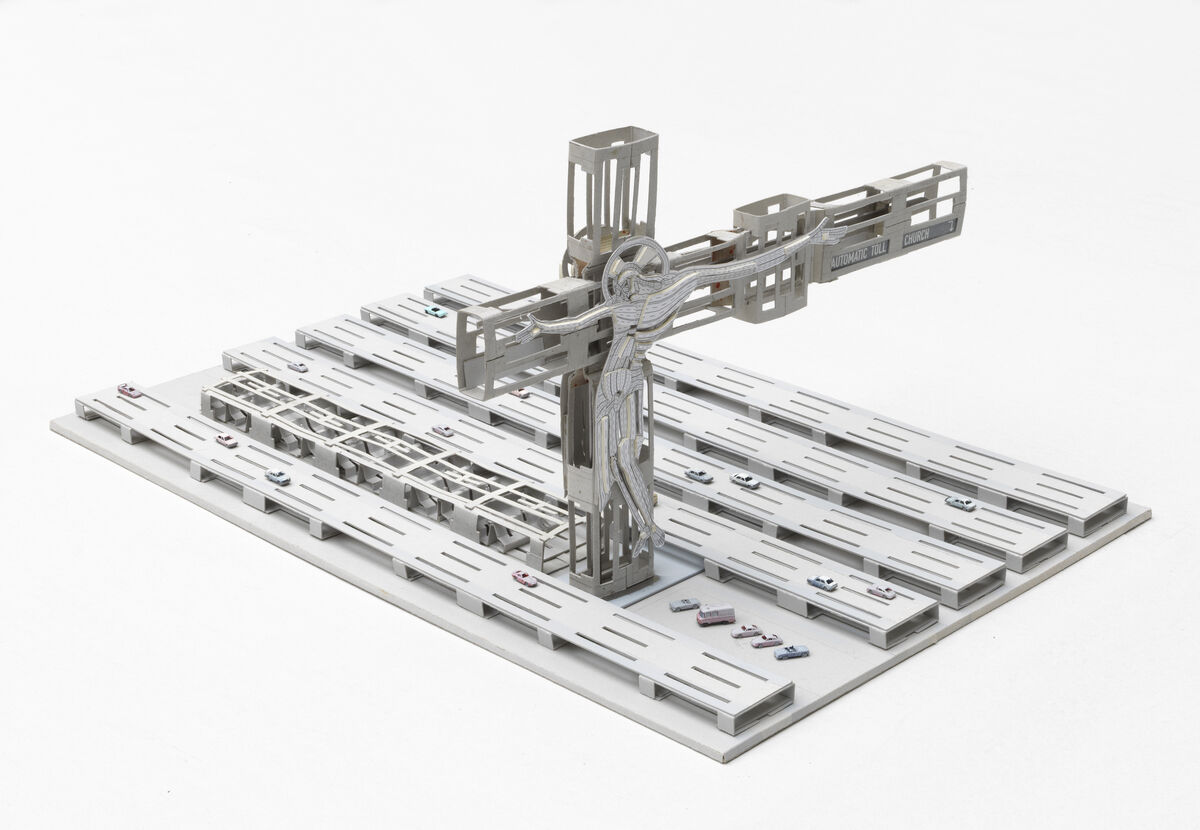 Thomas Bayrle, Gerano Pavesi | Church, 2015. Courtesy Galerie Barbara Weiss, Berlin.
Bayrle's works offer a welcome relief after a tour around Mitte and some of Berlin's most overwhelming, if not always overpowering, spaces and shows during the 11th edition of the annual Gallery Weekend Berlin, which took place just ahead of the 56th Venice Biennale. At Kewenig Galerie—which moved from Cologne into one of Berlin's oldest baroque townhouses on Museum Island—
Left: Pedro Cabrita Reis, Installation of the artwork. Right: Compound #5, 2006. Both images © PCRSTUDIO / João Ferro Martins, courtesy Kewenig, Berlin.
On the island's other tip,
Contemporary Fine Arts
managed, much earlier on, to snuggle up closer to Berlin's major museums and power players. Here, however, grand size makes sense.
Worthy
, 2014) and former saloon bar (
Bar
, 2015). The two large
objets trouvés
contemplate both the will of Americans to conquer the Wild West (and perhaps the world) and a religious belief in technological progress.
Katharina Grosse at Johann König. Photo by Marco Funke.
In Kreuzberg,
Johann König
finally opened his breathtaking brutalist space in the deconsecrated St. Agnes cathedral, showing canvases by
Sprüth Magers
's similarly cavernous Mitte gallery, space is just a digital illusion. His film
Nightlife
(2015) revolves around issues like violence, power, and migration. But the viewer's attention is fully drawn into its immersive, almost hallucinogenic 3D experience of trippy plants and fireworks. If that doesn't knock you out, try
Galerie Eigen + Art
, featuring women in armor. Fresh from Gaillard, with your retinas still in another dimension, the cosplayed Joan of Arcs look extremely sculptural, almost holographic.
Cyprien Gaillard, Where Nature Runs Riot, 2015 (film still). Copyright Cyprien Gaillard. Courtesy Sprüth Magers.
Painting is what you might expect to see at a commercial event that costs each participating gallery a flat fee of €7,500 (plus, of course, however much each gallery is willing or able to put toward additional entertainment for collectors). But showing painting doesn't always mean playing it safe. Take Die Hellseherin (The Prophetess, 2014/15), a complex allegory of painting as much as of life and death that is far from what you might call over-the-sofa fodder. Aurel Scheibler's monochromatic gray exhibition of paintings by
Valérie Favre, Schwan See (inspiriert von Douglas Gordon), 2015. Courtesy the artist and Galerie Barbara Thumm, Berlin. Photo by Uwe Walter.
There were even some new names. Arratia Beer featured Haleh Redjaian's fragile, captivating drawings and weavings that merge mysticism and geometry, while Galerie Mehdi Chouakri hosted young U.S.-born artist The Man Who Laughs Good riddance to venetian blinds!
Haleh Redjaian, Can you Sea from Monday til Sunday, 2015. Courtesy Arratia Beer.
Compared to last year's Gallery Weekend Berlin, which almost felt like a festival of old and established artists, there wasn't really one common theme or strategy among this year's participants. Perhaps owing to Berlin's own increasingly mature status, the galleries seemed to present themselves as what they are, in the best and worst sense. It always was the event's intention to highlight the gallery as the place of artistic production and representation—to differentiate itself from the uniformity and shopping-box character of many an art fair booth—and it certainly succeeded in doing so once again this year. 
Calla Henkel & Max Pitegoff, They make it clear that their hospitality is not to be confused with generosity. The keys for Pontus, a business student visiting from Munich, are left at the Portuguese ceramic shop next door. This is standard procedure, this is simply a matter of funding the theatre.2014. Courtesy the artists, Galerie Isabella Bortolozzi, Berlin.
Isabella Bortolozzi—how does she do it year after year?—once again presented herself as the queen of cool. She has recently taken on artist duo Calla Henkel & Max Pitegoff, who built their career on directing cool artist-run-spaces in Berlin (currently the performance center New Theater). Bortolozzi is also showcasing a quirky old dude—this time Untitled (marshmallow swimming pool) from 1982, a wall image of, well, a swimming pool made in marshmallow mosaics.

The New Theater seems to have become something of a selling point in and of itself with Klara Lidén's pleasantly uncomforting show at Galerie Neu buoyed by her recent participation in the project. Also always pulling it off are Delmes & Zander, who last year branched out to Berlin. They present the obsessive photocopy-cum-drawing universe of art school dropout Adelhyd van Bender, a kind of self-therapeutic fusion of science and magic.
Erik van Lieshout, After the Riot II, 2015. Ausstellungsansicht / Exhibition view Galerie Guido W. Baudach, Berlin. Courtesy Galerie Guido W. Baudach, Berlin. Photo by Roman März.
A by no means unpleasant surprise was Guido Baudach's transformation of his gallery into a political arena for
Dog
(2015), showing the fatal effects of European asylum politics on a refugee. At
KOW
, you expect to find artists who have something to say. Period. In their basement space,
Approximation in the digital age to a humanity condemned to disappear
(2014–15) is a collage of the past and present lives of Tierra del Fuego's native people, the Yaghan, among whom Pfeifer lived for months.

Upstairs, it is up to
Marc Quinn Iris
Explore the cup collection here.
Sponsored by illy