The German Expressionists' Shockingly Raw Work Exploded Bourgeois Values and Reinvented Art
At the turn of the century, a thick air of malaise had settled over Germany's creative haunts. Artists across cosmopolitan cities like Munich, Dresden, and Berlin were frustrated: They felt muzzled by the strict bourgeois mores and traditional, state-sponsored art education that dominated the country's culture and aesthetics. By 1905, a small group of painters decided to rebel. Instead of stiff, straightforward compositions, they loaded their canvases with vivid, clashing shards of color and pared-down, grossly distorted forms. The works that resulted were raw, deeply emotive, and shocking.
These artists became known as the
"Art today is moving in directions of which our forebears had no inkling. The Horsemen of the Apocalypse are heard galloping through the air," Marc wrote of this heady moment in his 1912 Der Blaue Reiter manifesto. "Artistic excitement can be felt all over Europe—new artists are signalling to one another from all sides."
In the 1920s,
Explore this experimental, influential movement through seven important works.
Ernst Ludwig Kirchner, Red Nudes (1912)
This sultry painting of two nudes—executed in a blistering palette of deep reds, oranges, and pinks—exemplifies the rebellious approach of
Kirchner and his colleagues chose the name Die Brücke, meaning "The Bridge," to signify the path they hoped to forge away from the past and into the future. In the group's 1906 manifesto, Kirchner calls for "freedom of life and action against the well established older forces." In
Red Nudes
, the artist gives form to this cry by rendering a world free from censure, where people frolic openly in the buff. "In their rebellion against the strictures of bourgeois society, Brücke artists approached sexuality with new openness," writes scholar Deborah Wye in the
Museum of Modern Art
's catalogue for the 2008 exhibition "
Kirchner and the Berlin Street
." "The nude body became…emblematic of their beliefs."
Franz Marc, Yellow Cow (1911)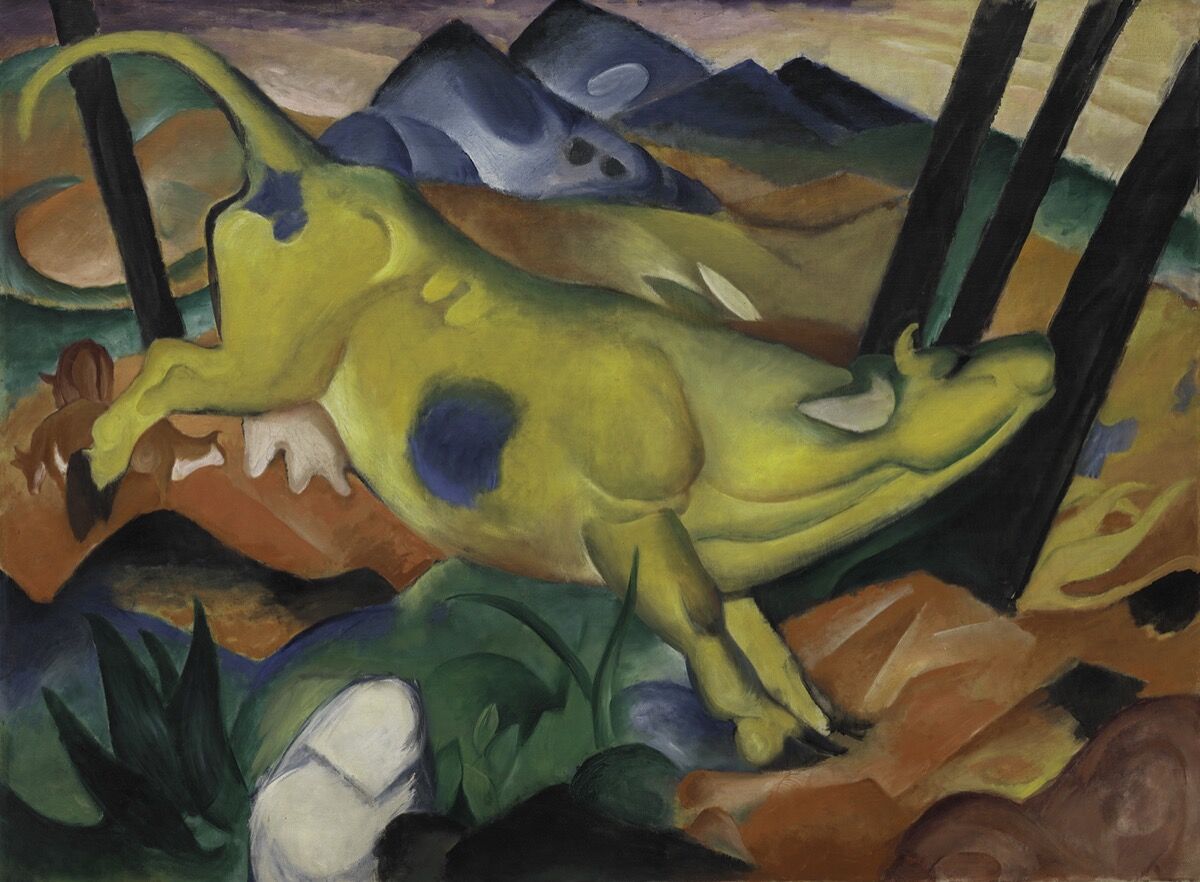 Franz Marc, The Yellow Cow, 1911. Courtesy of the Solomon R. Guggenheim Museum, New York.
Like the members of Die Brücke,
"I am trying to intensify my feeling for the organic rhythm of all things, to achieve pantheistic empathy with the throbbing and flowing of nature's bloodstream in trees, in animals, in the air," Marc wrote to his friend, publisher Reinhard Piper, in 1908. Marc's views corresponded with the
Marc's ebullient
Yellow Cow
is one of the artist's many canvases portraying animals, which he believed represented spiritual and emotional renewal. This piece holds particular significance as it was made in the same year that Marc and Kandinsky formed
term
references Marc's fascination with animals, as well as a central theme of Kandinsky's work: the horse and rider. This theme symbolizes the connection between humans and nature and,
according to
MoMA, the journey beyond realistic representation.
Here, Marc's use of surreal colors and block-like forms veers towards abstraction. For the painter, colors were symbolic and held emotional value. "Blue is the male principle, astringent and spiritual. Yellow is the female principle, gentle, gay and spiritual. Red is matter, brutal and heavy and always the color to be opposed and overcome by the other two," Marc wrote to his fellow Blaue Reiter artist, Yellow Cow not only symbolizes spiritual rebirth, but also unbridled joy.
Wassily Kandinsky, Improvisation 27 (Garden of Love II) (1912)
Like Marc, On the Spiritual in Art (1911), also penned the same year Der Blaue Reiter was established. The text outlines a new approach to artmaking based on the fusion of abstract forms and color symbolism—both, he asserted, had the "power of inner suggestion." For instance, he thought blue stimulated spirituality, while yellow had the power to disturb.
Improvisation 27 (Garden of Love II), painted soon after he wrote On the Spiritual in Art, embodies these ideas and evidences German Expressionism's march towards abstraction. The piece is one of more than 35 "Improvisations" Kandinsky made between 1909 and 1914, a series intended to frame emotional and psychological sensations. Here, he begins to obscure representational imagery, but doesn't completely let go of it. Blocks of bright color and undulating lines suggest a garden teeming with animals and embracing couples. Indeed, the vibrant, musical energy of the painting is reflected in the latter, who seem to pulsate, perhaps evidence of the love they are feeling.
Gabriele Münter, School House, Murnau (1908)
Gabriele Münter, School House, Murnau, 1908. © VEGAP, Madrid. Courtesy of Museo Nacional Thyssen-Bornemisza, Madrid
Myopically, Münter is most often remembered as Kandinsky's longtime partner, but her contributions to the theories and aesthetics of Der Blaue Reiter were essential. From the home in Munich that she owned and generously shared with Kandinsky, together, they explored how color and abstract form could evoke inner states. Münter's landscapes, in particular, evince her willingness to jettison strict representation, and move from Post-Impressionism into a more expressive style.
In School House, Murnau, she introduces radiant, unnatural hues and broad, aggressive strokes to a picture of the German town. She painted the work in 1908 on a summer sojourn to the eponymous rural hamlet with Kandinsky and their Blaue Reiter compatriots
Paul Klee, Présentation du Miracle (1916)
As a young artist,
Klee's early work consisted primarily of black-and-white drawings and prints. After a trip to Tunisia with Macke and the Swiss painter Louis Moilliet in 1914, everything changed. The otherworldly desert landscape and lambent sunsets stirred Klee's imagination, inspiring him to introduce to his work color and abstract forms conveying emotion and energy. After the onset of World War I, Macke and Marc both died in battle (in 1914 and 1916, respectively), and the content of Klee's paintings veered further from the physical world. In Klee's 1916 Présentation du Miracle, he portrays a dimension far from the realities of war, where magic and miracles take place.
Several years later, in 1920, Klee would write his seminal "Creative Credo," which hinged on the adage: "Art does not reproduce the visible; rather, it makes visible." The phrase would make an indelible mark on peers like
Käthe Kollwitz, The Sacrifice (1922–23)
The horrors of war became a consistent theme for German Expressionist artists, and some of the movement's most searing images are by the Berlin-based
In 1919, Kollwitz began her influential "Krieg" ("War") series: woodcuts that portray grieving mothers, widows, and children in rough slashes of black ink. Here, Kollwitz shows the sacrifice of a mother giving her child up to war, the subject's sadness emphasized by the dark palette and cavernous pools of black ink. Kollwitz's choice to use woodcut wasn't merely stylistic: She "wanted these works to be widely viewed," wrote MoMA's Heather Hess in 2011. "By eliminating references to a specific time or place, she created universally legible indictments of the real sacrifices demanded in exchange for abstract concepts of honor and glory." In 1933, Kollwitz's work was deemed degenerate by the Nazis, who, ironically, later used her prints as propaganda.
Otto Dix, Großstadt (Metropolis) (1927–28)
Neue Sachlichkeit) movement, which tossed Die Brücke and Blaue Reiter's idealism to the side to make way for social critique.
In this masterpiece, Dix ruthlessly portrays the realities of post-war Germany, and the decadence and violence that plagued Weimar Berlin, in particular. The painting's central panel shows a raucous party filled with moneyed Berliners dripping in jewels and other flapper finery, while the side panels reveal the darker side of German culture—one where maimed veterans are relegated to the city streets, and widows resort to prostitution to make ends meet. This dichotomy between indulgence and wealth and destitution and depravity is a theme Dix returned to again and again in his caustic, blisteringly expressive works.
Alexxa Gotthardt is a contributing writer for Artsy.