The Hamptons as Artist Paradise, beyond the Glitz and Glam
The relocation was a temporary godsend. Pollock got sober (for a few years) and began his most famous series. He laid canvases on the wood floor of his Hamptons studio, splattering them in a revolutionary new way. In 1949, LIFE magazinefamously asked in an exultant feature: "Is [Pollock] the greatest living painter in the United States?" Pollock's success withered shortly after, as he descended back into alcoholism and died from a drink-fueled car wreck about a mile from his Hamptons home in 1956. Yet for a few years, the area had offered the perfect respite—just a train ride from the New York art world, but far enough to diminish distraction.
Artists had been living and working in the Hamptons, and its surrounding Suffolk County, well before Pollock was born. Abraham Tuthill, a native of the North Fork town of Oyster Ponds (now called Orient), made portraits of family members and locals from around 1800 to 1850. (North Fork isn't technically located in the Hamptons, but is just north of them, and still considered a part of the "East End.") Tuthill's subjects appear well-dressed and regal—a far cry from the surfers and bohemians whom the area eventually served. Other local artists of the time, including Hubbard Latham Fordham and Orlando Hand Bears, also supported themselves with commissions and commercial painting jobs.
In 1874, East Hampton Beach, Long Island (1874), ladies lounge on the sand in long white dresses and sweaters, huddling under umbrellas in an apparent attempt to ward off even the smallest suntan.
Four years later, says Helen Harrison, co-author of the 2002 book
Hamptons Bohemia: Two Centuries of Artists and Writers on the Beach
, the Hamptons got its first real artist "incursion." The Long Island Rail Road financed a
trip
for 11 members of the Tile Club—an artist society whose broader membership included Homer, as well as
It's funny to think that the Hamptons once needed publicity, but according to Harrison, train service didn't even extend to Montauk(the eastern tip of Long Island)until 1895, and "it was still terra incognita for tourism." Throughout the following Jazz Age decades, the area gradually became a socialite hotspot. Sara and A Moveable Feast (1964) and F. Scott Fitzgerald's Tender is the Night (1934), met at an East Hampton party. Gerald was a painter himself.
If the area remained slightly under the radar for years, the
Guggenheim herself offers a link between the Surrealists and Abstract Expressionists, and she impacted both groups' real estate choices and vacation spots. Indeed, Pollock and Krasner bought their home with a loan from the gallerist. At the time, art critic Harold Rosenberg was their only friend to own property in Springs. That soon changed: "If you have a house in the Hamptons, you have house guests," says Harrison.
place
there. Fellow painters
Soon, there were enough summering New York bohemians in the Hamptons (and a few full-timers) to form a sports roster. In 1954, the annual
Artists & Writers softball game
began.
Yet despite rising real estate prices and more famous visitors, the Hamptons continued to attract artists throughout the 20th century; the area remained more naturally beautiful and less incessantly distracting than the city. "It was certainly a recommendation that this was a great place to make art," says writer and curator Phyllis Tuchman.
This summer, Tuchman is organizing an exhibition for the East Hampton art institution
Guild Hall
, which will feature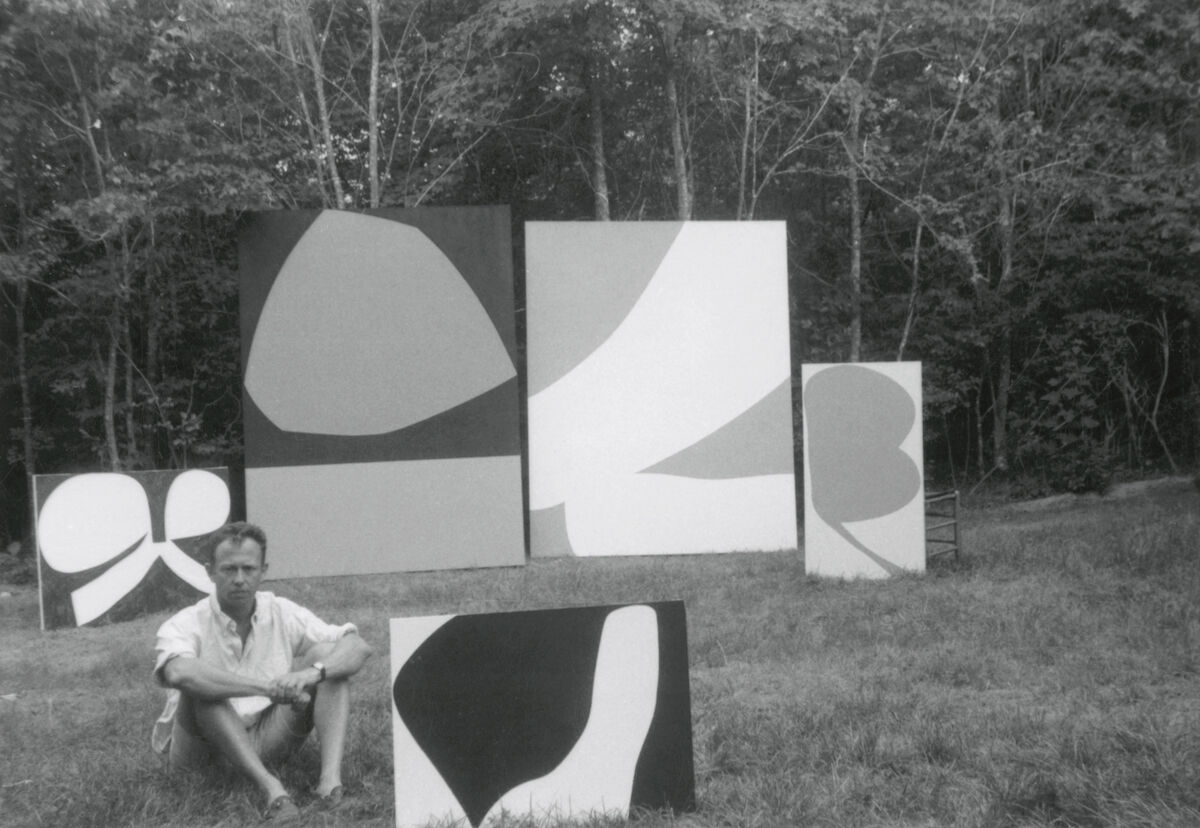 Still, the region had become so high-profile that the era's most ardent celebrity seeker,
In the mid-1970s, artist
Despite the influx of artists and wealth in the Hamptons by the late 1970s, galleries hadn't set up shop. Finally, in 1981, New York dealers Holly Solomon, Leo Castelli, and Marian Goodman took a chance on the area. Their
collaboration
, the Castelli-Goodman-Solomon Gallery ("C-G-S"), presented art by major
New York Times
declared
in 1982, predicting an art boom in the area.
It didn't last. "As the gallery attendant told me, people window-shopped there and then they went back to the city and bought art. It wasn't worthwhile," says Harrison. "It was just a summer showcase, really." The gallery shuttered after a few years.
Yet at least one contemporary gallerist thinks the Hamptons are a perfect spot for mid-sized outfits. As Joel Mesler, who runs Rental Gallery in East Hampton (and used to run UNTITLED, among other Lower East Side ventures), says, "My soul was bleeding and my business was bleeding in the city." He claims that last summer, he did more business in three months than he had the entire last year in New York. In the new location, he has far more breathing room and way less overhead.
Another mid-sized gallery, Halsey McKay, figured this out back in 2011, when it opened its exhibition space in East Hampton. This summer, the gallery will exhibit work by talent ranging from the technology-obsessed
Metro Pictures
, Susan Inglett) convey a sense of camaraderie and city-wide reach that's integral to its Hamptons-centered project.  
If there's a dearth of top-tier commercial galleries, the area has long offered stellar art institutions. This summer, the
Parrish Art Museum
in Southampton and the
Dia
-owned Dan Flavin Art Institute in Bridgehampton are both showing Sonnier's work.
Terrie Sultan, director of the Parrish, began visiting the area when her brother, artist
That's just a small part of the story, according to Sultan: Now, there's a critical mass of artists living in or near the Hamptons, both well-known (
Real estate blogs, of course, offer a narrative that greatly diverges from what artists and curators—many of whom invested decades ago, when prices were more reasonable—will tell you.
The Real Deal
recently reported that the area's most expensive rental is in Southhampton, costing a total of $2.25 million for a Memorial through Labor Day stay. If that's not necessarily representative of the entire area, it certainly conveys a market inaccessible to many younger creative people.
Even today, Pollock's legacy looms. Artist
Tuchman, the curator and writer, herself expounds on the area's appeal. "It's so damn beautiful out there," she says. "Some of the sunsets, the big sky, almost makes me want to be an artist."
Alina Cohen is a Staff Writer at Artsy.
Correction: A previous version of this article included an image mistakingly identifying Robert Motherwell as being at his Hamptons home. The location shown in the photograph was actually Provincetown, Massachusetts. This image has been removed from the article.