From Henri Matisse to Judy Chicago, 9 Artists Who Designed Dazzling Stained Glass Windows
The term "
Kehinde Wiley, Saint Remi, 2014
Recently tapped to paint former president Barack Obama's official portrait, Wiley's work reinvents classic Western European religious imagery with new protagonists: young black men and women. In Saint Remi, Anthony Sookdeo has taken the place of a saint, his Timberland boots and black letter jacket replacing the monk's robes and long white beard we might expect to see in a church window. Wiley has said that his stained glass work "is not about nationhood, it's not about race. It's about being powerful in the world, glowing literally…letting us see a state of grace for those people who rarely get to be able to be seen that way."
Marianne Peretti, Windows for the Cathedral of Brasília, 1989
Interior of the Cathedral of Brasilia. Photo via Wikimedia Commons.
Architect
Judy Chicago, Rainbow Shabbat, 1992
Rainbow Shabbat portrays people of differing ages, races, and genders gathering around a Shabbat table. In an exhibition focused on a dark and horrific subject (influenced by the two and a half months the couple spent traveling between ghettos, concentration camps, and memorials in Europe), Chicago chose to end with an optimistic scene in stained glass. In her words, "light is life."
Marc Chagall, America Windows, 1977
Marc Chagall, America Windows, 1977. Photo by Anna Fox, via Flickr.
Inspired by the wave of support for public art projects in Chicago during the late 1960s and '70s—including works by
Art Institute of Chicago
in 1977. Designed as a tribute to the city's 1976 bicentennial celebrations, Chagall's imagery is an homage to American artists of all stripes. Each panel highlights a different specialty: music, painting, literature, theater, and dance. In order to replicate his signature vivid colors in glass, Chagall worked closely with master glassmaker Charles Marq, painting directly onto the panels Marq created.
Gerhard Richter, Cologne Cathedral Window, 2007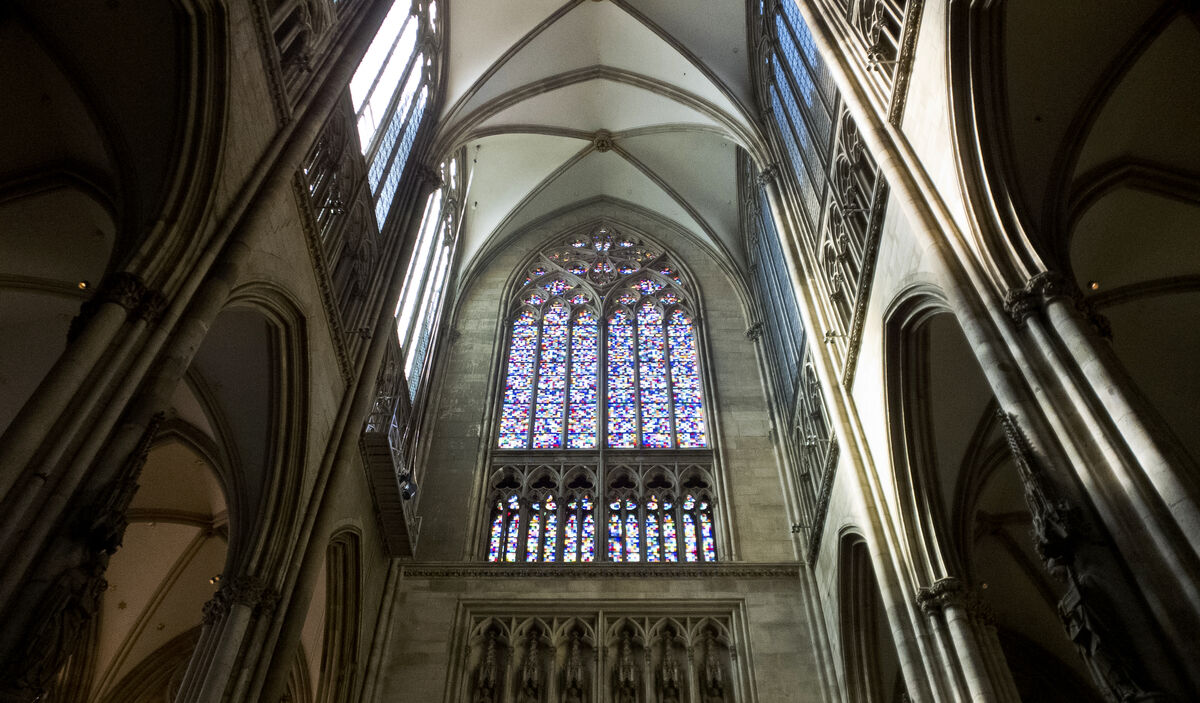 Gerhard Richter window in Cologne. Photo by Ben Scicluna, via Flickr.
While struggling to design a 75-foot-tall window for the Cologne Cathedral, Richter accidentally placed a template of the Gothic window frame atop one of his color grid paintings. It was a revelation. Richter's window—commissioned to replace the original, destroyed in a bombing during World War II—is made up of 11,500 pixel-like squares in 72 different colors. Although the pattern was determined by a mathematical formula, Richter also referenced the over 700-year-old church's past by incorporating glass made using medieval techniques.
Henri Matisse, Nuit de Noël, 1952
Henri Matisse, Nuit de Noel, 1952. Photo by George Rex, via Flickr.
Stained glass by Henri Matisse at the Matisse Chapel. Photo by Monica Arellano-Ongpin, via Flickr.
Commissioned by the Time Life Company, this festive stained glass window was installed in Rockefeller Center on December 8, 1952, just in time for the holiday season. By this point in his prolific career, the 83-year-old
Nuit de Noël
, the artist cut and pasted brightly colored paper into a preliminary maquette that was sent to a stained-glass craftsman for fabrication. In a comment to Alfred H. Barr Jr., then director of the
Museum of Modern Art
, Matisse compared the final, roughly 11-foot-tall window to a "performance by an orchestra."
Sigmar Polke, Windows for the Zürich Grossmünster, 2009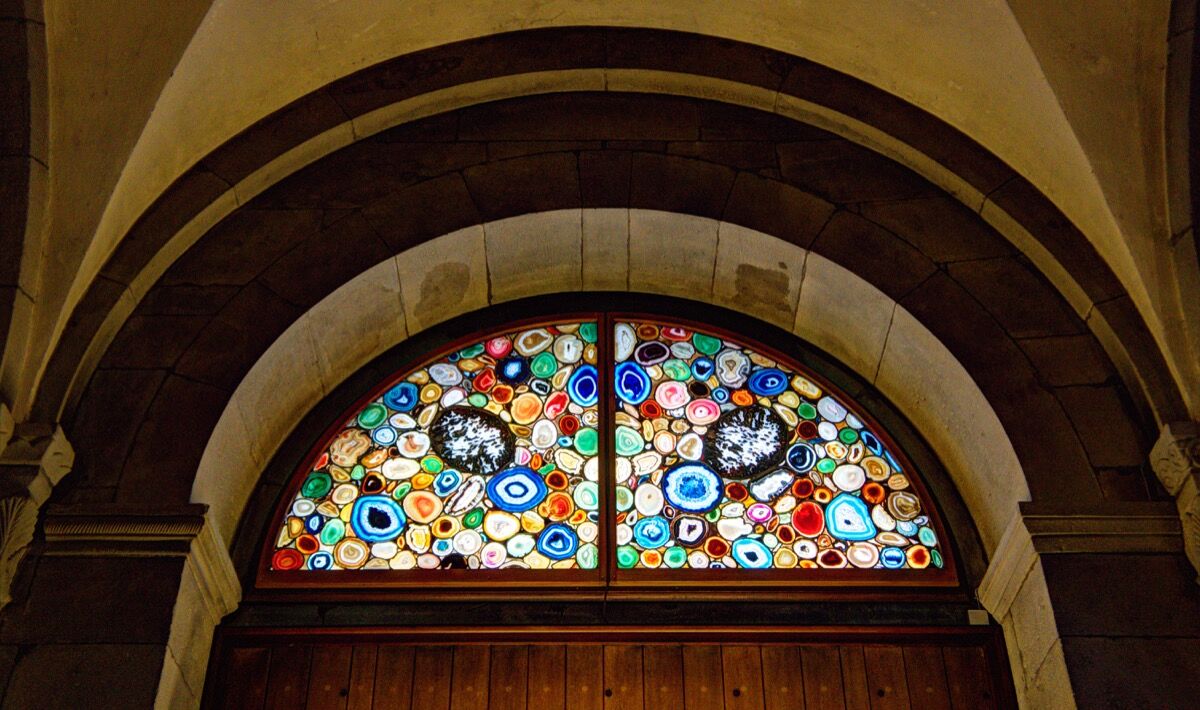 Sigmar Polke Stained Glass Window at Grossmünster, Zurich. Photo by Mark Allan, via Flickr.
Seven of
Josef Albers, Park, 1924
Josef Albers, Park, c. 1924. © 2017 The Josef and Anni Albers Foundation/Artist Rights Society, New York.
Park, one of a number of glass assemblages created by Albers, was a modernist take on a stained glass window. With its gridded structure of multi-hued squares and rectangles, it set the stage for the many years Albers would spend studying, writing about, and creating work that investigated color in abstract forms—perhaps best memorialized in his decades-long series "Homage to the Square."
Joaquín Torres-García, Constructivist Glass, 1948
Stir Creativity
See how Bombay Sapphire supports artistry.
Sponsored by Bombay Sapphire