The Hidden Masterpieces of the Metropolitan Museum of Art
When the
Metropolitan Museum of Art
opened to the public on April 13, 1870, it didn't count a single artwork in its collection. In the nearly 150 years since, the museum has grown to encompass almost 2 million objects, an international collection spanning 5,000 years of history. Not only is the Met a New York landmark, it has become the largest encyclopedic museum in the United States, attracting tourists from around the world.
The sometimes-overwhelming presence of the Met's classical Fifth Avenue headquarters, as well as the daunting enormity of the treasure trove housed inside, leads many of the visitors who go through its doors each year to head straight for guidebook-approved highlights like
dancers
, the patriotic
Washington Crossing the Delaware
(1851), or the spectacular and serene Temple of Dendur. But it's possible to explore the Met off the beaten path.
There are untold, overlooked masterpieces in the museum, passed by in haste on the way to the next "must-see" or the café. Whether you're a Met regular or getting ready for your first visit, you'll find plenty of surprises in our alternative guide to the hallowed institution. Follow the route below to find photo-worthy, rousingly puzzling, unknown chefs-d'œuvres selected by the people who know the museum's holdings best: its curators.
Tomb Chapel of Raemkai (ca. 2446–2389 B.C.E.), Dynasty 5, Egypt
Gallery 102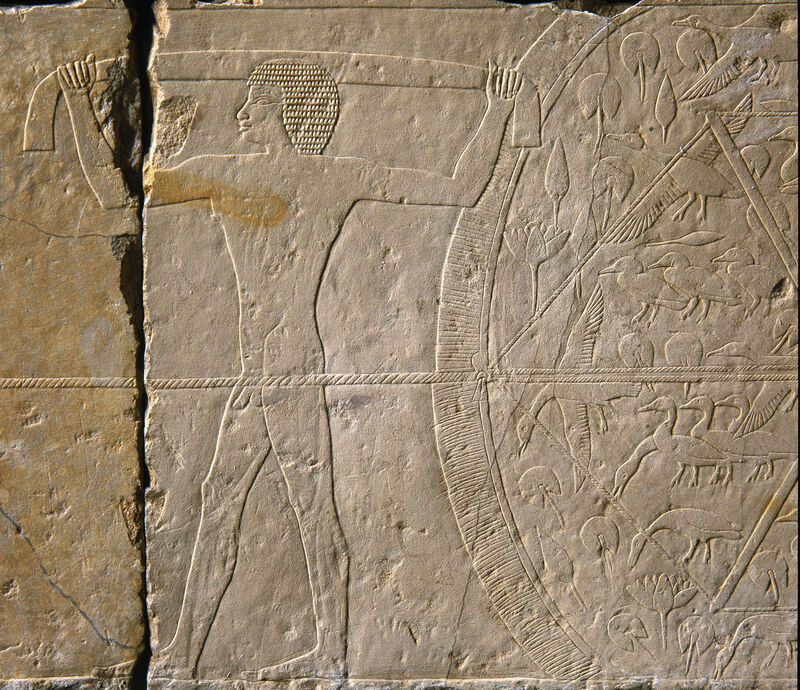 When the museum is crowded, we often find visitors lining up to see the tomb chapel of a man called Perneb, which is at the entrance to the galleries of ancient Egyptian art. Less known is the tomb chapel of Raemkai, which, in my opinion, is much more beautiful. However, because its entrance is not impressive and the surrounding galleries are full of so many eye-catching objects, most people just walk by without entering to see the truly amazing reliefs, which have many wonderful details.
My favorite part is the bird-catching scene. You need to take a moment to understand what is going on here. On the right is a dense depiction of birds swimming in the Nile's marshes with their feet paddling in the water. If you look closely, you can see that there are overlapping diagonal and horizontal lines. These are ropes and sticks of a clapnet, which is about to be pulled shut by five men on the left. All of this action would have happened in the marshes surrounded by tall plants, making it difficult to see. Between the men pulling the rope and the trap is thus a signal-man, who is close to the net, but cannot shout, as the birds would escape. When his colleagues see him raise a piece of cloth above his head, they know to pull. This is exactly the crucial moment of the hunt depicted here. — Isabel Stünkel, Associate Curator, Egyptian Art
Floral Collars from Tutankhamun's Embalming Cache (ca. 1336–27 B.C.E.), Dynasty 18, Egypt
Gallery 122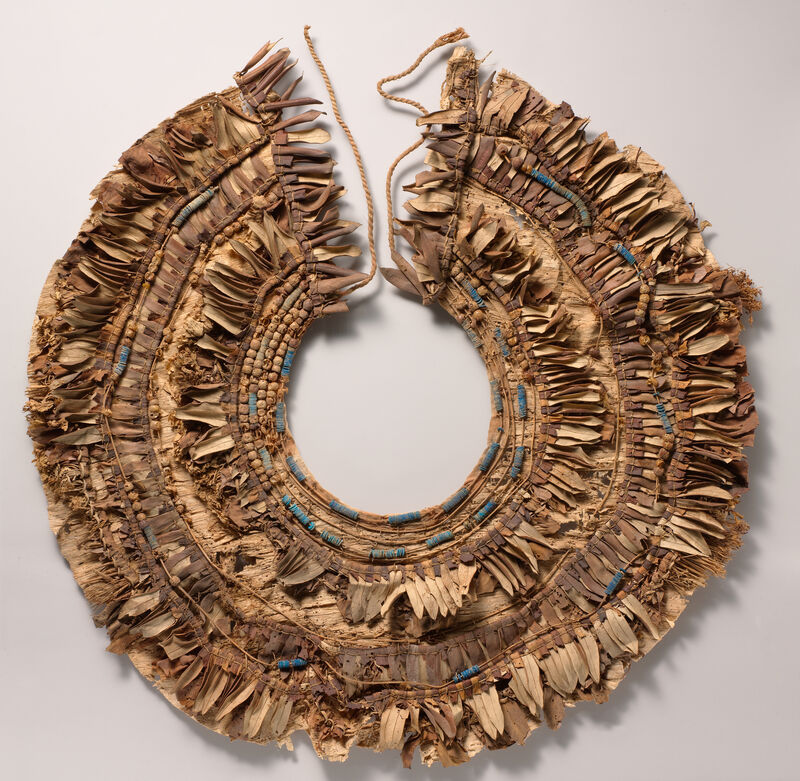 One group of objects that visitors might miss includes three floral collars displayed in a side gallery in the Egyptian wing. The collars lie flat at the bottom of the case and are in reduced light because they were made of real cornflowers, nightshade berries, and olive and persea leaves that are sewn to a backing of papyrus. It never ceases to amaze me that anything so fragile could possibly have survived for more than 3,300 years.
The collars were probably worn during a feast that took place when Tutankhamun (yes, that Tutankhamun) was buried in the Valley of the Kings. The other objects in the case—ancient linen, pottery dishes and jars, mud seals with the pharaoh's name on them—had been stuffed into a group of huge pottery jars that were discovered almost 20 years before Tutankhamun's tomb was found in 1922, and were an important clue that the tomb of this king was probably somewhere in the royal cemetery.
We recently moved one of the collars upstairs for an exhibition on jewelry. The special exhibition galleries are about as far away from the Egyptian galleries as you can get and still be inside the museum. To cover this distance, we used our most stable cart and placed extra weight on the lower shelf to reduce any vibration. We also chose a route that had the smoothest floors and moved very slowly, taking at least half an hour to make the trip. — Catharine Roehrig, Curator, Egyptian Art
Colt Model 1862 Police Revolver, with grip designed by John Quincy Adams Ward (ca. 1868)
Gallery 372
That same model was used again for the grip of the Met's beautifully decorated pistol, probably made just a few years later. In Ward's design, the back of the grip features a female personification of Justice and Christianity, while the underside has a prominent American eagle. Intended to be seen and appreciated in the round, the grip is made of gilt brass. The rest of the pistol displays surfaces of blued steel, delicately inlaid in gold. Ward excelled at this type of intricately detailed and harmoniously balanced small work, before he became famous for the monumental outdoor sculptures by which he is remembered today. — Donald J. La Rocca, Curator, Arms and Armor
Elephant Sword (15th–17th century), Indian
Gallery 379
Today, we often think of elephants only as gentle, intelligent, defenseless, and endangered animals. In the past, however, elephants were frequently used in warfare, particularly in India, where they were used as weapons for nearly 1,000 years. They wore armor, were ridden by armed men, and were utilized in large numbers as a supersized and very frightening heavy cavalry. In addition to their body armor, war elephants were often equipped with swords that were specially made to fit on the ends of their tusks. These tusk swords—which must have once existed in the hundreds, if not thousands—are now extremely rare, with only a few surviving anywhere in the world. The Met is very fortunate to have this example. Although it appears fairly simple at first glance, a closer look shows that this tusk sword is purposefully shaped and skillfully forged to create a strong blade, one that is perfectly designed to turn an elephant into a fearsome and capable warrior. — Donald J. La Rocca, Curator, Arms and Armor
Door Knocker in the Shape of the Devil (ca. 1560–70), German
Gallery 521
This object makes me smile every time I look at it: I love that you had to grab the devil around the belly in order to knock on the door! I can't help but wonder at the reactions of the centuries of users it had before it became deemed a "work of art," removed from the door it originally graced and collected as a piece of sculpture. Its functional status also compromised its "showability" in the museum; the knocker was never out on display for the first seven decades the museum owned it, and it's only recently that it finally reached our galleries.
Also compelling is the material it's made from: brass, traditionally looked down upon as a cheaper and easier-to-work-with alternative to bronze. But to me, it's really interesting as an example of what was, in the mid–16th century, innovative production: made in multiples for sale to the middle class, moneyed professionals who were emulating the pricey bronzework being commissioned by royals and nobility. — Elizabeth Cleland, Associate Curator, European Sculpture and Decorative Arts
Master of François de Rohan, Hours of Francis I (1539–40)
Gallery 544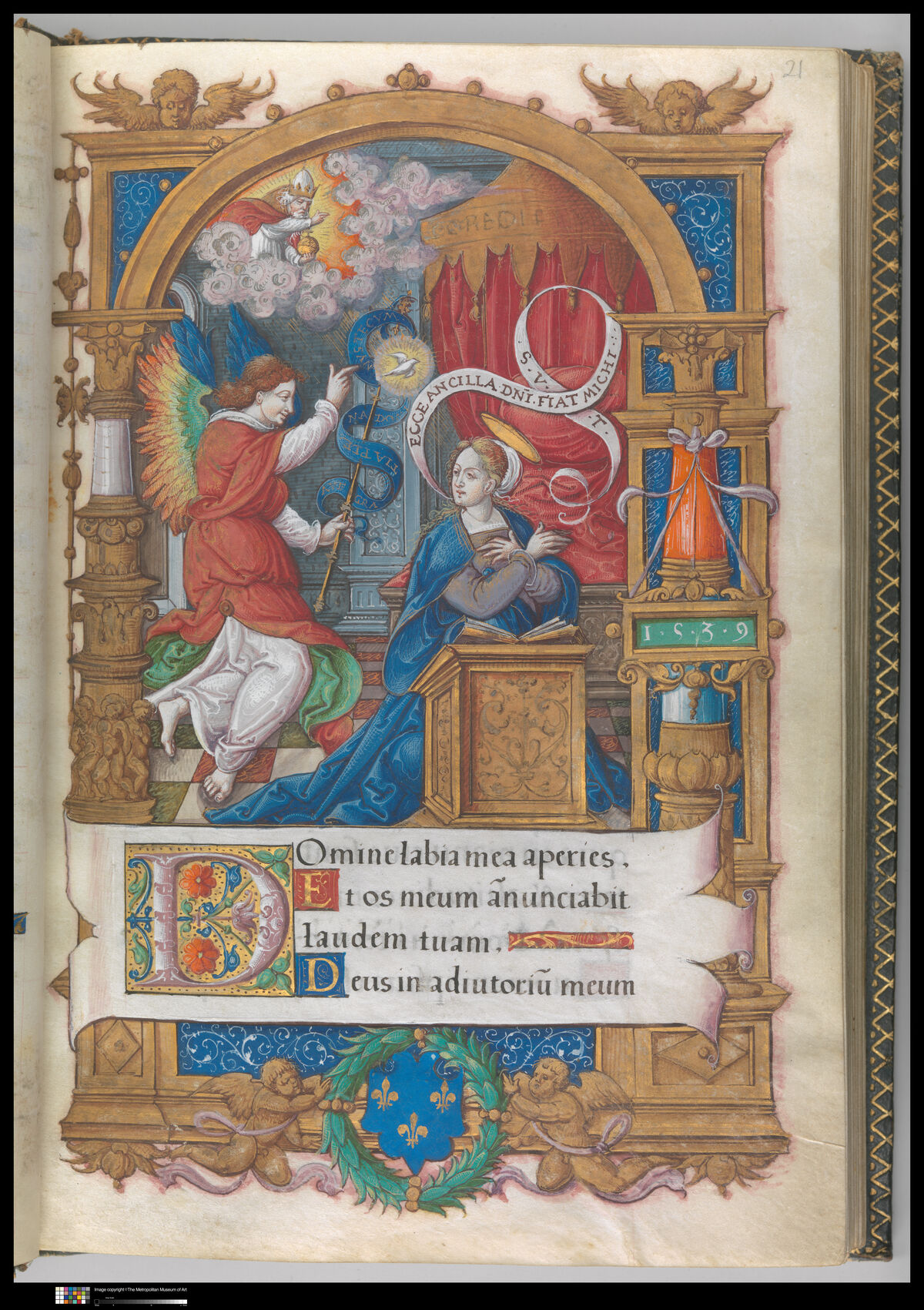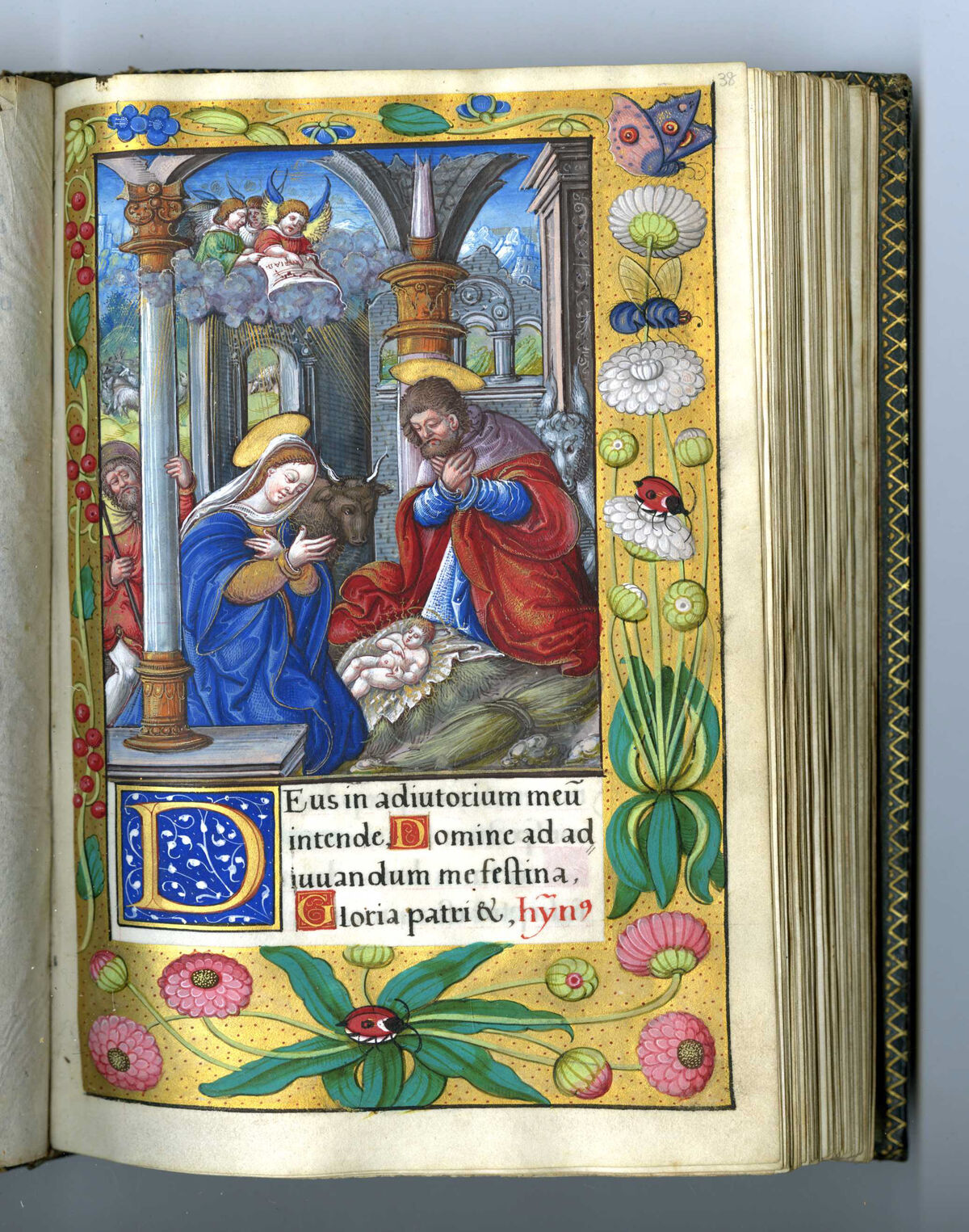 In a museum brimming with monumentally scaled masterpieces, this small manuscript might not initially grab the eye, but to me, this is one of our — Elizabeth Cleland, Associate Curator, European Sculpture and Decorative Arts
Chakalte', Relief with Enthroned Ruler (late 8th century), Maya, Guatemala
Gallery 358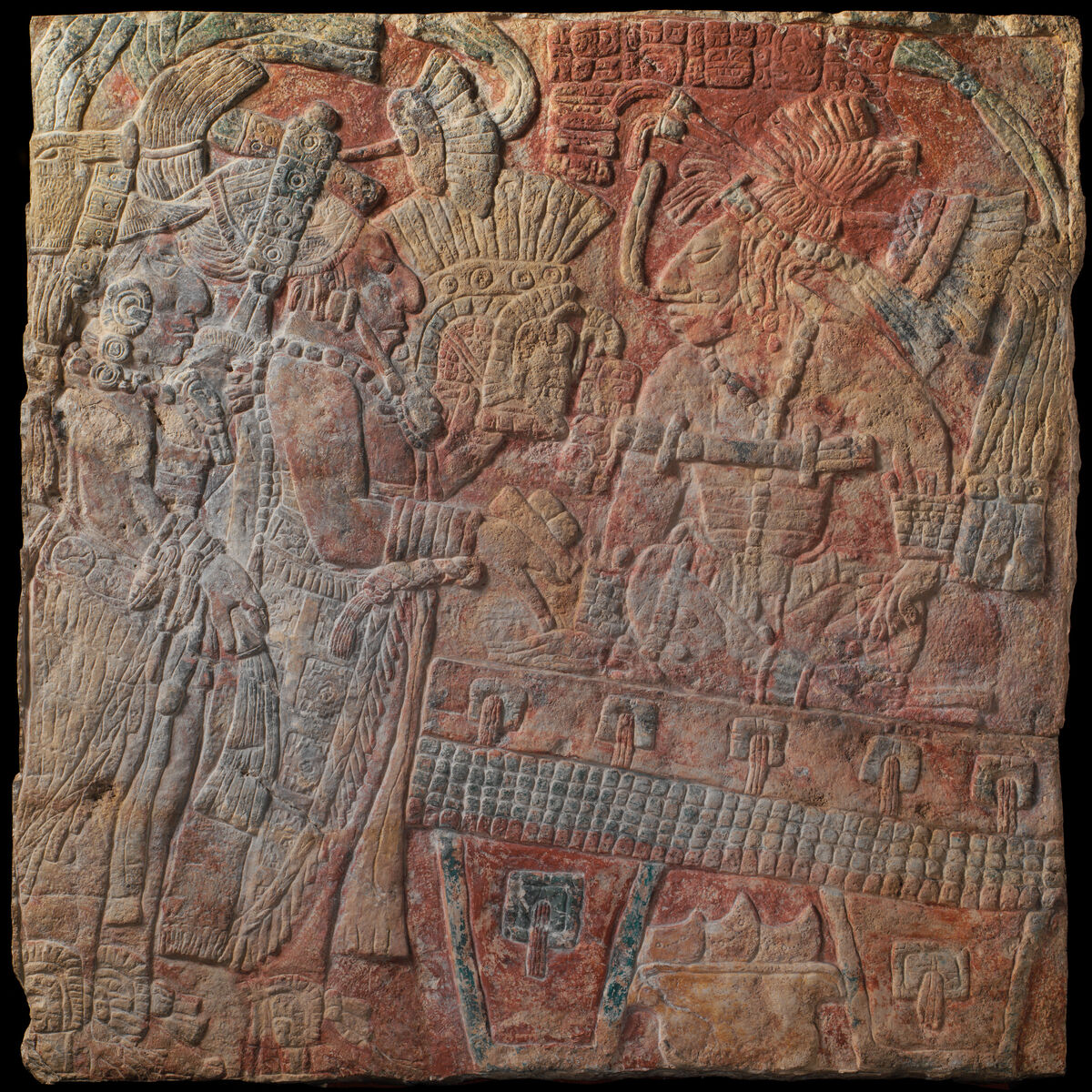 Within the Met's extensive collections from the ancient North, Central, and South Americas,
only a single work
contains names of the patron, the sculptor, and one of the subjects. A Mayan king named Chel Te' Chan K'inich (a.k.a. Shield Jaguar IV) commissioned
Hieroglyphic texts that float in the ground of the bas-relief scene name the king, as well as Tiloom (with the Maya title sajal, meaning provincial lord), and also include the signature of the sculptor, Chakalte', which appears at the end of the text in a slightly more shallow relief, emphasizing his subservience to the king. Tiloom and one other figure who is not named, both decked out in fine jade, feathers, and textiles, present Shield Jaguar IV with a royal headdress and a package of ritual materials. The king, also wearing a feathered headdress and jade regalia, leans forward to receive the gift as he sits on a decorated throne. This scene of tribute presentation, an act that occurs throughout many societies in the global past, is a fascinating window into the role of art in indigenous American politics. — James Doyle, Assistant Curator, Art of the Ancient Americas
Nose Ornament with Spiders (100 B.C.E.–200 C.E.), Salinar, Peru
Gallery 357
This nose ornament features four round-bodied spiders, their spindly legs and pincers carefully rendered in thin gold wire. Minute, circular wirework forms a delicate web spun skillfully around the spiders in a semicircular shape. The craftsmanship is really remarkable: The spiders' bodies were cut out from gold sheet, and the curlicue webs were fashioned from multiple pairs of round wires that were hammered and/or abraded flat on the front and back—especially where they overlap—and then soldered together. If you're interested in learning more about jewelry like this, the #MetKids blog
recently wrote on
how to wear such body ornaments from the ancient Americas.
—
Joanne Pillsbury, Andrall E. Pearson Curator, Art of the Ancient Americas
Glass Cameo Fragment of a Large Platter or Tabletop (early 1st century), Roman
Gallery 166
Like so many artifacts from antiquity, this magnificent fragment of glass is broken, and you have to use your mind's eye to gain an impression of its original appearance. From a distance, it just looks like a large fragmentary disk, possibly from a tabletop or an impressive serving tray. The visitor might easily pass it by, but if you look more closely at it, you can see the remarkable details the artist created within its surface. Patches of opaque white glass have been added and carved to represent different sea creatures including a crab, a squid, two bivalve mussels, and part of a scallop shell, set in a purplish background that represents Homer's wine-dark sea.
The fragment is said to have been found on the island of Capri in the Bay of Naples, Italy, not far from where the Roman emperor Tiberius lived in a grand villa from 27–37 C.E. Tiberius was known to throw lavish parties, and one can imagine a sumptuous fish course being served on this massive platter at an elegant banquet for the emperor. — Seán Hemingway, John A. and Carole O. Moran Acting Curator in Charge, Greek and Roman Art
Attributed to the Amasis Painter, Terracotta Kylix (Drinking Cup) (ca. 540 B.C.E.), Greek, Attic
Gallery 154
The Met has a distinguished collection of ancient Greek vases. There are so many wonderful ones to see that visitors can easily overlook some of the gems and miss the remarkable stories that they tell. In Gallery 154, there is a case devoted to one artist known as the Amasis Painter from the 6th century B.C.E. The visitor can see together multiple examples of vases by this gifted Athenian vase painter, who is remarkable for his exquisite attention to detail and for the range of subject matter that he depicted.
A kylix (drinking cup) attributed to the Amasis Painter shows the mythic underwater stables of Poseidon. The artist has imagined this magical place where the mighty sea god and patron deity of horses kept his steeds, imbuing it with fantastic beings. Adding to the whimsy of the scene, as the grooms ready Poseidon's magnificent horses, a figure from the frieze comes alive and climbs out of his architectural setting. On the other side, Poseidon, trident in hand, goes to meet with the Greeks at Troy, an event from the Trojan War.
Both scenes on the body of the kylix correspond to passages from Book 13 of Homer's epic poem The Iliad. This vase is a rare example where we can match an ancient literary passage with a representation by an ancient Greek artist. — Seán Hemingway, John A. and Carole O. Moran Acting Curator in Charge, Greek and Roman Art
Master G.Z. (possibly Michele dai Carri), Madonna and Child with the Donor, Pietro de' Lardi, Presented by Saint Nicholas (ca. 1420–30)
Gallery 644
A picture that always stops me in my tracks is a work of the early 15th century that was painted at the famous Este court of Ferrara. It must have been conceived as an altarpiece, and the donor—a man named Pietro de' Lardi—later became the land agent for Duke Borso d'Este. Here, he kneels before a figure of the Madonna, who, seated on an elaborately carved
There is something about this work that seems at once formal yet intimate; stylized yet naturalistic. I love Pietro's handsome black outfit, with its fur-trimmed collar and turban and pointed black shoes, and the contrast with the rich ecclesiastical vestments of Saint Nicholas and the bright pink mantle of the Virgin. And what about the way Saint Nicholas's pastoral crozier is done in pastiglia relief? The idea was to give the picture a real tactility. — Keith Christiansen, John Pope-Hennessy Chairman, European Paintings
Claude Monet, The Bodmer Oak, Fontainebleau Forest (1865)
Gallery 818
The Met owns some 40 works by The Bodmer Oak. It's easy to miss because we associate Monet with water lilies, cathedrals, and hay stacks. On one level, it's a portrait of a grand tree (named after Swiss artist Keith Christiansen, John Pope-Hennessy Chairman, European Paintings
Pierced Jug with Harpies and Sphinxes (1215–16), attributed to Iran, Kashan
Gallery 453
This small jug with a high rim and bulbous sides is decorated with sphinxes, harpies, deer, and leaping dogs in foliage. All of this appears on the outer surface, which has been carved in openwork over an inner core that would have contained liquid. Despite the auspicious animals on the neck and sides, the poetry that appears in a band at the mouth and near the foot of the jug is a mournful lament for an absent lover: "Without you, I am depraved; Be free from care / Ceaselessly, I am unsettled; Be free from care / [Turning] from you, I reach for the kindness of another, because of you. / Although I have done so, I despised it; Be free from care." Presumably, if one drinks the contents of the jug, one will be carefree.
Not only is the jug a marvel of the potter's art, it also incorporates the visual and verbal language of a period in Iran—after the fall of the Seljuq Dynasty and a few years before the Mongol conquest—that led to large-scale destruction and the disruption of the Kashan ceramic industry. Although sphinxes and harpies might have warded off evil, only the wine in the jug could temporarily heal a broken heart. — Sheila Canby, Patti Cadby Birch Curator in Charge, Islamic Art
Panel from a Rectangular Box (10th–early 11th century), Spanish
Gallery 457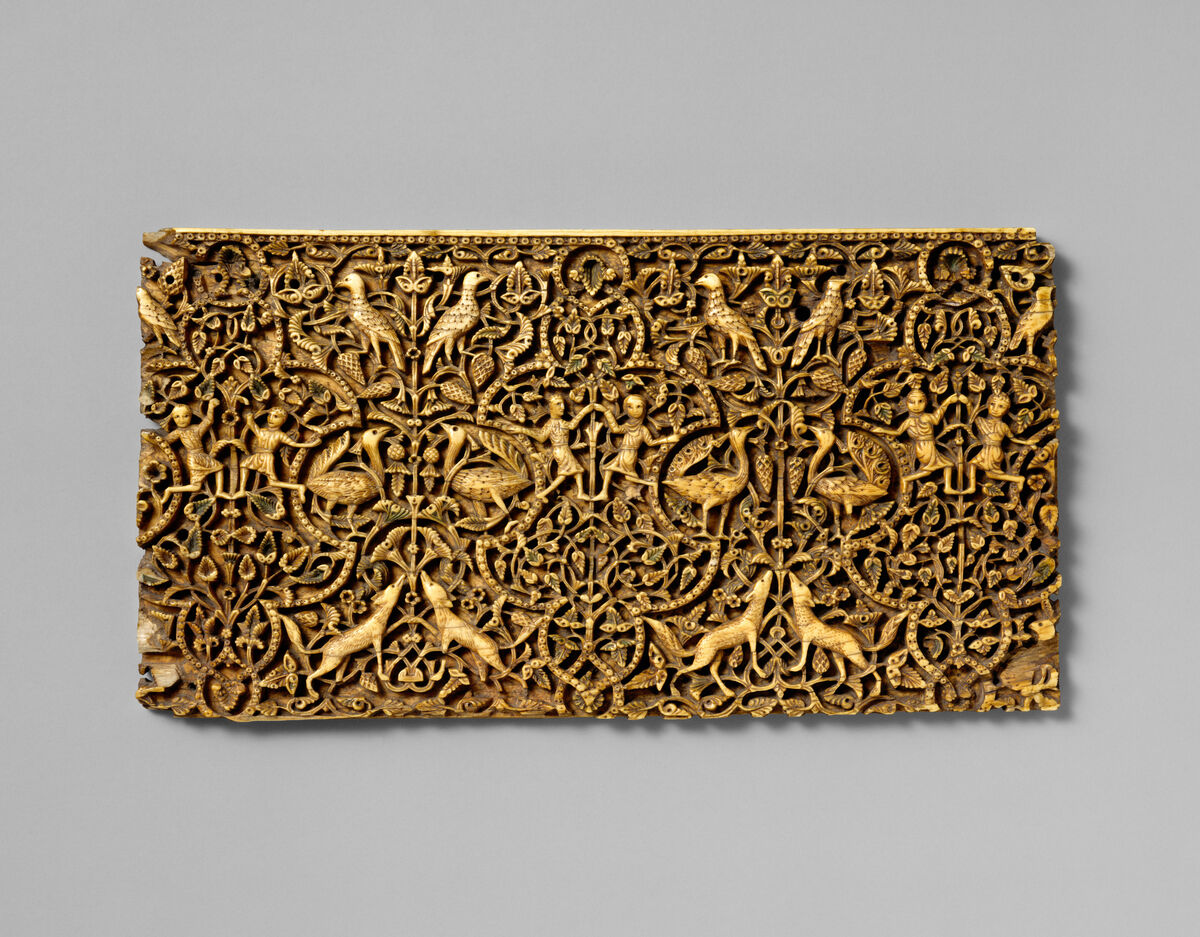 This ivory panel was most likely the side of a box that would have contained a precious aromatic substance, perhaps ambergris or camphor, coins or jewelry. It would have come from a very large elephant tusk, one that could have been used for four flat side panels, a base, and a lid of a luxurious box. What's most engaging about this is the decoration: Pairs of confronted jackals, peacocks, hawks, and—most charming of all—dancers. Even their eyes glitter, from tiny pieces of inlaid quartz.
Small though the panel may be, its decoration reflects the carved stucco and stone walls of the early Muslim palaces of southern Spain, as well as the influence of textiles of the same period. The close connection of the piece to the royal arts of caliphal Spain and the insight into how people actually did fun things (like dancing) may be a surprise to those who think all people did in the 10th and 11th centuries was fight and hunt. — Sheila Canby, Patti Cadby Birch Curator in Charge, Islamic Art
Horse (late 7th–early 8th century), Tang dynasty, China
Gallery 205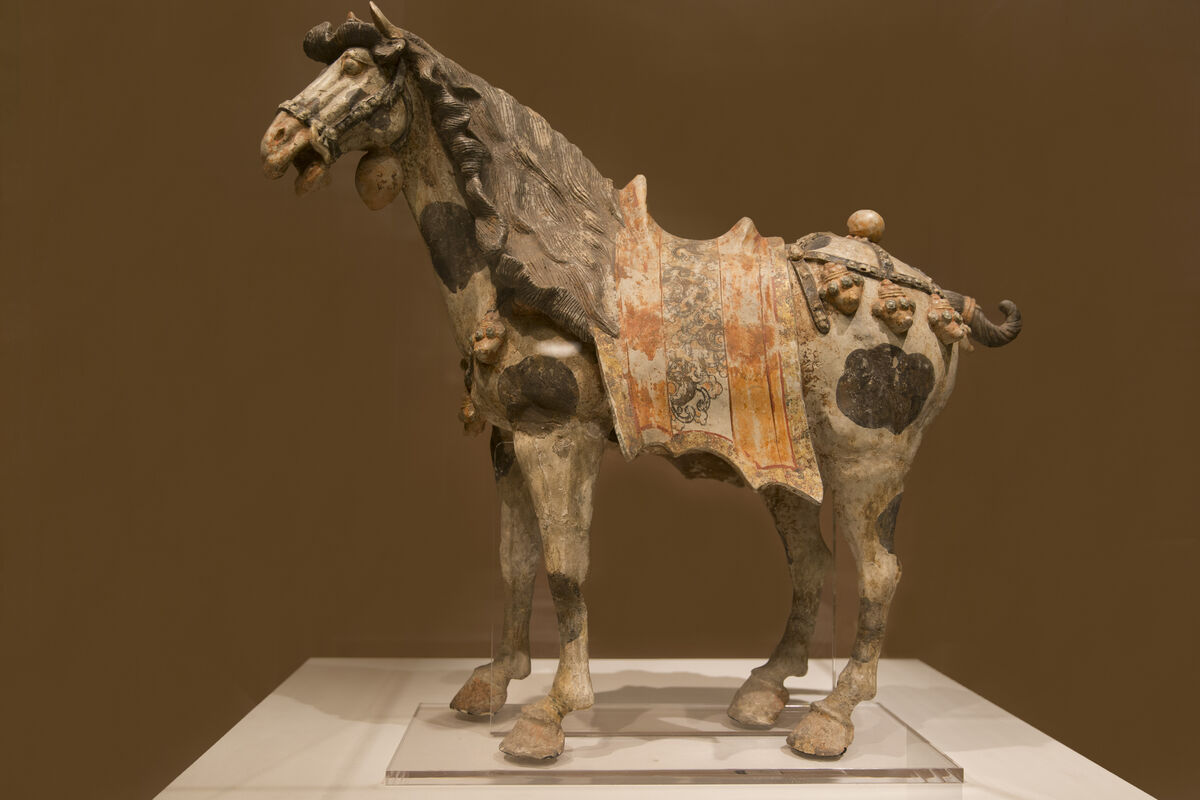 Often bypassed by hungry visitors on the way to the Balcony Café & Bar, the Tang Horse displayed on the northeast corner of the Great Hall Balcony is hiding in plain sight. You'll find many depictions of horses throughout the museum, but the Tang Horse is a rare, unglazed polychrome sculpture of remarkable vitality. — Mike Hearn, Douglas Dillon Chairman, Asian Art
Bassano, Tenor Recorder (ca. 1600)
Gallery 684
This humble recorder is related to one of the more interesting musical families of Europe. A stamp of a moth, seen below the window near the head of the recorder, indicates that this instrument was made by a member of the famed Bassano family. The family took its name from the city of Bassano del Grappa in the Veneto region of Italy. Bassano was a well-known Jewish surname, and the family may have relocated to Venice following the expulsion of Jews from Bassano del Grappa in 1516.
After establishing themselves in Venice, some members of the family moved to London. By the 1530s, five Bassano brothers were active as musicians and instrument builders at the English court of Henry VIII. They were also a part of Shakespeare's circle, and one of the brothers, Baptista, had a daughter, Emilia, who has been suggested as the "Dark Lady" of Shakespeare's sonnets. Furthermore, it's possible the character of Bassanio in The Merchant of Venice (1696–97) is also based on a member of the family. — Jayson Dobney, Frederick P. Rose Curator in Charge, Musical Instruments
Tombak (late 19th century), Iran (Persia)
Gallery 684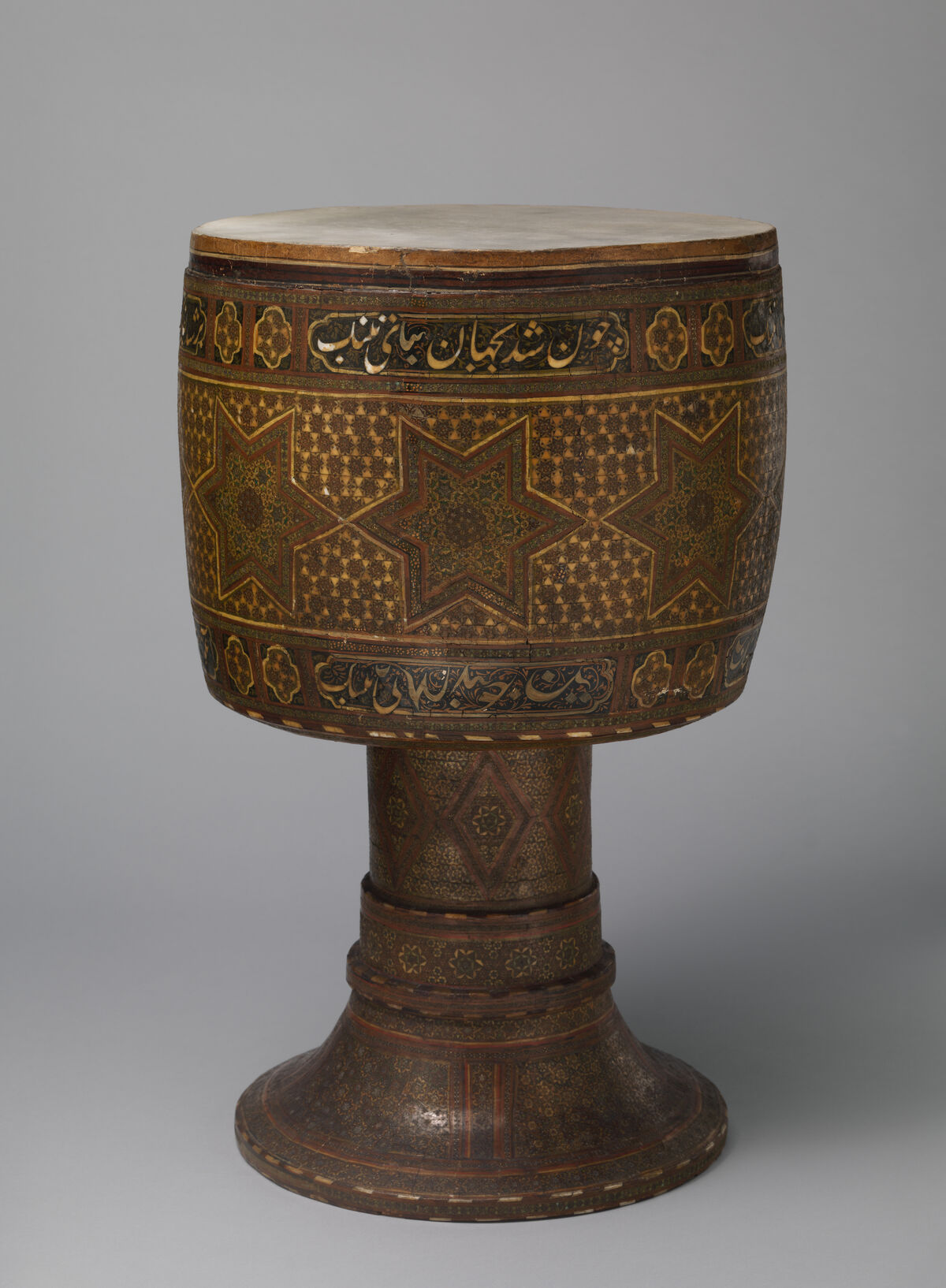 One of my favorite objects in the collection is a 19th-century goblet drum from Iran. It's part of a group of instruments, including a tār (lute) and a kamānche (bowed fiddle), that are decorated with similarly intricate marquetry, a technique known as khatam. Many visitors might not realize that the elaborate geometric decorations covering these instruments are made from thousands of tiny pieces of various woods, metals, bone, and ivory. This decorative technique is also found on objects such as boxes, tables, and desks. An astute viewer will notice that the drum has calligraphic inscriptions. A particular favorite of mine translates as: "When it sounds, it makes everyone in the world happy." — Jayson Dobney, Frederick P. Rose Curator in Charge, Musical Instruments
High Chest of Drawers (1730–60), American
Gallery 717
In the late 17th century, the unfulfilling trickle of Asian lacquer imports in Europe and the North American colonies inspired widespread experimentation in the production of alternatives referred to as "japanned" finishes, eagerly sought out by enterprising traders and consumers. Guild-trained migrants from London established a distinct colonial industry, largely active in Boston between 1700 and 1750, and produced exquisite works such as this high chest of drawers.
The surface of japanned finishes is built up like layers of a cake. This high chest has a ground layer of vermillion that is streaked with carbon black paint to look like tortoiseshell. On top of these layers, the "japanners" applied a gesso-like material to produce narrative scenes with robed figures, exotic animals, architecture, and landscape features. The raised gesso was given a red size, over which gold leaf and metallic powders were applied. — Alyce Perry Englund, Assistant Curator, American Decorative Arts
Charles Ethan Porter, Untitled (Cracked Watermelon) (ca. 1890)
Gallery 762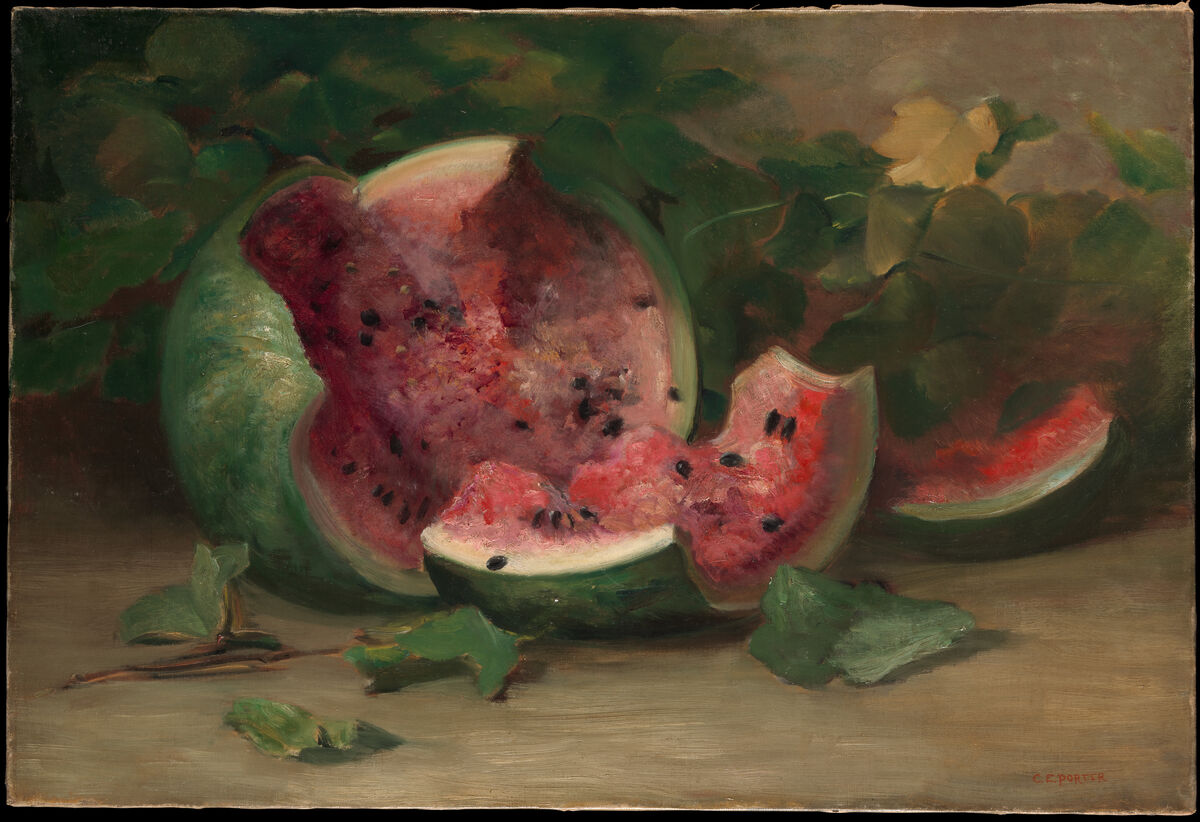 This unassuming, if vibrant, still-life painting is one of
That it was painted by one of the first African-American artists to exhibit his work nationally, and the only one in the 19th century to specialize in the still-life genre, makes Cracked Watermelon all the more significant. After decades of success painting still lifes of fruit and flowers—with the support of such celebrated patrons as Mark Twain and — Sylvia Yount, Lawrence A. Fleischman Curator in Charge, The American Wing
The Goddess Durga Slaying Mahisha (14th century), Nepal
Gallery 252
I'll sometimes make a special trip to the third-floor galleries—often overlooked by visitors—to see the bronze Durga slaying the buffalo demon. This small but impactful sculpture (it's just over 10 inches tall) is one of the most dynamic, animated pieces in Himalayan art. And the details are phenomenal—make sure to take a look at the crouching lion, in attack mode and eagerly getting into the act. — Mike Hearn, Douglas Dillon Chairman, Asian Art