A Brief History of Art Dealing
The following is an excerpt from the second edition of How to Start and Run a Commercial Art Gallery, the second, updated edition of which is out now from Skyhorse Publishing.
It behooves any budding art dealer to gain at least a cursory grounding in the giants of the field, if only because other dealers you will do business with may use them as shorthand for certain types of business models or cautionary tales. Exactly who the first person was to serve as the representative for an artist or to buy an artwork with the intention of turning around and reselling it for a profit may not be knowable now, but by the time Western art took that giant leap forward in the form of the The Lives of the Artists, for having sold work by the greatest artists of his day to the king of France, della Palla undoubtedly falls into the "cautionary tale" category. Called, among other things, a "two-bit merchant" by historians and eventually imprisoned as a traitor, he comes down to us as a somewhat inglorious character. Accounts vary as to whether he was eventually beheaded at Pisa or took his own life in prison, but della Palla is perhaps the basis for many of the negative stereotypes about art dealers that persist today. Things do get better for the profession's reputation though, we promise.
Throughout much of the history of art dealing, it was apparently not viewed as prudent to try to make a living selling artwork alone. The celebrated eighteenth-century French "luxury merchant" (marchand-mercier) Lazare Duvaux offered a mix of exquisite furniture, jewelry, ceramics, and sculpture to his fashionable and very wealthy clients. (Duvaux's importance continues to the present day because sales ledgers he kept between 1748 and 1758 still provide contemporary scholars with a treasure trove of provenance information.) Well into the nineteenth century, in fact, art was often still viewed—even by many of its merchants—as parallel to a home furnishing, sold as a sideline in shops offering mirrors, furniture, or even toys. One of the earliest recorded dealers in America, for example, Boston craftsman John Doggett, opened his shop in 1810 to sell both pictures and frames. His shop would go on to become one of most important art galleries in America for a while (Williams and Everett), but selling art alone was not his original business plan. This diversification approach exists even today. Many art galleries continue to mix art and design objects in their inventory. In fact, there's been an interesting resurgence of exhibiting high-end design in some of the most prestigious "fine art" galleries lately. Where that may lead the profession remains to be seen, but many dealers are keeping an eye on those enterprising souls daring enough to blur the lines after years spent separating out the two genres.
At some point along the line, the relationship between artist and dealer evolved from one based solely on commerce to one that includes sincere advocacy. Even in the face of commercial failure, this new kind of art dealer would champion certain artists because they truly believed in them. For many people, and indeed many artists, the image of the art dealer as an enthusiastic patron (scouring drafty studios, finding that misunderstood genius who's toiling in obscurity and breaking all the rules, and then working tirelessly to promote this newly discovered modern-day master in the face of even the most scathing of critiques) remains a romantic ideal. A closer look will reveal that among famous dealers even some of the greatest have been known to "let go" of artists whose work they couldn't sell, but like many legends, this one is at least partially grounded in truth.
The contemporary version of the legend seems to have begun in earnest with the arrival of the French dealer Paul Durand-Ruel. Born in 1831 to a family of picture dealers, Durand-Ruel is considered the first modern art dealer to support his artists with monthly stipends and solo exhibitions. Championing first the painters of the
From this point forward in our brief historical recap, it is possible to divide art dealers into two camps: those who enjoy working to promote relatively unknown artists and those who prefer to sell work only by established names. There exists considerable overlap in business models, but for a certain breed of art dealer, the thrill of discovering and nurturing new talent seemingly holds little to no interest. They wish to work only with reliably bankable artists. This breed of art dealer found its archetype in the form of Joseph Duveen. Born in 1869 in Hull, England, but expanding his family's business to include galleries in the toniest districts of London, New York, and Paris, Duveen was a natural salesman. Excessively charming and exuberant, he would notoriously work his clients into a near frenzy of desire for the works in his gallery by dramatically insisting he simply couldn't part with the old master painting he had recently wrestled away from some duke or count somewhere in Europe. His wife's reported deep attachment to the piece was frequently the source of the dealer's dilemma. After several rounds of such theatrics (each seeing the price of the work in question rise), Duveen would reluctantly relent and note that he would just have to figure out how to break the bad news to Mrs. Duveen later. Among Duveen's clients were some of America's richest men at the time, including Henry Clay Frick, William Randolph Hearst, J. P. Morgan, Henry E. Huntington, Samuel H. Kress, Andrew Mellon, John D. Rockefeller, and Joseph E. Widener. Much of Duveen's success is ascribed to his realizing that the one thing eluding these titans, who otherwise had everything money could buy, was the sense of immortality that only art can bestow.
While Duveen was becoming extremely wealthy selling the work of artists long dead, though, two of his contemporaries were working overtime to shift the serious attention, and money, over to the works of the more recent and still living European artists who would usher in the era of modernism. Following in the footsteps of Durand-Ruel, Ambroise Vollard (1866–1939) and Daniel-Henry Kahnweiler (1884–1979) sold between them some of the greatest works of art created by such revolutionaries as Les Demoiselles D'Avignon, reportedly asking to buy it on the spot, he was recognized as deserving of perhaps the highest of accolades an art dealer can aspire to: he was a connoisseur.
Throughout the twentieth century, the number of notable art galleries increased so dramatically worldwide that a discussion of each would make this brief history anything but. Limiting the following list to those in the United States that you might hear used as examples of how to, or how not to, run your business, therefore is a matter of necessity, not any indication that art dealers in other parts of the world were any less innovative, successful, or unfortunate as these dealers.
Two of the oldest galleries that dominated up until just recently in the United States began as New York branches of Parisian businesses. When Michael Knoedler, who came to America as the director of the French engravers Goupil & Company, opened his own space in 1846, he raised more than a few eyebrows among his competition by forgoing the entry fee (usually about twenty-five cents then) that most other galleries charged. This visitor-friendly policy, a wise choice to mix contemporary European artworks with those by Americans, and a focus on solo exhibitions (pleasing both his artists and the press), eventually led to Knoedler being the first art dealer to be invited to become a member of the Century Association, the distinguished club of artists, writers, and "amateurs of letters and the fine arts." The gallery he and his family built, Knoedler & Company, remained one of the most respected and flourishing of American art galleries. That is, until 2011, when the gallery closed under a cloud of scandal and multiple lawsuits for fraud. Having perhaps grown complacent about their position in the art world, as well as the trust they had earned as one of New York's oldest and most important galleries, they ignored experts' warnings that paintings by
Knoedler's longtime competitor, Wildenstein & Company, has an arguably even more colorful history. Also a family business (now in its fifth generation), the gallery was founded in Paris and opened a New York branch in 1903. Famously secretive about the inner workings of their business, the Wildensteins have nonetheless seen a fair bit of sensationalist press. From a still ambiguous arrangement for selling artwork confiscated from Jewish dealers in Paris reportedly forced out of Georges Wildenstein by the Nazis during World War II to a 1956 suit filed by Knoedler against the Wildenstein company for allegedly hiring a private investigator to wiretap Knoedler's phones, the history of the gallery is almost as interesting as the sales of acknowledged masterpieces they have placed among the world's top museums.
The twentieth century also saw the rise of galleries opened by dealers as well known by the art world now, if not more so, than many of the artists they exhibited. Alfred Stieglitz opened Little Galleries of the Photo-Secession in 1905. Eventually it became known simply by its street address, 291. It was among the first spaces to eschew the plush red velvet of most important galleries for a crisp modern look. Julien Levy Gallery was founded in 1931 and is noted for introducing the
Steiglitz was notoriously ambivalent about sales, once asking a collector who had sought the gallery out to buy a watercolor what made him think he deserved to own the piece. Levy worked hard but had both the Great Depression and the slowness with which Americans warmed up to surrealism to contend with. After closing his gallery briefly to enter the army in 1942, Levy eventually closed for good in 1949. A lack of funds forced Stieglitz to close 291 in 1917, but he continued to organize exhibitions and eventually opened another gallery, An American Place, in 1929. It lasted until 1946, the year Stieglitz died.
Two illustrious galleries were also opened by women better known for their passion and visions than their ability to make money selling art. After her first failed attempt in London, with Guggenheim Jeune gallery, Peggy Guggenheim opened her second gallery in New York in 1942 to incredible acclaim. Named Art of This Century, her Fifty-Seventh Street space was considered itself a work of art, with highly innovative installation and lighting systems designed by the architect Frederick Kiesler. Art of This Century heralded the dawn of New York's rise to art capital of the world with the first solo exhibitions of Jackson Pollock, Mark Rothko,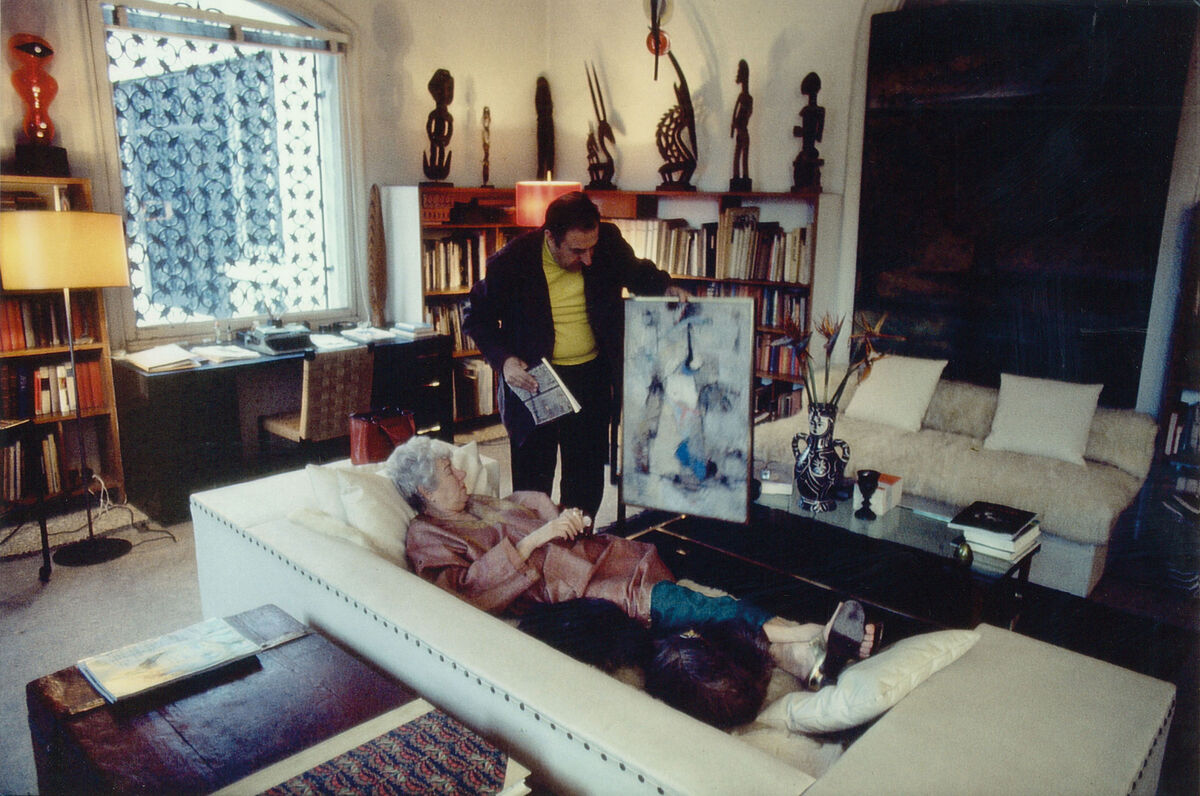 One of those newer spaces was owned by Betty Parsons, who is the first art dealer interviewed in a book we can't recommend highly enough: The Art Dealers: The Powers behind the Scene Tell How the Art World Really Works by Laura de Coppet and Alan Jones (Cooper Square Press, 1984) and revised by de Coppet in 2002. Edward has given this book to new dealers as a present many times. Although it is now somewhat difficult to find in bookstores, you can get it from online booksellers with ease. It would be indulgent of us to continue in this history of art dealing up to the present day, when nothing we could tell you would be anywhere near as valuable as what you will learn from reading these concise, supremely helpful interviews with the people who are that history.
Edward Winkleman is the director of Winkleman Gallery.
Patton Hindle is the director of arts at Kickstarter. Hindle previously founded the gallery yours, mine, and ours, and directed DODGEgallery.
Header image: Pablo Picasso with Daniel-Henry Kahnweiler, 1957. Photo by Imagno/Getty Images.