How Constantin Brancusi Turned Paris's Impasse Ronsin into a Haven for Artists
Atelier Brancusi, 1956. L'entrée 1, 11, Impasse Ronsin. © Succession Brancusi - All rights reserved ADAGP, Paris/Artist Rights Society (ARS), New York. Photo courtesy of Paul Kasmin Gallery.
At the turn of the 20th century, artists were drawn to Paris like moths to a flame: 
Decades later, Brancusi's Parisian studio would become a destination in its own right. Tucked away on an alley in Montparnasse known as the Impasse Ronsin, the sculptor's atelier became the heart of a vibrant community of French post-war artists that included 
show
 at 
Paul Kasmin Gallery
, centered around the Impasse Ronsin's artistic output.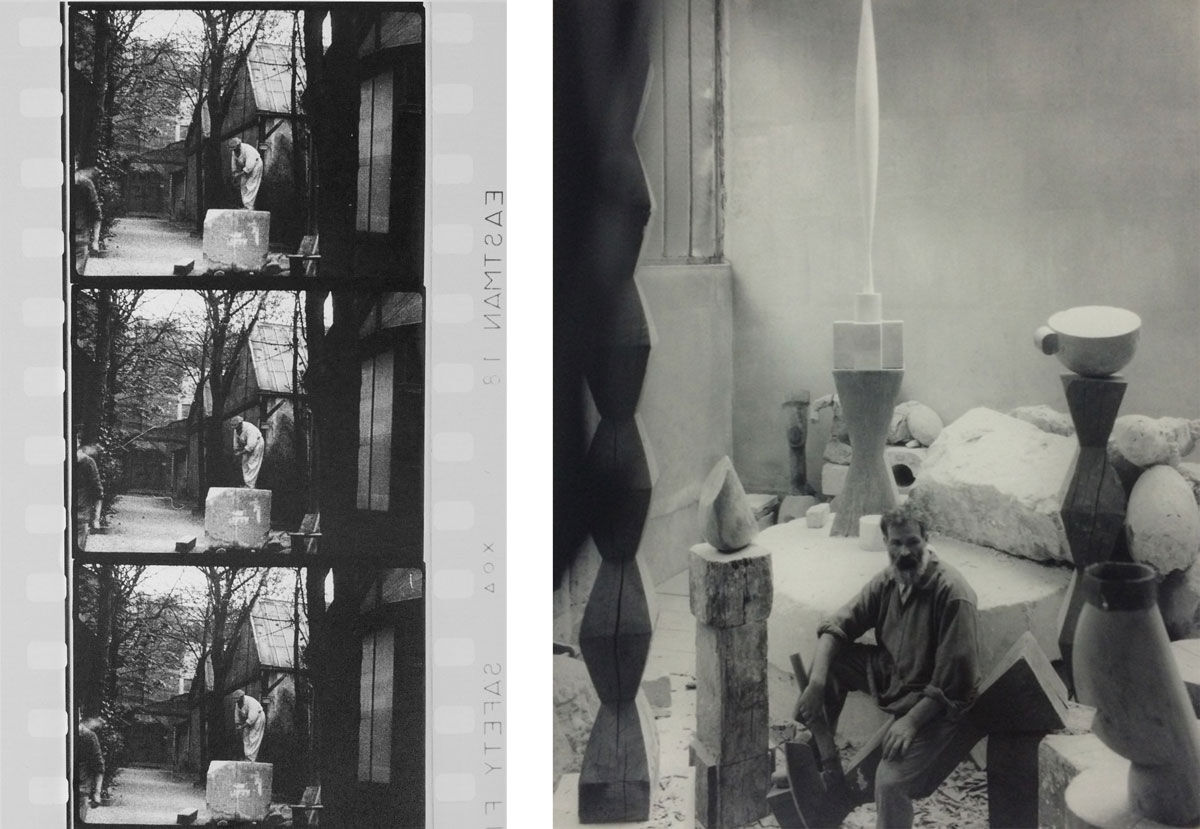 Left: Constantin Brancusi sawing a block of limestone for the chimney, Impasse Ronsin, 1932. © Succession Brancusi - All rights reserved ADAGP, Paris/Artist Rights Society (ARS), New York. Photo courtesy of Paul Kasmin Gallery; Right: Edward Steichen, Brancusi in his studio. Image courtesy of see+ Gallery, Beijing.
Brancusi moved to No. 8 Impasse Ronsin in 1916. It was there that he began to craft his pared-down forms out of stone, metal, and wood, then polish them until they gleamed. This fascination with materials was reflected in the boulders and blocks of stone he left scattered about his studio, which served as props for displaying work. They gave the space the feel of a quarry—until the floor gave out under their weight, forcing Brancusi to relocate to No. 11 in 1927. That studio expanded slowly over the years, eventually growing to encompass four additional spaces where Brancusi both lived and worked.
Enticed by dirt-cheap rents and stand-alone workshop spaces, artists had been living on the Impasse Ronsin since the 1910s. But a new group began to settle there in the 1950s and early '60s. The proximity of these artists would engender both artistic and personal relationships: couple Excavatrice de l'Espace (1958).
By this time, Brancusi was an elderly man. Claude Lalanne remembered a certain point at which the Romanian could no longer lift his tools, instead devising a pulley system to do it for him. Spoerri, who didn't live on Impasse Ronsin, but visited often, recalled him shuffling around, bent over and using a stick. "He kept his head down as he went along the path to his studio and never looked particularly friendly," he noted. But his studio still served as a gathering place: "He would invite us to visit his atelier, and it was so beautiful, with the light coming from a certain angle to make this wonderful shape," Lalanne recalled. "He would have visitors, collectors, not least Teeny Duchamp, who would bring people through the see the studio. A lot of Americans would come to visit Brancusi, one would see them arriving in the Impasse to pay homage to him and buy sculpture from him at the studio."
Left: Brancusi, vue d'atelier, 1955; Right: Atelier Brancusi, 11 Impasse Ronsin 15e, 1955. Images © Succession Brancusi - All rights reserved ADAGP, Paris/Artist Rights Society (ARS), New York. Photos courtesy of Paul Kasmin Gallery.
As time went on, however, Brancusi became less and less willing to part with his work. By the 1950s, he had stopped making work (his last sculpture, a plaster cast of the Grand Coq, was completed in 1949). Instead, he spent his days rearranging his sculptures in his studio. Their placement became so integral to him that when he sold a work, he would replace it with a plaster cast so as not to upset the harmony he created within the studio. Brancusi's attention to the space also extended beyond his artwork. He hand-crafted all the furniture (even his stove), and he displayed his tools prominently on the wall.
Unsurprisingly, Brancusi was concerned about preserving his studio, which had become in many ways his final work of art. At the end of his life, the sculptor made a deal with the landlords and the French government that his atelier be preserved in its entirety. It now lives outside the 
Centre Georges Pompidou
, in a 
Brancusi's studio housed at the Centre Georges Pompidou. Left: Photo by George Moga, via Flickr. Right: Photo by Thor, via Flickr.
But even after the studio was gone, it still loomed large in the artistic imagination. It so inspired Brancusi's student Isamu Noguchi that the young American sculptor and designer created his own version south of Paris in 1927—a space that has been replicated in part by the Noguchi Museum for the current Paul Kasmin show. In the show's catalogue, French conceptual artist