How Chilean Artist Rodrigo Valenzuela Sheds Light on the Immigrant Experience
The monochrome prints on view show strange arrangements of building materials, specifically Styrofoam and plaster, that resemble the rubble of an ancient—or perhaps future—city. Prior to their outing at envoy, the works were shown at the
Frye Art Museum
in Seattle as part of Valenzuela's first solo museum show, "Future Ruins." There, they hung amidst a large-scale, site-specific installation that resembled a construction site, replete with scaffolding. On the clean, white walls of envoy, on the other hand, Valenzuela's black-and-white fields of detritus, which are resolutely absent of human figures, feel alien. This is no accident.
Having formerly worked illegally in construction upon immigrating to the United States by way of Montreal, Valenzuela has focused much of his practice on the undocumented workers whose labor helps erect and maintain metropolitan infrastructure. Knowing this, Valenzuela's images, and their impetus, are thrown into relief. The displacement the viewer might feel when surrounded by these unfamiliar landscapes of debris seems to echo the alienation sometimes experienced by immigrant laborers.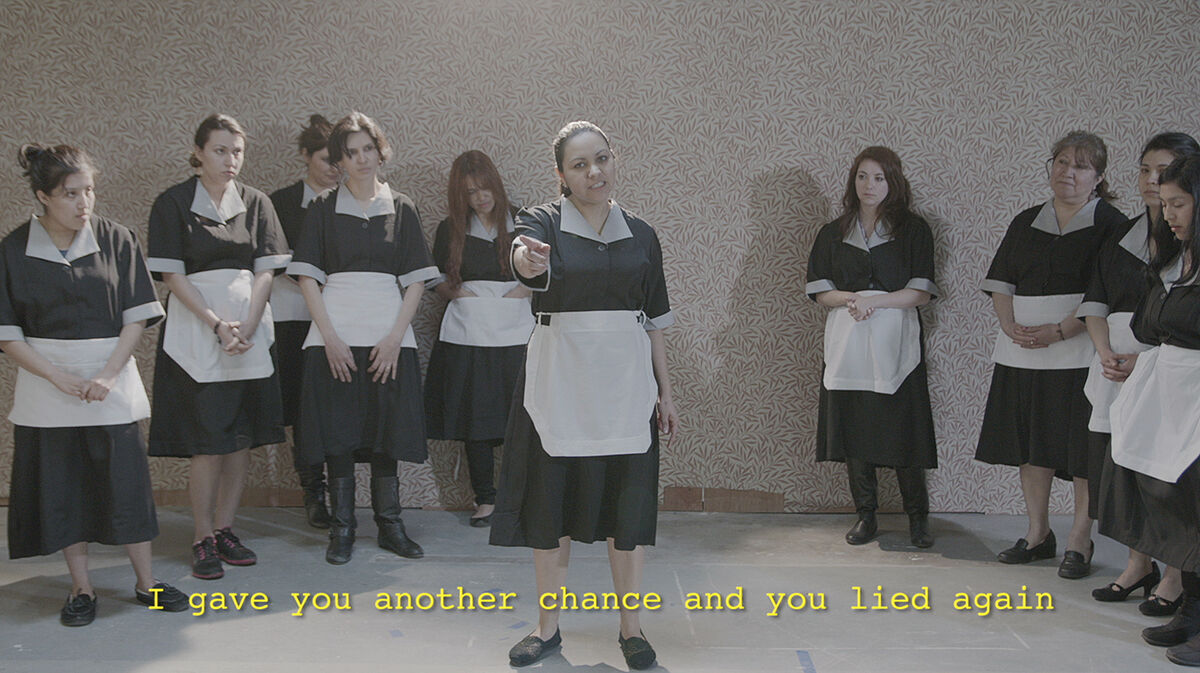 Still from Rodrigo Valenzuela's Maria TV, 2014.
While the photographs at the front of the gallery successfully establish a mood of dislocation, the exhibition's most affecting piece is Maria TV (2014), a short video that anchors the themes of Valenzuela's work in a tangible pseudo-reality. Matching real-life female immigrants with an acting coach, Valenzuela has the women play the roles of nannies and maids, reenacting lines from soap operas interspersed with revelations from their own personal experiences.
Here, as in many of his films, Valenzuela's rearranging of fantasy and fact sheds light on the difficulties that he has experienced as a working-class immigrant—and one that thousands of others experience on a daily basis. As the artist explains, "The films are one way of looking at yourself, finding a way to aestheticize that story. Ultimately, it's about engaging with other people, realizing that your story isn't so unique as to have a connection with someone else."
"
Hedonic Reversals
" is on view at envoy enterprises, New York, Dec. 10, 2015–Jan. 17, 2016.
Stir Creativity
See how Bombay Sapphire supports artistry.
Sponsored by Bombay Sapphire