Amid Strict Regulations, the Clyfford Still Museum Is Finding Creative Ways to Cultivate the Artist's Legacy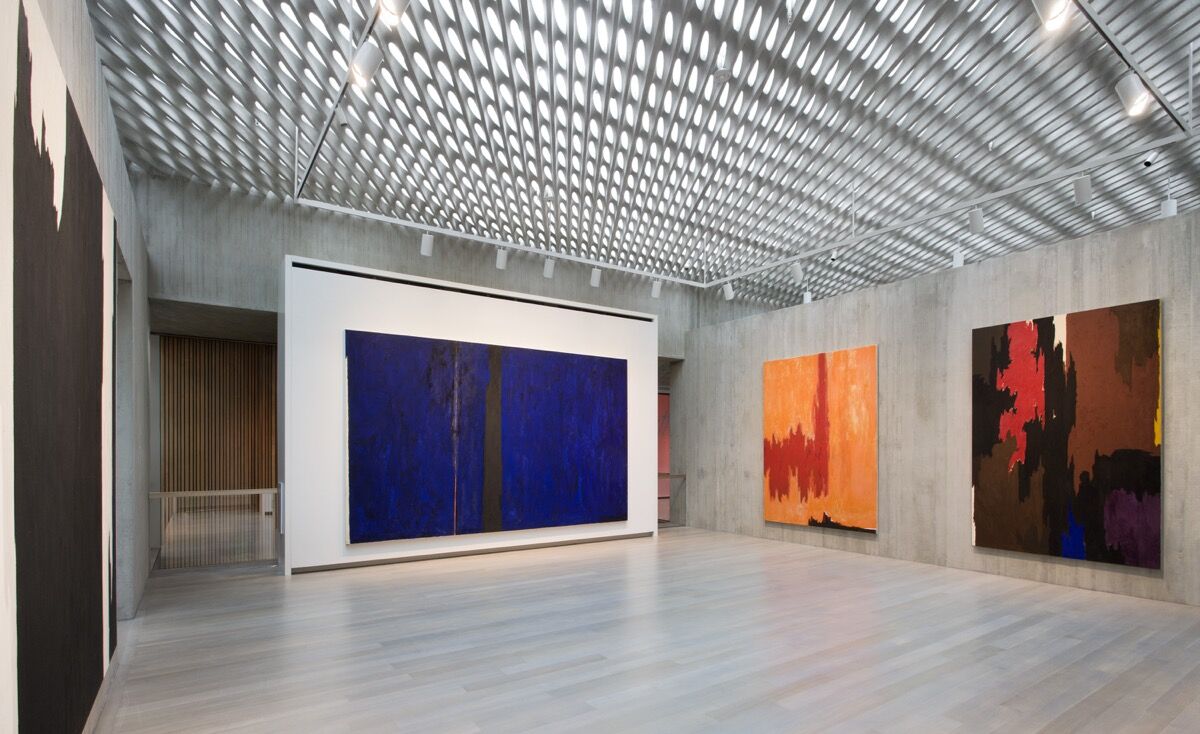 A view of the Lanny and Sharon Martin Galleries at the Clyfford Still Museum. Photo by Raul Garcia, courtesy of the Clyfford Still Museum.
Since opening five years ago this month in Denver, the Clyfford Still Museum has done much to rehabilitate the work and reputation of this pioneering
After 1951, resentful of the power galleries and museums wielded over artists, Still allowed his canvases to be exhibited in MoMA's groundbreaking 1952 show "Fifteen Americans," but only in a separate gallery dedicated to his work. He continued to closely regulate the display of his work for the rest of his life. At his death in 1980, Still's will bequeathed his huge holdings—almost 95 percent of his career output that he had kept in his possession after retreating from the art world in the early '60s—to an American city that would retain the works of art in exclusive and permanent quarters.
It took Patricia Still, the artist's widow, until 2004 to choose Denver over 19 other museums and municipalities as the site of the single-artist museum her husband had envisioned. "There were a lot of assumptions that this was going to be a dour, self-aggrandizing mortuary," says Dean Sobel, director of the Still Museum. He encountered that perception from many art world colleagues during his fundraising for the institution. "I think there was a misunderstanding about all these restrictions," he says. "Honestly, there's one big restriction—we can't show other artists in our galleries."
Exterior views of the Clyfford Still Museum. Photography by Raul Garcia. Photo by Raul Garcia, courtesy of the Clyfford Still Museum.
Housed in a widely acclaimed building designed by Brad Cloepfil of Allied Works Architecture, where it has been in operation for five years, the Still Museum has found inventive ways to skirt the limitations that the artist left them with—and it continues to stretch and plumb the potential of a single-artist institution. Drawing on its vast trove of 825 canvases, more than 2,300 works on paper, three sculptures, and some 50,000 archival items, the museum has organized 17 exhibitions to date, from its broad, inaugural two-part survey to the first show devoted to Still's works on paper, including some 260 graphic works, currently on view through January 15th.
"We've hardly had to repeat ourselves, the collection is so broad and deep," says art historian David Anfam, a specialist on Abstract Expressionism and the museum's senior consulting curator, who has organized many of the shows. Indeed, Sobel says the staff is only about halfway through unrolling and conserving the collection of paintings (and has sometimes been surprised by undocumented stowaways when unfurling a roll).
One way around the restriction of not showing other artists' work in the building is to reproduce them virtually. For the 2012–2013 exhibition "Vincent/Clyfford," for instance, Anfam used iPads in the galleries to show 
Left: An undated photo of Julian Schnabel, Clyfford Still, and Ross Bleckner in New York City, ca. 1980. Unknown photographer; Right: Clyfford Still at the Hirshhorn Museum and Sculpture Garden in 1974, pictured with PH-847, 1953. Unknown photographer. Images courtesy of the Clyfford Still Museum Archives.
The museum's archive includes a photo of Still with Ross Bleckner and a 27-year-old Schnabel, who had always admired the work of the legendary artist. Through his show, which opens on January 20th, 2017, Schnabel hopes "to illuminate [Still's] contribution and also bring it to an audience who hadn't been born yet and others who might have skipped over his legacy."
Bradford, another devoted fan of Still's work, will not only organize an exhibition from the museum's holdings, but also show a series of his own abstract work made in direct response to Still's use of black at the 
Denver Art Museum
 (DAM), directly adjacent to the Still Museum. The two neighboring institutions frequently coordinate complementary exhibitions to work around Still's restrictions, including "Clyfford Still and the San Francisco Scene, 1946–1950," on view earlier this year in tandem with DAM's "Women of Abstract Expressionism," featuring several artists influenced by Still.
The biggest test of the elasticity of Still's will, however, is undoubtedly the museum's unprecedented loan of 10 paintings to the major survey "Abstract Expressionism," on view now at the 
Royal Academy of Arts
 in London. In his lifetime, Still explicitly restricted institutions that he gave paintings to from loaning them to other museums. While the artist's will "is somewhat ambiguous and doesn't expressly prohibit loans," says Sobel, the museum moved cautiously with its lawyers in consultation with the city of Denver and Still's children before making this exception to previous practice.
Installation view of work by Clyfford Still at the Royal Academy of Arts, London. © David Parry/ Royal Academy of Arts.
"I couldn't imagine a review of this movement without Still strongly represented," says Sobel. Anfam, a co-curator of the London exhibition, has devoted the two largest galleries at the Royal Academy to monographic displays of work by Still and Pollock, with the other AbEx artists in rooms radiating around them. "The 10 works there in a gallery of their own, I think that actually makes an extraordinary extension of the Still Museum's mission," says Anfam. "People come to Denver but a lot of people don't. We felt the only way to make the works in Denver better known would be to travel them."
Attendance figures for the Still Museum run over 40,000 annually, while the Royal Academy receives some 850,000 visitors a year. Foot traffic to the "Abstract Expressionism" exhibition has been strong, and artists such as Richard Serra and Jeff Koons have been spotted in the Still gallery. In the future, if the right project were to come up and they could keep Still's works together and honor the museum's core mission of advancing his legacy, both Sobel and Anfam would be open to making loans again.

The largest ongoing project at the Still Museum is the processing of its voluminous archive, which Sobel plans to ultimately make accessible to the public online. "No other Abstract Expressionist maintained an archive of this scale," says Anfam. "There's very little that Clyfford didn't document." It includes thousands of photographs, film footage, and audio recordings, and more than 1500 subject files. For someone who ostensibly withdrew from the art world, Still maintained active involvement and correspondence with a who's who of artists, curators, museum directors, gallerists, and collectors.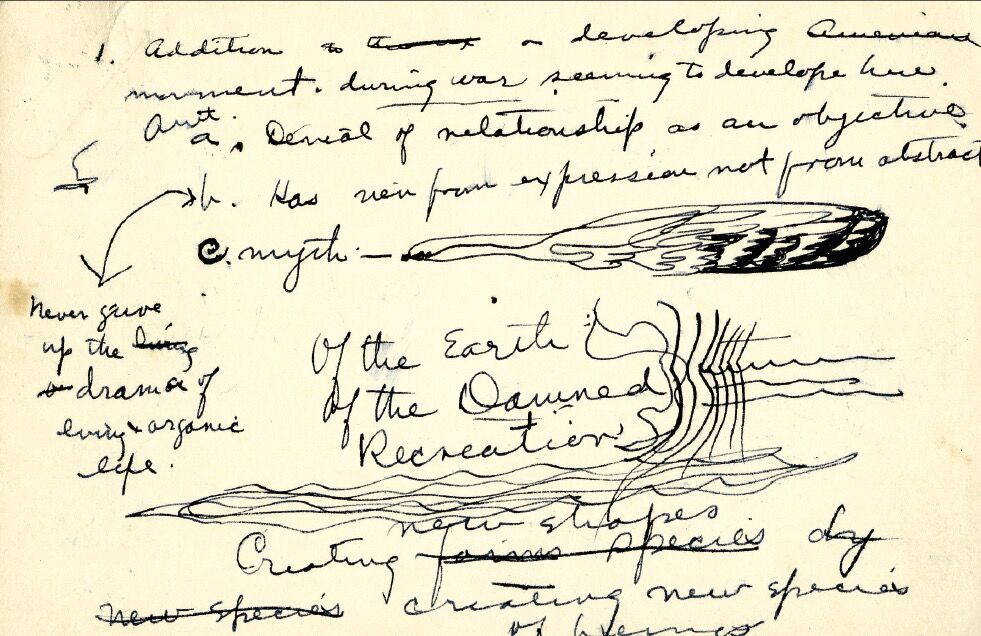 Detail from Mark Rothko manuscript for the gallery guide to Clyfford Still's solo exhibition at Art of this Century Gallery in 1946. Image courtesy of the Clyfford Still Museum Archives.
One of the richest veins of letters is the some 65 between Still and Rothko, who were the closest of friends and allies from 1946 until their acrimonious break in the mid-1950s. "In the 1940s, they weren't particularly celebrated, and you could tell they were battling the art world, maybe in a way that even young artists are today," says Sobel. "It was something that seemed impenetrable and they were suspicious of."
The conflict between their artistic ambitions and the toxic commercialism they perceived on 57th Street is a running theme throughout the letters. Rothko, who wrote the forward in the catalogue for Still's first show of paintings at Peggy Guggenheim's Art of This Century, confided to his friend in a 1948 letter: "We go out into the street to be sure we are alive, and then beat a fast retreat...the dilemma of means and ends will haunt us forever."
In a 1951 letter to Rothko, Still refers to "the present chaos in the galleries, museums, and studios, a reminder to us that the public domain is, and always has been, not a well to drink from, but a cesspool of insidious and poisonous matter." He goes on to say that, as an initial step, he cut his connections with the Betty Parsons Gallery. By 1955, livid that Rothko had been seduced by the commercial world and not severed ties as he had pledged, Still wrote: "You have actually defecated on much of that which I hold great and worthy of a man's life."
This vivid correspondence, which the Still Museum hopes to publish as its own volume, puts a more human face on Still's uncompromising actions. Still himself wrote in 1951 about the letters that they had exchanged: "It occurs to me that in them be a better record of our relation to our work, and the world we have touched, then can be provided by any other means."

—Hilarie Sheets
Stir Creativity
See how Bombay Sapphire supports artistry.
Sponsored by Bombay Sapphire